These Zesty Lemon Cream Cheese Puffs have sweetened flaky puff pastry, with a deliciously zesty cream cheese filling. One is not enough.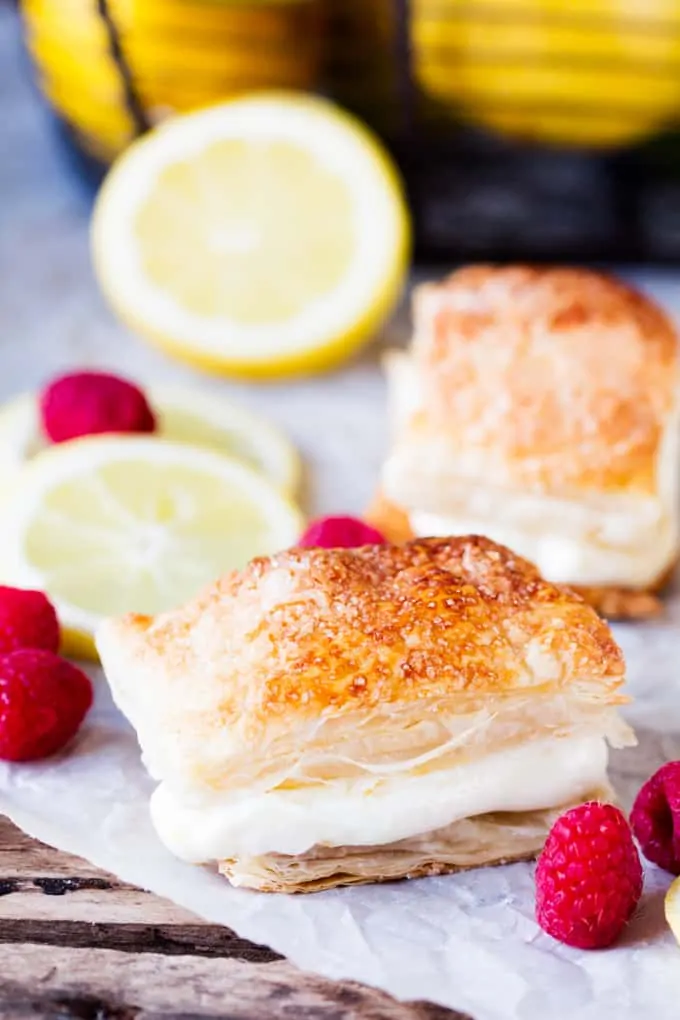 Why does pastry have to be so darn tasty!
I don't think I've ever eaten anything wrapped in pastry that didn't taste good.
I just stopped, sat there and thought about that really hard for a couple of minutes, and no, there's nothing. Hail to the pastry.
These lemon puffs are no exception. A flat bottom layer of crunchy sweet pastry, topped with zesty cheesecake flavours, and then finished off with a big, flaky, puffy top layer of more golden, sweetened pastry.
In theory, these should be eaten from the fridge, to allow the lemon cream cheese to firm up, but it's so much more fun to bite into one of these things as the cream cheese squirts out of the sides. Thus requiring a serious lick-the-sides-of-the-pastry-as-well-as-your-hands type of operation.
I wanted to call them lemon cream cheese squares, but unfortunately as you can see from the pictures below, I'm completely incapable of cutting anything neatly into a square without a ruler.
I decided to wing it, and so my pastry puffs now come in childrens, adults, and really-hungry-adults sizes.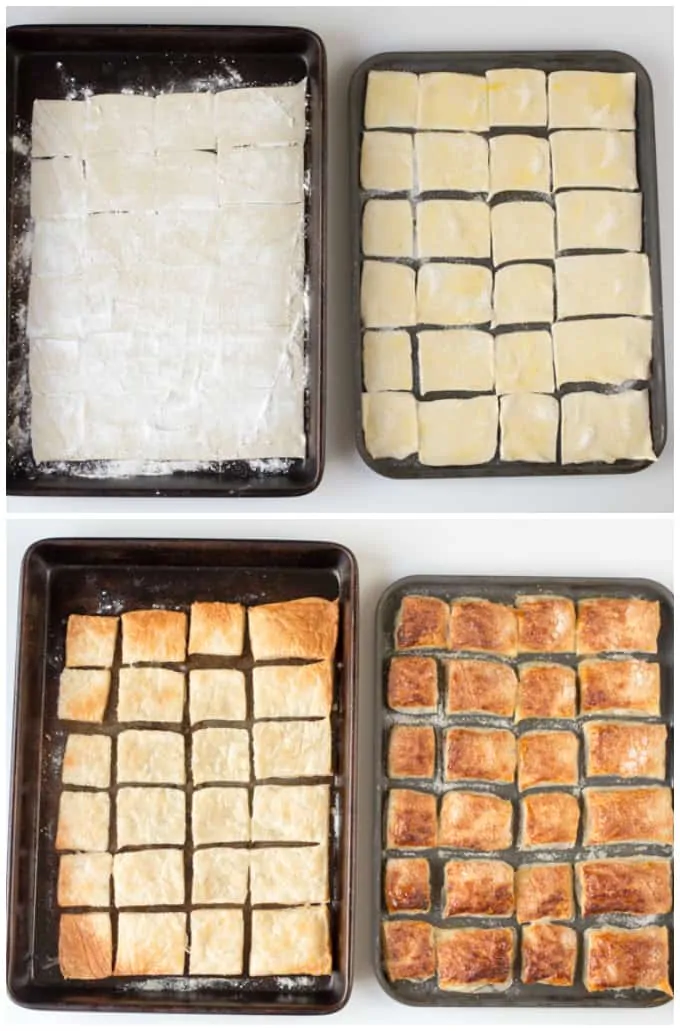 Personally I think it adds character.
That's what I say when I cut bread into a fresh loaf of bread too. You can guarantee that the top of the piece of bread is going to look like a doorstop, whilst the bottom is as thin a tracing paper.
So, if you need neat squares in your life, please use a ruler to help you cut the pastry.
If you like to be dynamic and interesting, then wing it 🙂
I'm making this post short today, as I'm hopping on a train to London in an hour to go to my first blogging conference!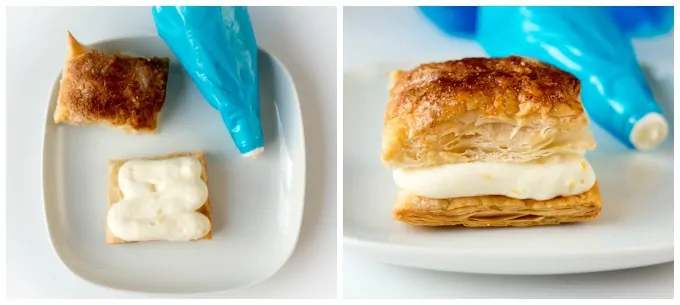 I'm excited and nervous at the prospect of meeting so many other bloggers.
Although I've chatted to a few bloggers in the UK, I've never actually met a real-life one!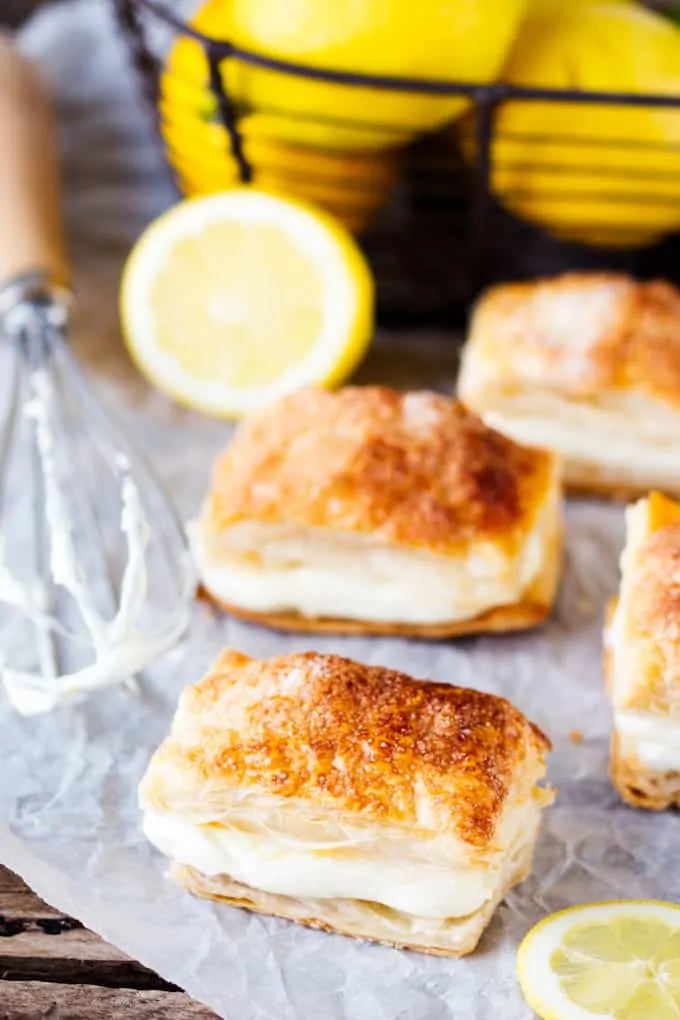 The Zesty Lemon Cream Cheese Puffs Recipe: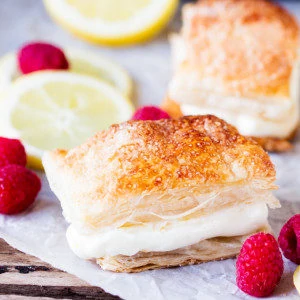 Zesty Lemon Cream Cheese Puffs
Quick, easy and really tasty Lemon Cream Cheese Puffs
Ingredients
Pastry:
2

x

320g sheets of ready-rolled puff pastry

1

tbsp

icing/confectioners sugar

1

egg

-

lightly beaten

3

tbsp

superfine white sugar

Filling:
Filling:
2

x

225g (8oz) packs full-fat cream cheese

Juice of 2 lemons

½

cup

icing/confectioner's sugar

Zest of 2 lemons
INSTRUCTIONS
Preheat the oven to 200c/400f.

Place one of the pastry sheets on top of the other and cut into squares.

Place the top layer of squares onto one baking sheet and the second layer of squares onto a different baking sheet.

Sprinkle one of the trays of pastry with the icing sugar, then cover with baking parchment.

Brush the egg yolk on the pastry on the other tray and sprinkle with the white sugar. Place the tray with the pastries that have the egg wash on, on top of the other tray – so the pastries on the bottom tray (with the icing sugar on) will stay flat and a bit squashed.

Place in the oven and cook for 15-20 minutes - until golden brown. Take the top tray out of the oven, and let the bottom tray cook for a further 5 minutes, then take out of oven and leave to cool. Once cool, use a metal spatula to remove from the trays.

Place the cream cheese into a bowl and whisk to loosen it up. Add in the lemon juice and icing sugar and whisk again to combine. Stir through the lemon zest, then spoon the mix into a piping bag with a large plain nozzle.

Pipe the lemon mixture onto the flat squares of pastry (the ones that had the icing sugar on). Then top with the squares of the puffed up pastry.

Place in the refrigerator for an hour, then serve.
✎ Notes
These lemon puffs can be placed in a sealed container and stored in the refrigerator for up to a day.
.
Nutritional Information is per serving.
Nutrition
Calories:
160
kcal
Carbohydrates:
12
g
Protein:
2
g
Fat:
11
g
Saturated Fat:
4
g
Cholesterol:
22
mg
Sodium:
89
mg
Potassium:
44
mg
Sugar:
4
g
Vitamin A:
200
IU
Vitamin C:
4.8
mg
Calcium:
19
mg
Iron:
0.6
mg