This Pulled Crispy Duck with is so easy to cook, and so tasty, you'll wonder why you don't cook duck more often.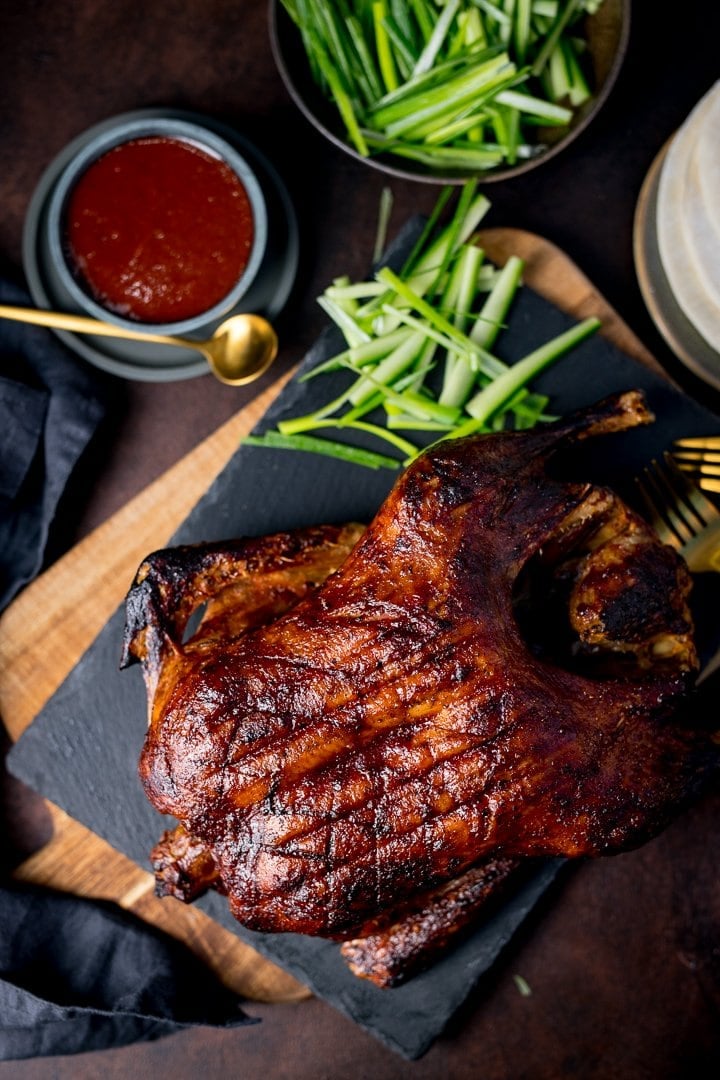 I promised you pulled duck…
So I'm delivering on that promise in slow-cooked, fall apart, huge-mound-of-meat style.
I had a hard time photographing this one without pinching a piece, and then another, and then another.  You get the picture.
This is so easy to cook, and so tasty, you'll wonder why you don't cook duck more often.  I know I did.  I haven't cooked duck since I made my duck confit with roasted rhubarb back in March!  I think this one has to go on the hot Christmas buffet menu!
Ooh Christmas! It's getting close.  I'm in no way prepared yet, but I'm slowly starting to get the childish excited feeling in my tummy.
Chris and I are going away for the night for our wedding anniversary next week.  We're only going about 25 miles away to Manchester, but we'll be going to the Christmas markets.  Three hundred stalls of food, drink and gifts to wander around – all with a steaming cup of too-strong mulled wine in my gloved hands.
That'll be the start of Christmas for me!
We were planning on going out to a nice restaurant too, but we've decided to see what's on offer at the market first.  I think sizzling bratwurst, Nutella-smothered crepes and giant pans of spicy paella will win hands down!
What gets you in the mood for Christmas?
Ok ok, It's still November.  Back to the Crispy Duck with Plum Sriracha Sauce.
How do you get the duck so crispy? So, you'll need a roasting tin with a wire rack above it.  Placing the duck on the rack will allow the excess fat to drain off – of which there'll be quite a lot.  The trick for getting the crispy skin is to score the fat (not the flesh) lightly all over the breast-side of the bird, then just season it and put it in the oven as it is.
The duck takes 4 hours to cook, and during this time, you'll turn it over every hour.  This will help to  allow the juices to distribute so that all of the meat is moist and succulent.  It'll also help ensure all of the skin is cooked crisply and evenly.
In the last ten minutes, take the duck out of the oven, turn it breast-side up again and brush some of the plum-sriracha sauce on it.  Then put back in the oven for it's final 10 minutes.  This will give the skin a lovely dark, caramelised glaze to it that tastes amazing too!
Although I posted the recipe for the plum sriracha sauce yesterday, I've included it on this post too. You can cook the duck without the sauce and enjoy it as part of a Chinese banquet or just served with some hoisin sauce and delicious fried rice , or even go traditional Chinese takeout and serve with pancakes, julienned spring onions and cucumber and some hoisin sauce on the side if you prefer.
The Pulled Crispy Duck with Plum Sriracha Sauce Recipe:
Pulled Duck with Plum Sriracha Sauce
Pulled Duck with Sririacha plum sauce - The easiest way to make, slow-cooked, fall apart duck with crispy skin.
Print
Rate
Pin The Recipe For Later
Total Time:
4
hrs
10
mins
Ingredients
Duck:
1

duck

approx. 2.4kg in weight. Innards removed.

1/2

tsp

salt

1/2

tsp

freshly ground black pepper
Plum Sriracha sauce:
1

tbsp

vegetable oil

1

red onion

peeled and chopped

1

thumb-sized piece of ginger

peeled and chopped finely

4

cloves

garlic

peeled and chopped/crushed

600

g

ripe plums

de-stoned and cut into small (1 cm pieces) - no need to take the skin off

6

tbsp

dark soy sauce

4

tbsp

honey

1

tbsp

Chinese rice vinegar

if you don't have any you can use white wine vinegar

4

tbsp

sriracha
Instructions
Preheat the oven to 150C/300F. Take a large roasting tin and place a wire rack inside.

Pat the duck down with some kitchen paper to ensure the skin is dry. Score the skin of the duck in a criss-cross pattern (breast side) with a sharp knife. Be sure not to pierce the flesh. Place the duck - breast side up - on the rack in the roasting tin. Season with salt and pepper, and place in the oven for 3 hours 50 minutes. Turn the duck over every hour (I use a clean kitchen towel in each hand to turn the duck over).

Whilst the duck is in the oven, make the plum sriracha sauce.

Heat the oil in a medium sized sauce pan. Add the onion and cook on low-medium for 5 mins - until the onion is soft. Give it a stir every minute or so. Add in the ginger and garlic and cook for a further minute. Add in the rest of the ingredients, turn up the heat and bring to a gentle bubble. Turn the heat back down to medium and allow everything to bubble gently for 20 minutes. Give it a stir every so often.

After 20 minutes, turn off the heat and blend the mixture in the pan using a hand blender. I like to give it just a few pulses so the sauce still has some texture. Leave to one side.

After the duck has cooked for 3 hours 50 minutes, take it out of the oven and turn the oven temperature up to 190C/375F. Turn the duck so that it's breast-side-up again and brush 2 tbsps of the plum sriracha sauce all over the top of the duck (including the legs). Place back in the oven for 10 minutes until the glaze has gone dark brown and caramelised.

Take the duck out of the oven. Leave to rest for 10 minutes, then place on a large plate and shred all the meat using two forks.

Serve immediately with some of the plum sriracha sauce. I also like to serve it will some rice and greens.
Recipe Notes
Save the rendered duck fat for making delicious roast potatoes!
.
Nutritional information is per serving (note, I haven't factored in the fat that is released when the duck is cooking, so it may be fewer calories and less fat altogether).
Nutritional Information
Nutrition Facts
Pulled Duck with Plum Sriracha Sauce
Amount Per Serving
Calories 646
Calories from Fat 468
% Daily Value*
Fat 52g80%
Cholesterol 96mg32%
Sodium 1510mg63%
Potassium 515mg15%
Carbohydrates 26g9%
Protein 17g34%
Vitamin A 575IU12%
Vitamin C 21.5mg26%
Calcium 31mg3%
Iron 3.8mg21%
* Percent Daily Values are based on a 2000 calorie diet.
Some of the links in this post may be affiliate links – which means if you buy the product I get a small commission (at no extra cost to you). If you do buy, then thank you! That's what helps us to keep Kitchen Sanctuary running. The nutritional information provided is approximate and can vary depending on several factors. For more information please see our Terms & Conditions.