A sumptuously rich slow-cooked beef stew braised with red wine and topped with crispy pancetta. Beef Bourguignon makes a stunning-yet-comforting winter dinner.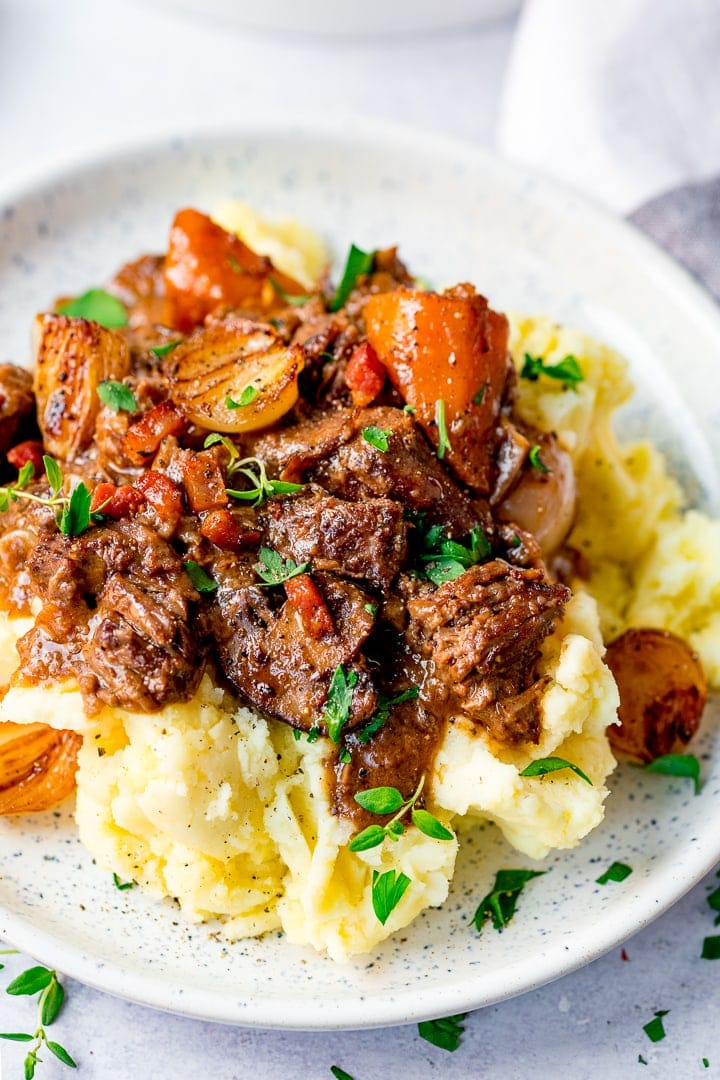 Ok, eyes closed and tell me how to spell bourguignon. I've had to look it up at least three times.
My spell checker is even telling me that spelling is wrong and insisting I replace it with 'bourgeoisie'. Of course this is one top class dinner, but no need to get all Marxist about it (omg that may be the first time I've referenced anything from my sociology A level).
This meal is so deliciously hearty and flavourful – fall apart beef, crispy bacon, a mix of crispy-browned and soft, tender shallots and bites of slow-cooked carrots, all en-robed in a rich red wine sauce.  Served with mashed potato and green veg it makes an amazing winter meal.
A little bit of effort is required to start the dish off, but then it all cooks merrily in the oven until beautifully tender.
We start off by frying cubed pancetta in a pan, and also browning a few halved shallots - that we'll use as a topping later. Save that delicious bacon fat for the next step!
Next, coat the beef in seasoned flour and fry it off in batches (in that yummy bacon fat) to seal. Add all the beef back in, then add tomato puree, a WHOLE BOTTLE of red wine (yeah, you heard me), beef stock, bay leaves, thyme, more shallots, mushrooms and carrots. Cook in the oven for 3 hours (checking occasionally, stirring and topping up with a little water or stock if needed).
Add the fried pancetta and browned shallots for a final 10 minutes.
And that's it - serve with mashed potatoes and a sprinkling of fresh thyme for a comforting family dinner that also works well as an impressive dinner party dish.
***A quick note on the wine:
A whole bottle of wine does seem like a lot when you're pouring it in, but the flavour softens during the long cooking process and you're left with a rich taste that isn't at all bitter or 'wine-y'.
It's a great meal for when you have guests – as you can do all the prep before everyone arrives. By the time they do arrive, the house will smell amazing!
Now I'm looking at the pictures again my mind is made up on what I'm making for tea tonight! Oh how I love winter food 🙂
Here are some more slow cooked recipes you can cook in a cast iron pan:
(I use a deep cast iron pan (<--affiliate link) to cook my Beef Bourguignon)
The Rich and Comforting Beef Bourguignon Video:
The Rich and Comforting Beef Bourguignon Recipe: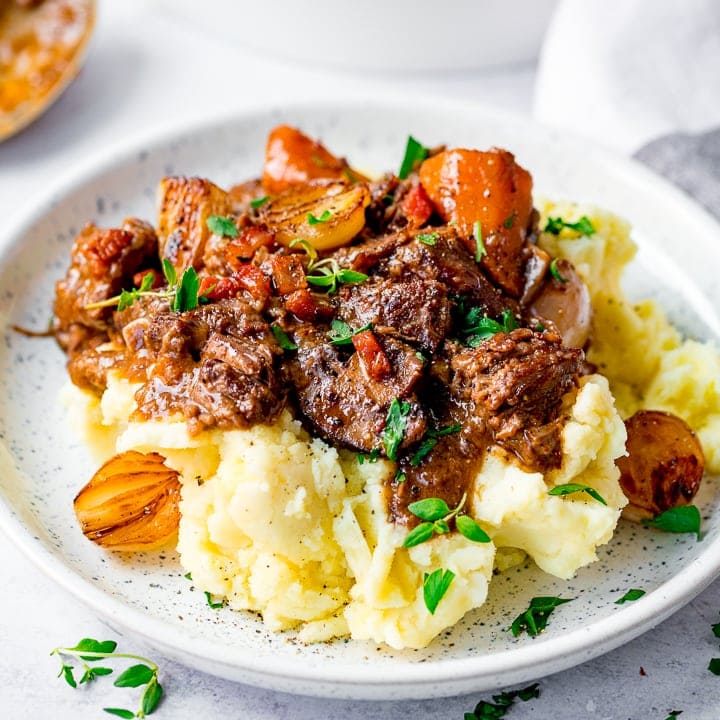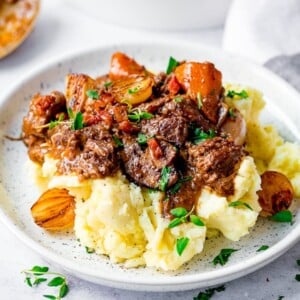 Rich and Comforting Beef Bourguignon
A sumptuously rich slow-cooked beef stew braised with red wine and topped with crispy pancetta. A stunning-yet-comforting winter dinner.
Ingredients
1

tbsp

vegetable oil

½

cup

bacon lardons

20

small shallots

-

peeled, 6 of them cut in half, the rest left whole

3

lbs

beef braising steak

-

i.e chuck or skirt, cut into large chunks

3

tbsp

plain/all-purpose flour

¼

tsp

salt

¼

tsp

black pepper

1

tbsp

tomato purée

1

x 750ml bottle red wine

-

it doesn't have to be an expensive wine, I used Shiraz

1

cup

240ml beef stock

3

bay leaves

1

tsp

dried thyme

16-20

chantenay carrots

-

peeled

2

cups

brown mushrooms

-

thickly sliced
INSTRUCTIONS
Preheat the oven to 160C/320F.

Heat the oil in a large ovenproof casserole dish and add the lardons. Fry until golden brown, then remove from the pan with a slotted spoon and place in a bowl.

Add the halved shallots to the pan and fry on high in the same pan for a few minutes until seared, then add to the bowl with the lardons.

There should still be 2-3 tbsp of oil left in the pan at this point, if there isn't top up with a little more oil.

Toss the beef with the flour, salt and pepper, then brown the beef in the pan in 3 or 4 batches (about 5-6 minutes per batch). Spoon out each batch into a bowl before starting on the next batch. When cooked, add all the beef back into the pan and stir in the tomato puree, then add the wine, beef stock, bay leaves, thyme, carrots, mushrooms and the whole shallots. Give everything a stir – to release any bits that may have stuck to the bottom of the pan. Then bring to the boil and turn off the heat. Place a lid on top and place in the oven to cook for 3 hours. Check a couple of times to make sure the Bourguignon isn't going dry. If it is starting to look a little dry, add half a cup of water.

After 3 hours, stir the bacon lardons and fried shallots into the pan, place the lid back on and place back in the oven for another 10 minutes to heat through.

Serve with mashed potato and greens.
Video
✎ Notes
What wine is best for Beef Bourguignon?
Some people will say to use the best wine possible. Personally I think go with something fairly inexpensive (as the flavour will mellow out during cooking anyway), but not cheap and vinegary. I tend to use a Shiraz (I used Hardy's Bankside Shiraz last time) - which is about £7 or $9 per bottle.
Can I replace wine with something else in Beef Bourguignon?
The wine does give the Bourguignon its signature flavour. If you don't want to use wine, try my:
Slow-cooked Scottish Beef stew instead - that also uses red wine, but you can replace it with beef stock in that one and it will still taste great.
or my
Slow-cooked Steak Diane Casserole - I LOVE this one, but it does contain 4 tbsp of Whisky. However, you can leave the whisky out and it will still taste amazing.
What to serve with Beef Bourguignon:
The bourguinon contains a few veggies already, but I like to serve mine with creamy mashed potatoes or crispy roast potatoes and some greens - such as steamed kale or Baked Sprouts.
Best cut of beef for Beef Bourguignon:
Chuck steak (braising steak) – comes from the forequarter- Consisting of parts of the neck, shoulder blade, and upper arm.

It's a tough but very flavorful cut of meat. It has a lot of connective tissue, which needs long slow cooking to break down and become tender. Cut into bite-size chunks, or you can use bigger chunks and shred the beef into strips.

Silverside (bottom round) – comes from the hindquarter – just above the back leg

It's a leaner, inexpensive cut of meat with little marbling. The lack of fat means it doesn't have as much flavour as chuck steak, so make sure you use good quality stock (as well as the wine) to cook it in. It's good for slow cooking, but must be cooked with moisture/liquid so doesn't dry out and become tough.
Nutritional Information is per serving, without the serving suggestion of mashed potato and greens.
Nutrition
Calories:
395
kcal
Carbohydrates:
9
g
Protein:
26
g
Fat:
20
g
Saturated Fat:
9
g
Cholesterol:
76
mg
Sodium:
383
mg
Potassium:
637
mg
Fiber:
1
g
Sugar:
2
g
Vitamin A:
2785
IU
Vitamin C:
1.7
mg
Calcium:
32
mg
Iron:
3.2
mg
This post was first published in January 2016. Updated in October 2019 with new photos, step-by-step photos, tips and a recipe video.
Some of the links in this post may be affiliate links – which means if you buy the product I get a small commission (at no extra cost to you). If you do buy, then thank you! That's what helps us to keep Kitchen Sanctuary running. The nutritional information provided is approximate and can vary depending on several factors. For more information please see our Terms & Conditions.