My Slow Cooked SUMMER Beef Casserole is a lighter casserole with crunchy veg and parmesan. Only 10 minutes of hands-on time, then the rest of the time is in the oven or the slow cooker.
I love to serve it with couscous and a few slices of freshly chopped red onion. A delicious easy casserole you can enjoy in the Summer months too!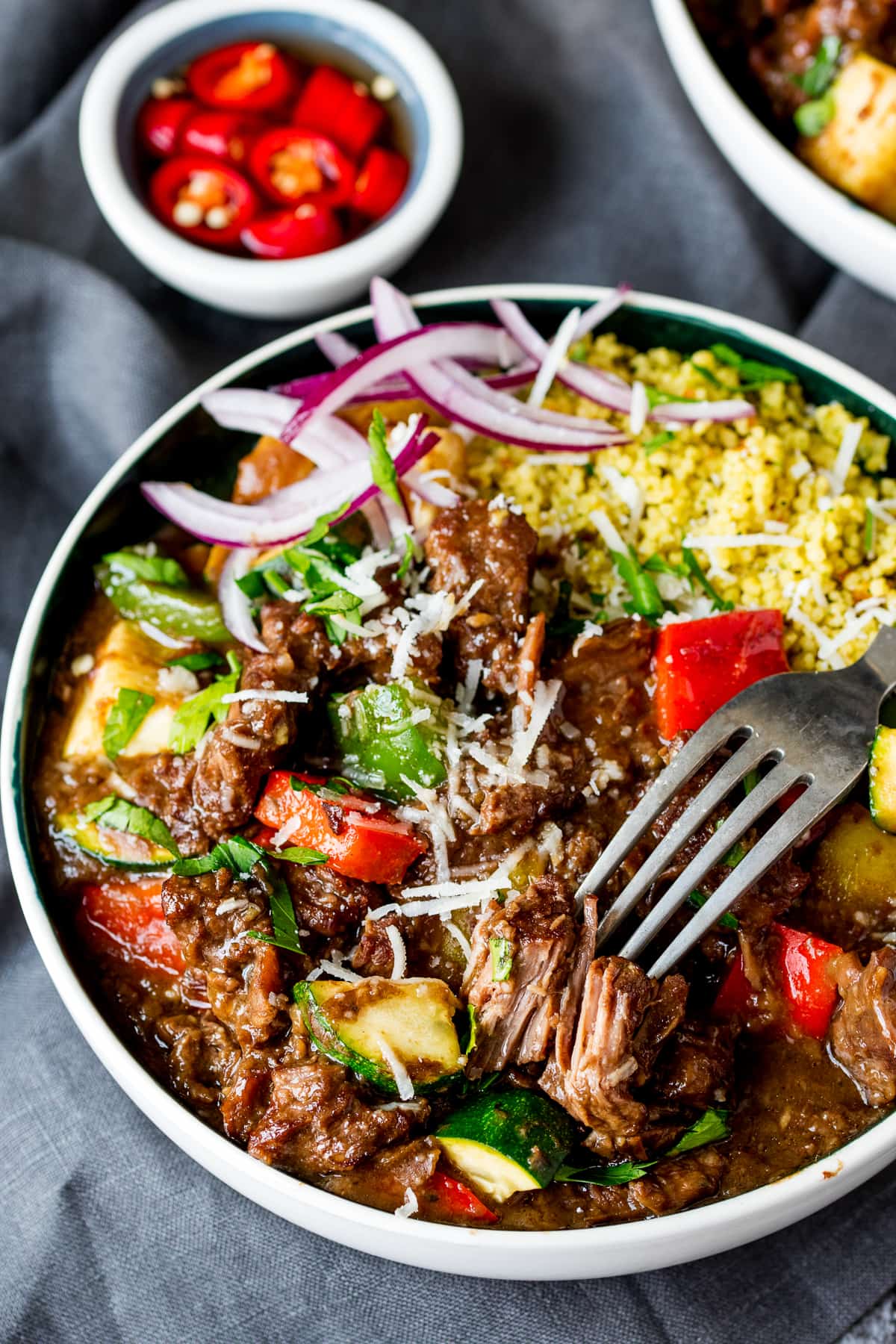 Anytime I decide to make a beef stew after the month of March you can guarantee that by the time I set it on the table the sun will be blazing outside. The birds will be singing, neighbours will be mowing their lawns, and Chris will be either looking pointedly at the barbecue, or rolling his eyeballs at me.
Just like the days you actually remember to take your new sunglasses out and it rains all day.
This warming, comforting beef casserole = the assurance of sunshine.
But I really really like casseroles!
I'd happily eat a stodgy meat-potato-saucy casserole any time of the year, but I suppose it is a bit ridiculous when everybody else is eating lovely light salads and stir frys.
So I decided to de-winter my favourite beef casserole!
The addition of a little garlic, plus some crunchy veg and a sprinkling of parmesan makes SUCH a difference.
What do we need?
Beef chunks - more about the cut of beef in below
Flour, salt and pepper to coat and season the beef
Guinness (or other ale - see swaps further down) and beef stock for a lovely rich flavour
Bell peppers and courgette (zucchini) - these will be lightly cooked for a fresh bite
Parmesan, parsley and red onion for a lovely light topping. I'm also serving it with couscous.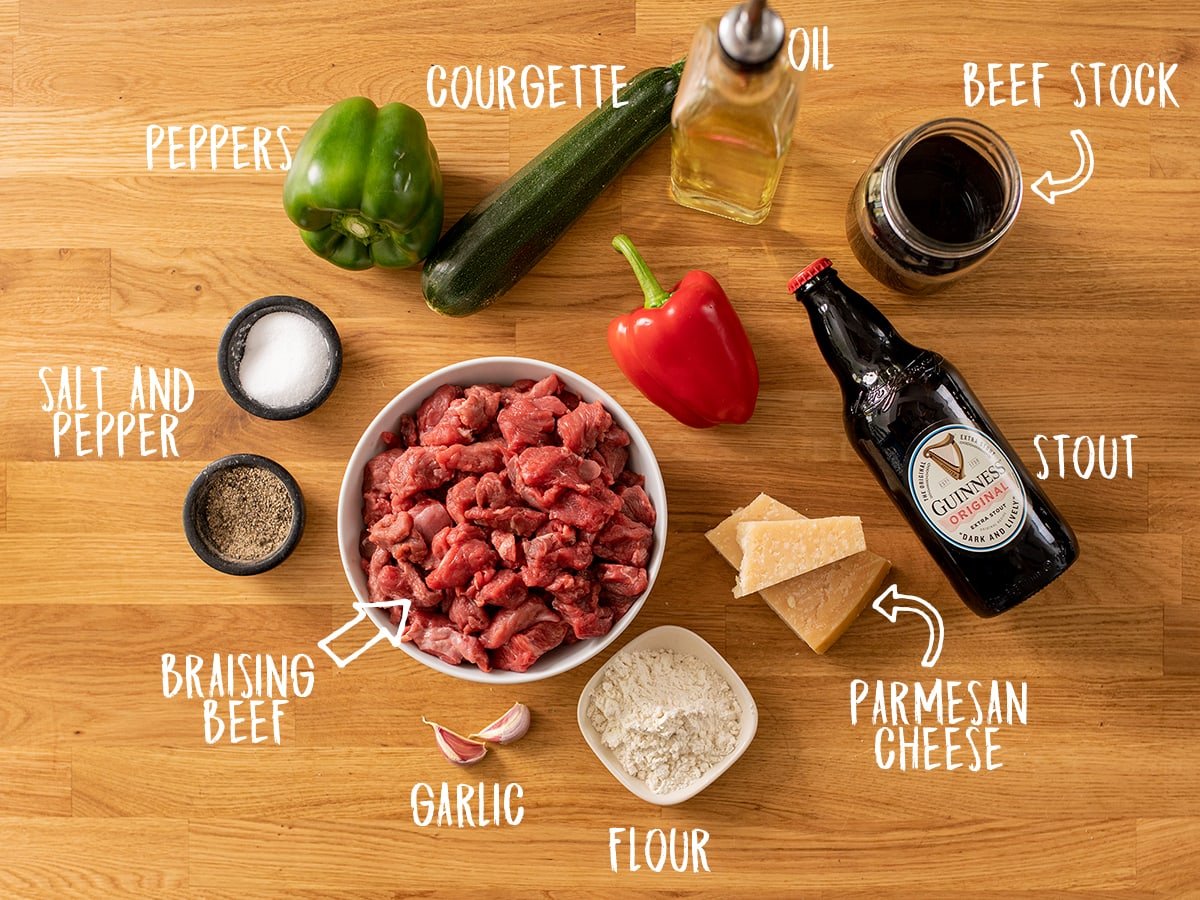 How to make this Summer Beef Stew
Coat the beef in the flour, salt and pepper, then brown in a large casserole pan (<-affiliate link) with a little oil.
Add garlic, Guinness and stock. Bring to the boil, then cook in the oven for 3 hours (see recipe card for slow cooker instructions if preferred).
After 3 hours add in chopped peppers and courgette (zucchini), then place the lid on and cook for a further 5 minutes to just lightly cook the veg.
Spoon into bowls and sprinkle on parmesan, parsley and red onion slices.
I like to serve this stew with warm couscous. I use either plain couscous cooked in a little stock, or a spicy flavoured couscous.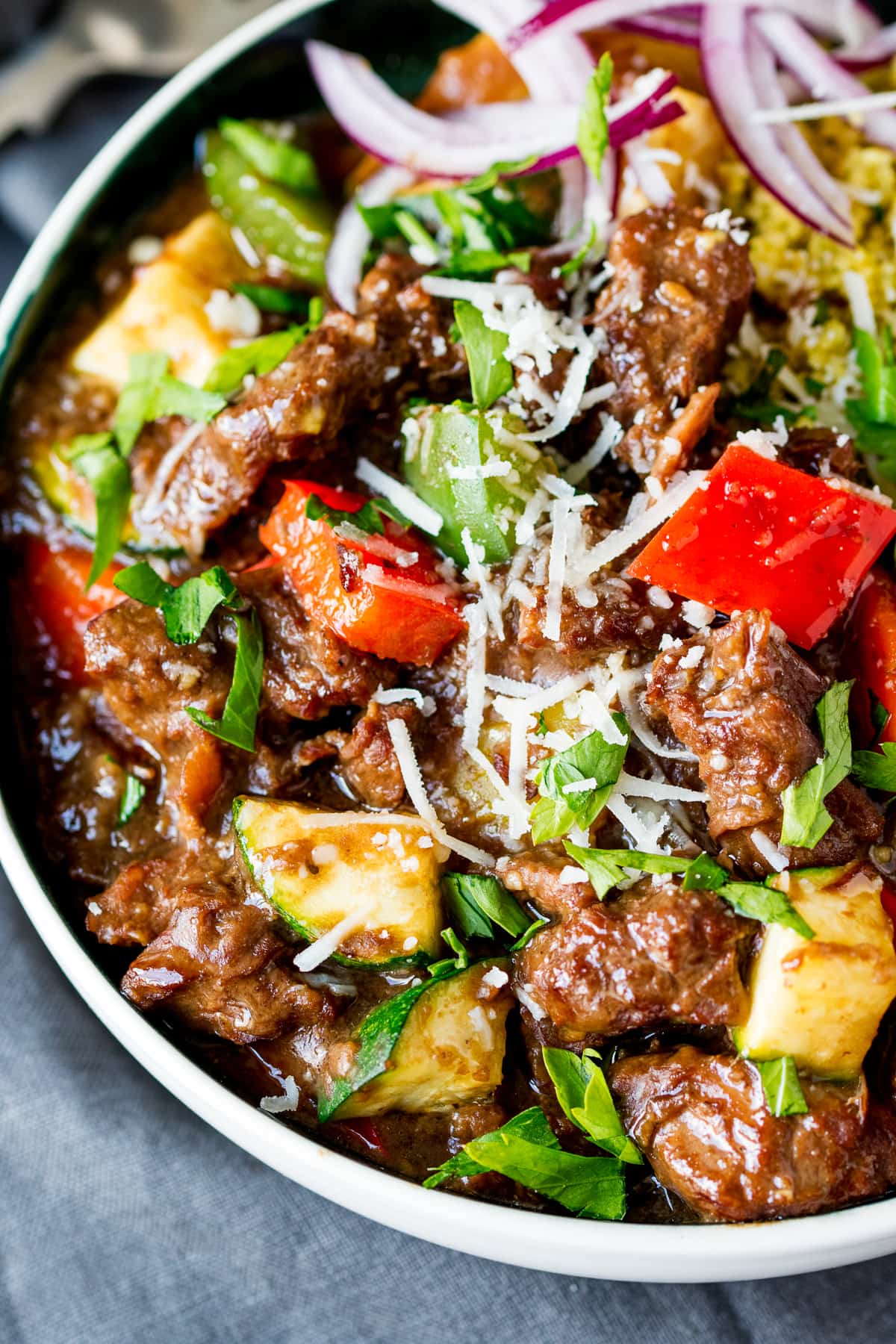 Delish!
Slow cooker and long oven/hob cooking recipes:
Can I make it in the slow cooker instead?
Yes, once you've brought the casserole to the boil in step 3, transfer the contents to your slow cooker and cook on high for 5-6 hours or low for 7-8 hours. This is the crockpot (<– affiliate link) I use. It has a searing function, so you can cook it all in the slow cooker without having to use a pan at all. Add the peppers and courgette for the last 20 minutes of cooking (the heat is a lot more delicate in a slow cooker, so they'll take a little longer to warm through.
Can I make this without Guinness?
Yes, you can replace the Guinness with another stout or robust ale. If you want to make it without alcohol just replace the same amount of Guinness with beef stock plus a tablespoon of Worcestershire sauce. This replaces the tiny amount of tang that you'd get from the Guinness. It mellows as it cooks, so don't worry about it being too acidic.
Alternative serving suggestion to couscous?
Serve with pasta, baby new potatoes, quinoa or bulgar wheat for a light side dish. A lovely herby tabbouleh would also go brilliantly for a fresh summer flavour..
Watch how to make it
Stay updated with new recipes!
Subscribe to the newsletter to hear when I post a new recipe. I'm also on YouTube (new videos every week) and Instagram (behind-the-scenes stories & beautiful food photos).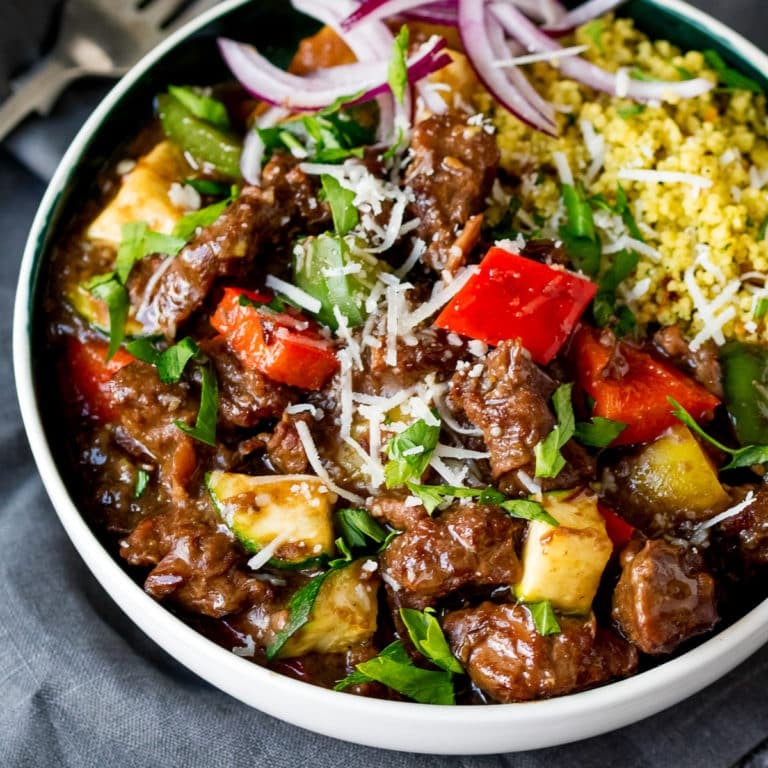 Slow Cooked SUMMER Beef Casserole
Slow Cooked Summer Beef Casserole. Fall-apart meat with crunchy veg and parmesan. Serve it with couscous for an even lighter feel.
Ingredients
2

tbsp

olive oil

1 + ⅓

lbs

(600g) braising beef chopped into chunks

2

tbsp

plain/all-purpose flour

½

tsp

salt

½

tsp

pepper

2

cloves

garlic

-

peeled and minced

11

oz

(330ml or a little under 1.5 cups) Guinness or other ale

1 + ½

cups

(360ml) beef stock

1

red bell pepper

-

chopped

1

green bell pepper

-

chopped

1

small courgette/zucchini

-

chopped into chunks

3

tbsp

grated parmesan cheese
To Serve:
Freshly chopped parsley

¼

red onion

-

peeled and thinly sliced

Cooked couscous

-

If I'm going for a flavoured couscous, I like Ainsley Harriott's Spice Sensation with this meal
INSTRUCTIONS
Preheat the oven to 160c/325f.

Heat the oil on a medium-high heat in a dutch oven or other heavy based pan. Place the beef in a bowl or bag and add the flour, salt and pepper. Toss together to coat, then add the beef to the pan. Brown the meat all over (should take about 6-8 minutes).

Add the garlic,stir and cook for one minute, then add the Guinness and stock.

Bring to the boil, stir and place a lid on the pan. Place in the oven and cook for 3 hours (check every hour and top up with a splash of water if it's starting to look a little dry).

After 3 hours add in the in chopped peppers and courgette. Place the lid on and place back in the oven for 5 minutes. This should ensure the veg stays crunchy but is warmed through.

Take out of the oven and, sprinkle on the parmesan, parsley and red onion slices, then serve with warm cous cous.
✎ Notes
Want to change the number of servings?
You can double or triple the recipe using the same ratio of ingredients.
I wouldn't suggest reducing the quantities as the meat would dry out when cooking for the 3-hour period (and it wouldn't be fall-apart if you cooked it for less time). This recipe does freeze well though (see instructions below), so you could make it up and freeze some for later.
Can I make it ahead?
Yes, make the casserole, but don't add the peppers and courgette, then cool, cover and refrigerate.
Reheat in a lidded dish in the oven at 160C/320F for 35-45 minutes until piping hot throughout. Add the peppers and courgette for the last 5 minutes of cooking. Stir once or twice whilst reheating to ensure it heats evenly.
You can reheat on the hob if you prefer, although you will need to be careful when stirring so you don't break down the tender chunks of beef too much. Reheat over a low-medium heat, stirring often until piping hot throughout - which should take 10-15 minutes (adding those chunks of peppers and courgette for the final 5 minutes).
Can I freeze this beef casserole?
Yes, make the casserole, but don't add the peppers and courgette. Cool, cover and freeze the casserole, then defrost overnight in the refrigerator. Reheat as per the 'Can I make it ahead?' instructions above.
Best cut of beef for Beef Casserole:
Use either braising steak (chuck steak) or silverside. My preference is braising steak for better flavour.
Chuck steak (braising steak) – comes from the forequarter- Consisting of parts of the neck, shoulder blade, and upper arm.

It's a tough but very flavorful cut of meat. It has a lot of connective tissue, which needs long slow cooking to break down and become tender. Cut into bite-size chunks, or you can use bigger chunks and shred the beef into strips.

Silverside (bottom round) – comes from the hindquarter – just above the back leg

It's a leaner, inexpensive cut of meat with little marbling. The lack of fat means it doesn't have as much flavour as chuck steak, so make sure you use good quality stock (as well as the Guinness) to cook it in. It's good for slow cooking, but must be cooked with moisture/liquid so doesn't dry out and become tough.
Nutritional information is per serving, without the serving suggestion of couscous.
Nutrition
Calories:
305
kcal
Carbohydrates:
11
g
Protein:
30
g
Fat:
13
g
Saturated Fat:
3
g
Cholesterol:
50
mg
Sodium:
487
mg
Potassium:
814
mg
Fiber:
1
g
Sugar:
2
g
Vitamin A:
1315
IU
Vitamin C:
79.6
mg
Calcium:
82
mg
Iron:
3.6
mg
This post was first published in June 2016. Updated in June 2020 with new photos, video and tips.
Some of the links in this post may be affiliate links – which means if you buy the product I get a small commission (at no extra cost to you). If you do buy, then thank you! That's what helps us to keep Kitchen Sanctuary running. The nutritional information provided is approximate and can vary depending on several factors. For more information please see our Terms & Conditions.
Looking for more Summer Dinner inspiration?