These Nutella Cookie Bites With Whipped Cream are snack perfection! Perfect Party Food!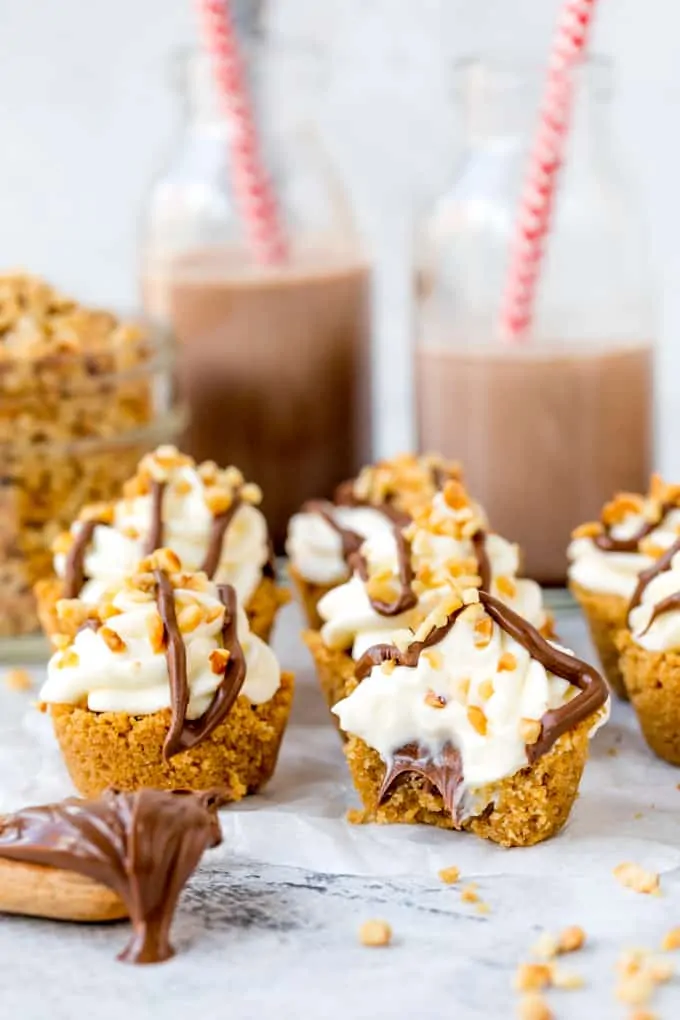 Bitesize food is THE BEST!
I love making it and I love eating it. I think it stems from my love of party food. One of these days  I'm going to cook them all in one day, and scoff the lot!
Let's see, we've got
and plenty more!
These little Nutella-stuffed bites are made from crushed digestive biscuits that have been baked into little cup shapes (easy to replace with gluten free digestives/Graham Crackers if needed). The filling is a good blob of Nutella, topped with stabilized cream*, chopped hazelnuts and more Nutella.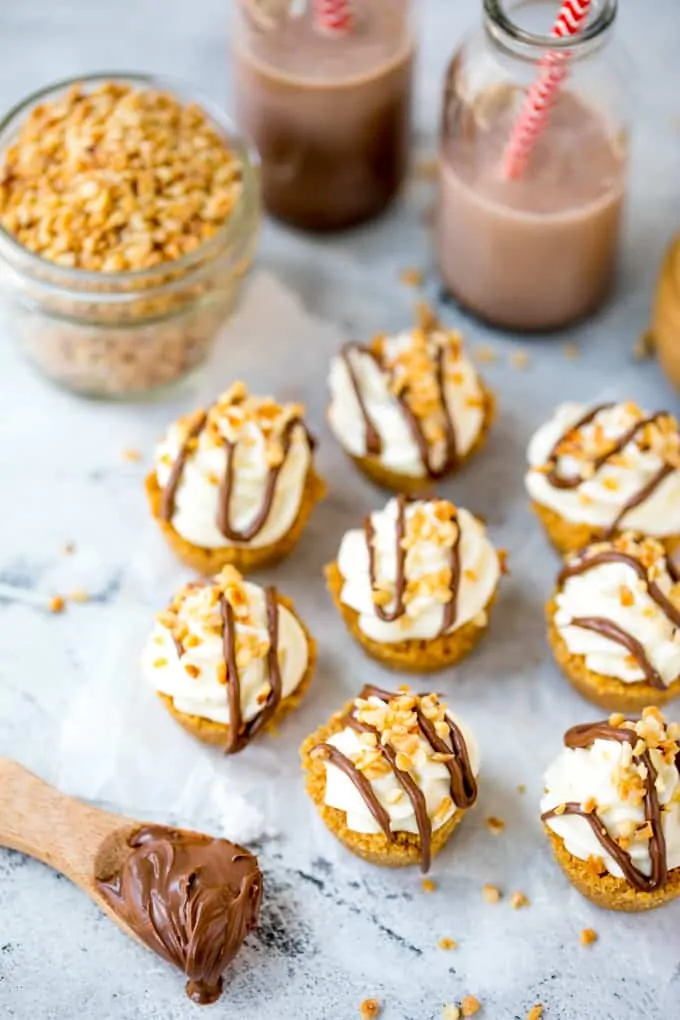 *I've started using stabilized cream a lot more recently. Simply whisk a little gelatin/water mixture in with the whipped cream, and this prevents the cream from going too stiff or from splitting. It's much nicer to pipe with (I find piped cream sometimes has a slightly rough-looking texture, instead of a smooth finish) and it holds it's shape really well in the fridge.
Trust me, these things will disappear from your party table sooo quick!
Make them ahead (up to the day before), and you've got dessert ready to serve in a jiffy (can't believe I just said jiffy).
The Nutella Cookie Bites With Whipped Cream Recipe:
Nutella Cookie Bites With Whipped Cream
These Nutella Cookie Bites With Whipped Cream and hazelnuts are snack perfection! Perfect Party Food and easy to make gluten free too!
Ingredients
150

g

approx. 10 digestives biscuits. Replace for the same weight in graham crackers or gluten free digestives/graham crackers

4

tbsp

caster sugar or superfine sugar

75

ml

unsalted butter, melted

1

tsp

powdered gelatin

4

tsp

cold water

160

ml

double/heavy cream

35

g

confectioners' sugar

140

g

Nutella

3

tbsp

chopped roasted hazelnuts
INSTRUCTIONS
Preheat the oven to 170C/320F.

Place the biscuits in a food processor and process until they turn to fine breadcrumbs (you can crush them in a bag, using a rolling pin if you like, but you need really fine crumbs).

Add the caster sugar and melted butter and pulse again until combined.

Take a 24-hole mini muffin (petit fours size) and fill 18 of the holes with the biscuit crumbs - all the way to the top (fill more if you still have more crumbs left). Use the handle of a wooden spoon to make an indentation in each cookie pile.

Place in the oven for 5 minutes until lightly golden. Take out of the oven and immediately (whilst still hot) use the handle of the wood spoon to make the holes more pronounced - as the cookie crumbs will have expanded slightly in the oven. Leave to cool completely in the tin.

Once the cookie cups have cooled, carefully remove from the tin. I loosen them with a butter knife and either tip or scoop them out. If they're still warm, they're more likely to crumble, to ensure they've cooled completely.

Meanwhile stir together the powdered gelatin and cold water, allow to sit to 2-3 minutes, then heat in the microwave for a few seconds to completely melt the gelatin. Stir again, and allow to cool for a few minutes.

Whisk together the cream and confectioner's sugar until soft peaks form, then slowly pour in the gelatin mixture whilst continuing to whisk. Whisk until the cream holds it's shape. The addition of the gelatin stops the cream from seizing or splitting, and will keep it soft. Spoon the cream in a piping bag with a fluted nozzle, or use a sandwich bag with the corner cut off if you like.

Add ½ tsp of Nutella into each cookie cup. Spoon the remaining Nutella into a piping bag with a fine tip.

Pipe on the cream on top of each cup, using a swirling motion, starting from the outside and working in.

Working in a zig-zag motion, pipe Nutella onto each of the cookie cups. Sprinkle on the chopped hazelnuts and serve.
✎ Notes
Nutritional Information is per serving ( based on getting 18 cookie bites from the recipe).
Nutrition
Calories:
166
kcal
Carbohydrates:
16
g
Protein:
1
g
Fat:
10
g
Saturated Fat:
6
g
Cholesterol:
21
mg
Sodium:
47
mg
Potassium:
60
mg
Sugar:
11
g
Vitamin A:
235
IU
Vitamin C:
0.2
mg
Calcium:
19
mg
Iron:
0.7
mg