These apple pie truffles really do taste like apple pie! So delicious, and no baking required!
I love/hate it when I make sweet chocolatey things like this.
Love?
Well they taste amazing. So could I could probably eat 10 in a row and still want more.
Hate?
I could probably eat 10 in a row and still want more.....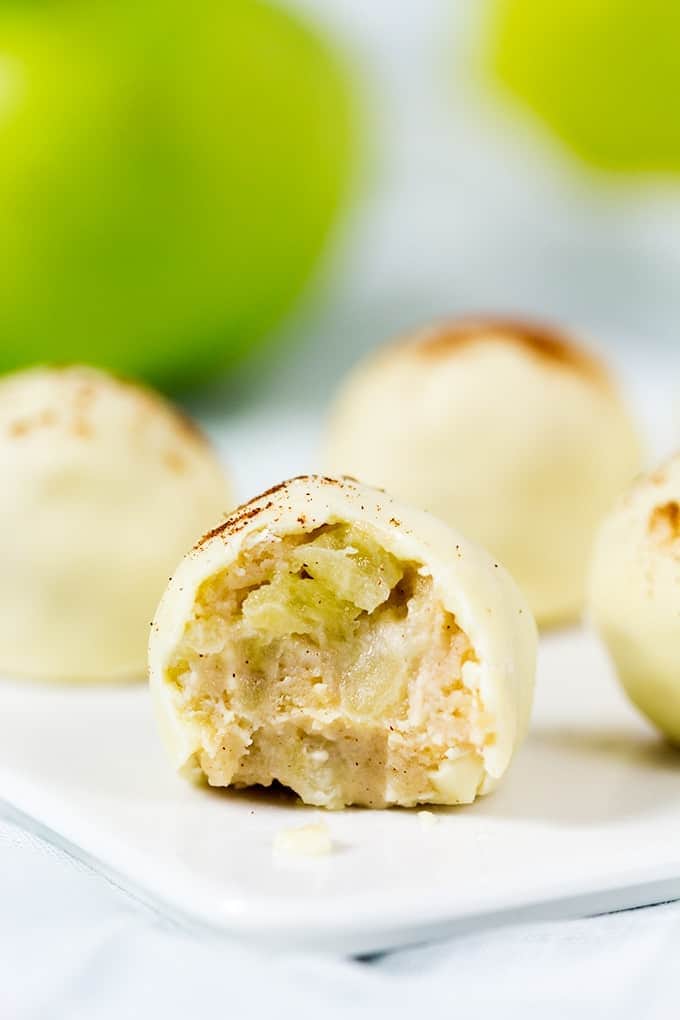 I was checking out Sally's Baking Addiction blog the other day, and I spotted her recipe for Pumpkin Spice Truffles.  They looked so good, I decided to give them a go with my own flavour-spin on the recipe.
Chris had just been given some apples from a friend at work (thanks Becky!) so that helped the decision making process.
Rather than cooking the apples to a puree, I just cooked them for a few minutes - I really wanted little bites of apple in there.
Shortbread seemed like the best biscuit to got for when I was trying to figure out something with a buttery-pastry taste.  It turned out to the be the perfect choice, so if you can get hold of it, then I definitely recommend using all-butter shortbread.
The cream cheese, confectioners' sugar and melted chocolate helps to bind everything together, to a soft, melt-in-your-mouth consistency.
And of course, you can't have apple pie without a touch of cinnamon!
These things are amazing! So easy to make, but they're gone in no time.
I still have a couple of cooking apples left too, and I'm trying to tell myself not to make more so soon after the last batch disappeared, but I fear i'm fighting a losing battle!!
The Apple Pie Truffles Recipe:
Apple Pie Truffles
These apple pie truffles really do taste like apple pie! So delicious, and no baking required!
Ingredients
1

small cooking apple

-

(approx. 75g/2.6oz)

55

g

full-fat cream cheese, room temperature

2

tbsp

confectioners' sugar

175

g

all butter shortbread biscuits, finely crumbled (I place mine in a bag and crush them with a rolling pin)

½

tsp

cinnamon

100

g

white chocolate, melted (I chop my chocolate into chunks and melt in the microwave in 30 second bursts – stirring in between each burst).
Chocolate coating:
200

g

white chocolate, melted

¼

tsp

cinnamon
INSTRUCTIONS
Peel the cooking apple and chop into small chunks (about the size of a raisin). Place in a pan over a medium heat with 1 tbsp water. Place the lid on and cook for 3-5 minutes – until the apple has softened, but isn't mushy. Leave to cool.

Place the cream cheese and confectioners' sugar in a small bowl and mix together until combined. Stir in the crumbled shortbread and cinnamon, and then mix in the melted white chocolate and chunks of apple. Cover the bowl with clingfilm/plastic wrap and place in the fridge for an hour.

After an hour, take the mix out of the fridge. Line a plate or tray with baking parchment. Scoop out heaped teaspoons of the mix, place in your hand and roll into a ball. Place on the parchment (the mix will be a little sticky, but should hold its shape). Repeat until all of the mixture is used up. Place back in the fridge to chill for 30 minutes.

After 30 minutes, take the shortbread balls out of the fridge. Dip each ball in white chocolate. I like to use a narrow bowl for the melted chocolate, so that I can submerge the shortbread balls. The easiest way to do this is to place a shortbread ball on a small fork, then dip in the white chocolate and spoon more white chocolate over the top if necessary until the whole ball is covered. Lift out the ball and allow any excess chocolate to drip off (you could use a knife or spoon to 'scoop' any excess chocolate from the bottom of the fork. Gently slide the ball onto a tray lined with baking parchment. Repeat until all the balls are covered in chocolate.

Sprinkle each ball with a pinch of cinnamon and place in the fridge for 30 minutes to set.
✎ Notes
The apple pie balls should be served straight from the fridge, but are ok for a couple of hours out of the fridge.
They should last 2-3 days in the fridge, covered.
.
Nutritional Information is per truffle, based on getting 20 truffles from the mixture.
Nutrition
Calories:
142
kcal
Carbohydrates:
16
g
Protein:
1
g
Fat:
7
g
Saturated Fat:
3
g
Cholesterol:
7
mg
Sodium:
68
mg
Potassium:
65
mg
Sugar:
11
g
Vitamin A:
50
IU
Vitamin C:
0.5
mg
Calcium:
37
mg
Iron:
0.3
mg
If you like these truffles then you might like my other Christmassy truffles