Look how cute these are!  Slightly deceiving at first glance I know, but these mini Bite Sized Burgers are only 1.5 inches tall (and the tiny glass of beer is 30ml)! These are my Bite size Burgers with homemade mini buns, the perfect Mini Burger Appetizer!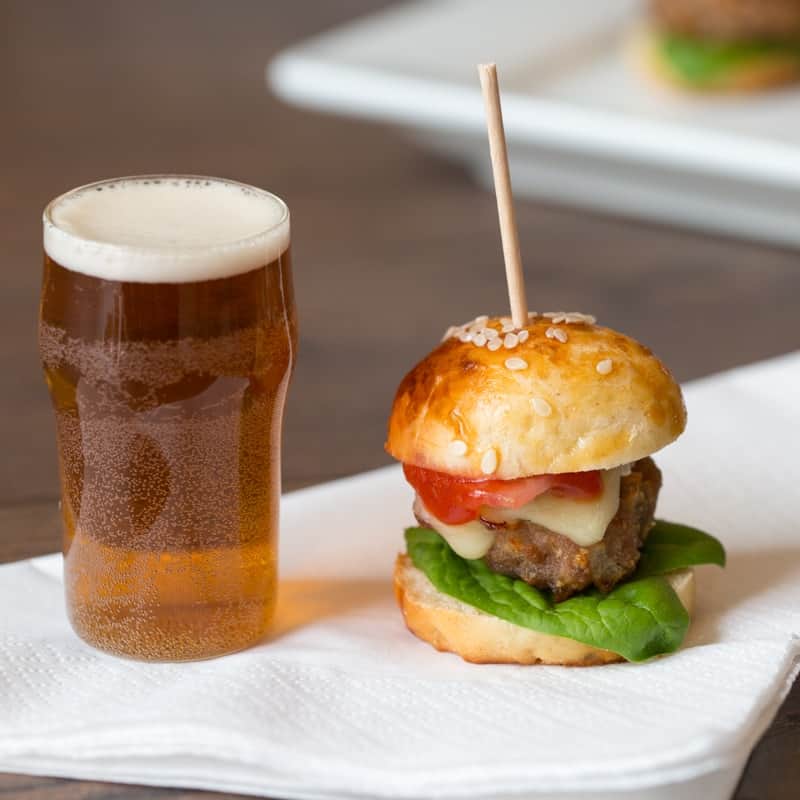 -Yes, I did squeal with girlish delight when I put these together and saw how they turned out all lined up together
-Yes, I can fit a whole one in my mouth (I tested that theory several times)
-Yes, I did drink the teeny tiny, slightly warm beers once Chris had finished photographing them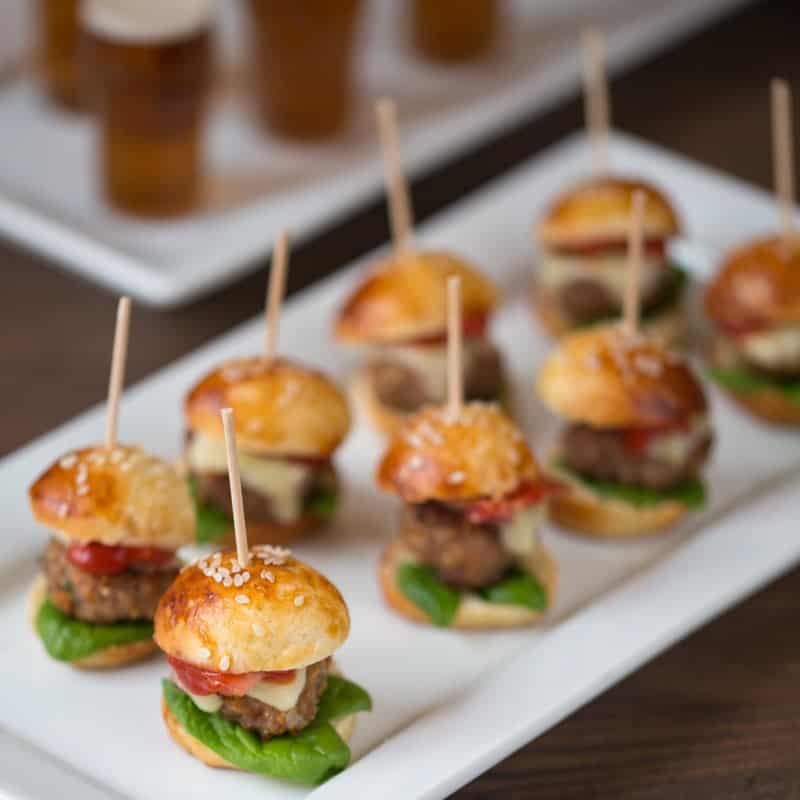 I was having a bit of a cooking/baking day on Saturday.  My folks were coming around for tea the following day, so I'd been making some meatballs ahead of time.  The kids were making chocolate fairy cakes, so I decided to stick around to oversee matters, whilst cooking up a batch of orange sweet rolls.
It was at this point I remembered Chris and I had been talking about making some bite sized burgers after i'd seen some really cute ones on Pinterest.  So I thought I could use some of the leftover dough from the sweet rolls to make mini burger buns (a little like brioche but less eggy) and some of the meatball mix to make the little burger patties.  A plan was formed!
I topped the burgers with a little bit of bacon, cheddar, some baby spinach leaves and a drizzle of ketchup.  They went perfectly with these little 'pints' of beer (using glasses that I've had in the cupboard for a couple of years - the cute factor won me over again!).
So, here's my recipe.  I've written this to make 40 burgers as I was thinking of them as canapes for a party or get together.  It's very easy to eat 5 or 6 per person (if you're not having anything else).  If you don't want to make that many, you could always halve the amounts, but I would suggest using any extra dough to make sweet rolls and any extra burger mix to make meatballs.  Always good to have some extras with no extra effort!!
The Bite Sized Burgers Recipe: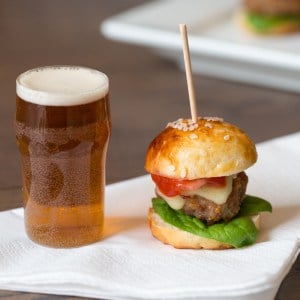 Bite Sized Burgers
These are my Bite size Burgers with homemade mini buns, the perfect Mini Burger Appetizer
Ingredients
Mini Burger Buns:
175

g

plain flour

-

plus extra for kneading

20

g

granulated/caster sugar

½

tsp

salt

6

g

instant dried yeast

60

ml

water

30

ml

whole milk

20

g

unsalted butter

2

small eggs

-

beaten

1

tbsp

sesame seeds
Burgers:
2

good quality sausages

-

taken out of their skins

250

g

lean minced/ground beef

25

g

breadcrumbs

25

g

grated parmesan

½

small onion

-

finely chopped

½

tbsp

chopped parsley

½

tbsp

Worcestershire sauce

¼

tsp

ground cumin

1

small egg

1

tbsp

olive oil

1

pinch

salt and pepper
Toppings
Baby salad leaves

Ketchup or relish

Cheddar or other cheese

Grilled Streaky bacon

-

sliced into little pieces (6 or 7 rashers should be enough for 40 mini burgers)
INSTRUCTIONS
For the buns: In a large bowl add the flour and sugar, then on one side of the bowl add the salt, and add the yeast to the other side (yeast doesn't like direct contact with salt). Set aside.

In a jug, add the water, milk and butter, and heat in the microwave until the butter has melted and the liquid is hot, but not so hot it would burn you. Add the liquid to the flour mixture, then give it a stir with a wooden spoon and add in half of the beaten egg. Give it all a good mix with your hands and then tip out onto a lightly floured surface and knead for about 4 or 5 minutes. It will be sticky, but try not add too much more flour as it will make the buns tougher. Gather the dough into a ball and place in a bowl that's been lightly greased with olive or vegetable oil. Cover with clingfilm and leave for about 20 minutes.

Empty the dough out onto a floured surface, knock the air back out of it, then cut the dough into little portions of approx. 7g each. Roll these portions into balls and place onto a couple of non-stick baking trays. You should get approx. 40 to 50 buns out of this. Place the trays in a plastic bag and leave to prove in a warm, draught free room for about an hour.

Preheat your oven to 190c. After an hour, the buns should have risen. Gently brush the tops with the remaining egg mix and scatter the sesame seeds over the buns. Put in the oven and cook for 6-7 minutes until golden brown. Take out and leave to cool.

Next make your burger patties. Mix all of the burger ingredients in a bowl with your hands. Squash it all together but don't over mix as this will make the burgers tough. Shape into 40 little balls. Then squash them down into a little disc shape and place them on a couple of baking trays. Put in the oven for about 10 mins to cook. Keep an eye on them after 5 mins and turn the oven down a little if they start going too dark. If you want your cheese melted, you could take the burgers out of the over once cooked, sprinkle on the cheese, and put them back in for another minute.

Once they're ready you can slice the buns in half and fill with your burgers, bacon, cheese, leaves and ketchup!
✎ Notes
These burgers are best eaten straightaway. The little burgers can be made in advance and frozen before cooking (I would freeze on a tray, and then move them to a sealed bag once frozen so they don't stick together). Just make sure they're thoroughly defrosted before you cook them. The bread buns are best made and eaten on the same day.
.
Nutritional Information is per burger and bun, without any toppings.
Nutrition
Calories:
53
kcal
Carbohydrates:
4
g
Protein:
3
g
Fat:
2
g
Cholesterol:
19
mg
Sodium:
71
mg
Potassium:
45
mg
Vitamin A:
40
IU
Vitamin C:
0.2
mg
Calcium:
15
mg
Iron:
0.5
mg