No-bake Salted Caramel Cheesecake bites - great for parties!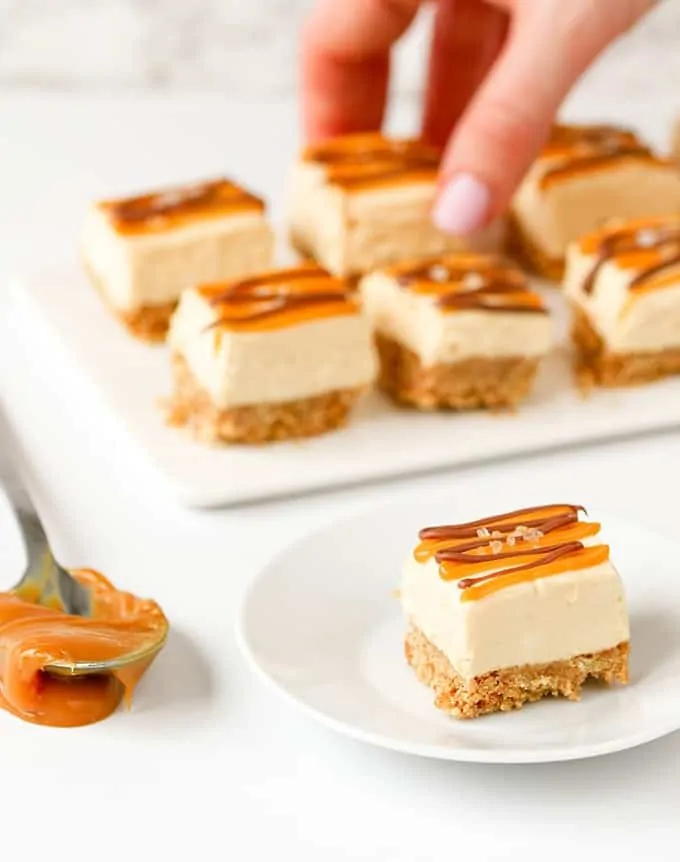 Are you a salted caramel lover?
I think everyone's a salted caramel lover aren't they? How did we ever survive before it was invented!
You may think that this stuff has only been around for 4 or 5 years, but actually it was invented over 3 decades ago in 1980 by French chocolatier Henri Le Roux. He first created in when making salted butter caramel with crushed nuts (yum!!).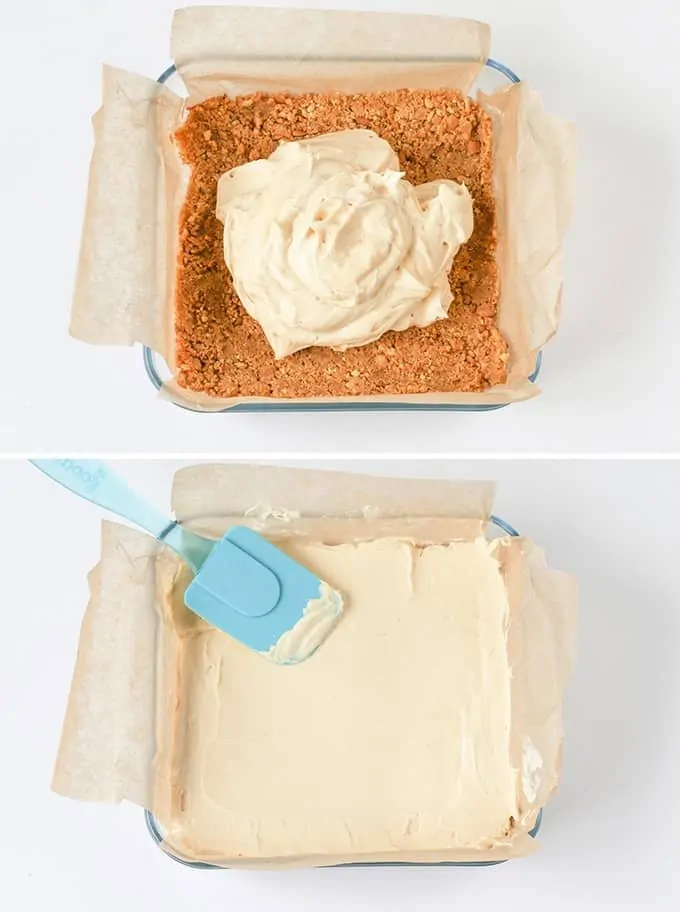 It's fairly easy to make at home (check out my recipe here), but you can also take advantage of the amazing jars of salted caramel you can buy in the supermarket – which means these cheesecake bites can be prepared without the need for melting, boiling, baking or any form of heat whatsoever!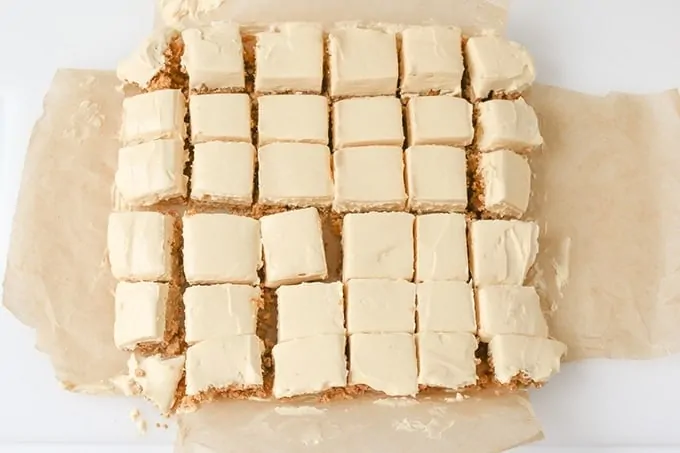 Most of the caramel sauce goes into the creamy cheesecake mixture, with the rest being drizzled on top, along with a little melted chocolate and a tiny pinch of coarse sea salt.
I made this recipe first for DIYs.com (check them out for some fab recipe and craft ideas), and I've been looking forward to sharing with you guys too. If only we could have a brew and share an actual plate of them! I guess we'll just have to share them virtually!

A party dessert - or one to serve on game day – it can be made ahead (sprinkle on the salt just before serving), covered and stored in the refrigerator for up to two days.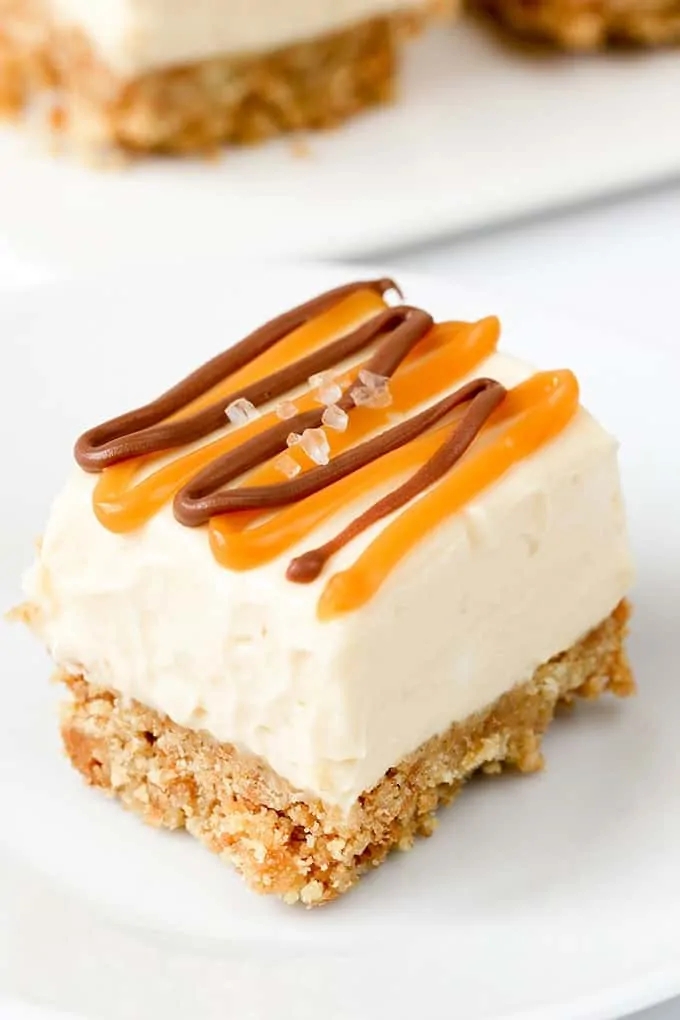 Although this recipe makes 36 bites, I'd probably count on each person having at least 3 - they're so moreish!!
The No-Bake Salted Caramel Cheesecake Bites Recipe: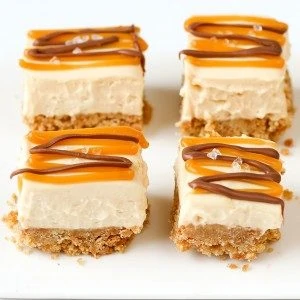 No-Bake Salted Caramel Cheesecake Bites
No-bake Salted Caramel Cheesecake bites - great for parties!
Ingredients
200

g

digestive biscuits or graham crackers (use gluten free digestives if required)

110

g

unsalted butter, melted

150

ml

double (heavy) cream

300

g

cream cheese (I used Philadelphia)

60

g

confectioners' sugar

1

tsp

vanilla extract

250

g

store-bought thick salted caramel sauce - (it needs to be the spreadable kind from a jar - like this one. If it's not thick the cheesecake mixture will be too runny)

55

g

melted milk/semi-sweet chocolate (check for gluten free if required)

1

tbsp

coarse rock salt
INSTRUCTIONS
Put the biscuits into a large sandwich bag and crush into crumbs using a rolling pin.

Place the crumbs into a bowl and mix in the melted butter until thoroughly combined.

Spoon into a 20cm x 20cm loose-bottomed baking tin that has been lined with parchment paper and use the back of a spoon to pack it down tightly. Place in the fridge whilst you start on the next layer.

Add the cream to a large bowl and whisk to until the cream holds it's shape. Add the cream cheese, vanilla extract, confectioners' sugar then whisk again until combined.

A little at a time, fold in half of the salted caramel sauce. You want to make sure the cheesecake mixture remains thick and spreadable (so it can hold it's shape), so you may want to add in less caramel sauce if it looks like it's going to thin out the cheesecake mixture too much.

Take the biscuit base out of the refrigerator and spread this layer on top. Put back in the fridge for an hour. This will help it to firm up a little bit more.

Take out of the refrigerator and lift out the cheesecake using the parchment paper as a handle and place on a chopping board. Carefully slice into 36 pieces (6x6 squares). The cheesecake mixture will be delicate, so cut carefully.

Spoon the salted caramel into a piping bag or plastic sandwich bag. Spoon the melted chocolate into another bag. Cut the tips off and drizzle each cheesecake square first with salted caramel and then with melted chocolate. Place a tiny pinch of coarse rock salt on each square, then serve.
✎ Notes
Nutritional information is per bite.
Nutrition
Calories:
120
kcal
Carbohydrates:
11
g
Protein:
1
g
Fat:
7
g
Saturated Fat:
4
g
Cholesterol:
21
mg
Sodium:
273
mg
Potassium:
32
mg
Sugar:
4
g
Vitamin A:
255
IU
Calcium:
17
mg
Iron:
0.3
mg