These teeny tiny Blackberry Spice Muffin Bites are light and fluffy, with the perfect amount of cinnamon, ginger and mixed spice to offset the sweet, creamy blackberry frosting and the tart bite of fresh blackberry on top.  They're easy to make, pretty quick to prepare, and will look great on your buffet table.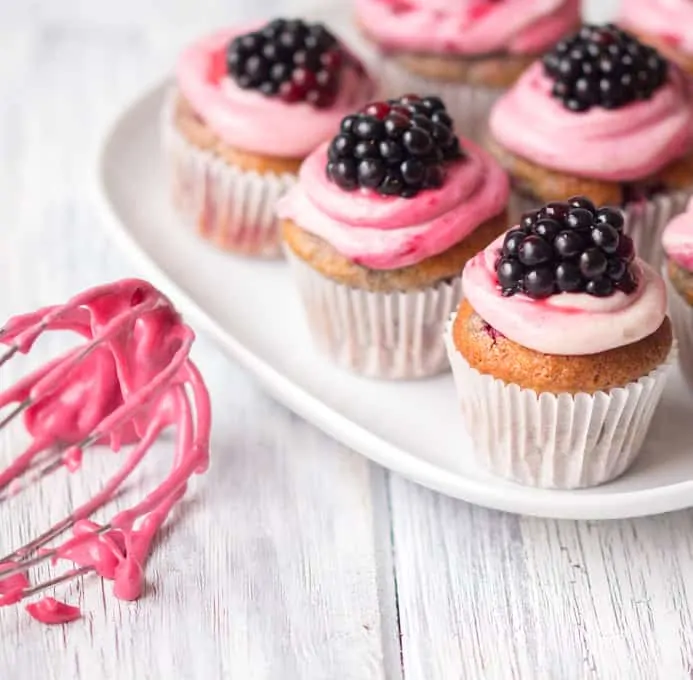 One thing I love about the eating season - err I mean Christmas - is the endless selection of canapés and mini versions of pretty much every type of food.  We all want to have a taste of every delicious dish on offer, so we scale it all down in order to fit more in.
It's genius really.
I don't know why we don't do it all the time.
After all, who can resist I plateful of doll-sized food?  You're never really too full to fit one more mini burger or orange bun pop in.  And you can just graze your way though the day.
Ok, maybe not such a good idea.  I'll just quietly dream about doing that whilst still being able to fit into my jeans.
The Spanish have got it spot-on with their Tapas.  It's a shame we don't really see it in other cuisines.
Saying that, Chris and I have been to a great restaurant in Harrogate a couple of times called Deano's Graze & Grill (no they're not paying me to say that).  They serve little grazing plates of fish & chips or duck hash with fried egg and HP sauce.   I think I could eat there every day for a year and not get bored.
I'd love to see more places like that.  Can you imagine?
Mini seafood risotto, served with mini pizza and mini steak.  The perfect choice for those who just can't make a decision!
Follow that up with mini crème brulee, mini Eaton mess, and these Blackberry Spice Bites (did you like how I finally got to the point of mentioning the recipe? - it can take a little time when I'm in mini food dreamland).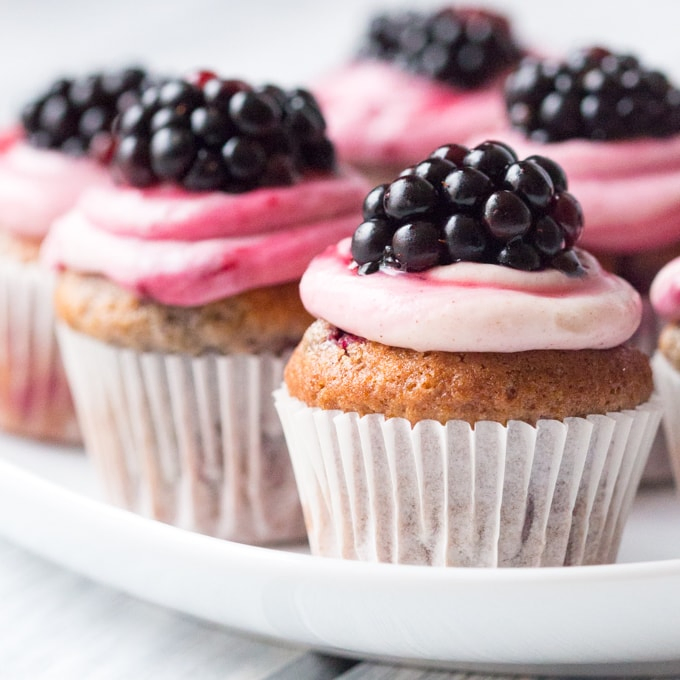 Looking at it another way, it's also the perfect diet.  Have a little selection of great tasting mini things and a great big salad.  That's got to make you a whole lot happier than a giant bowl of fat-free/sugar-free/taste-free diet food.
The Blackberry Spice Muffin Bites Recipe: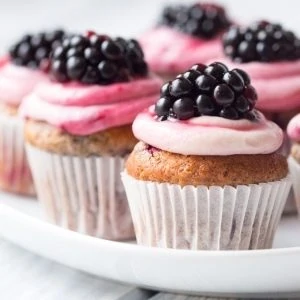 Blackberry Spice Bites
Blackberry Spice Bites - Sweet little muffin bites made with mixed spices and topped with a ginger and blackberry frosting.
Ingredients
Cakes:
120

g

golden caster sugar

1

small egg

-

lightly whisked and 1 tsp of the egg discarded.

40

ml

vegetable or coconut oil

-

melted and cooled

½

tsp

vanilla extract

115

ml

berry flavoured yoghurt

-

ideally full fat, but fat-free does work

125

g

plain (all purpose) flour

-

plus 1 extra tbsp. to mix with the strawberries

½

tsp

baking soda

-

bicarbonate of soda

¼

tsp

ground cinnamon

¼

tsp

ground ginger

1

pinch

mixed spice

150

g

blackberries

-

chopped into small chunks mixed with ½ tbsp plain flour
Topping:
170

g

blackberries

1

tbsp

caster sugar

¼

tsp

ground ginger

250

g

powdered sugar

¼

tsp

vanilla extract

3

tbsp

double/heavy cream
INSTRUCTIONS
Preheat your oven to 200c/400f and line a mini muffin/petit fours tin with mini muffin cases. The recipe makes 28-30 cakes. So if you only have a 24-hole cake tin, you can spoon the remainder of the mixture into a large muffin case (this is your cooks treat - just cook for 7-10 mins longer) or cook the rest in a second batch.

Add the sugar and egg to a large bowl and mix using a fork or balloon whisk. Add in the oil and vanilla extract, stir, and then add in the yogurt and stir to combine. Next add in the flour and baking soda, cinnamon, ginger and mixed spice and mix together using a wooden spoon. Gently fold in the chopped blackberries that have already been mixed with the ½tbsp of flour.

Take your mini muffin tin and fill each cake case with a heaped teaspoon of the cake mixture - so it comes almost to the top of the case. Try to evenly distribute the berries. If any of your cakes are mostly berry with just a little cake mixture, they'll collapse. Place in the oven and cook at 200c/400f for 9-10 minutes. Once cooked, leave to cool in the tin for 10 minutes before removing and cooling further on a cooling rack.

Whilst the mini muffins are in the oven, make your frosting. Take 15 blackberries, chop them in half and put to one side (for the topping). Chop the rest of your blackberries into quarters and place in a bowl with the caster sugar and ginger. Give a gentle mix and then leave to macerate for 10 minutes. Once the juices have been released, push this juicy mixture through a sieve and add approx. one quarter of the powdered sugar to the liquid. Whisk together until all lumps have disappeared. You're looking for a thick paste, so you may need to add a little more powdered sugar

In a separate bowl, whisk together the rest of the powdered sugar with the vanilla extract and 1 tbsp of cream. Continue to add the cream whilst whisking until you have a thick frosting that will hold it's shape when piped. Add the blackberry paste to the vanilla frosting and give it a little swirl with a fork. Don't over-mix - or you'll just end up with plain pink frosting. Spoon the frosting into a piping bag with a wide round nozzle and pipe onto the cooled mini muffins.

Top each mini muffin with half a blackberry.
✎ Notes
Nutritional Information is per mini muffin.
Nutrition
Calories:
92
kcal
Carbohydrates:
17
g
Fat:
2
g
Saturated Fat:
1
g
Cholesterol:
7
mg
Sodium:
26
mg
Potassium:
30
mg
Sugar:
13
g
Vitamin A:
55
IU
Vitamin C:
2.2
mg
Calcium:
10
mg
Iron:
0.3
mg