Unlock the full potential of your leftover turkey with one (or more) of these amazing leftover roast turkey recipes that will transform your post-holiday meals into super tasty dinners. We've handpicked a selection of diverse and delicious ways to reinvent that leftover turkey. Say goodbye to boring Christmas or thanksgiving leftovers!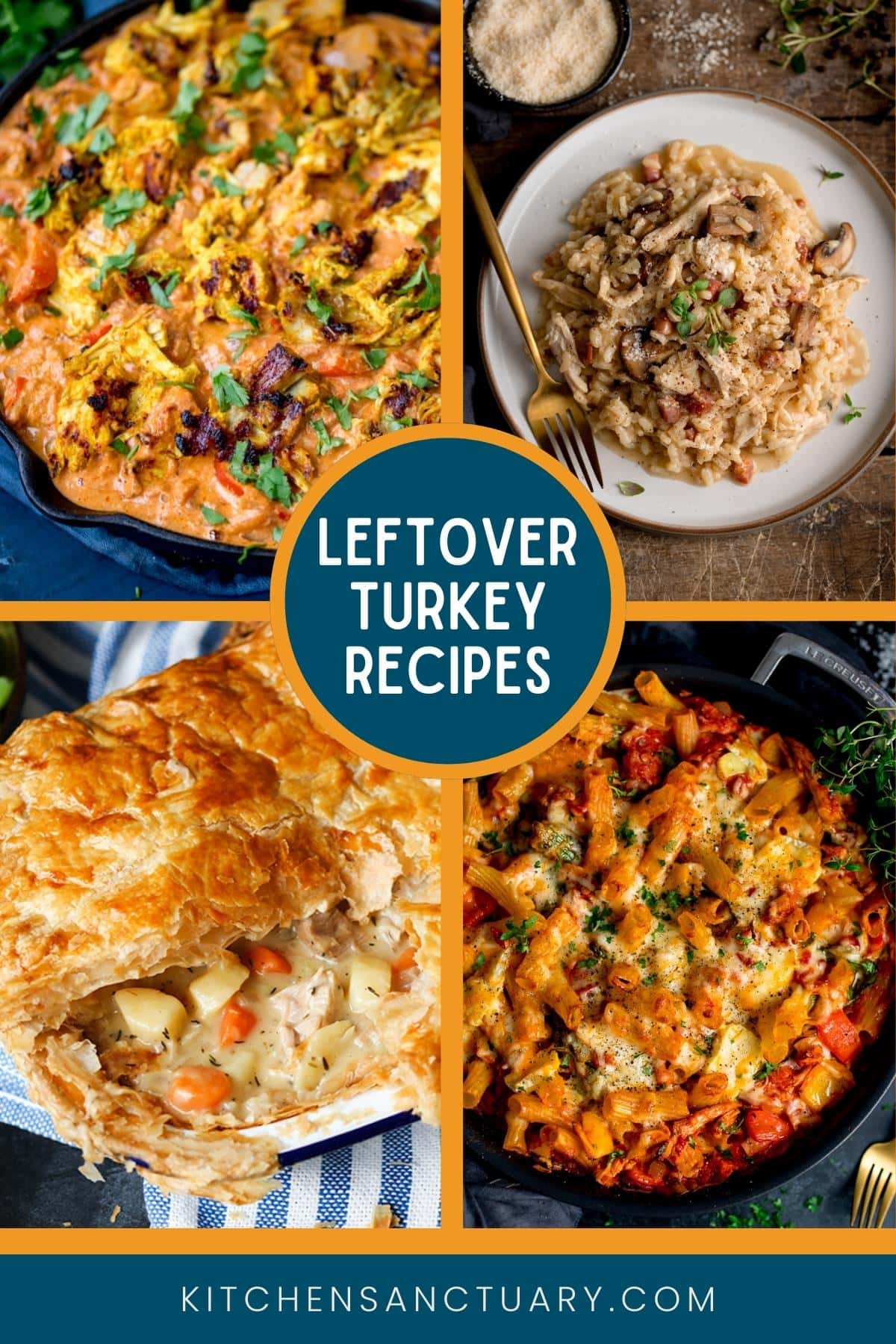 I could probably eat a hundred leftover turkey sandwiches in a row before I get bored.
Ideally with lashings of salted butter, a pinch of salt, leftover stuffing, cranberry sauce, and maybe a roast potato or 2, all dipped in some warmed-up leftover gravy.
Christmas day evenings wouldn't be the same without one of those butties. Even if I'm still full from dinner, I can always find a bit of room!!
However, I know Chris and the kids probably wouldn't be happy with sandwiches for dinner every evening until January, so here is a collection of recipes for using up that leftover Turkey, OR recipes that use leftover chicken - which of course can easily be swapped out for Turkey.
The Leftover Turkey Recipes
---
---
---
**Use leftover cooked turkey instead of chicken for this delicious treat!**
---
**One of our go-to dinners using up some of that shredded turkey is to make this delicious turkey curry.**
---
**For a creamy turkey pot pie soup simply make the stock without the chicken and add the cooked turkey once the creamy soup is ready.**
---
**Use turkey instead of chicken for a delicious white chilli turkey dish!**
---
**This is one of the classics, so for the turkey version of this one, simply make the stock without the chicken/turkey and add the cooked turkey once the creamy sauce is ready**
---
**Use turkey bones (carcass) instead for fantastic homemade stock/turkey broth**
---
---
**Why not try these Five Spice Turkey Tacos from my friend Bintu's website?**
---
**If you want to spice things up a little then try this Turkey Gumbo from our friends Patty and Mike at ChiliPepperMadness**
---
Hope you enjoy!
Let me know if you have a fantastic turkey-leftovers recipe - I'd love to hear!
Some of the links in this post may be affiliate links – which means if you buy the product I get a small commission (at no extra cost to you). If you do buy, then thank you! That's what helps us to keep Kitchen Sanctuary running. The nutritional information provided is approximate and can vary depending on several factors. For more information please see our Terms & Conditions.