If you're looking for a chocolatey, rich dessert, this Gluten Free Flourless Chocolate Cherry Cake is for you. It's simple to make and gluten free too!
It was my birthday yesterday, so I'm eating all the cake. All the chocolate and all the fizzy cola bottles too (pick n' mix at the cinema is irresistible!).
I actually didn't work for most of the day yesterday. I've been working for myself for nearly 3 years now and I've always tried to organise having my birthday off (like I used to do when I worked in my old IT job). This is the first year I managed it!
I started off getting woken up at 6:45am. I'm not normally a morning person, so I was rather grumbly, but it meant I could open my pressies before Chris went to work. I got lots of lovely gifts, including a gorgeous bracelet off the kids and a photo-styling workshop at Woodrow studios off Chris. I can't wait!
After taking the kids to school, I had went to my morning workout class - justification for all of the eating I was planning! - then came home and checked out a few emails, before tearing myself away and eating copious amounts of chocolate, whilst reading a good book.
My lovely friend Sally came over to look after the kids in the evening, so Chris whisked me out for Sushi and to the cinema to watch Logan. Have you seen it? Gotta love Wolverine!
If we hadn't scoffed it all when I made it earlier in the week, I'm certain I would have squeezed in another piece of this lovely moist cherry cake.
Loosely based on my regular cherry and almond cake, this one is made super rich with the addition of dark chocolate and chocolate chips.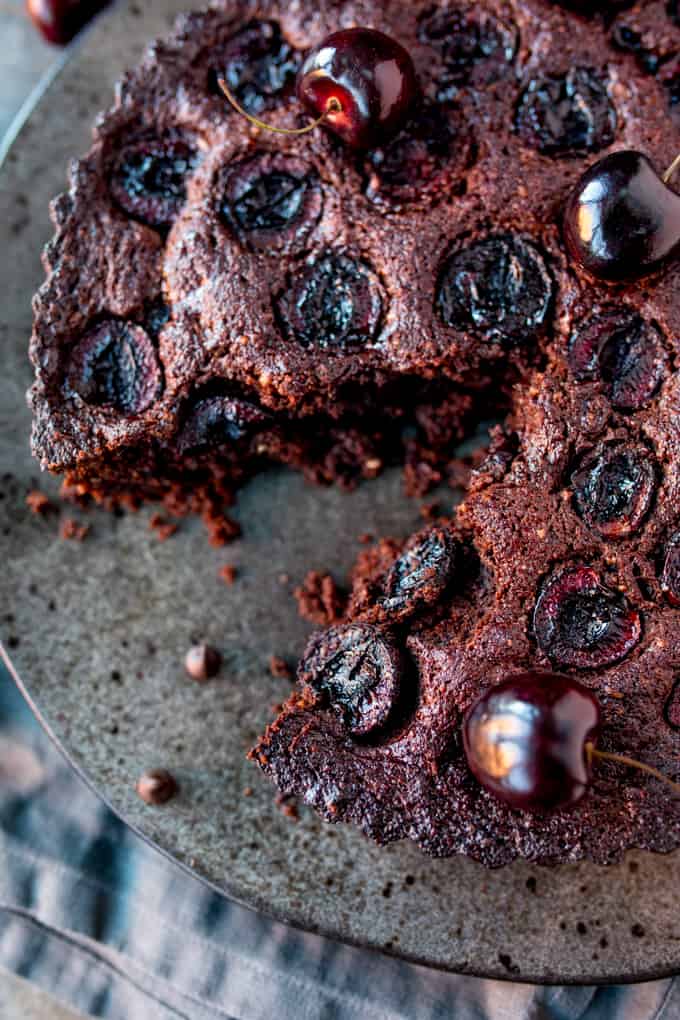 It stays moist for days, due to the ground almonds, so it's great to make ahead.
Serve this Flourless Chocolate Cherry Cake cold with a nice cup of coffee, or slightly warm (a few seconds in the microwave, or wrap slices in foil and place in a medium oven for 5 minutes) with some thick cream. If you haven't eaten the leftover cherry pie filling, then swirl a bit of that into the cream too. Droool!
The Gluten Free Flourless Chocolate Cherry Cake recipe:
Chocolate Cherry Cake
A chocolatey, rich, brownie-like cake, filled with juicy cherries. You can make ahead using fresh or frozen cherries. Naturally gluten free.
Ingredients
225

g

( 1 cup minus 1 tbsp) unsalted butter

-

, room temperature, cut into chunks

200

g

(1 cup) golden caster (or granulated) sugar

1

tsp

vanilla extract

1

tsp

almond extract

4

medium eggs

200

g

(1 2/3 cups) ground almonds

-

(course almond meal)

50

g

(1/2 cup) cocoa powder

-

(usually gluten free, but best to check if required)

1

tsp

baking powder

-

(ensure it's gluten free if required)

100

g

(3.5oz) dark chocolate (70% is good), melted

50

g

(1/3 cup) chocolate chips

200

g

(1/2 of a 14oz can) black cherry pie filling

-

(usually gluten free, but best to check if required)

200

g

(1 cup) fresh or frown cherries, pitted and sliced in half
INSTRUCTIONS
Preheat the oven to 170C/325F

Place the butter in a large bowl with the sugar. Whisk with an electric whisk (or in a stand mixer) until fluffy (about 3-4 minutes).

Add in the vanilla extract and almond extract, then whisk again whilst adding in the eggs, one at a time.

Fold in the ground almonds, cocoa powder and baking powder.

Fold in the melted chocolate and chocolate chips until thoroughly combined.

Spoon the mixture into a 23cm loose-bottomed flan tin. Level the mixture with the back of a spoon.

Take the cherries out of the cherry pie filling (let the excess sauce drip off and reserve this sauce) and scatter on top of the cake. Push into the mixture slightly.

Arrange the fresh cherry slices on top of the cake - cut side up. Push them in to the mixture slightly too.

Place in the oven to cook for 40-50 minutes - until an inserted skewer comes out clean.

Take out of the oven. Mix 2 tbsp of the cherry pie sauce with 2tbsp of cold water. Brush on top of the warm cake. Leave the cake to cool in the tin for 20 mins, before removing and placing on a rack to cool further.

Serve topped with thick whipped cream. I like to serve it slightly warm, with a little of the cherry pie sauce swirled into the cream and a few fresh cherries to decorate.

You can serve this cake warm (tastes great with ice cream) or room temperature.
✎ Notes
Can I make it ahead?
Yes, make the cake, then cool, cover and store at room temperature for up to 3 days.
You can warm individual slices up in the microwave for a few seconds if you'd like to serve it warm.
Can I freeze it?
Yes, cool, cover and freeze the cake. Defrost overnight in the refrigerator, then allow to come up to room temperature before serving (or warm slices in the microwave for a few seconds if you'd like to serve it warm).
Nutritional Information is per serving, without serving suggestion of whipped cream.
Nutrition
Calories:
421
kcal
Carbohydrates:
37
g
Protein:
7
g
Fat:
29
g
Saturated Fat:
14
g
Cholesterol:
95
mg
Sodium:
170
mg
Potassium:
237
mg
Fiber:
4
g
Sugar:
25
g
Vitamin A:
600
IU
Vitamin C:
1.7
mg
Calcium:
105
mg
Iron:
1.8
mg