Soft, sweet and very moreish, these white chocolate and pistachio blondies are guaranteed to please.  Plus they're gluten free too!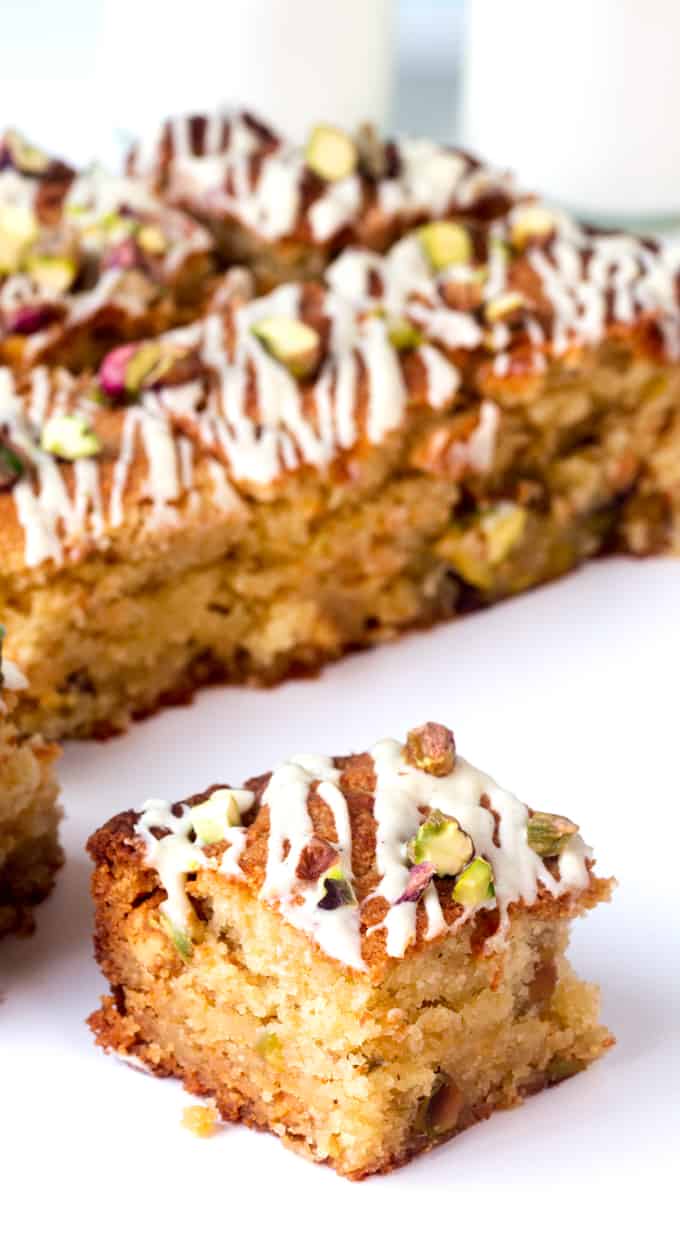 The kids are back at school and Easter is now officially over!
We still have a few more bits of chocolate left to eat, but the chocolate consumption is tailing off - along with the children's chocolate-induced hyperactivity.
I'm ashamed to say that I also haven't managed to make it to the gym in TWO WEEKS!
Trying to juggle the kids, the trail of mess that the kids constantly make, plus the blog and numerous family days out - and something had to give.
I may have been a little over-enthusiastic in choosing which thing had to go....
But it's time to get back on track now.
Time to start telling myself I love the gym.
It's me time.
I'll feel fantastic afterwards.
Yes definitely.
After these blondies have all been eaten (and possibly the raspberry ripple doughnuts I've got coming up on the blog soon too).
Definitely after that.
Pistachios are so underrated.
I've got to admit that on their own I find them a bit dull.  Plus I usually end up over-examining them - the purply greenish hue always fools me into thinking they're mouldy!
Add a bit of sweetness though and the pistachio flavour seems to intensify.  Pistachio ice-cream for example? or Pistachio fudge? Yes!
And then there's this White Chocolate and Pistachio Blondies Cake.
Just chewy and dense enough to call it a blondie (thanks to the ground almonds), but also sweet and rich (thanks to the white chocolate).  The addition of a good handful of chopped pistachios in the mix, plus a few on top with an extra drizzle of white chocolate and we have the perfect sweet/chocolate/pistachio ratio.
These blondies are really easy to make.  No mixer required!
They're so moreish that they'll be gone in no time - especially served with a cup of coffee for an afternoon pick-me-up.
I also find that cutting them into smaller, bite-size chunks, they make a great end to a meal (especially after Indian food).
Oh darn it.
Now I'm thinking about lovely creamy curries as well as cake.
I think I'd better go to the gym right now......
White Chocolate and Pistachio Blondies Recipe: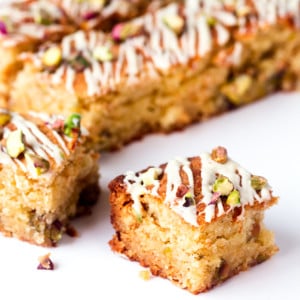 White Chocolate and Pistachio Blondies
Soft, sweet and very moreish, these white chocolate and pistachio blondies are guaranteed to please. Plus they're gluten free too! fdfdf
Ingredients
150

g

good quality white chocolate

-

usually gluten free, but check to be sure

125

g

unsalted butter

-

softened

200

g

golden caster sugar

150

g

ground almonds/almond meal

-

not almond flour

½

tsp

gluten free baking powder

50

g

coconut flour

2

large eggs

-

lightly whisked

1

tsp

vanilla extract

2

tbsp

milk

60

g

chopped pistachios
Topping:
50

g

white chocolate

2

tbsp

chopped pistachios
INSTRUCTIONS
Preheat the oven to 160c/320f and line a 20cmx20cm baking tin with baking parchment.

Melt one third of the white chocolate. You can do this in the microwave in 30-second bursts (stirring each time) or in a bowl over some simmering water. Put to one side.

Chop the remaining white chocolate into small chunks and put to one side.

Place the butter and sugar in a large mixing bowl and beat together using a wooden spoon until pale and creamy. Add in the almonds, baking powder, coconut flour, eggs, vanilla and milk. Stir until just combined.

Stir in the pistachios, the melted chocolate and the chopped chocolate and then spoon out the mixture into the prepared baking tin (it should be a thick mixture). Push the mixture to the corners and smooth it with the back of a spoon.

Place in the oven and cook for 40-50 minutes - until an inserted skewer comes out clean. NOTE: The top goes dark quite quickly, so it's a good idea to cover it with some foil after about 15 minutes in the oven.

Once cooked, take out of the oven and allow to cool completely in the tin.

Take out of the tin and remove the baking parchment. Melt the white chocolate for the topping and drizzle over the top, then sprinkle on the chopped pistachios.

Allow the chocolate to firm up a little, then cut the blondies into 16 pieces and serve.
✎ Notes
These blondies will keep for 2-3 days in a sealed container at room temperature.
.
Nutritional Information is per blondie.
Nutrition
Calories:
279
kcal
Carbohydrates:
25
g
Protein:
5
g
Fat:
18
g
Saturated Fat:
7
g
Cholesterol:
40
mg
Sodium:
82
mg
Potassium:
117
mg
Fiber:
2
g
Sugar:
20
g
Vitamin A:
240
IU
Vitamin C:
0.2
mg
Calcium:
64
mg
Iron:
0.8
mg