Seared scallops with a golden crust and soft, melt-in-the-mouth interior, nestled in a creamy garlic white wine sauce. We've also got a touch of heat and a little tangy hit of capers.
This scallops recipe makes a fantastic date-night dinner!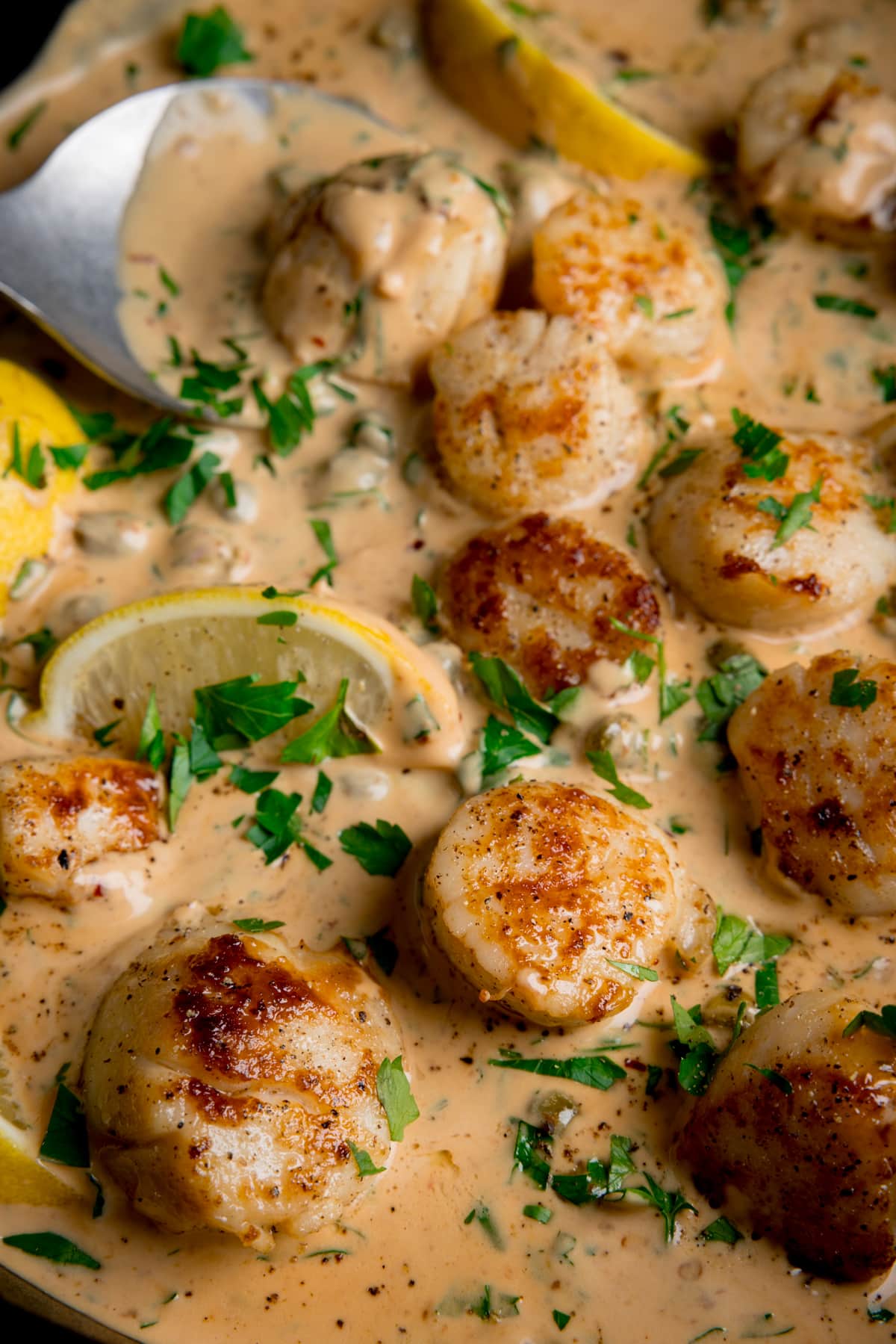 Jump to:
Are you a scallop lover? I often order them when we eat out, but I don't make them nearly enough at home.
They can seem a little intimidating, but so long as you follow a few key rules, you can cook scallops like a pro at home.
📋 Ingredients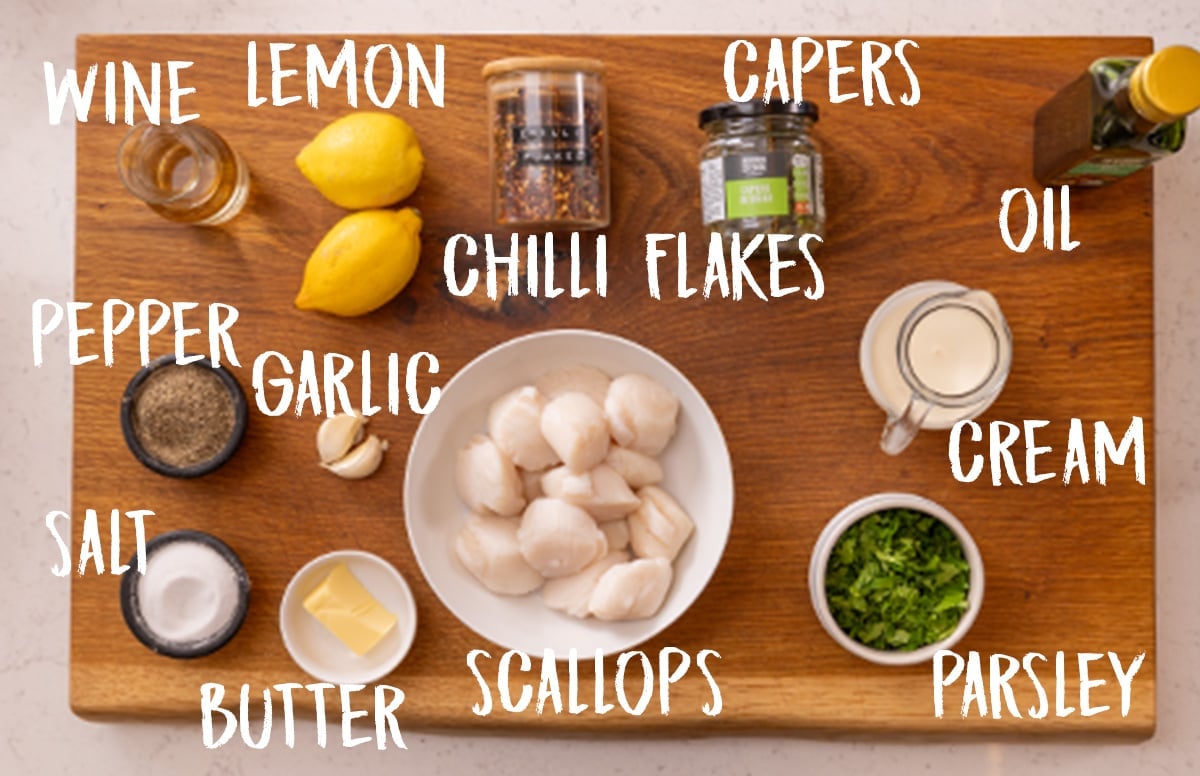 See the notes section in my recipe card about buying scallops and fresh v frozen scallops.
📺 Watch how to make it
Full recipe with detailed steps in the recipe card at the end of this post.
👩‍🍳PRO TIP Go for extra large king scallops. They look very large (especially if you buy them frozen), but they shrink upon defrosting, then shrink further when cooking.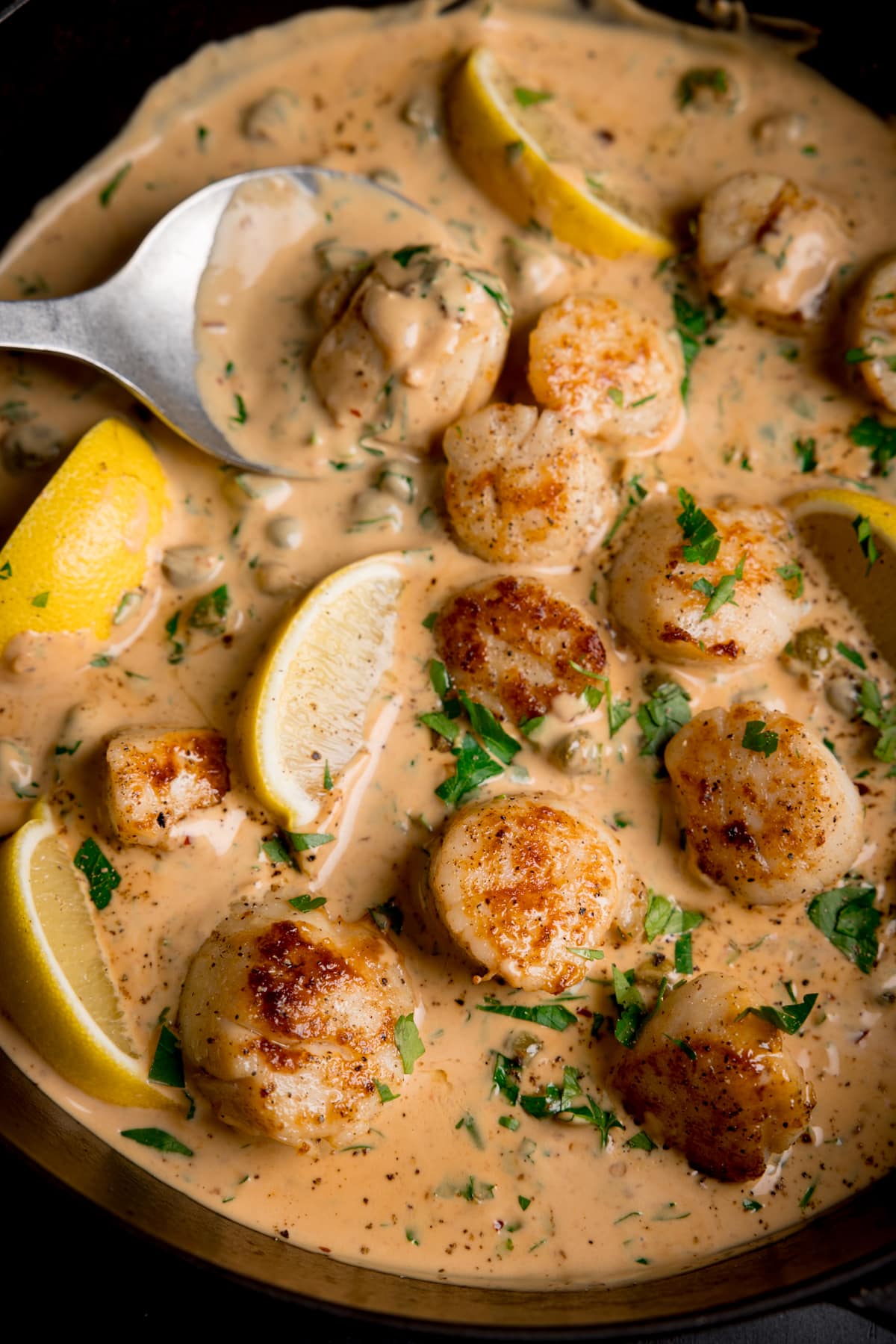 ✔️Key rules for cooking scallops
Take them out of the fridge 15 minutes before cooking - to take the chill off
Dry them well - with kitchen paper. The surface must be completely dry to ensure a golden crusted sear.
Ensure the pan and oil are VERY hot - don't worry about burning them. A searingly hot pan is essential.
You'll get a better sear with a cast iron pan or a stainless steel. Non-stick pans can be difficult to get that lovely dark crust.

If you find the scallops do stick (usually because the pan wasn't hot enough) you can use a metal spatula on a cast iron or stainless steel pan (never use metal on a non-stick pan) to get under the scallops. If you leave behind some of that seared coating, that's fine, it will mean more flavour in the sauce when you come to deglaze the pan with the wine.
---
🍽️ What to serve with seared scallops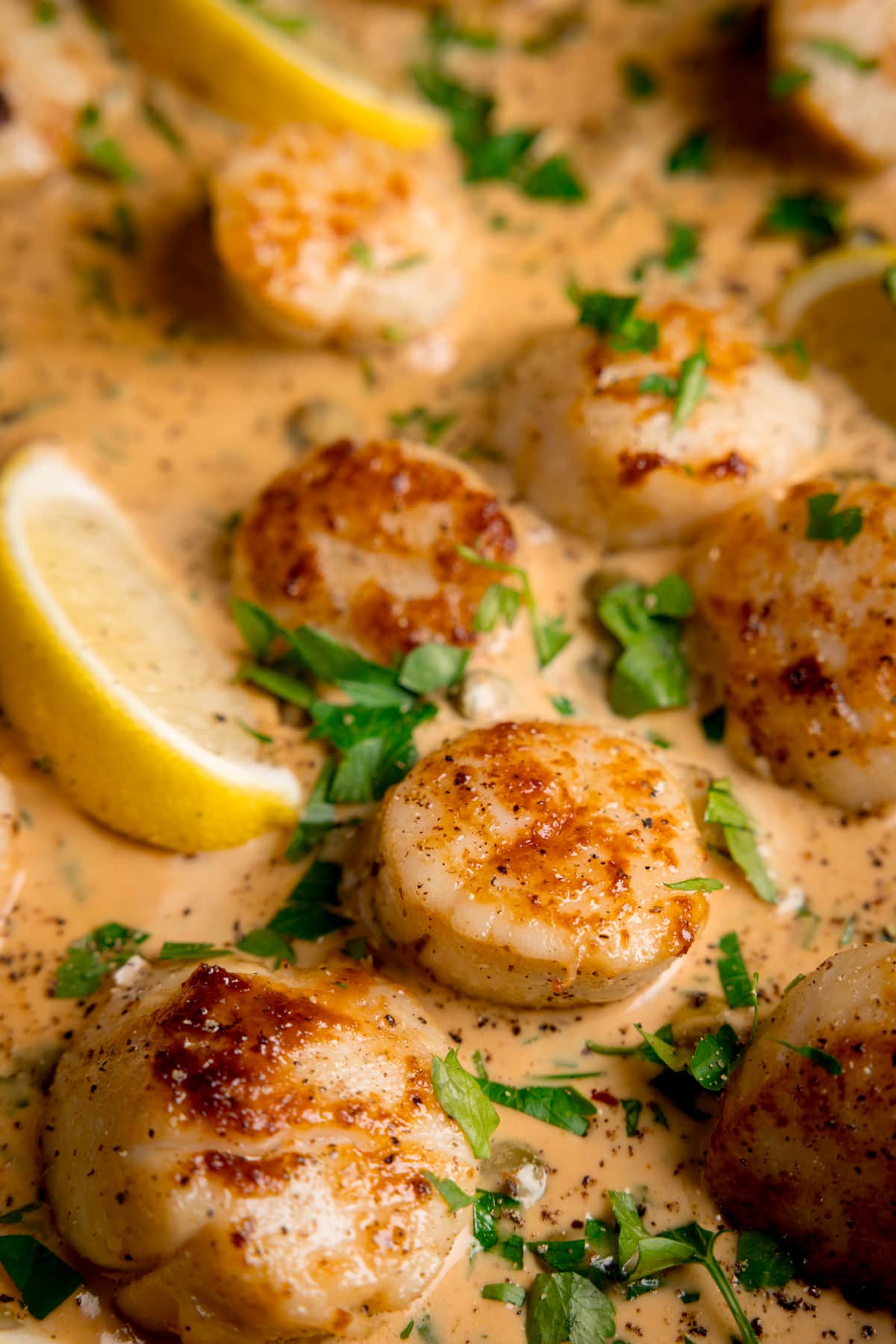 ---
Stay updated with new recipes!
Subscribe to the newsletter to hear when I post a new recipe. I'm also on YouTube (new videos every week) and Instagram (behind-the-scenes stories & beautiful food photos).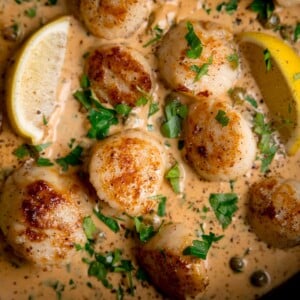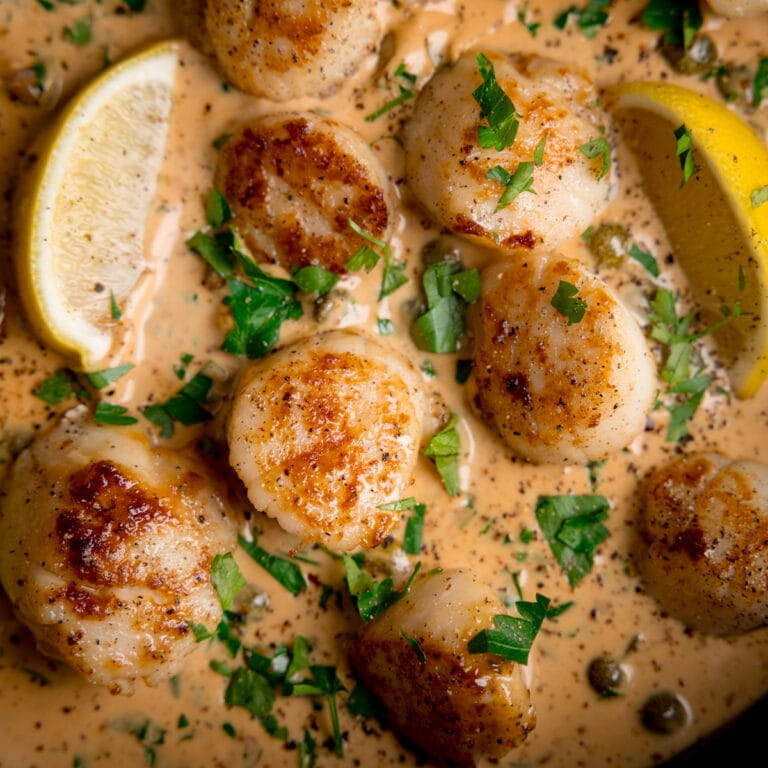 Creamy Garlic Scallops Recipe
Pan-fried scallops with a golden crust and soft, melt-in-the-mouth interior, nestled in a creamy garlic white wine sauce, with a hint of heat.
Ingredients
400

g

(14 oz) extra large king scallops

-

this is about 10-12 large scallops (see notes if buying frozen)

¼

tsp

salt

¼

tsp

black pepper

1 ½

tbsp

avocado oil

1

tbsp

butter

2

cloves

minced garlic

¼

tsp

chilli flakes

-

(red pepper flakes)

80

ml

(⅓ cup) white wine

-

(just enough to deglaze the pan)

120

ml

(½ cup) double (heavy) cream

1

tbsp

lemon juice

1

tbsp

capers in brine, drained

4

tbsp

finely chopped fresh parsley
INSTRUCTIONS
Take the scallops out of the fridge about 15 minutes before you want to cook them.

400 g (14 oz) extra large king scallops

Line a tray with two layers of kitchen roll. Place the scallops on the lined tray and pat the tops of the scallops with more kitchen roll.

Place a fresh layer of kitchen roll on top of the scallops and press down lightly again. Leave for 10 minutes so the kitchen roll can soak up excess moisture from the scallops.

Warm a plate up with some hot water, or place in a very low oven.

Remove the kitchen roll from the scallops (it should peel off, almost sticking to the scallops - so you know they're nice and dry). Season the scallops on both sides with the salt and pepper.

¼ tsp salt,

¼ tsp black pepper

Heat the oil in a large frying pan over a high heat.

Once the oil is shimmering hot, add the scallops to the pan, making sure there's space between each one.

Cook for 3-4 minutes, until dark golden brown, then turn over. The scallops should pull away from the pan when they're ready to turn.

Add the butter to the pan and cook for a further 60 - 90 seconds, spooning the butter over the scallops as it melts and bubbles. The scallops should be lightly browned on the second side and cooked through (you can check one by cutting through it - it should be opaque throughout).

Turn the heat down to medium and remove the scallops from the pan. Place on the warm plate.

Add the garlic and chilli flakes to the pan and cook for 30 seconds, constantly stirring, then add the white wine.

2 cloves minced garlic,

¼ tsp chilli flakes,

80 ml (⅓ cup) white wine

Let the wine bubble for 1-2 minutes, until reduced by half.

Stir in the cream, lemon juice, and capers and heat through for a further minute.

120 ml (½ cup) double (heavy) cream,

1 tbsp lemon juice,

1 tbsp capers in brine, drained

Stir the parsley into the sauce, then add the scallops back into the pan. Heat for 30 seconds or so, then turn off the heat.

4 tbsp finely chopped fresh parsley

Serve the scallops with lemon wedges and a sprinkling of black pepper.

lemon wedges,

black pepper
✎ Notes
Buying your scallops frozen?
If you're buying  frozen scallops, it's worth noting that they're usually frozen after being treated with a water and preservative solution (known as wet scallops). This preserves the scallops, so they last longer, but it also adds a lot of water weight to them.
This recipes calls for 400g (14oz) fresh/defrosted scallops (which is about 10-12 large scallops).
If buying frozen, I would suggest buy 600g (1.3lbs) to account for the additional water weight that will be drained off once defrosted.
OR
Go by the number of scallops instead - buying 10-12 extra large king scallops to serve 2 people.
With or without the coral?
The coral is that orange and greyish part attached to the round bit of a scallop.
It's edible, and is quite mild and a little sweet tasting. It's personal preference if you want to leave it on. Personally I prefer it without.
The coral is often referred to as the 'roe', but the roe is actually the orange bit - which are the female reproductive organs of the scallop.
The grey bit of the coral are called the milt sacs, and they're the male reproductive organs of the scallop (scallops are usually hermaphrodites - having both male and female reproductive organs).
Buying scallops
I don't advise buying from regular supermarket (at least in the UK anyway). Even the extra large scallops are often tiny!
Buy from a fishmonger if possible, so you can see them.
You're looking for around 5-6 large scallops per person. 5-6 scallops should be about 200g.
Why do I need to dry the scallops?
Drying them with kitchen paper is key to get that golden crust - especially if you're buying frozen (wet) scallops.
Even buying 'dry' scallops (scallops that aren't treated with a water and preservative solution), I would still pat them down with kitchen paper to remove any excess moisture.
Nutritional information is approximate, per serving, based on this recipe serving two people.
Nutrition
Calories:
531
kcal
Carbohydrates:
12
g
Protein:
27
g
Fat:
39
g
Saturated Fat:
19
g
Polyunsaturated Fat:
3
g
Monounsaturated Fat:
15
g
Trans Fat:
0.2
g
Cholesterol:
131
mg
Sodium:
1258
mg
Potassium:
572
mg
Fiber:
1
g
Sugar:
2
g
Vitamin A:
1824
IU
Vitamin C:
15
mg
Calcium:
78
mg
Iron:
2
mg
Some of the links in this post may be affiliate links – which means if you buy the product I get a small commission (at no extra cost to you). If you do buy, then thank you! That's what helps us to keep Kitchen Sanctuary running. The nutritional information provided is approximate and can vary depending on several factors. For more information please see our Terms & Conditions.