This One Pot Rigatoni Alfredo with Chicken and Kale in a creamy, rich, garlic and parmesan sauce is serious comfort food! Scroll Down for the video of the recipe.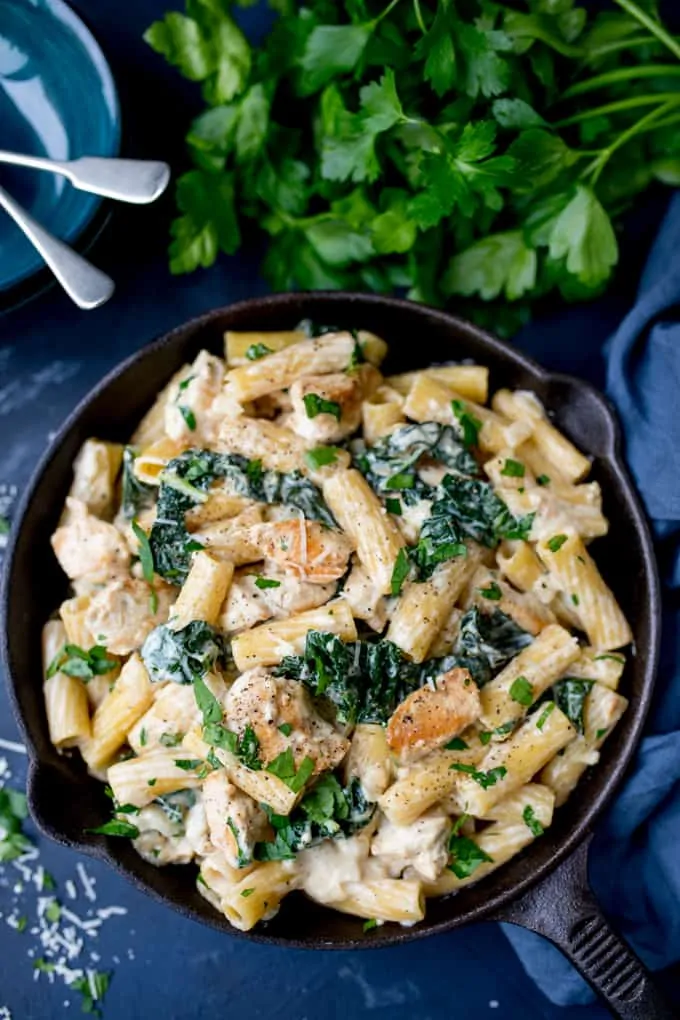 Chris has just been editing the video for this dreamy one pan dinner, and after watching several clips of that creamy-cheesy sauce, we both agreed I need to make it again.
Like now!!!
Let's talk Alfredo.
I'm gonna look like a bit of a dumb-ass here - but I really thought Alfredo originated in the USA. The first time I heard of it, it was for a copycat version of Olive Garden's Alfredo. And we all know Olive garden is an American chain.
When I looked into it more, recipes for this glorious creation were mostly on US websites.
Alfredo isn't something I've seen on the menu at Italian restaurants in the UK, so that further confirmed my suspicions (and trust me, the pasta section is the first one I look at in any Italian restaurant).
Carbonara is the only menu item that even comes vaguely close in terms of creamy spaghetti – and I'm sure any Italian would curse me for suggesting there's any similarity between carbonara and alfredo (I agree!!!).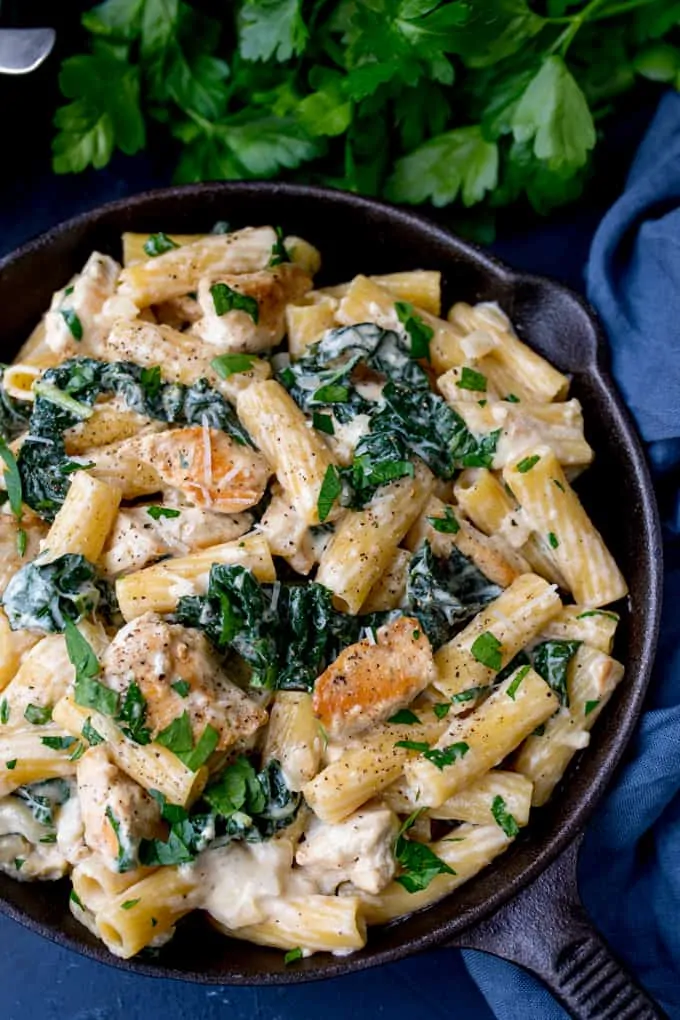 I didn't even see it on our holiday to Italy last year.
So I was pretty surprised when my research showed me that Alfredo did originate in Italy – in 1914 by a man named Di Lelio, who made it to please his pregnant wife. She was feeling nauseous (ergh, I remember those morning sickness days well!), so he made her plain fetticine pasta with a little butter and parmesan. A simple dish with no scary, strong flavours.
I think it's fair to say that the Italian-American version, and indeed my version, is very far removed from that original dish!
Version of this One Pot Rigatoni Alfredo with Chicken and Kale has parmesan, and a form of pasta. That's as close as it gets!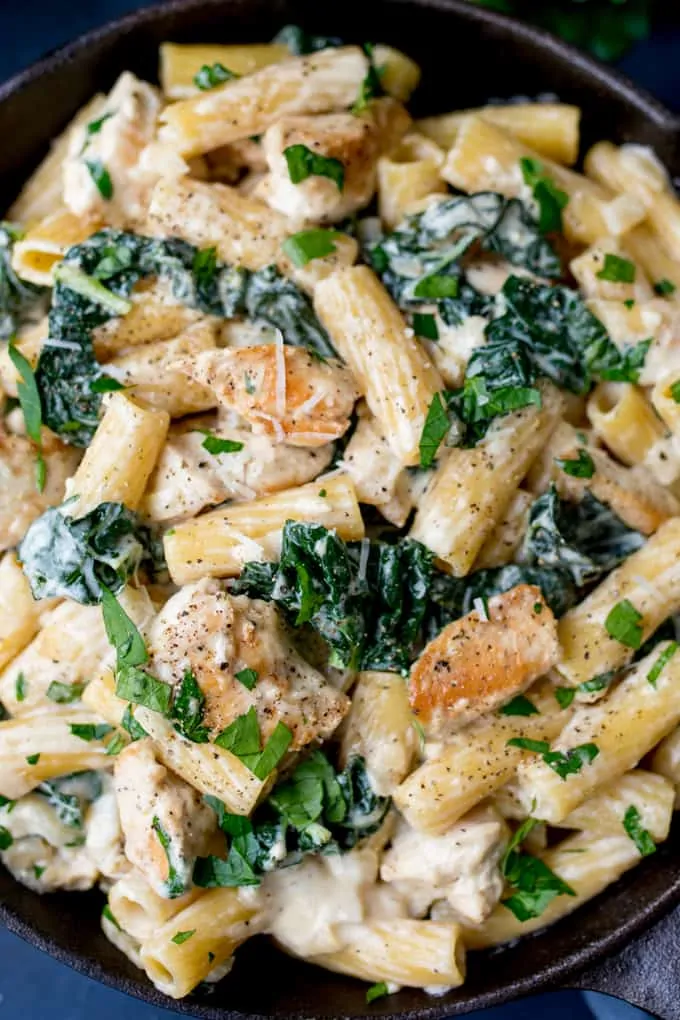 Nevertheless, the creamy fettucine-based dish that's so well known today is closer to my version. I'm just changing it up a little because:
I was in the mood for rigatoni (rigatoni and spirali are my favourites – probably because they take more sauce!!)
I saw some Cavolo Nero in the shop – which if you haven't had it before, is a form of kale, but like kale Mark II. Darker, stronger and prettier. I had to include it in my alfredo.
I wanted to save on the washing up - so a one pan version was definitely called for!
Throw some chicken in there, plenty of cream and garlic, then lots and lots of parmesan, and you have the perfect sitting-in-front-of-the-tele-watching-Game-Of-Thrones dinner. (OMG did you see it!!! I love that program almost as much as pasta!!)
If you're a fan of one-pot meals how about one of these too:
One Pan Spaghetti and Meatballs in a tasty tomato sauce, or One Pot Chicken and Garlic Pasta - less creamy than the alfredo, and with a hint of lemon.
The Alfredo Chicken One Pot Pasta with Kale and Rigatoni Recipe:
One Pot Rigatoni Alfredo with Chicken and Kale
This One Pot Rigatoni Alfredo with Chicken and Kale in a creamy, rich, garlic and parmesan sauce is serious comfort food!
Ingredients
2

tbsp

olive oil

3

chicken breasts

-

chopped into bite-size chunks

pinch

of salt and pepper

1

small onion

-

peeled and chopped

3

cloves

garlic

-

peeled and crushed

7

oz

(250g) dried rigatoni pasta

2

cups

(480ml) whole/full fat milk

½

cup

(120ml) double (heavy) cream

2.5

oz

(70g) Cavolo Nero kale

-

roughly chopped

¾

cup

(75g) Parmesan

-

grated
To Serve:
pinch

black pepper

2

tbsp

chopped parsley
INSTRUCTIONS
Heat the oil in a large frying pan (skillet) on a medium heat. Add the chicken, along with a pinch of salt and pepper. Cook for approx 6-7 minutes, turning regularly until browned and just cooked through.

Remove from the pan with a slotted spoon and place in a bowl. Cover with foil to keep warm.

Add the chopped onions to the pan and fry gently for a couple of minutes until the onions start to go translucent. Add in the garlic, stir and cook for 30 seconds. Then add in the pasta, stock and milk. Bring to a simmer, stir, then cover with a lid or foil. Turn down the heat and cook gently for 10 minutes.

Remove the foil and stir in the cream and all but 2 tbsp of Parmesan. Add the kale, cover again and cook for a further 2-3 minutes until the kale has wilted.

Add the reserved chicken, stir and allow to bubble for a couple of minutes to allow the chicken to warm through.

Sprinkle on the remaining parmesan, then sprinkle on a pinch of black pepper and fresh parsley before serving.
✎ Notes
Nutritional Information is per serving.
Nutrition
Calories:
684
kcal
Carbohydrates:
53
g
Protein:
46
g
Fat:
31
g
Saturated Fat:
14
g
Cholesterol:
145
mg
Sodium:
759
mg
Potassium:
928
mg
Fiber:
2
g
Sugar:
9
g
Vitamin A:
2730
IU
Vitamin C:
27.8
mg
Calcium:
434
mg
Iron:
1.8
mg
Some of the links in this post may be affiliate links – which means if you buy the product I get a small commission (at no extra cost to you). If you do buy, then thank you! That's what helps us to keep Kitchen Sanctuary running. The nutritional information provided is approximate and can vary depending on several factors. For more information please see our Terms & Conditions.