This one pot cheesy chicken pasta meal is easy, quick and delicious. This is my 30 Minute One Pot Chicken & Pasta!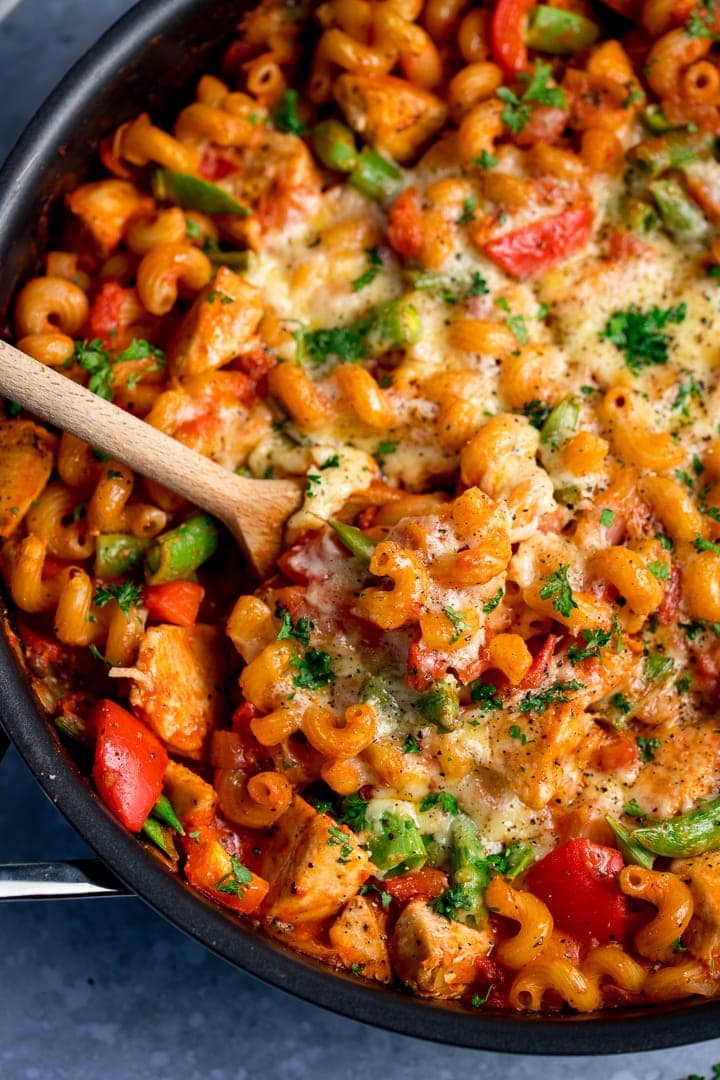 After having the BBQ out yesterday, it's now pouring down again today.
The UK weather just can't decide what to do with itself, and it drives me mad when I'm trying to do my usual weekly menu planning.
Did I ever tell you I was a list/planning nerd?
My weekly menu plans get turned into weekly shopping lists, which occasionally get re-written in aisle order.  I am that sad.
I have holiday packing checklists, holiday itineraries (I can relax on holiday, but I need to plan in a 'no-plans' day), chore charts, daily task lists.
It gets even worse than this.
If I have a task list, and then I complete an additional task, I will add it to the list, just so I can cross it off.
Please tell me you do this too?
When it comes to menu planning, you can almost guarantee that on the day I've scheduled in a warming beef stew it'll be blisteringly hot outside and my kids will be begging me to let them eat it in the garden at their picnic table.  Conversely, on a cold, wet and miserable day like today, I've usually got a bright summer salad on the go.
Not today though!
Today we've got a quick and easy one-pot chicken pasta meal.  Perfect with garlic bread on those cold days, and equally perfect on hot days with a nice crunchy green salad.
This is one-pan cooking at it's best.  Everything gets added in step-by-step, and we end up with a delicious cheesy-creamy pasta dish – with plenty of vegetables –  that the kids will love.  If you wanted a vegetarian alternative then you could always try my One Pot Mushroom Ragu.
I'm still recovering from my first ever blogging conference that took place over the weekend, but it was brilliant!! So much fun and wine, great tips, new friends and a few tears too.  I'll tell you more in my next post.
Equipment:
In order to make this 30 Minute One Pot Chicken & Pasta you will need:
The 30 Minute One Pot Chicken & Pasta Recipe: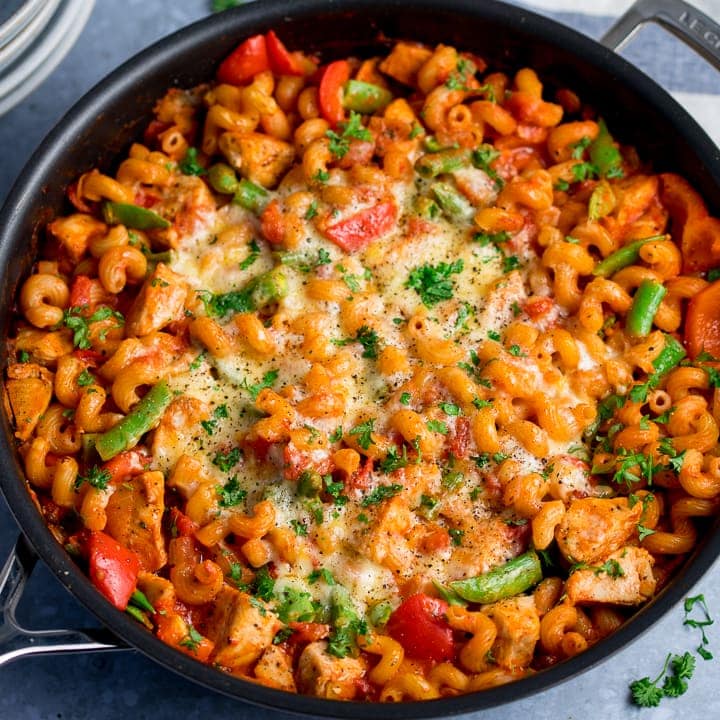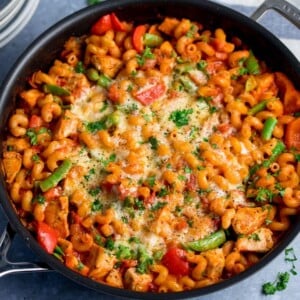 Ingredients
1

tbsp

vegetable oil

1

large onion

peeled and chopped

2

large chicken breasts

cut into chunks

1

Pinch

salt and pepper

2

cloves

garlic

peeled and minced

1

tbsp

tomato puree

(usually gluten free, but best to check if required)

1

red bell pepper

de-seeded and chopped

4 1/2

cups

(300g) dried pasta - such as spiralli

(use a gluten free variety if required)

1

tsp

dried oregano

½

tbsp

Worcestershire sauce

(usually gluten free, but best to check if required)

28

oz

(800g) tinned chopped tomatoes

1 1/4

cups

(300ml) chicken stock

made from hot water from the kettle + 2 stock cubes (or 2 heaped tsp veg bouillon for gluten free)

1/2

cup

(120ml) milk

half fat or full fat

20

sugar snap peas/snow peas

roughly chopped

1

packed cup

(100g) mature/strong cheddar cheese

grated/shredded

1

tbsp

chopped fresh parsley
Instructions
Heat the oil in a large frying pan and add in the onions. Cook for 3 minutes on a medium-to-high heat until they start to turn translucent. Add in the chicken, salt and pepper. Cook for a further 3 minutes until the chicken is sealed (it won't be cooked in the middle at this point).

Add in the garlic, tomato puree and red peppers. Stir, then add in the pasta. Now add in the oregano, Worcestershire sauce, tins of tomatoes, stock and milk. Stir and bring to the boil, then turn down to a gentle simmer. Cover with a lid or some foil and simmer for 12-15 minutes (checking occasionally) until the pasta is cooked.

Stir in the chopped sugar snap peas (it's nice to add them at the end, so they're hot, but retain their crunch), then sprinkle the pasta with cheese and put it under the grill/broiler for a couple of minutes until the cheese has melted.

Top with chopped chives and serve.
Recipe Notes
Can I cook the pasta in the sauce?
Yes, as you can see in the recipe, there's lots of liquid that does into this dish - including tinned tomatoes, stock and milk. A lot of this liquid is absorbed in the pasta during the cooking process, so the dry pasta will be fully cooked in the sauce, and the resulting sauce will be thicker.
Can I use fresh pasta?
Yes you can, but you'd need to reduce the tinned tomatoes to 400g (14oz), reduce the stock to 80ml (1/3 cup) and reduce the milk to 60ml (1/4 cup). Fresh pasta doesn't absorb as much liquid as dried pasta, and it also takes less time to cook.
Add all of the ingredients, except the fresh pasta, at step 2, then simmer (uncovered is fine) for 10 minutes. Then add the fresh pasta and cook for a further 4-5 minutes (or however long it says on the pack), before adding the sugarsnap peas and continuing with the recipe.
Can I make it ahead?
I prefer to eat this right away as I think it tastes better when freshly made, rather than after re-heating. However, you can make it ahead if you wish, and it will still be tasty.
Make the dish, but don't grill the cheese (just sprinkle it on), then cool, cover and refrigerate for up to a day. It's better to reheat in the oven (covered in foil) – as this will help the heat to disperse better, without the pasta being broken – as it would if it was being stirred in a pan. Heat in the oven at 190C/375F for about 20-25 minutes, until hot throughout. Remove the foil for the last 10 minutes if you want to brown the cheese.
Note: the dish will be a little less saucy if you make it ahead, as the pasta will absorb more of the liquid. You can add an extra few tablespoons of stock or hot water when reheating the pasta to ensure it's still saucy.
Leftovers:
Leftovers can be cooled, covered and refrigerated for up to a day. I like to add a splash of water or stock to loosen up the pasta, then sprinkle on a little more cheese before reheating in the oven (covered) at 190C/375F for about 20-25 minutes until hot throughout. Remove the foil for the last 10 minutes to brown the cheese.
You can also reheat in the microwave if you prefer. Heat on a high setting (cover with a microwave-safe cover, not foil), stirring once or twice during reheating, until piping hot throughout. Be sure to check there are no cold spots. This normally takes around 3-4 minutes per portion, but it will depend on your microwave.
Will it freeze?
Yes, cool, cover and freeze. Then defrost in the refrigerator. As per the re-heat instructions above – reheat in the oven (covered in foil) at 190C/375F for about 20-25 minutes until hot throughout. Again, add an extra few tablespoons of stock or hot water when reheating the pasta to ensure it's still saucy.
Swaps or additions:
You can replace the chicken with turkey or ham, and add extras such as cooked bacon and chorizo to this dish.
If you want to make the dish with leftover cooked chicken instead of raw, just add in at the same time as the garlic and peppers in step two.
If you want to add more veggies, green beans and chunks of courgette (zucchini) work great. Add them in at the same times as the peppers.
Vegetarian version:
You can also make a vegetarian version, replacing the chicken with mushrooms, quorn or tofu, and replacing the chicken stock with vegetable stock. I also have a few recipes for one-pot pasta vegetarian meals on the blog, including:
Nutrition info is for one serving of this recipe.
Nutritional Information
Nutrition Facts
30 Minute One Pot Chicken Pasta
Amount Per Serving
Calories 580
Calories from Fat 144
% Daily Value*
Fat 16g25%
Cholesterol 67mg22%
Sodium 665mg28%
Potassium 1042mg30%
Carbohydrates 74g25%
Protein 33g66%
Vitamin A 1590IU32%
Vitamin C 63.9mg77%
Calcium 308mg31%
Iron 4mg22%
* Percent Daily Values are based on a 2000 calorie diet.
My one-pot chicken pasta post first appeared on Or So She Says.
Some of the links in this post may be affiliate links – which means if you buy the product I get a small commission (at no extra cost to you). If you do buy, then thank you! That's what helps us to keep Kitchen Sanctuary running. The nutritional information provided is approximate and can vary depending on several factors. For more information please see our Terms & Conditions.