Bite sized creamy white chocolate cups filled with crushed biscuit and cherries.  These White Chocolate Cherry Cups are a simple 3-ingredient treat!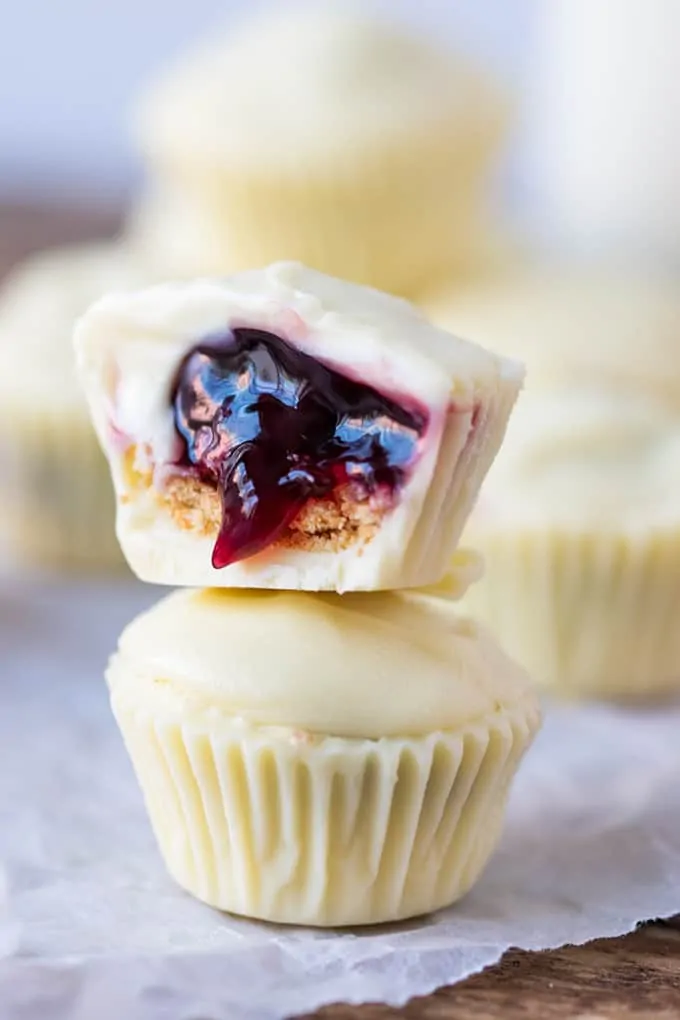 I saw a video on Facebook recently for homemade peanut butter jelly cups and it was such a cool idea I had to give it a go!!
I decided to go for white chocolate rather than milk chocolate at the request of one of my lovely facebook followers. I was going to fill with salted caramel, but realised that was just a little too sweet. In the end I went with the biscuit and cherry pie filling - a little bit of crunch, and a little bit of cherry tartness - delish!!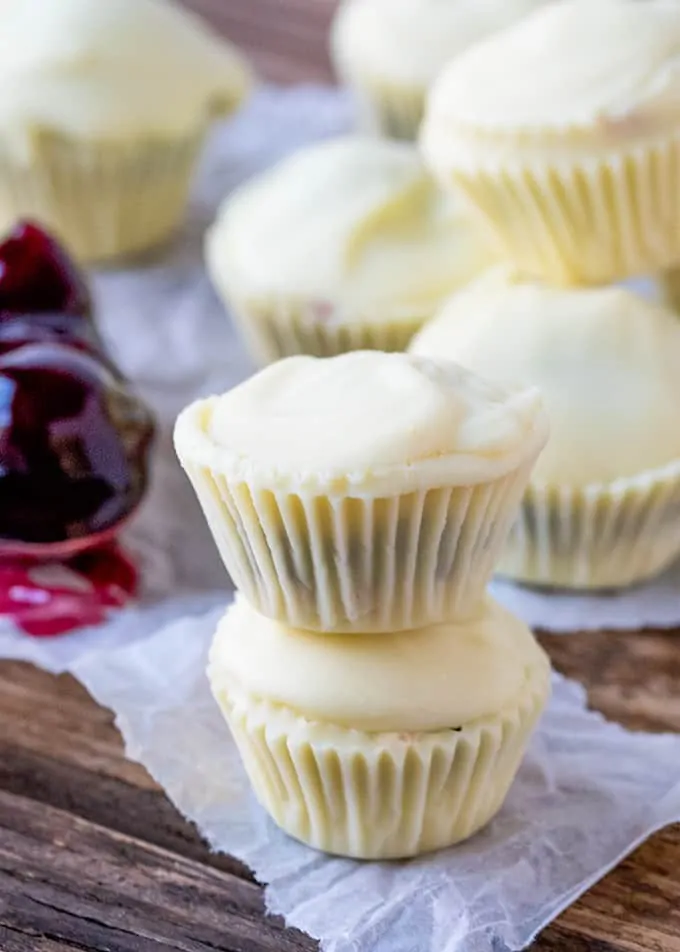 The video (it's here if you want to take a look) made the process look really simple, but I found it a little fiddly in reality. Here are a couple of my tips:
Make sure you use enough chocolate in the bottom layer to get a reasonably thick shell, and be sure that the chocolate is even when you push the second paper cup case in. I had a few thin/weak spots on a couple of my chocolate cases, and they broke when I was trying to unpeel the inner paper.
Only remove the outer later of the paper case after the topping is on and set. Once it's set, the whole cup has better structural integrity, so it's less likely to break.
When pouring on the top layer of chocolate, you want to completely cover the top, without the chocolate going down the sides. If it goes down the sides, it's really hard to pull the outer case off later.
Make 4 more than you need. If you don't break 3 or 4 you're a genius.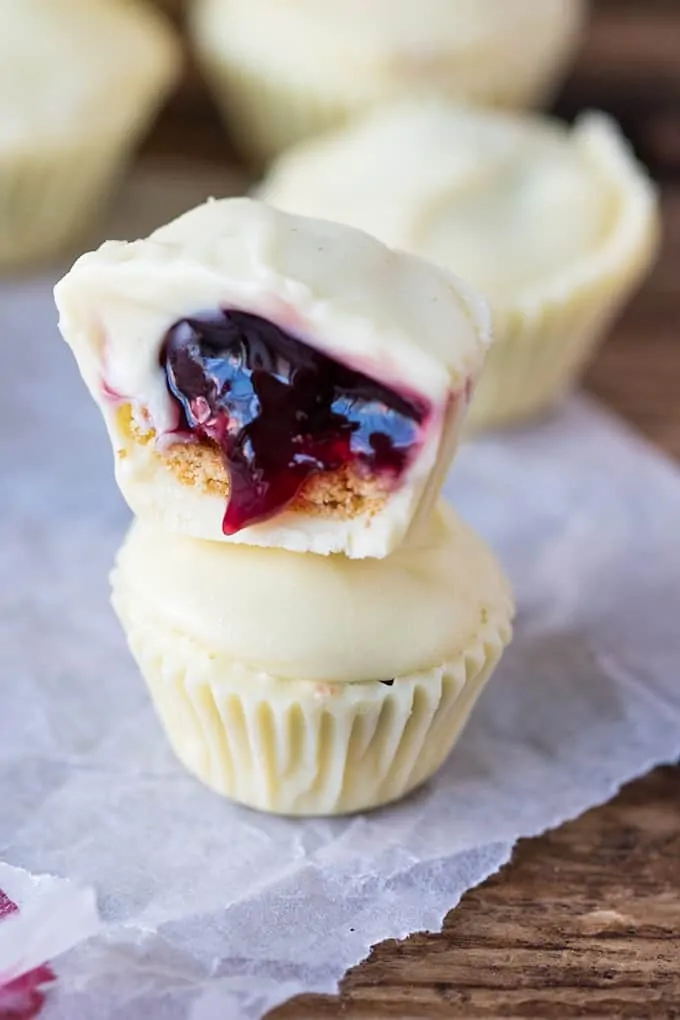 These White Chocolate Cherry Cups are the perfect little treat when you're having a chocolate craving!
The White Chocolate Cherry Cups Recipe: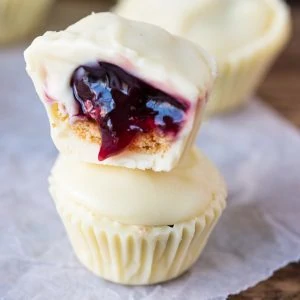 White Chocolate Cherry Cups
Bite sized creamy white chocolate cups filled with crushed biscuit and cherries - a simple 3-ingredient treat!
Ingredients
250

g

white chocolate

-

broken into chunks

3

digestive biscuits

-

or graham crackers, crushed

½

of a 400g (14oz) tin of cherry pie filling
INSTRUCTIONS
Line a 12-hole petit fours (mini muffin) tin with mini cake liners. Melt half of the white chocolate either in the microwave in 30 second bursts (stir in between each burst to prevent it burning) or over a bain marie.

Place a teaspoon of white chocolate in each of the petit fours cases. Place another cake liner inside each of the chocolate-filled cake liners and push down slightly with your fingers so that the white chocolate comes up the sides of the liner - right up to the top. This can be a little fiddly, and you may have to spoon a little more chocolate into a couple of the cases to ensure an even covering all round.

Place in the freezer for 20 minutes to freeze.

After 20 minutes, very carefully remove the inside liner from each of the chocolate cases. Try to work quickly, as the chocolate will melt if in your hands for too long.

Place ½ a teaspoon of biscuit crumbs in each case, then top with a teaspoon of cherry pie filling. Place in the freezer for 10 minutes to firm up.

After 10 minutes, melt the remaining chocolate and take the chocolate cases out of the freezer. Drizzle the chocolate on top to fully cover the cherry pie filling (try not to let the chocolate go down the sides, as it will be difficult to remove the outer cases later). Place back in the freezer for 10 minutes.

Remove from the freezer and carefully peel the outer cases off. Store in the refrigerator until you'd like to serve them.
✎ Notes
Nutritional Information is per cup.
Nutrition
Calories:
146
kcal
Carbohydrates:
19
g
Protein:
1
g
Fat:
7
g
Saturated Fat:
4
g
Cholesterol:
4
mg
Sodium:
38
mg
Potassium:
81
mg
Sugar:
13
g
Vitamin A:
40
IU
Vitamin C:
0.7
mg
Calcium:
44
mg
Iron:
0.2
mg