Halloween chocolate cherry fondant - A spooky Halloween treat for us grown ups! I was hoping to achieve something elegant and little creepy. Not sure I completely got there. However, the 4 fondants I consumed and I, had fun along the way.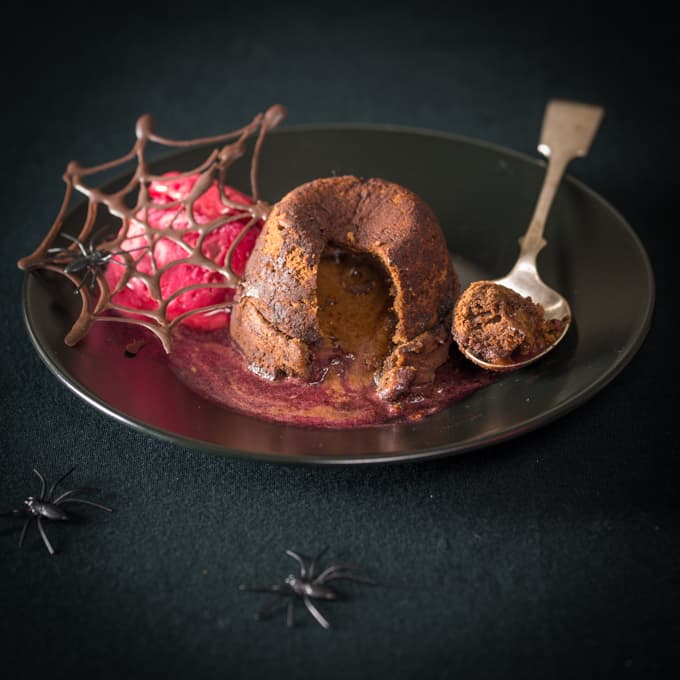 I'm pretty sure that having one of these every evening for the past 4 evenings isn't that healthy. However, it is pretty flippin fantastic :-)
I usually find myself making spooky cupcakes, Frankenstein mint mousses, skeleton veg crudite plates and oreo spiders for the kids at this time of year. Rather than follow on with tradition, I decided this year to make something for us adults. We deserve to have delicious Halloween treats too (in addition to the leftover sweets, cakes and oreo spiders)!
I've always been a fan of chocolate fondant and have been making Gordon Ramsay's version for years. I've made:
The basic one – lots of times.  Here's Gordan's original recipe, that I adapted for today's recipe
Mini (eggcup sized) versions of the basic one (went down great at a dinner party)
A chocolate orange version (sooooo good)
and now this slightly boozy chocolate cherry version.
It takes a little preparation, but it's a great recipe that you can prepare in advance, freeze and then cook straight from frozen.
The advantage of this is that you can make several individual servings and then just pop one in the oven when you feel like it.
The disadvantage of this is that you can then just pop one in the oven whenever you….yeah you get the picture.
I happened to 'just feel like one' every evening until they were all gone, and Chris played his part in eating the rest.
Lettuce, water and spin class only for the rest of the week! You too dear husband!
I served these puds with cherry sorbet and chocolate spider webs.
Don't let my childish attempt at spider web making fool you into thinking I just piped one quickly and didn't give it a second thought. This web was the best one of about 25.
I had chocolate spider webs on baking mats and parchment paper all over the house! They're harder than you might think, so make sure you buy some extra chocolate. The fact that I used dark chocolate – which is runnier when melted than milk chocolate – didn't help matters. Even using my thinnest piping nozzle, the chocolate just pours out. My tip to you? Either use milk chocolate instead, or, let the melted chocolate cool a little first so that it thickens slightly before trying to pipe it.
Have a look at my other Halloween Recipes:
The Halloween chocolate cherry fondant Recipe:
Halloween chocolate cherry fondant
Halloween chocolate cherry fondant - A spooky Halloween treat for us grown ups!
Ingredients
Chocolate Cherry Fondants:
70

g

¼ of a tin tinned cherries in syrup (this is the drained weight)

1

tsp

cherry liquor

1

tsp

almond liquor

50

g

unsalted butter

-

melted

50

g

cocoa powder

6

eggs

2

egg yolks

180

g

golden caster sugar

180

g

plain flour

180

g

dark chocolate

-

melted and slightly cooled

180

g

unsalted butter

-

melted
Chocolate spider webs:
50

g

dark chocolate

-

melted
To serve:
Cherry sorbet or ice cream
INSTRUCTIONS
Start by making your cherry filling. Blend the cherries and the liquors together until you have a liquid that's about the thickness of double cream. It will probably be a little grainy, but that's fine. You won't really notice this when it's cooked. You may need to add more cherries or more liquor until you get the right thickness. Pour the cherry liquid out into an ice cube tray. You want to fill each cube about ⅔rds full. Put in the freezer and leave to freeze. This is take a little longer (approx. 1 hour) than water due to the alcohol in the liquid.

Next make your spider webs. Allow your chocolate to cool and thicken slightly, then pour it into a piping bag. Pipe out the webs onto a silicon baking mat or on parchement paper that has been placed on baking trays. Check out method

2 here

for help drawing a spider's web. Place in the fridge until the chocolate has solidified and then very gently peel off using a palette knife and place on a plate in the fridge until you're ready to serve. You will get broken ones, so make extra...

Next prepare your remequins and preheat your oven to 190c. Take a pastry brush, and brush the inside of 8 ramequins with butter in upward strokes. Place in the freezer for five minutes and then brush again with butter. Dust the inside of the ramequins with the cocoa powder. To do this, simply put a tbsp. of cocoa powder in the first ramequin and roll it around until the inside is completely covered. Pour out the excess and continue with the rest until all of the ramequins are coated.

Now make your fondant. Using a mixer or a hand whisk, whisk the eggs, egg yolks and sugar until they're fluffy and the whisk leaves a trail. Gently mix in the flour. Then mix together your melted chocolate and melted butter and very slowly pour it in to your egg/sugar/flour miixture, mixing all the time, until completely combined. Place 2 tbsp. of this mixture in each ramequin, and then place a cherry ice cube on top in the middle. Add the remaining fondant mix to each of the ramequins, completely covering the ice cube. Now place in the oven, directly on the shelf for 10-12 minutes, until the outside is cooked and the inside is gooey but warm.

If you wish, you can freeze these fondants before cooking. If you do, then cover and place in the freezer. Cook straight from frozen at the same temperature (190c) but add 5 minutes to the cooking time.

Once cooked, place on a plate with a scoop of sorbet or ice-cream next to it. Gently place one of your chocolate spider webs on top of the sorbet/ice-cream and serve.
✎ Notes
*It's worth making one or two extra of these so that you can cut it open and test it once cooked – to make sure you aren't serving up fondants that are still cold or frozen in the middle. Fondants are notoriously tricky to get perfect in the middle and oven temperatures vary (despite what temperature you set!). Making an extra one will help to ensure you get it right for the rest of your fondants.
*You can replace the tinned cherries with fresh or frozen cherries or cherry pie filling if you wish. *You can also replace the liquors with either some of the syrup from the tin, cherry juice or another juice. So long as you have a consistency that is about the thickness of double cream when it's blended, then it's fairly flexible.
Nutrition
Serving:
173
g
Calories:
621
kcal
Carbohydrates:
64.8
g
Protein:
10.8
g
Fat:
37.3
g
Saturated Fat:
22.7
g
Cholesterol:
244
mg
Sodium:
239
mg
Potassium:
428
mg
Fiber:
3.7
g
Sugar:
39.9
g
Vitamin A:
1000
IU
Vitamin C:
0.8
mg
Calcium:
120
mg
Iron:
3.6
mg
<
p style="text-align: center;"> Nutritional info obtained from caloriecount.about.com per serving (makes 8).  Includes chocolate web, but not the cherry sorbet.