These butter shortbread hearts sandwiched with raspberry jam are the perfect Easy Valentine Cookies gift for your loved one.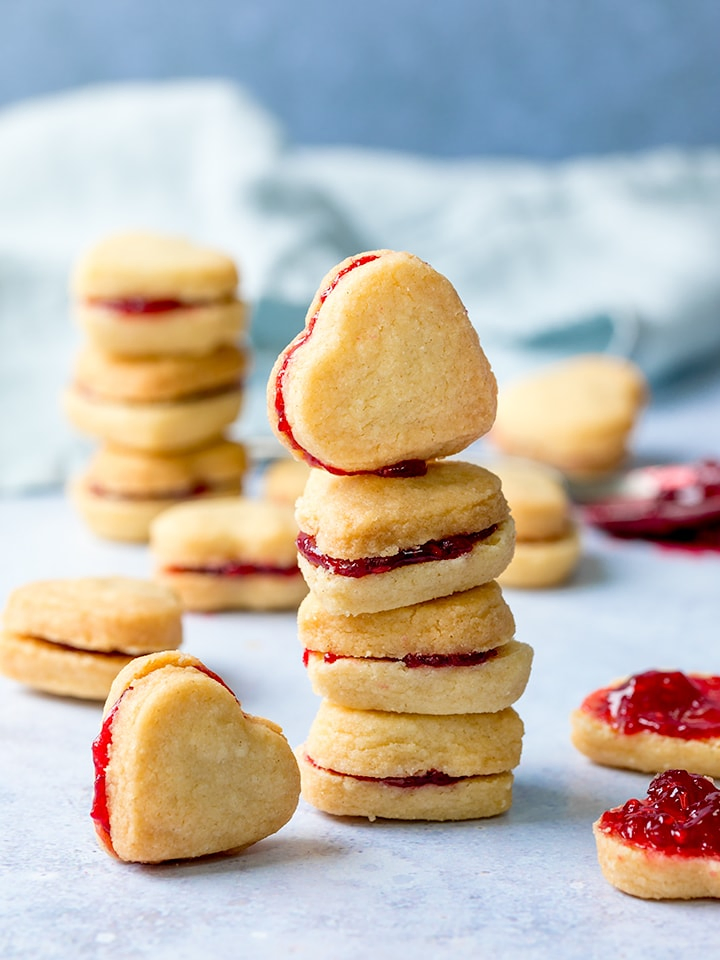 Rich, buttery shortbread biscuits filled with jam......
That is a jar of love.
Honestly, what would you prefer?
a) A little fluffy teddy bear hugging a red heart with some slushy words written on it
b) Some kind of ill-fitting, slightly dodgy undergarment(s)
c) A jar of lovingly made bite-sized biscuits
Yes I know what I'd choose too.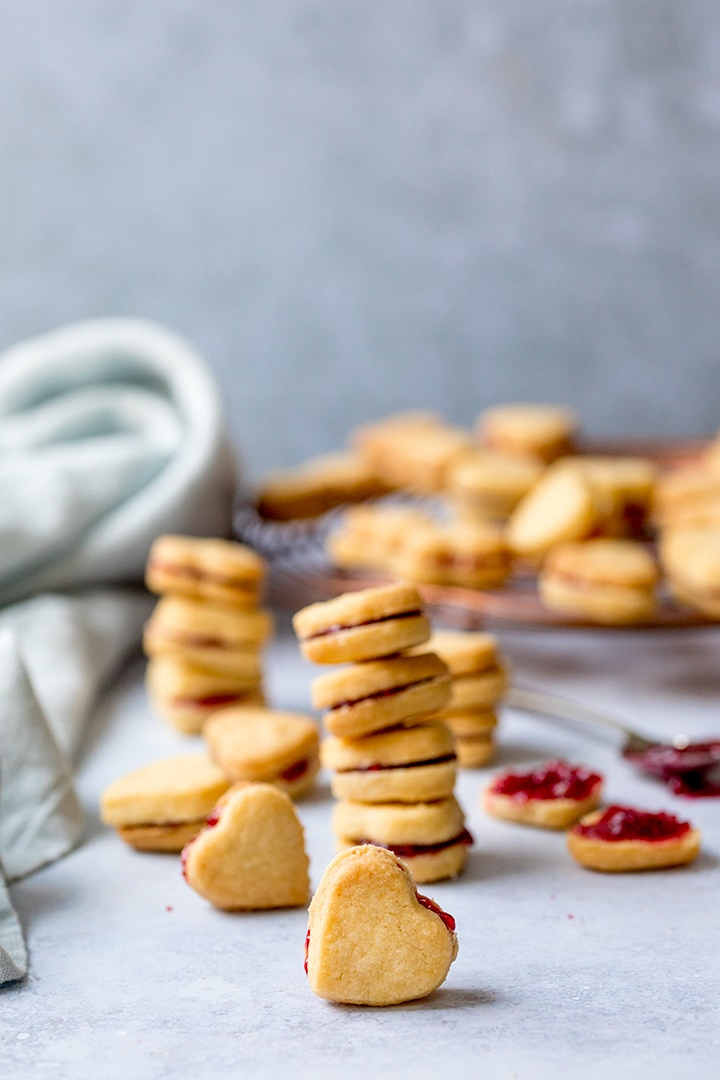 I've got to admit, Chris and I don't really do valentines day. He has the classic male reasoning that 'I'm romantic every day, I don't need to buy you over-priced tat to prove it' - and whilst some girls might grumble at that, I totally agree.
I'd be far more impressed if he came home with a bunch of flowers just because he felt like it, like he did when I left work. He brings me flowers fairly often actually. I bought him a bunch a couple of weeks ago, and he wasn't nearly as impressed. Next time I'll stick with the 6 pack of beer.
So we start by mixing butter and sugar - I prefer to do this in a stand mixer. Once mixed add in plain (all-purpose) flour and rice flour and a pinch of salt and mix until just combined.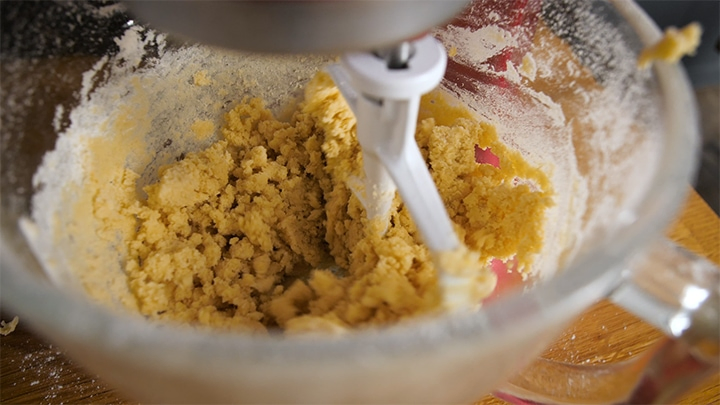 Form into a ball with your hands: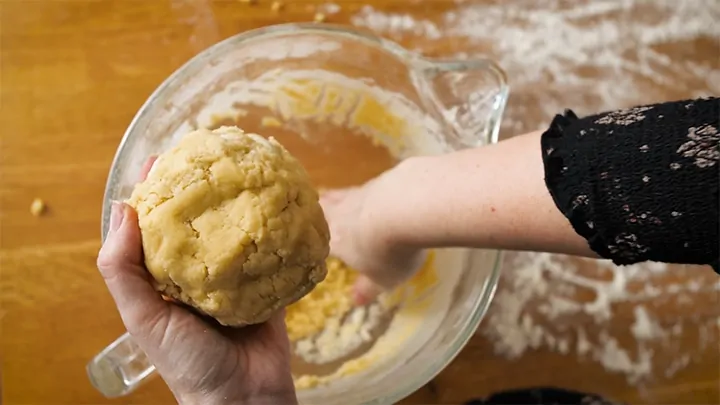 Then roll out on a floured surface: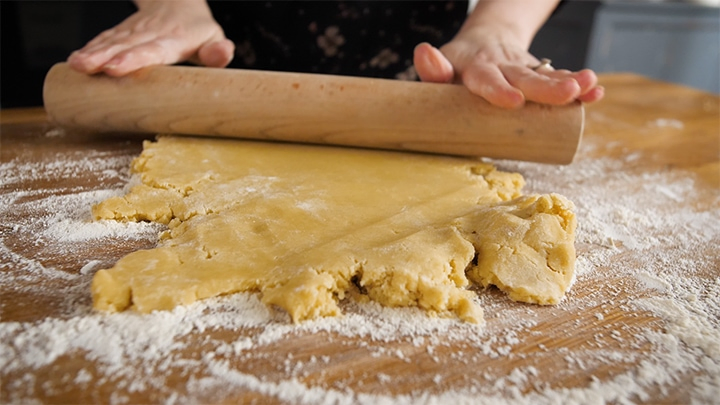 Cut out the cookies using a mini heart cutter: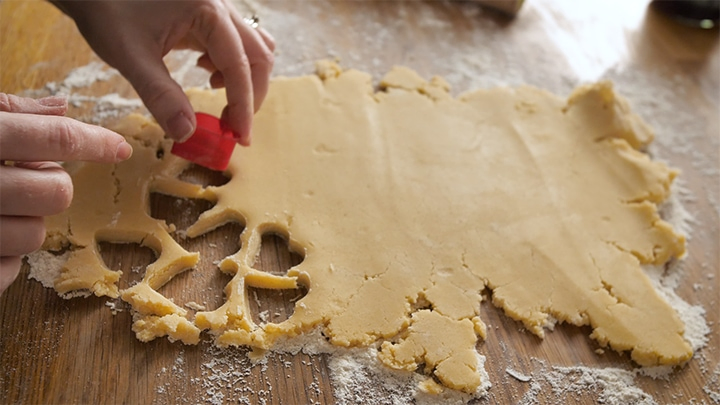 Place on a tray, then cover in clingfilm and refrigerate for at least 30 minutes: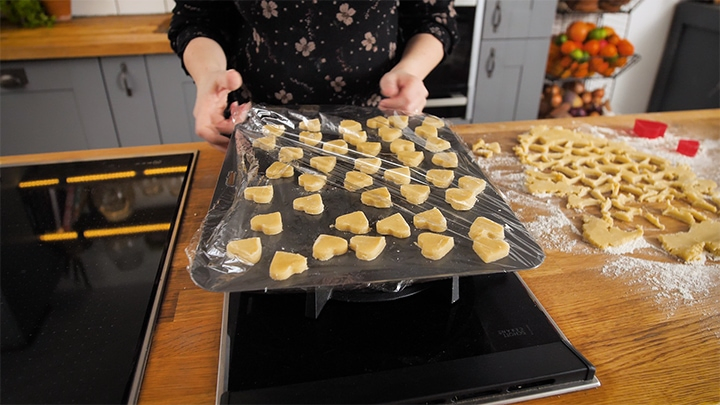 Remove the clingfilm and dust with icing sugar before baking in the oven for 8-10 minutes: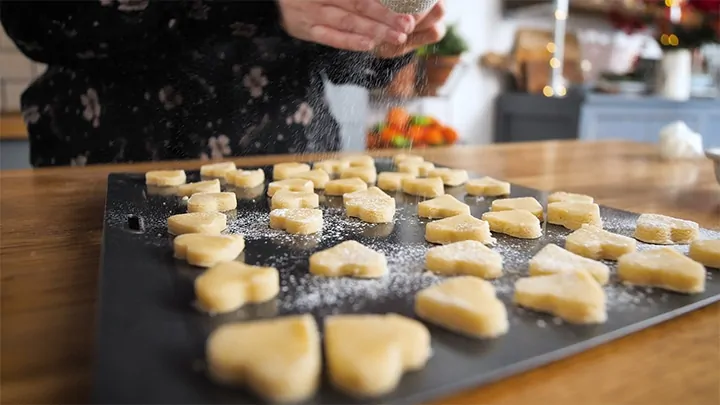 Cool the baked cookies, then sandwich together with a small blog of raspberry jam: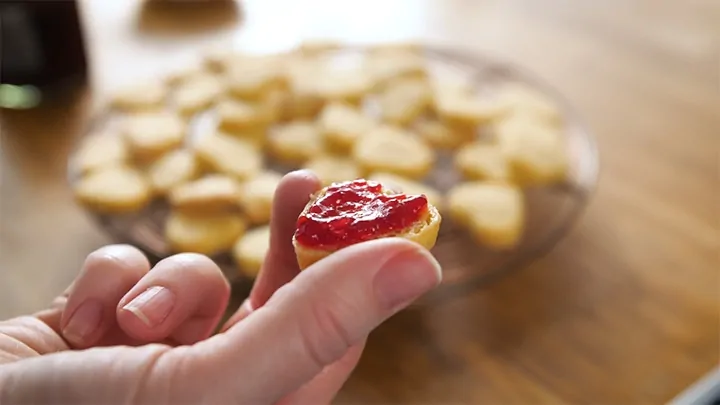 Delicious!
So, whilst we won't be going out to a posh restaurant for a candle-lit meal for two (or exchanging teddy bears and dodgy undergarments), we probably will be enjoying a delicious dinner like my Coq au Riesling, Tuscan Chicken or Duck Confit with Roasted Rhubarb followed by Rose and Chocolate Valentines Palmiers or Valentines Nutella French Toast Hearts (yes you can have this for breakfast or dessert in my eyes) then sit cuddled up on the sofa enjoying a few more of these biscuits with a cocktail (or two)!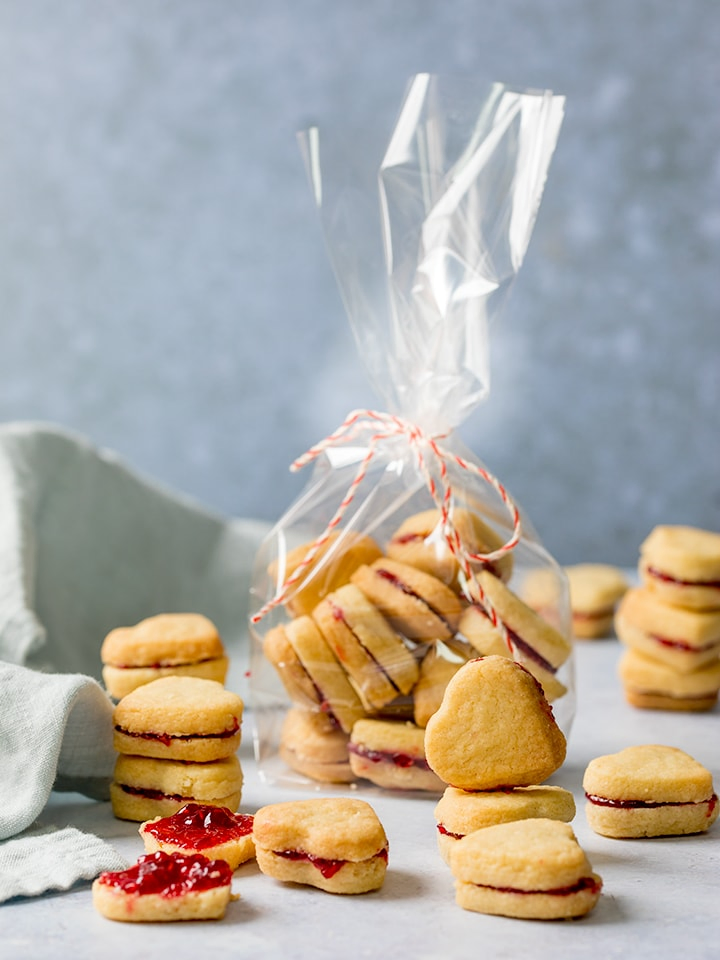 Different filling ideas:
Nutella (of course)
Lemon Curd
Flavoured buttercream (almond, orange or coconut would be yummy).
Peanut butter (maybe with Nutella)
Easy Valentine Cookies Recipe:
Easy Valentine Cookies
Easy valentine cookies - Buttery shortbread hearts sandwiched with raspberry jam. A gift you'll want to keep to yourself!
Ingredients
7

oz

(1 and ¾ sticks/200g) unsalted butter

-

softened

½

cup

(95g) golden caster sugar

1 ¾

cups

(200g) plain/all-purpose flour

⅔

cup

(95g) rice flour

-

white or brown rice flour is fine

pinch

of salt

1

tbsp

confectioners/powdered sugar

4

heaped tbsp

raspberry jam
INSTRUCTIONS
Using a stand mixer, or by hand, mix the butter and sugar until well incorporated. Add the two flours and the salt, and mix again until just incorporated.

Scoop out the dough and squash it together into a big ball in your hands. Place it onto a lightly floured surface and roll out to approx. 6mm thick. The dough is quite delicate and will try to crumble in places. Just push it back together if it crumbles.

Using a small (3cm across at the widest point) heart shaped cutter, cut out as many little hearts as you can, and place them on 3 metal baking trays. You should get at least 80 single cookies. You'll find the cookie cutter won't stick if you dip it in flour before you cut. The biscuits can be fairly close together on the tray, but not touching. You can re-role the dough to cut more hearts, but don't keep re-rolling over and over.

Cover each of your trays of cookie hearts with clingfilm/plastic wrap and place in the fridge for at least 30 mins (up to overnight).

When you're ready to bake, preheat the oven to 180c/350f. Take the biscuits out of the fridge and take off the clingfilm. Sift the icing sugar over the cookies, and cook in the oven for 8-10 minutes, until the edges start to turn slightly golden. You may need to cook the trays on the lower shelves for a minute or two longer.

Take out of the oven and leave to cool for 5 minutes, then remove from the tray with a palette knife and place on a plate or cooling rack.

Once cool, sandwich two cookies together with ¼ tsp raspberry jam. Repeat with the remaining biscuits.

Carefully place the biscuits in bags and tie with string if giving as a gift.
✎ Notes
Refrigerating the dough:
It's really important to refrigerate the dough - this helps the flavour to develop and also helps to ensure you get a nice crisp edge to the cookies.
It will also ensure the cookies won't spread.
.
Don't overwork:
Overworked cookie dough = tough cookies. I cut out the shapes, then re-roll and cut again. I may do one more re-roll, but no more than that. Any leftover dough 'bit' can also be baked in the oven (chef's treat!).
.
Bigger cookies:
This recipe makes 80 tiny cookies (40 once they've been sandwiches together with the jam). Of course you can make bigger cookies. Keep the thickness the same, just use a bigger cookie cutter. Cook them for the same amount of time in the oven. The may need an extra minute in the oven - just keep an eye on them and take them out just as the edges are starting to turn a very light golden colour.
.
Rice flour:
Rice flour really helps to get the perfect crumbly, tender shortbread texture. I'm using a mixture of both rice flour and plain flour in this recipe.
It keeps pretty well, but if you want to use it up, here are some other rice flour recipes from the BBC Food website.
.
Storage:
Store in an air-tight box at room temperature. These cookies are best eaten within 24-48 hours. They'll start to lose their crispness after that (but still taste great for a couple of days).
.
Nutritional Information is per cookie.
Nutrition
Calories:
72
kcal
Carbohydrates:
8
g
Fat:
4
g
Saturated Fat:
2
g
Cholesterol:
10
mg
Sodium:
35
mg
Potassium:
8
mg
Sugar:
2
g
Vitamin A:
125
IU
Calcium:
2
mg
Iron:
0.2
mg
This post was first published in February 2015. Updated in February 2019 with new photos, step-by-step photos, recipe video and tips.
Some of the links in this post may be affiliate links – which means if you buy the product I get a small commission (at no extra cost to you). If you do buy, then thank you! That's what helps us to keep Kitchen Sanctuary running. The nutritional information provided is approximate and can vary depending on several factors. For more information please see our Terms & Conditions.