Sticky Toffee Pudding with Homemade Custard - A traditional English pudding kicked up a notch, with the addition of rum-infused raisins!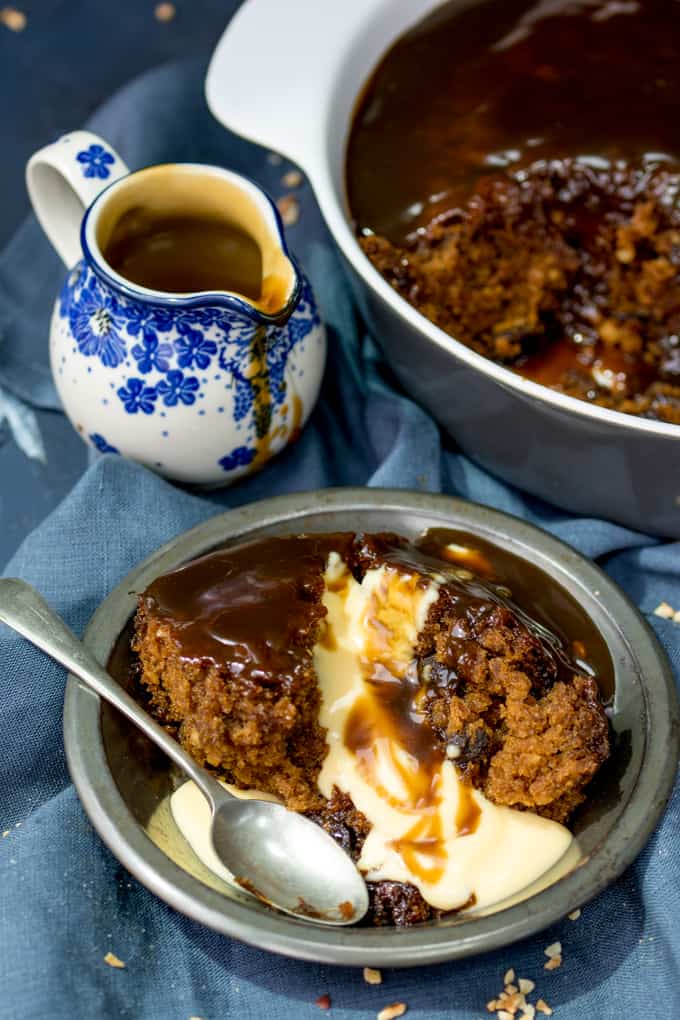 If you go to any English restaurant, you're more than likely to see at least one of the following traditional puds on the menu:
Apple pie and custard/cream
Chocolate fudge cake and ice cream
Sticky toffee pudding and custard
Eton Mess
It probably sounds like I'm complaining at the lack of variety or imagination, but I'm not!
I'd gladly eat any one of those sinful desserts, and I'm pretty sure I'd still choose one of them even if there was a huge dessert menu with lots of choice.
Sticky toffee pudding is definitely the one I go for most often. Sometimes it arrives looking all posh - sliced into a thin sliver, topped with a little wedge of some kind of brittle, and served with a perfect quenelle of ice cream.
That's all very nice, but I much prefer it when it's clearly been baked in a big batch, scooped up with a serving spoon, plonked in a bowl and almost drowned in custard. You know, the old-fashioned way, like our grandparents served it.
And that's how I'm serving mine.
Although I have given it a little twist with the addition of some rum-soaked raisins. It's totally optional, but I thoroughly recommend it!
You can use store-bought custard (no shame here, I love Ambrosia custard - especially with bananas!!), or make your own.
This time I made my own, and that's because I had some amazing fresh whole milk from my friend's farm to use.
I went round to visit my buddy Pam the other day, and they'd just had a milk vending machine installed at the end of their drive. No joke!

The fresh milk from their herd of Friesian cows is pasteurised onsite. You can take a bottle with you (or buy one there) and pour it yourself by the litre. I look mine home and immediately siphoned off the creamy topping for my coffee 🙂
Totally genius idea!
Anyway, not only is this pudding serving with custard, but it's also smothered in sticky toffee sauce too. Really simple to make, you can also add in a little salt if you wanted to make it a salted toffee version (erm yes please!).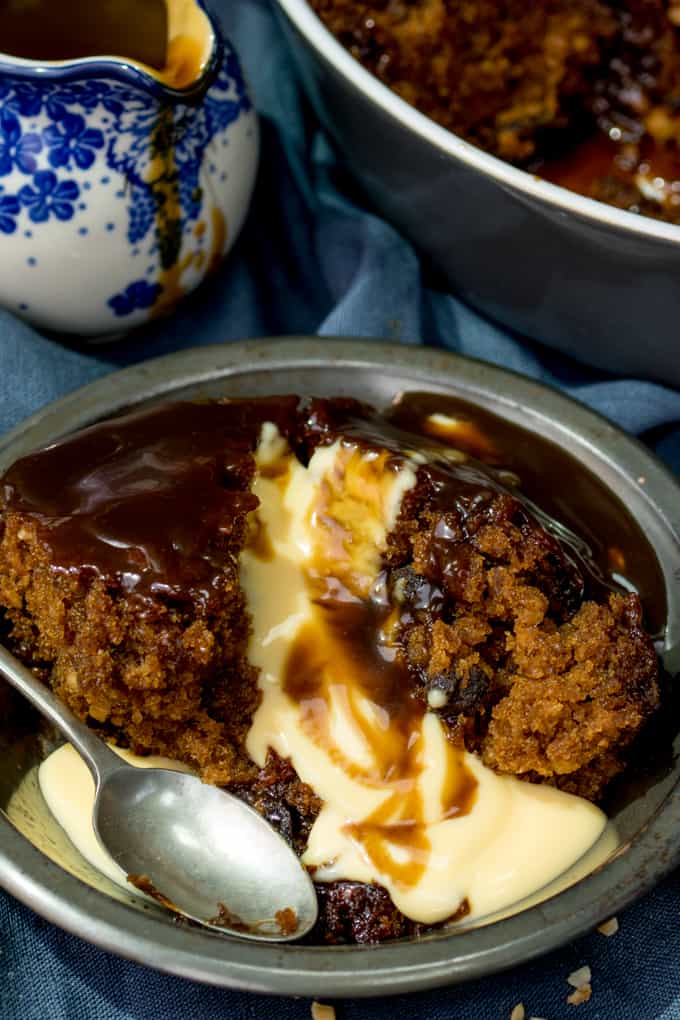 (p.s here's the link my friend's milk vending machine Facebook page in case you're ever passing by).
The Sticky Toffee Pudding with Homemade Custard Recipe:
Sticky Toffee Pudding with Homemade Custard
Sticky Toffee Pudding with Homemade Custard - A traditional English pudding kicked up a notch, with the addition of rum-infused raisins!
Ingredients
Sticky Toffee Pudding:
150

g

raisins

100

ml

boiling water

50

ml

spiced rum

90

g

softened butter

120

g

soft brown sugar

2

eggs

2

tsp

vanilla extract

2

tbsp

black treacle

190

g

plain (all-purpose) flour

1 ½

tsp

baking powder

½

tsp

bicarbonate of soda

1

pinch

salt

120

ml

milk

50

g

chopped, toasted hazelnuts (you can usually buy these ready-chopped and toasted)
Toffee sauce:
175

g

light muscovado sugar

60

g

butter

-

cut into pieces

240

ml

double (heavy) cream

1

tbsp

black treacle
Custard:
180

ml

double (heavy) cream

180

ml

whole milk

4

egg yolks

2

tsp

cornflour/cornstarch

-

the flour-consistency type, not the grainy type

3

tbsp

caster sugar

1

tsp

vanilla extract
INSTRUCTIONS
Add the raisins, water and rum to a bowl. Leave to soak for 30 minutes. After 30 minutes, use a fork to squish the raisins (don't drain).

Preheat the oven to 170C/325F

Beat together the butter and sugar until creamy, then mix in the eggs, one at a time. Stir in the vanilla extract and treacle.

Add the half the flour, baking soda, bicarbonate of soda, salt and half the milk. Stir gently to combine, then add in the remaining flour and milk. Stir again until just combined.

Add the mushed up raisin mixture (including the liquid) and the hazelnuts. Stir, then spoon into a lightly oiled baking dish.

Cook in the oven for 25-35 minutes until firm on top.

Meanwhile, for the toffee sauce, place the sugar and butter in a medium saucepan with half the cream. Bring to the boil over a medium heat, stirring all the time, until the sugar has completely dissolved. Stir in the black treacle, turn up the heat slightly and let the mixture bubble for 2-3 mins until it turns to a light-brown toffee colour. Stir it occasionally to make sure it doesn't burn. Take the pan off the heat and stir in the rest of the cream. Put to one side.

For the custard, heat the cream and milk in a pan until bubbles just start to rise at the edge of the pan (don't boil it). In a jug, mix the egg yolks, cornflour, sugar and vanilla extract. When the cream is hot, pour into the egg mixture in a thin stream whilst stirring with a hand whisk (don't pour in the milk all at once or it will scramble the eggs). Once mixed together, pour back into the pan and continue to stir the custard with a whisk over a medium heat until it thickens. If it gets too thick, add a splash of cream. If you end up with any lumps, pour through a sieve. Turn off the heat.

When the sponge is ready, warm up the toffee sauce and custard again. Take the sponge out of the oven and pour half of the toffee sauce over the sponge.

Serve with the remaining toffee sauce and custard.
✎ Notes
Nutritional Information is per serving, including sauce and custard.
Nutrition
Calories:
765
kcal
Carbohydrates:
84
g
Protein:
9
g
Fat:
43
g
Saturated Fat:
23
g
Cholesterol:
254
mg
Sodium:
290
mg
Potassium:
592
mg
Fiber:
2
g
Sugar:
47
g
Vitamin A:
1490
IU
Vitamin C:
1.7
mg
Calcium:
223
mg
Iron:
3.7
mg