These tear and share sausage rolls are so simple to make, and so much nicer than store bought! They are a centre piece for any party table!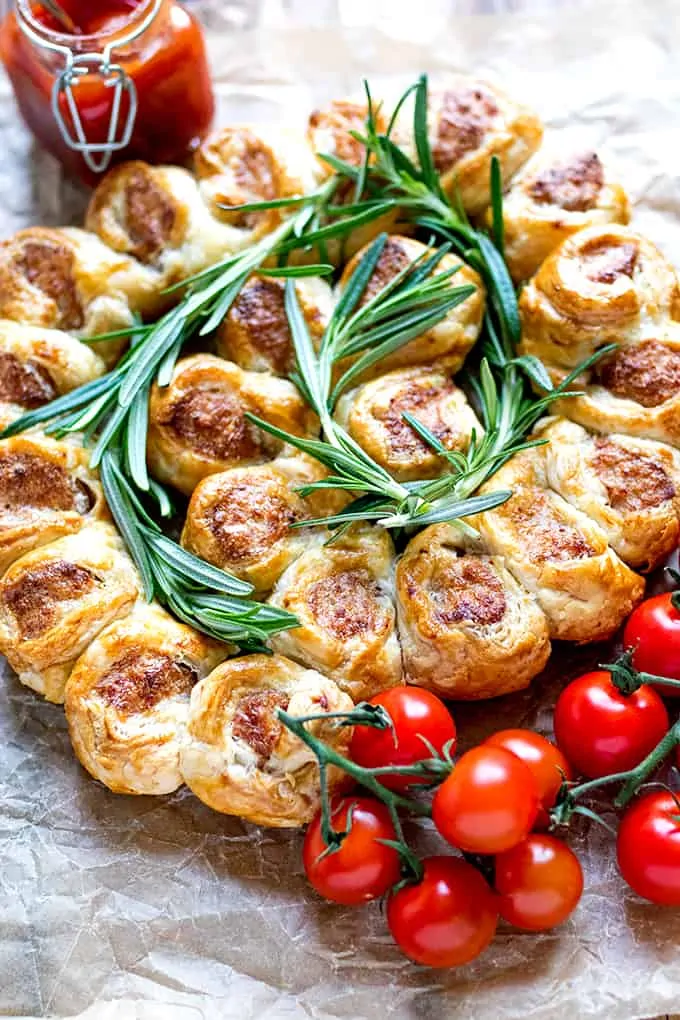 These 3-ingredients tear and share sausage rolls are the one thing that appear on my party, buffet or picnic table every single time!
They're quick and simple to make, and they taste amazing warm or cold.
I'm pretty sure sausage rolls aren't a big thing in America, but you can find them in every supermarket and bakery in the UK.
I'm not usually a fan of the supermarket ones – the greyish looking interior puts me off.
Bakery ones are a different story – especially when they're served fresh from the oven. Eaten out of a little paper bag whilst walking around town, everyone knowing you've had one by the tell-tale flakes of pastry all over your top (they usually end up in my hair too!).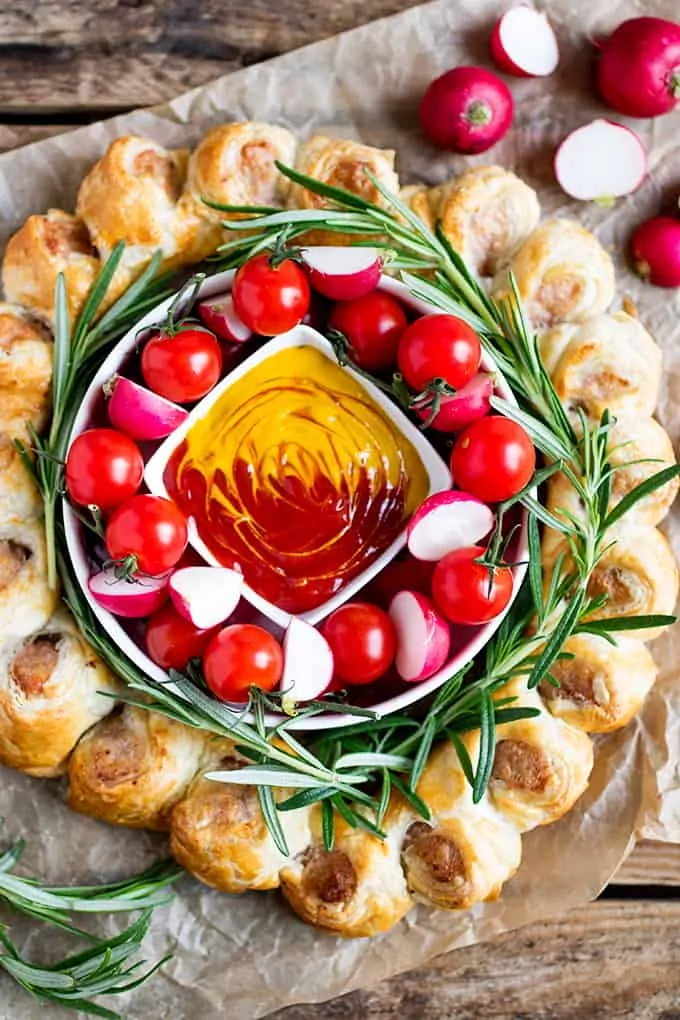 I've been making these sausage rolls for over 20 years. Mum always used to whip up a batch on Christmas eve, and we'd eat them for tea whilst watching a Christmas film and drinking a glass of lemonade with a celebratory maraschino cherry in it. As soon as I discovered how easy they were to make, I was whipping up batches too.
In those days there was an extra step in rolling out the big block of pastry dough. Nowadays, with ready-rolled pastry so readily available, these things can be in the oven in 10 minutes.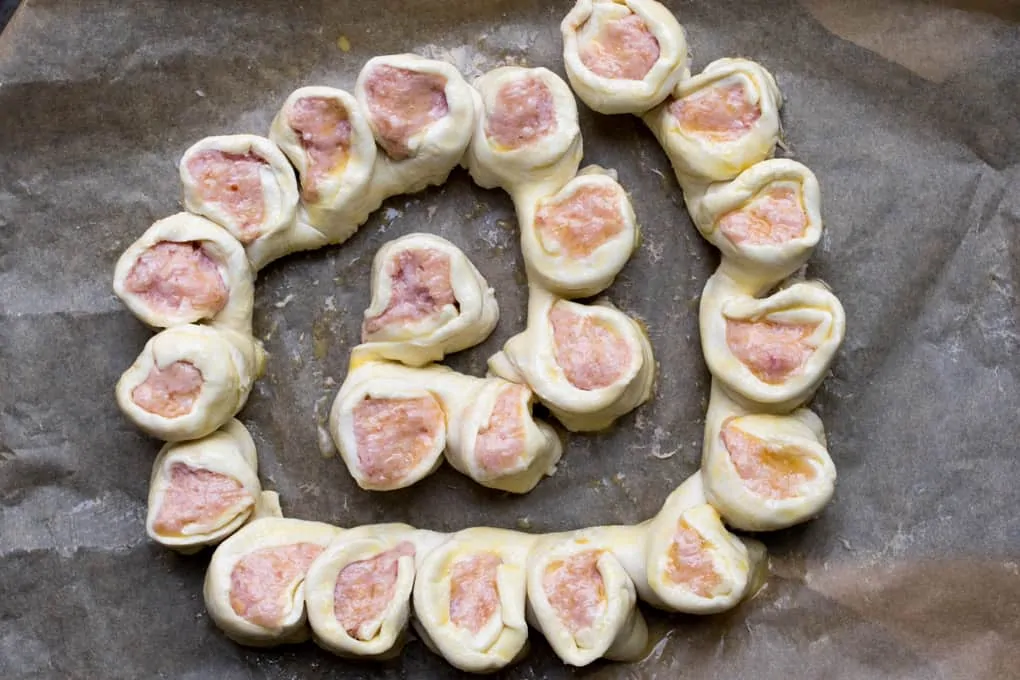 Here is our video which shows you exactly how to get those great tear and share sausage roll twists.
If you're having a garden party this summer, give them a go. You can make them the day before (cover and refrigerate, then eat from cold or warm up in the oven). If you have vegetarian guests coming, try my
veggie version
.
The Tear and Share Sausage Rolls Recipe:
Tear and Share Sausage Rolls
These 3 ingredient sausage rolls are so simple and quick to make. Perfect for parties, BBQs, buffets and picnics.
Ingredients
320

g

(11oz) pack ready-rolled puff pastry

5

thick

-

pork sausages (use your favourite brand, good old Richmond work really well)

1

egg

-

lightly beaten (this will be your egg wash)
INSTRUCTIONS
Preheat the oven to 200C/400F (fan). Line a baking tray with parchment or a silicone mat.

Remove the skins from the sausages and unroll the pasty.

Slice the pastry in half lengthways so you have two long lengths.

Line up two and a half sausages along the middle of one of the lengths of pastry. You may need to stretch the sausages slightly to get right to the ends. Repeat with the other lengthy of pastry.

320 g (11oz) pack ready-rolled puff pastry,

5 thick

Brush the top length of each of the two pastry pieces with egg wash and roll up the sausages rolls from the bottom. The egg should help the pastry to seal.

Turn the sausage rolls over and press the seams shut using a fork.

Place the long sausage roll onto the baking tray, seam-side-down and either arrange into a spiral or a ring. If arranging into a ring, seal the ends of the pastry together with egg wash.

Cut into the pastry to make small sausage rolls - cutting from the outside towards the middle. Don't cut all the way through though.

Twist each of the sausage rolls 90 degrees so the sausage is facing upwards.

Brush all of the visible pastry with egg wash, then cook in the oven for 18-25 minutes - until the pastry is golden brown.

Take out of the oven and and leave to cool slightly. Serve warm or cold.

Decorate with rosemary, and vegetables if you like. A pot of ketchup and mustard in the middle of the sausage roll ring looks great too!
Video
✎ Notes
If making ahead, cool, cover and refrigerate, then serve cool. Alternatively you can warm up in the oven (180c/375f) for 10-15 mins.
.
Nutritional Information is per serving.
Nutrition
Calories:
95
kcal
Carbohydrates:
4
g
Protein:
2
g
Fat:
7
g
Saturated Fat:
2
g
Cholesterol:
15
mg
Sodium:
101
mg
Potassium:
37
mg
Vitamin A:
20
IU
Vitamin C:
0.1
mg
Calcium:
3
mg
Iron:
0.4
mg