Chicken Chorizo Puff Pastry Rolls - This easy snack uses leftover pasta sauce. Make spaghetti for dinner one night, and have these pastry rolls for lunch the next day!
You know that feeling you get after a workout? Quietly righteous, with a need to high-five or fist bump everyone? Ok, that's probably just me.
But that's how I feel when I use up leftovers.
Not just scoffing them in front of the TV for supper. I mean actually using them for another meal.
We went for a lovely long country walk yesterday (up Bosley cloud), and instead of preparing 10 dishes (and spending a fortune) for a picnic, we re-heated some leftover pasta bake, put it in a food flask and took a tub of grated cheese with us for sprinkling.
Saved ourselves some money, got some family time in (away from the electronics!) AND hit 12k steps. Boy was I feeling righteous after that one
OMG! It was so good - sat on top of a breezy hill, overlooking the countryside, with a home-cooked hot meal.
Yeah, we got a few funny looks, but I'm sure they were jealous really 🙂
These chicken chorizo puff pastry rolls are another example of using up leftovers for a tasty meal. But instead of just reheating and eating, we're turning those leftovers into something new!
I'll tell you how to make the pasta sauce first, then how to make the pastry rolls from there.
Honestly, once the pasta sauce is made for dinner, these rolls take 5 minutes of prep before they're in the oven.
Perfect for picnics, packed lunches or party food!
If you love using up leftovers like I do, take a look at these recipes too:
 The Chicken Chorizo Puff Pastry Rolls Recipe: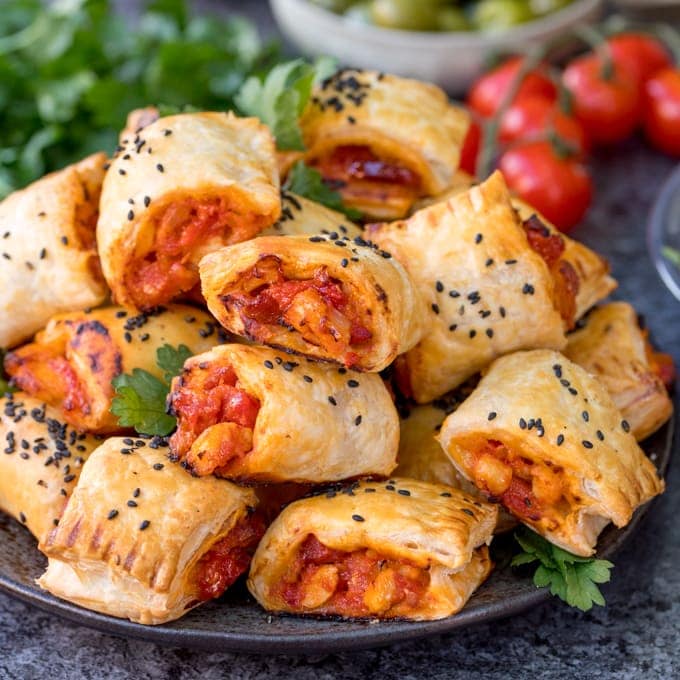 Chicken Chorizo Puff Pastry Rolls
Chicken Chorizo Puff Pastry Rolls - This easy snack uses leftover pasta sauce. Have spaghetti for dinner, and these pastry rolls for lunch the next day!
Ingredients
For the Chicken Chorizo Pasta Sauce: **
1

tbsp

olive oil

1

medium onion

-

peeled and finely chopped

4

chicken breasts

-

chopped into small (½ inch) chunks

200

g

chorizo, chopped into small (¼ inch) chunks

2

cloves

garlic

-

peeled and minced

½

tsp

salt

¼

tsp

ground black pepper

1

tbsp

tomato puree/paste

800

g

tinned chopped tomatoes

1

tsp

worcestershire sauce

1

tsp

sugar
For the Puff Pastry Rolls:
320

g

pack ready-rolled puff pastry

1

egg

-

lightly beaten (this will be your egg wash)

1

tsp

black sesame seeds
INSTRUCTIONS
Heat the oil in a large frying pan/skillet. Add the onion and cook on a medium heat for 5 minutes, stirring occasionally until the onion starts to soften.

Add the chicken and turn up the heat to medium-high. Cook for 5-6 minutes until the chicken is sealed.

Add in the chorizo, garlic, salt and pepper. Cook for a further 5 minutes until the chorizo is lightly cooked and starting to release some if its oil.

Stir in the tomato puree, then add the two tins of chopped tomatoes, the worcestershire sauce and the sugar. Stir and bring to a gentle bubble. Simmer for 10-15 minutes until the sauce thickens, then turn off the heat.

Remove one quarter of the chicken-chorizo sauce, place in a bowl and leave to cool.

Divide the remaining sauce between four bowls of pasta for dinner (or freeze for another meal).

For the Chicken Chorizo Puff Pastry Rolls:

Preheat the oven to 200C/400F. Unroll the pastry and slice in half lengthways.

Spoon the reserved chicken-chorizo sauce down the middle of the two lengths of pastry (see image in post). Brush the edges with egg wash and fold the pastry over, so the edges meet. Use a fork to press down the edges.

Brush the tops of the two rolls of pastry with egg wash, then slice each roll into 9 or 10 pieces. Sprinkle with the black sesame seeds and transfer the pastry pieces to a large, non-stick baking sheet - leaving at least ½ an inch of space between each pastry.

Place in the oven and cook for 15 - 20 minutes, until golden brown.

Remove from the oven, allow to cool for 5 minutes (or completely if preferred) and serve.
✎ Notes
**NOTE - this recipe makes enough sauce for four portions of pasta and 18-20 pastry puffs. If you only want to make the pastry puffs use one-quarter of the Chicken Chorizo Pasta Sauce ingredients (or alternatively, you can multiple the pastry by 4 and make 72-80 pastry puffs).
.
Nutritional Information is per sausage rolls (based on making 18) and includes the pasta for 4 for use in another meal.
Nutrition
Calories:
207
kcal
Carbohydrates:
9
g
Protein:
15
g
Fat:
11
g
Saturated Fat:
3
g
Cholesterol:
51
mg
Sodium:
365
mg
Potassium:
340
mg
Sugar:
1
g
Vitamin A:
85
IU
Vitamin C:
5.4
mg
Calcium:
23
mg
Iron:
1.3
mg