Show that special person how much you love them with CHOCOLATE!! These are my Valentines Nutella French Toast Hearts - An easy Valentines breakfast!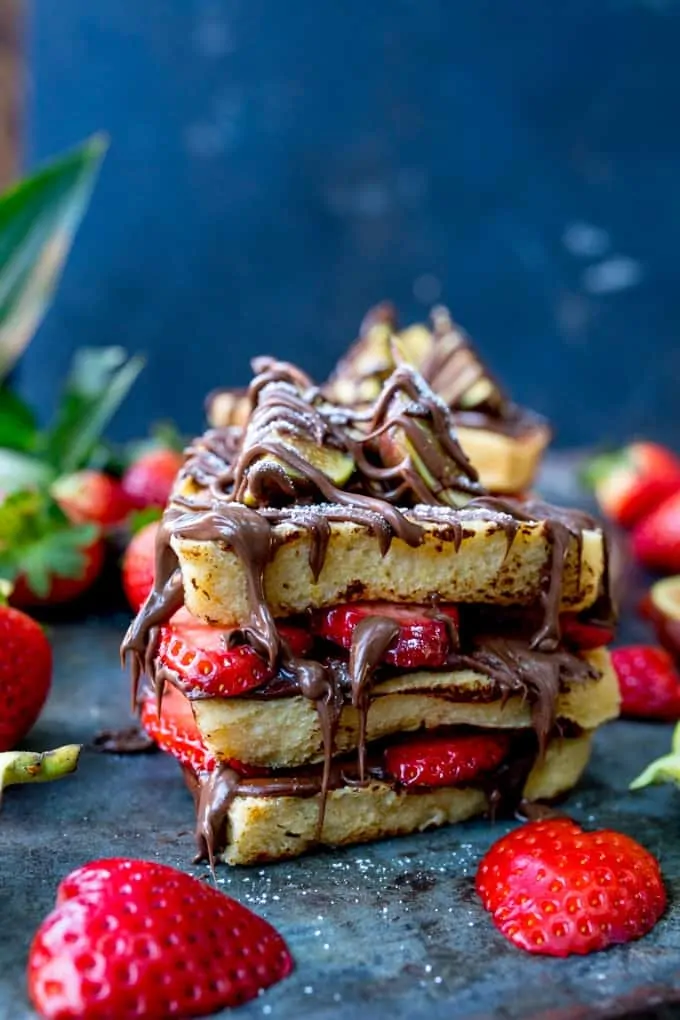 Chocolate has got to me the number one gift on Valentine's day. I'm sure flowers come a close second, but who hasn't bought a big box of chocolates for a loved one, with a quiet hope they might get shared out?
Yep, guilty.
Chris and I are both chocoholics, although I'm probably the worst. No Dairy Milk is safe in the house if I know it's there.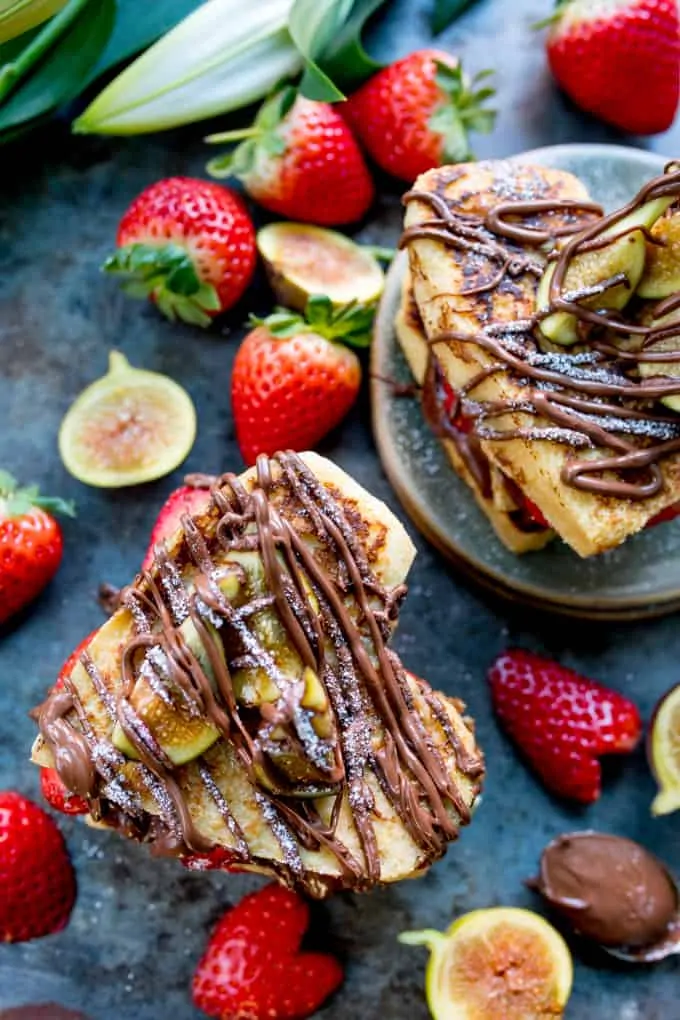 I'm trying to be good at the moment - it's my birthday in March and I've still got 10 pounds to lose.  I've been searching for the easiest (i.e non-depriving) way to lose weight. Low carb, 5:2, calorie counting. But really I know that I've just got to reigning in the gorging and getting my butt off the sofa.
The problem is, I get really grumpy if I can't eat the odd bit of naughty stuff. I don't mind being good - especially during the week, so long as I've regulary got something to look forward to. Like a treat day a week. Not one treat a week. I want a whole day.
So the weight loss is going a little slow at the moment.
The exercise situation is improving though. I've had a gruelling PT session this week, an early morning power walk and we went out for a family badminton session yesterday. Doing something fun with the whole family definitely helps to make it feel like treat rather than torture.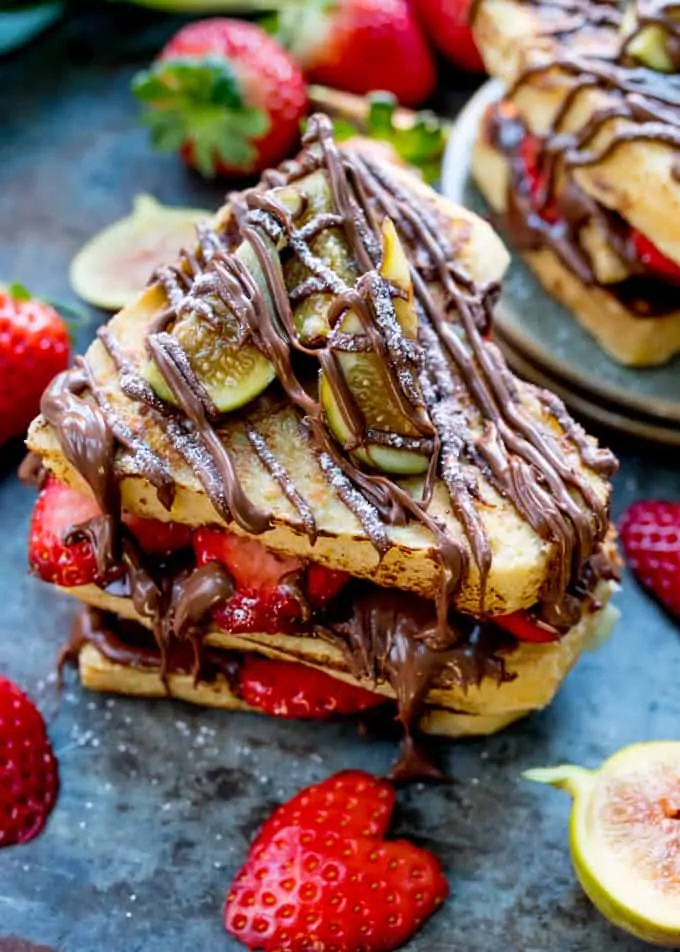 Chris and I have agreed not to buy each other chocolates for Valentines. A card maybe, or a homemade gift??, and a nice meal that we'll cook together once the kids are in bed. But no big boxes of chocolates to completely derail us.
Especially considering pancake day, Chinese new year and my mum's birthday all fall in the same week.
Maybe I should just sign myself up for one of those bootcamp retreats for the whole week and avoid temptation altogether!
Will we be making these Nutella and Strawberry French Toast Hearts on Valentines day? Well considering I've already made them once, and we all jumped on them forks-in-hand once I'd photographed, then maybe not.
But I'm not ruling them out completely. ????❤️????
The Valentines Nutella French Toast Hearts Recipe:
Valentines Nutella French Toast Hearts
Show that special person how much you love them with CHOCOLATE!! These are my Valentines Nutella French Toast Hearts!
Ingredients
1

tbsp

plain (all purpose) flour

¼

tsp

baking powder

pinch

salt

3

tbsp

caster sugar (or use superfine)

2

large

eggs

4

tbsp

milk

½

tsp

vanilla bean paste

6

slices

extra-thick sliced white bread

10

Strawberries

-

Look for dark red, juicy strawberries

2

figs

2

tbsp

unsalted butter

135

g

Nutella

-

slightly warmed to loosen it up (a few seconds in a microwave or a warm pan should be enough)

1

tsp

confectioners' sugar (icing sugar)
INSTRUCTIONS
Place the flour, baking powder, salt and sugar in a large bowl and mix together. Add the egg and whisk together to combine, then add the milk and vanilla bean paste and whisk again until no lumps remain.

Take a large, heart-shaped cookie cutter (12-15cm from top to bottom), and cut a heart shape from each piece of bread. Alternatively you can do this by hand using a sharp knife or a pair of sharp kitchen scissors. I like to cut the first heart from the bread, then use that one as a template for the rest - so they're all the same shape for stacking.

Slice the strawberries, top to bottom, then shape each slice into a little heart shape with your knife (this is optional, you can just slice them if you like).
Cut each fig into 3 wedges.

Melt the butter on a medium-high heat in a large frying pan (skillet). Then dip the bread hearts in the egg mixture, ensuring they're completely covered in the mixture.

Place the dipped bread into the pan and fry each side for 1-2 minutes until golden. I like to fry the edges of the bread for a few seconds too - simply hold the bread hearts, in stacks of 3 on their side using tongs to do this.

Add a french toast heart to each plate (two plates). Top with a tablespoon of Nutella followed by half of the strawberries. Repeat the layers, then top with the final piece of French toast - so you have 3 French toast hearts on each plate. Arrange 3 fig wedges on top of the each French toast stack, then drizzle over the remaining Nutella.

Sift over the confectioners' sugar and serve.
✎ Notes
Nutritional Information is per serving.
Nutrition
Calories:
971
kcal
Carbohydrates:
130
g
Protein:
21
g
Fat:
40
g
Saturated Fat:
29
g
Cholesterol:
219
mg
Sodium:
606
mg
Potassium:
769
mg
Fiber:
8
g
Sugar:
74
g
Vitamin A:
745
IU
Vitamin C:
36.3
mg
Calcium:
449
mg
Iron:
8
mg
Some of the links in this post may be affiliate links – which means if you buy the product I get a small commission (at no extra cost to you). If you do buy, then thank you! That's what helps us to keep Kitchen Sanctuary running. The nutritional information provided is approximate and can vary depending on several factors. For more information please see our Terms & Conditions.