These Almond croissants are stuffed with nutella and strawberries. This is how to make your regular croissants taste like they came right out of a Parisian bakery!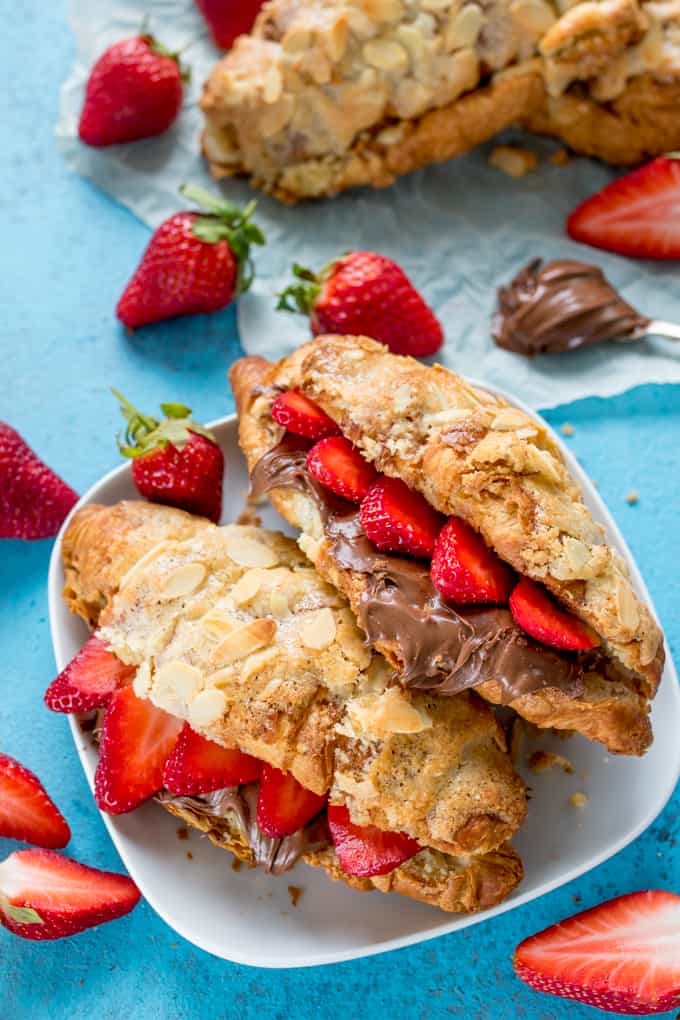 As if croissants weren't already naughty enough - now I'm filling (and topping!) them with sweet-sweet frangipane, then loading them with strawberries and dollops of Nutella.
Breakfast bliss.
The first time I had an almond croissant was in a little hotel in Bourton-on-the-water.
I think Gracey was about two, so that would have been 8 years ago. I honestly don't remember coming across one before that.
Was I leading a sheltered life?
Were they invented 100 years ago, and I'd just never seen them up until the point they were laid out on a buffet table, in that cosy little hotel in the Cotswalds?
I've no idea, and I can't even find anything with a trusty google search to tell me.
Anyway, I've been a little obsessed with them ever since, and although I rarely go to the effort of making the croissant dough itself (those huge, buttery, shop-bought ones are pretty tough to beat!), I'm all for converting those regular croissants into the best almond croissant.
You have ultimate control over how much frangipane you're going to slather over that thing.
Personally? I pretty much drown it.
Filled and topped with the almond paste, these croissants are amazing, and most of the time, I'd serve them just like that. Simple perfection.
But since it's Easter on Sunday, and Mother's day coming up in the US, I thought i'd kick it up a notch and add an extra few hundred calories to make sure it's the ultimate breakfast treat!
If you'd prefer something savoury for Easter breakfast - why not try my ham and cheese croissants with honey mustard glaze instead.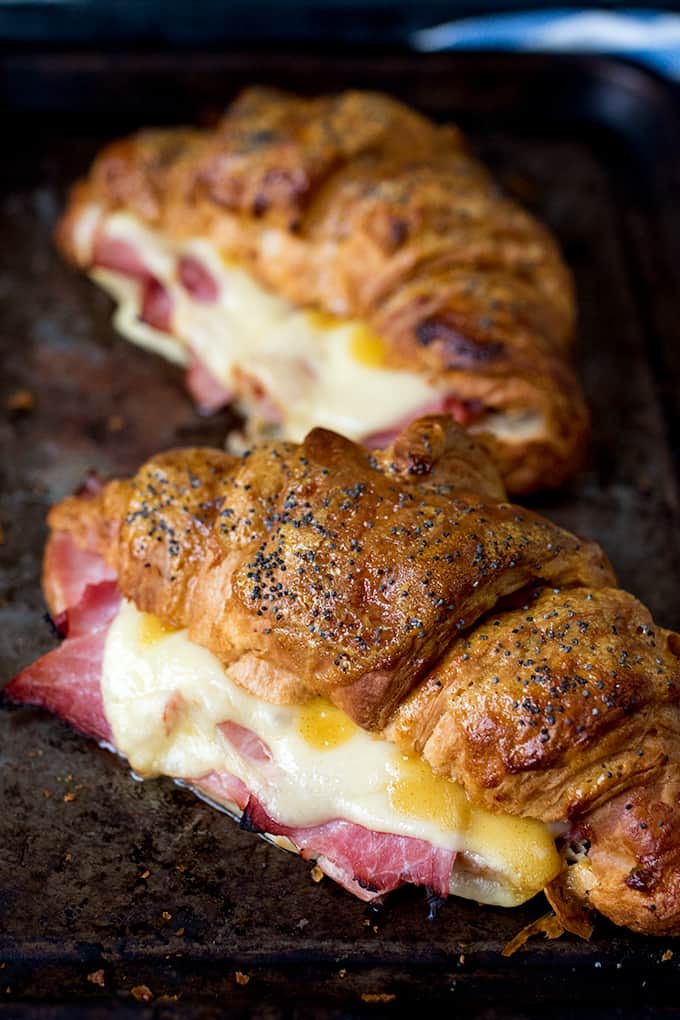 Almond croissants Recipe:
Easy Almond Croissants Recipe
How To Turn Regular Croissants Into Almond Croissants (Then Stuff Them With Strawberries And Nutella!!) with easy homemade frangipane.
Ingredients
4

large shop bought croissants - either fresh

-

or a day or two old
Frangipane:
90

g

ground almonds

60

g

soft (but not melted) unsalted butter

100

g

golden caster sugar (or superfine sugar)

pinch

of salt

1

egg

¼

tsp

almond extract
Also:
4

tbsp

flaked almonds

4

heaped tbsp

Nutella

6-7

large strawberries

-

sliced
INSTRUCTIONS
Preheat the oven to 175c/350f.

Make a slit, lengthways, in each of the croissants - so you're forming a pocket in the 'belly' of the croissant. Put to one side.

Make the glaze first, by placing the glaze ingredients into a small pan and bringing to the boil. Bubble for a minute or two until the sugar dissolves, then turn off the heat and allow to cool slightly.

Now make the frangipane. Place the ground almonds, butter and sugar in a bowl and beat together with a wooden spoon. Add in the salt, egg and almond extract and mix until combined.

Carefully dip (but don't soak!) each of the croissants in the glaze (all over) and allow the excess to drip off. It will be very watery, but don't worry, this glaze is just there to add a little moisture to the croissants and to make the outside a little crispier when cooked.

Place the croissants on a baking tray. Take a spoon and spoon half of the frangipane mixture inside the croissants. Use the spoon to spread it all over the inside of the croissants.

Spread the rest of the frangipane on top of the croissants. Sprinkle the flaked almonds on top and place the croissants in the oven for 10-12 minutes - until the top is golden brown and crisp (the inside should be hot, but it won't crisp up - it will be like a creamy paste).

Take out of the oven and leave to cool slightly, then spoon the Nutella inside and arrange the sliced strawberries inside. Serve immediately.
✎ Notes
Nutritional Information is per serving.
Nutrition
Calories:
751
kcal
Carbohydrates:
73
g
Protein:
14
g
Fat:
46
g
Saturated Fat:
20
g
Cholesterol:
111
mg
Sodium:
292
mg
Potassium:
251
mg
Fiber:
6
g
Sugar:
46
g
Vitamin A:
860
IU
Vitamin C:
10.6
mg
Calcium:
126
mg
Iron:
3.4
mg