Almond croissants are the king of all croissants, but they're so expensive!
I'm going to show you how to make your regular croissants taste like they came right out of a Parisian bakery!
Flaky, buttery croissants, filled with a sweet, sticky frangipane, topped with a crispy, chewy topping and finished with flaked almonds and a dusting of confectioners' sugar. I can't think of anything better to have with a cup of coffee in the morning.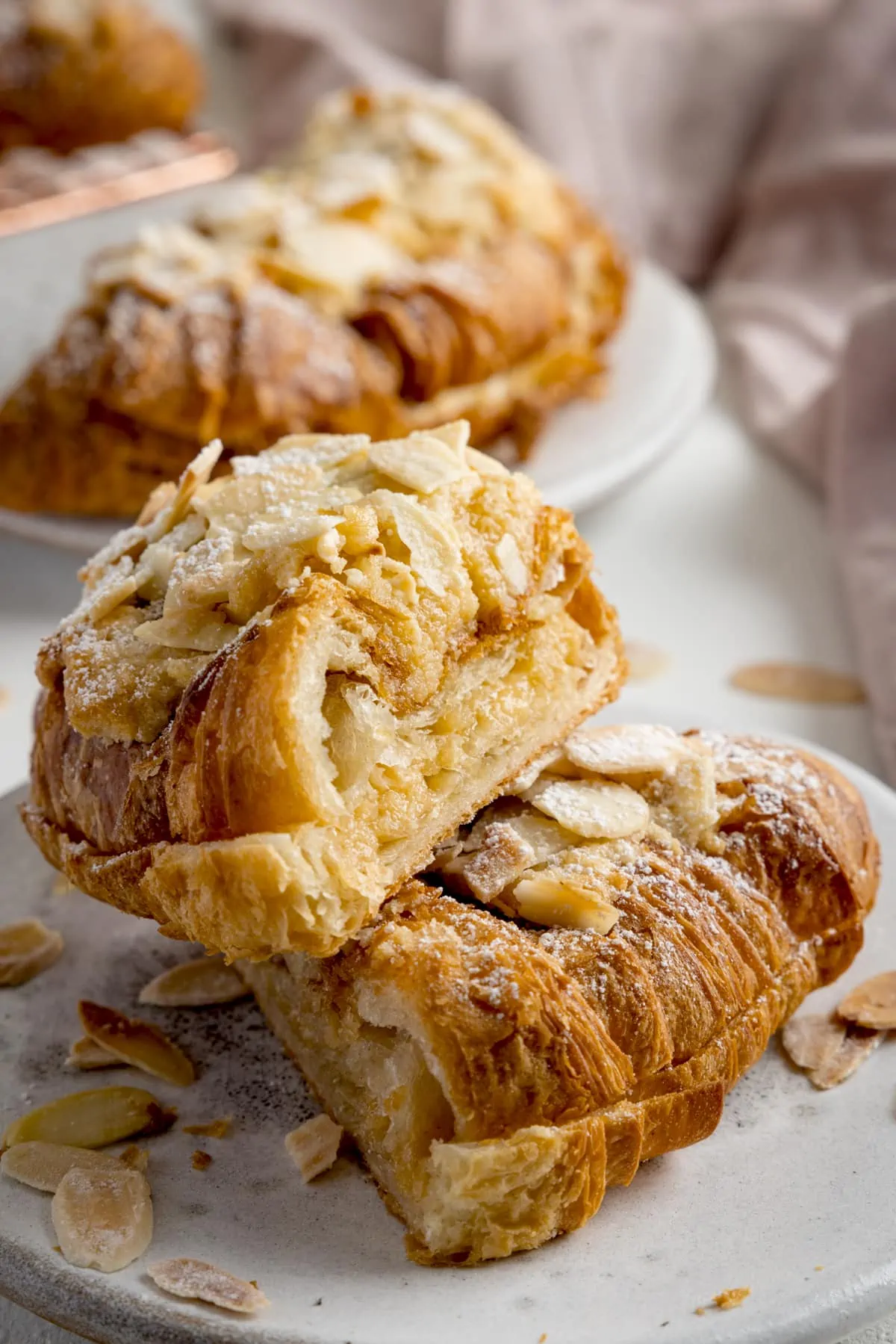 Jump to:
I love to make these for a weekend breakfast or brunch.
I like to use nice large croissants, but you can swap them out for smaller croissants if you prefer. If you use smaller croissants, the filling and topping should be enough to make 6-8.
📋 What do we need?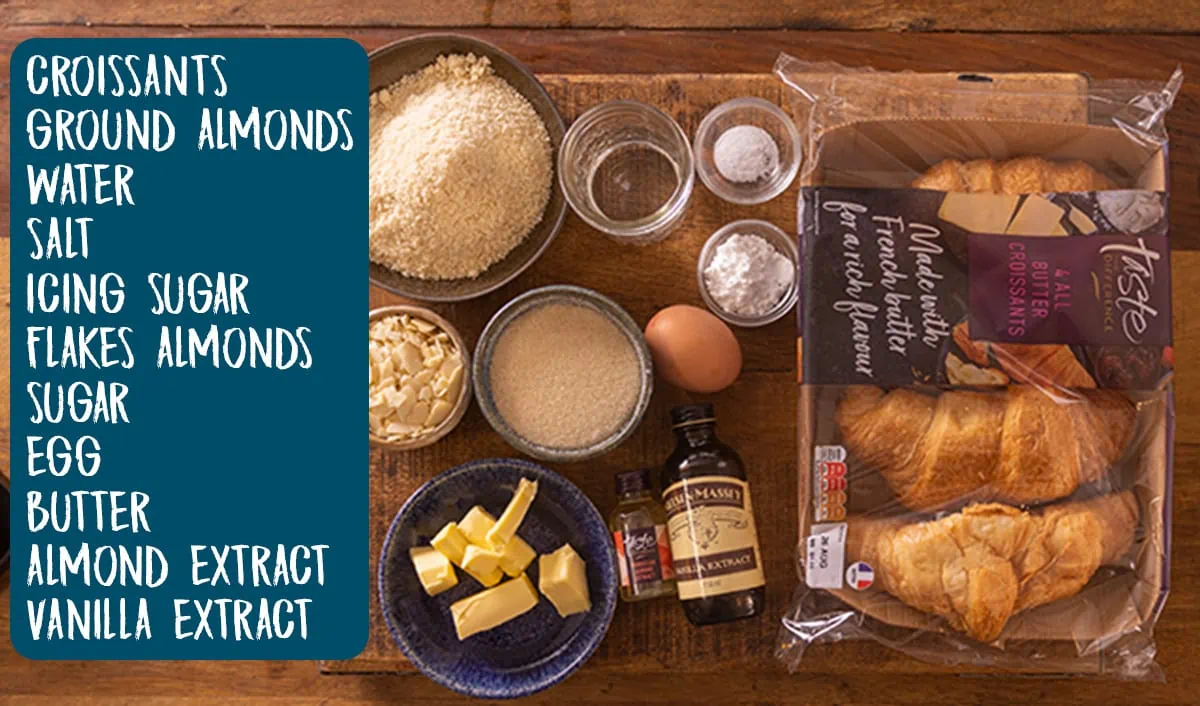 📺 Watch how to make it
Full recipe with detailed steps in the recipe card at the end of this post.
👩‍🍳PRO TIP This recipe is perfect for croissants that are a little bit stale. Simply dunk them in the sugar/water glaze for a few seconds longer and it will totally revitalise those croissants so they taste fluffy and fresh!
Finish with a good dusting of confectioners' sugar before serving.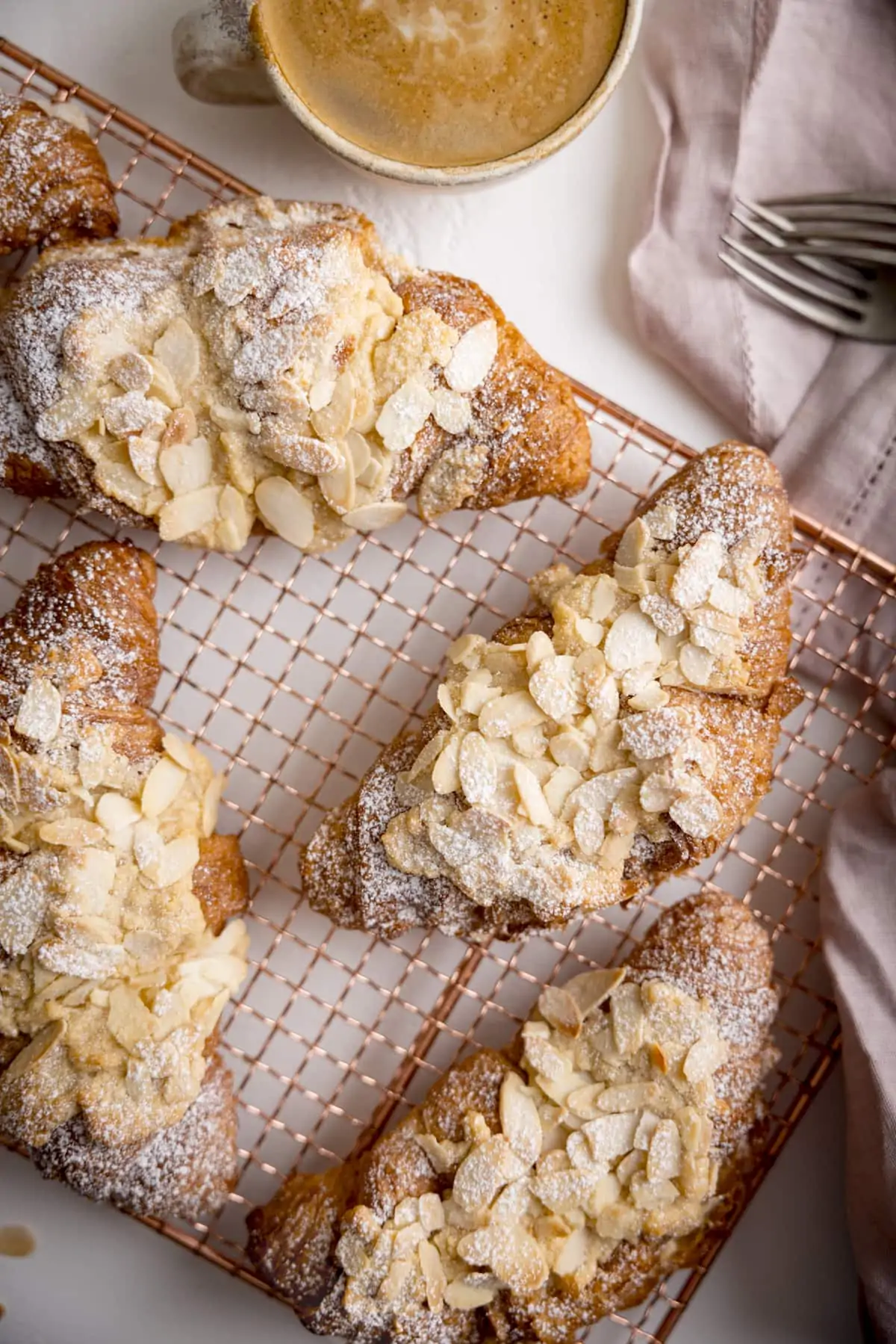 ---
They can be served right away, or at room temperate. They also reheat really well, so they're great for making ahead!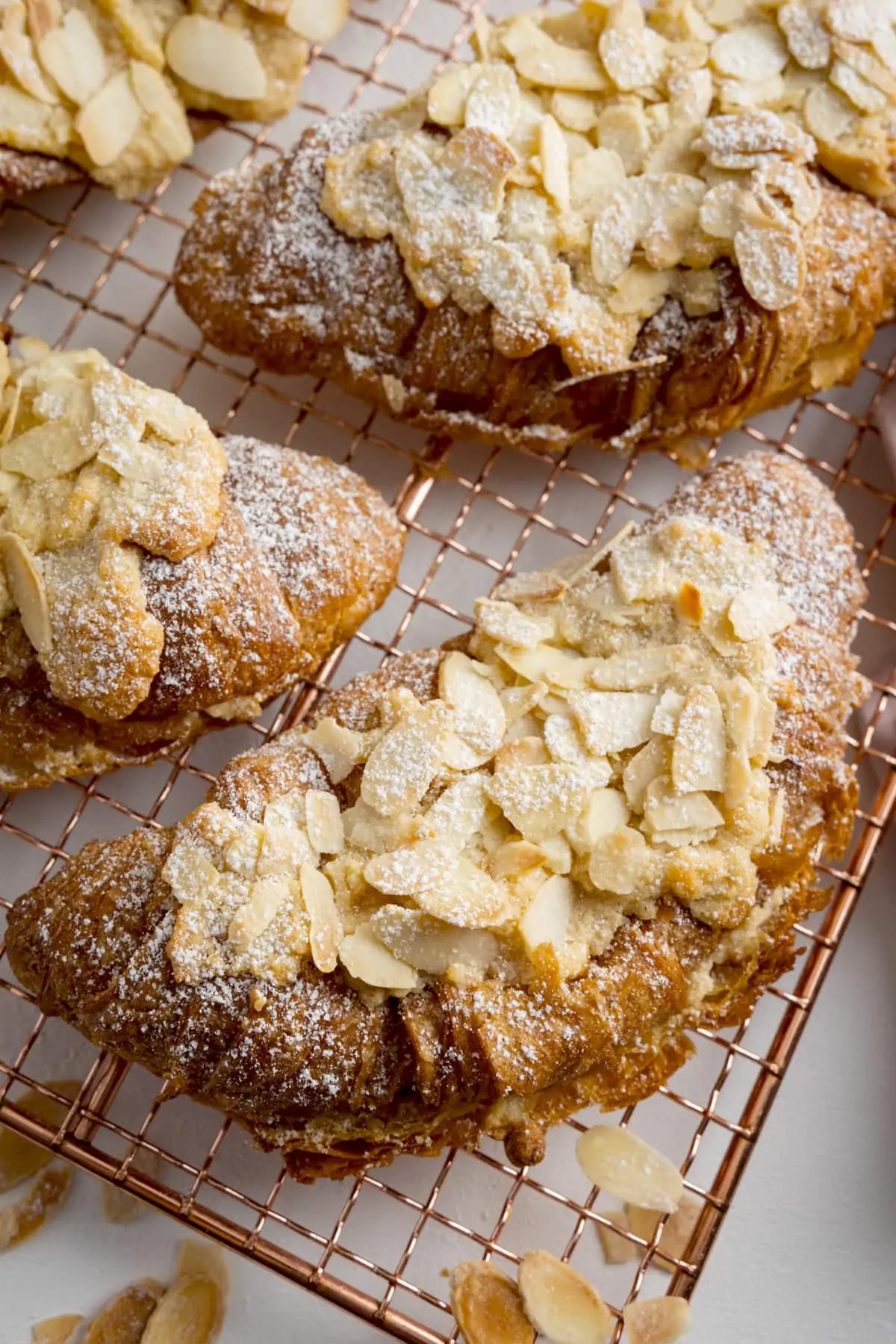 The filling will be lovely and squidgy when the croissants come out of the oven. If you prefer it to be a little drier, simply add less frangipane to the inside of the croissant and more on top of the croissant.
---
🍲 More fantastic Brunch recipes
Stay updated with new recipes!
Subscribe to the newsletter to hear when I post a new recipe. I'm also on YouTube (new videos every week) and Instagram (behind-the-scenes stories & beautiful food photos).
Easy Almond Croissants Recipe
How To Turn Regular Croissants Into Almond Croissants
Ingredients
4

large shop bought croissants

-

either fresh or a day or two old
Frangipane:
90

g

(¾ cup) ground almonds

60

g

(4 tbsp) soft (but not melted) unsalted butter

100

g

(½ cup) golden caster sugar

-

or superfine sugar

pinch

salt

1

small egg

½

tsp

almond extract
Also:
4

tbsp

flaked almonds

1

tbsp

confectioners' sugar
INSTRUCTIONS
Preheat the oven to 175C/350F (fan).

Make a slit, lengthways, in each of the croissants along the outer side.

4 large shop bought croissants

Make the glaze first. Place the glaze ingredients into a small pan and bringing to the boil. Bubble for a minute or two until the sugar dissolves, then turn off the heat and allow to cool slightly.

120 ml (½ cup) water,

1 tbsp golden caster sugar,

1 tsp vanilla extract

Now make the frangipane. Place the ground almonds, butter, and sugar in a bowl and beat together with a wooden spoon.

90 g (¾ cup) ground almonds,

60 g (4 tbsp) soft (but not melted) unsalted butter,

100 g (½ cup) golden caster sugar

Add in the salt, egg, and almond extract and mix until combined.

pinch salt,

1 small egg,

½ tsp almond extract

Carefully dip (but don't soak!) each of the croissants in the glaze and allow the excess to drip off. It will be very watery, but don't worry, this glaze is just there to add a little moisture to the croissants and to make the outside a little crispier when cooked.

Place the croissants on a baking tray. Take a spoon and spoon half of the frangipane mixture inside the croissants.

Spread the rest of the frangipane on top of the croissants.

Sprinkle the flaked almonds on top and place the croissants in the oven for 12-14 minutes - until the top is golden brown and crisp (the inside should be hot, but it won't crisp up - it will be like a creamy paste).

Take out of the oven and leave to cool slightly, then sprinkle on confectioners' sugar and serve.

1 tbsp confectioners' sugar
✎ Notes
A note about eggs:
Once cooked, the frangipane in the middle of the croissants will be warm and soft.
The egg may not be fully cooked through, so if you can't eat raw egg, then I would recommend cooking for longer, until the croissants filling is piping hot in the middle.
This may take an extra 5-10 minutes, and you will need to cover the croissants for this last part of cooking, so the croissants don't overcook on the outside.
Can I make them ahead?
Yes. Make the croissants up and cook them as per the recipe. Then cool, cover and refrigerate for up to 2 days. Reheat in the oven, uncovered, at

175c/350f Fan for 6-8 minutes, until hot throughout.
Ingredient swaps
Swap out the ground almonds for ground pistachios or cashews
Swap out 30g (¼ cup) of the ground almonds for 4 tbsp of dessicated coconut
How to scale up and scale down this recipe
It's difficult to scale this recipe down, as it only uses one small egg. However, you can store the cooked croissants, covered, in the fridge, for up to two days, so hopefully 4 will get eaten!
You can double or triple the recipe, sticking to the same ingredient ratios. Be careful not to overcrowd the baking tray when cooking in the oven. They should still take the same amount of time to cook.
Nutritional Information is per serving croissant (based on each shop-bought croissant being approx 240 calories).
Nutrition
Calories:
660
kcal
Carbohydrates:
63
g
Protein:
13
g
Fat:
41
g
Saturated Fat:
16
g
Polyunsaturated Fat:
3
g
Monounsaturated Fat:
10
g
Trans Fat:
1
g
Cholesterol:
111
mg
Sodium:
248
mg
Potassium:
162
mg
Fiber:
5
g
Sugar:
38
g
Vitamin A:
858
IU
Vitamin C:
0.1
mg
Calcium:
106
mg
Iron:
3
mg
This recipe was first posted April 2017. Updated October 2022 with a couple of recipe tweaks, added tips, some blog housekeeping and a recipe video.
Some of the links in this post may be affiliate links – which means if you buy the product I get a small commission (at no extra cost to you). If you do buy, then thank you! That's what helps us to keep Kitchen Sanctuary running. The nutritional information provided is approximate and can vary depending on several factors. For more information please see our Terms & Conditions.