What's better than Bread and Butter Pudding? Chocolate Bread and Butter Pudding Cake with Strawberries!! An easy Mother's day dessert!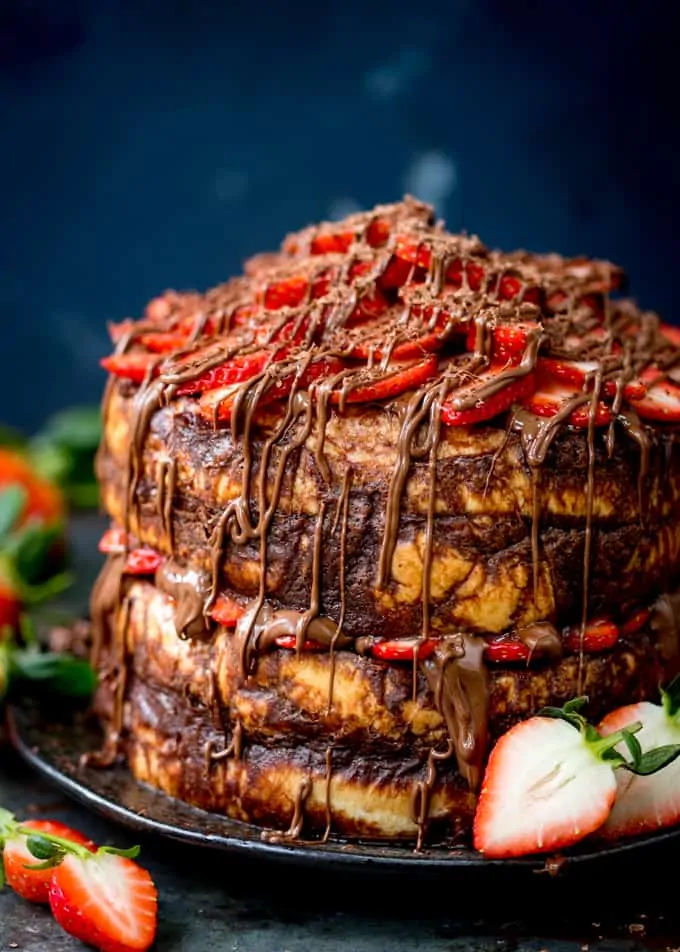 And yes, it's made out of bread. It's a bread cake.
No creaming of butter and sugar. No watching the oven, worrying about....
❌ sinking cakes
❌ dry cakes
❌ domed cakes
❌cracked cakes.
Just a homemade simple custard with added chocolate, poured over a couple of sliced up bread boules, and baked in the oven. Then all layered together with Nutella and Strawberries ❤️❤️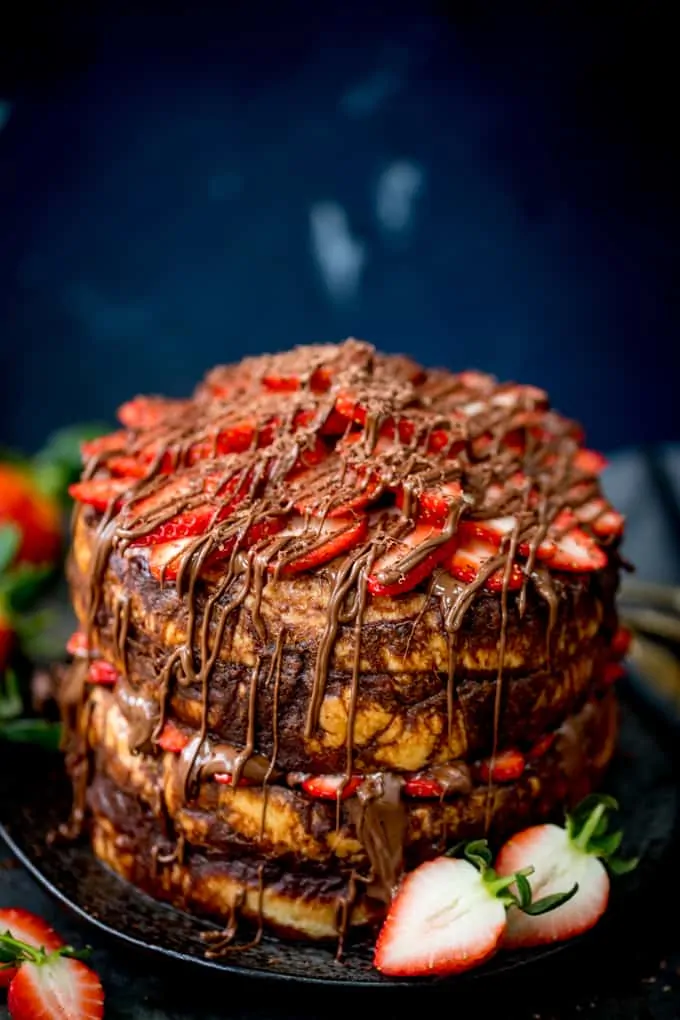 I considered covering it in whipped cream too, because, you know, calories don't count when you're making a cake as a gift for your mum. However, I realised that whipped cream would probably slide off the still-warm cake. So Nutella had to be the gluing agent to keep those strawberries on.
I'm gonna be straight with you guys though. This is still what I'd class as a dessert, rather than a regular cake. After all, it's baked in custard!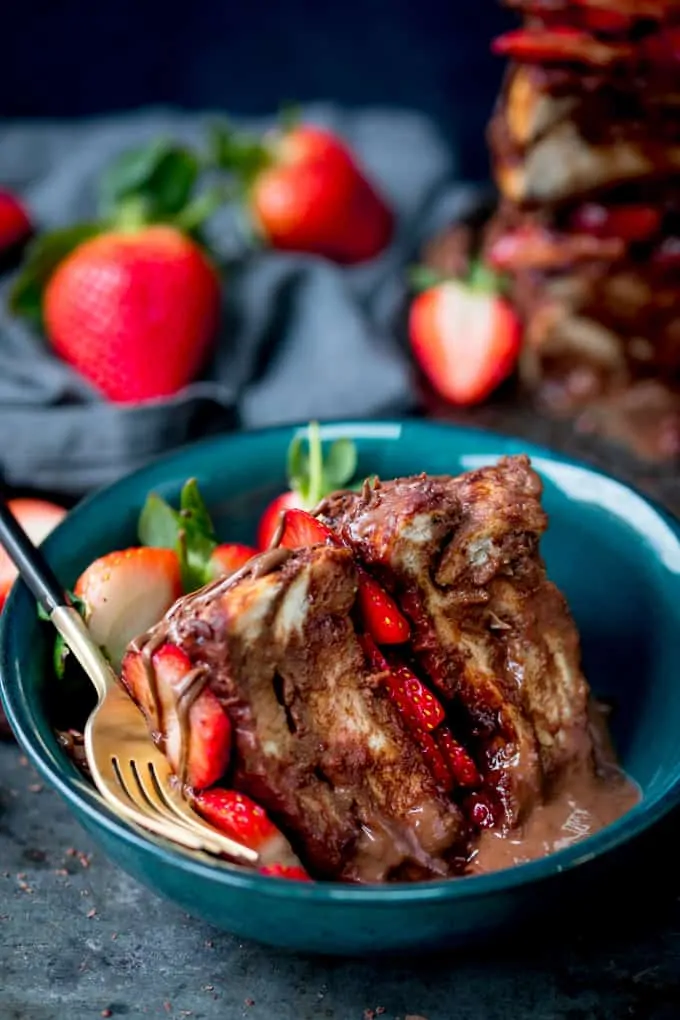 So whilst it's pretty easy to layer up, and will hold it's shape well - due to the fact we're leaving the crusts on the outside of the bread boules for stability - once cut, that custard centre won't fight gravity for too long.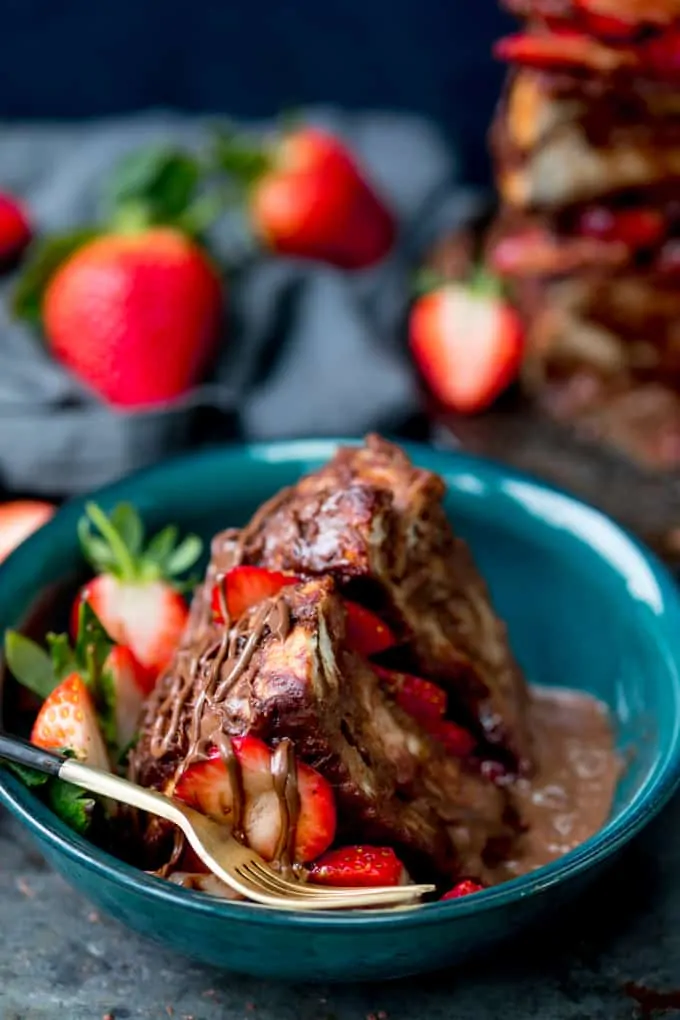 Serve slices in bowls with strawberries and extra chocolate custard (I'll include a reminder about that in the instructions below), and you have the stodgy, stick-to-your-ribs dessert that any 70s' or 80's child would be proud of (i.e you're from the jam roly poly and suet pudding era).
Try some of my other easy desserts too. This pecan caramel cheesecake is no-bake and gluten free: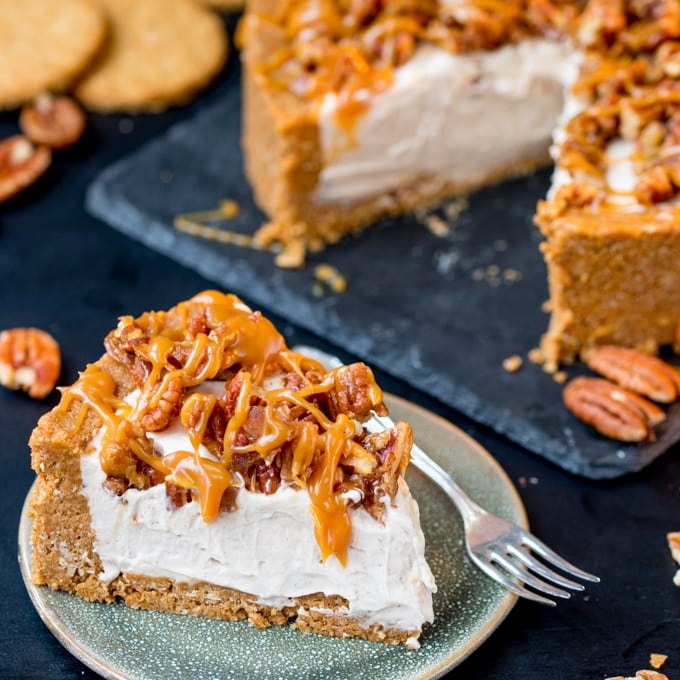 These chocolate cheesecake stuffed strawberries are ready in 20 minutes: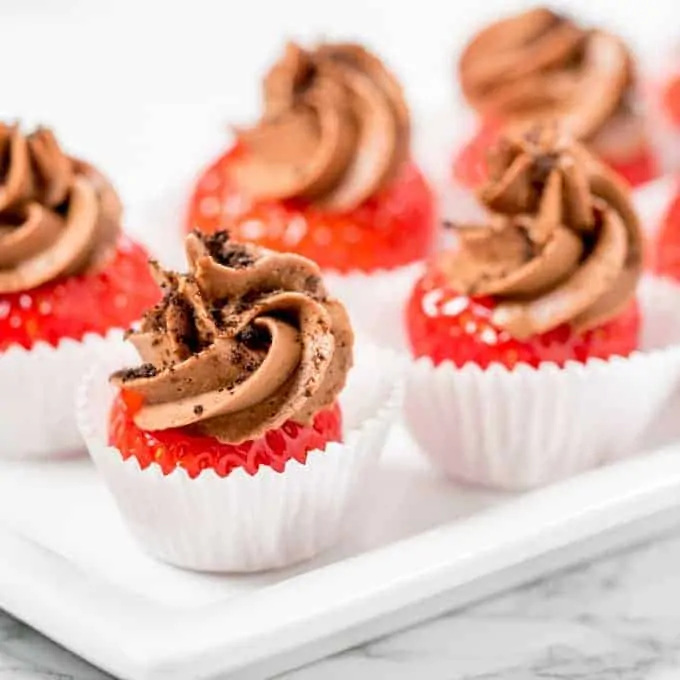 Also, how good does this Cassava Cake from my friend Bintu at Recipes from a Pantry look! - especially if you like stick-to-your ribs desserts like I do!
Chocolate Bread and Butter Pudding Cake with Strawberries:
Chocolate Bread and Butter Pudding Cake
What's better than Bread and Butter Pudding? Chocolate Bread and Butter Pudding Cake with Strawberries!! Yes, it looks like a layer cake, but it's really a chocolatey bread pudding!
Ingredients
2

day-old white bread boules

-

each weighing approx 400g (I used Morrisons Coburg cobs - Note 1)

2

tbsp

unsalted butter

-

softened
Chocolate custard: ** Double these amounts if you want to serve with extra custard **
200

ml

(¾ cup + 2 tbsp) full-fat milk

300

ml

(1 ¼ cups) double/heavy cream

1

tsp

vanilla extract

3

whole eggs

-

large

1

egg yolk

-

large

100

g

(½ cup) light brown muscavado sugar

2

tbsp

cornflour

-

cornstarch

1

tbsp

unsalted butter

150

g

(5.3 oz) dark, 72% cocoa chocolate

-

chopped into small pieces
Also:
600

g

(1.3 lbs) strawberries

-

stalks removed, thinly sliced (slice top-to-bottom, rather than slicing across the strawberries)

6

tbsp

Nutella

-

slightly warmed in a microwave or pan to loosen

1

small chunk dark chocolate

-

grated
INSTRUCTIONS
Turn one of the bread boules on it's side, slice the top off, then cut two thick slices (approx ¾" or 2cm in thickness). Repeat with the other bread boule, so you have 4 thick slices of bread. Using a boule, means they should be round slices, but if they're a little wonky, just try to tease the slices into a round shape.

2 day-old white bread boules

Now take two baking tins that will fit the bread boule slices snugly. I used two oven-proof saucepans, each 15.5cm (6.1") in diameter. Line the sides and base of the pan with baking parchment.

Butter both sides of each of the slices of bread with the unsalted butter. Press one piece of the bread into the bottom of each pan. Put to one side whilst you make the custard.

Heat the milk, cream, and vanilla extract in a saucepan until almost boiling (don't let it boil though).

200 ml (¾ cup + 2 tbsp) full-fat milk,

300 ml (1 ¼ cups) double/heavy cream,

1 tsp vanilla extract

Meanwhile, add the eggs, egg yolk, brown sugar, and cornflour together in a large jug. When the milk is almost at boiling point, turn off the heat and add a splash of the hot milk to the eggs whilst stirring with a whisk. Continue to add a splash at a time, whilst stirring until you've used a third of the milk mixture (Note 2), then pour the rest of the milk into the jug and stir.

3 whole eggs,

1 egg yolk,

100 g (½ cup) light brown muscavado sugar,

2 tbsp cornflour

Give your pan a quick wash to remove milk residue, then pour the mixture from the jug back into the pan and heat on a medium heat, whilst stirring, until the mixture thickens to a thick-cream consistency. Turn off the heat.

Add the butter and chocolate to the pan, and stir until melted. If you're making extra custard, take out half now to save for serving.

1 tbsp unsalted butter,

150 g (5.3 oz) dark, 72% cocoa chocolate

Pour a quarter of the custard mixture over the bread slice in the pan. Repeat with the other pan. Add the other slice of bread into each pan, and push down so it fits snugly on top. Pour over the remaining custard, so it completely covers the bread.

Leave to soak into the bread for 30 minutes. Meanwhile, preheat the oven to 180C/350F (fan).

Once the bread has soaked, place both pan in the oven for 25-30 minutes until the custard has set.

Remove from the oven and leave to cool for 10 minutes, then carefully turn out onto plates and remove the baking parchment. They'll still be a little custardy on the bottom, but that's fine. Turn the cakes back over again, so they're the same way up as when they were cooked.

Place one of the cake layers on a serving plate and drizzle or pipe on half of the Nutella. Arrange half the sliced strawberries on top, working from the outside in.

600 g (1.3 lbs) strawberries,

6 tbsp Nutella

Place the remaining layer on top and drizzle with the remaining Nutella, letting it drip down the sides of the cake too. Arrange the rest of the strawberries on top and sprinkle on the grated chocolate before serving. Eat warm or cold.

1 small chunk dark chocolate
✎ Notes
This is the bread I use. 
This is called tempering. Adding a little of the hot milk at a time stops the eggs from scrambling - meaning you'd have thin, lumpy custard
STORAGE - cover and store the pudding the fridge for up to a day
REHEAT - you can reheat individual slices in the microwave or covered with foil in the oven until piping hot throughout. The strawberries will be heated too, but I think this tastes rather nice.
Nutritional Information is per serving. This doesn't include extra custard. Also, since we only use approx ⅔ of the bread, the nutritional info is accounting for about 540g of bread altogether.
Nutrition
Calories:
577
kcal
Carbohydrates:
68
g
Protein:
11
g
Fat:
29
g
Saturated Fat:
19
g
Cholesterol:
123
mg
Sodium:
359
mg
Potassium:
359
mg
Fiber:
5
g
Sugar:
38
g
Vitamin A:
720
IU
Vitamin C:
35.6
mg
Calcium:
185
mg
Iron:
3.6
mg