These Tropical Chocolate bars are a healthier version of everyone's favourite coconut chocolate bar.  The lightened-up inside is just coconut, banana, pineapple and a touch of lemon juice, whilst the naughtier outside is a layer of creamy milk chocolate.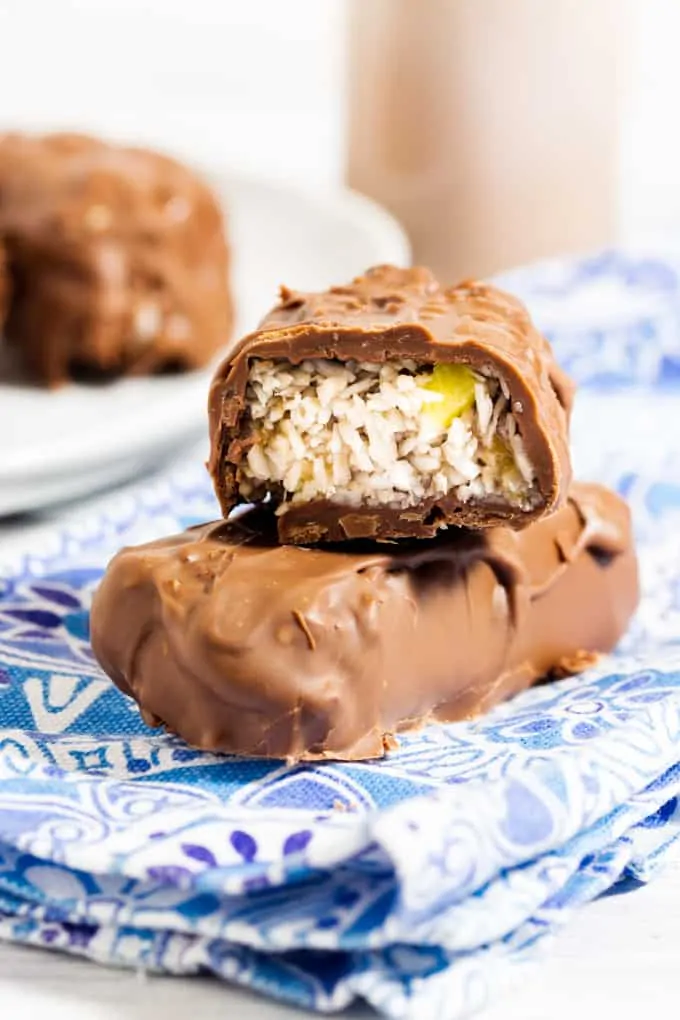 This is not a Bounty.
It kind of looks a little like a Bounty, and it tastes a bit like a Bounty, but these Tropical Chocolate bars are my lightened-up version.
Before you raise your eyebrows and point at that thick layer of chocolate on the outside, know this:  I was never going to do away with the chocolate. Replacing the chocolate with something else is the point when 'lightening-up' just turns into 'Mmm that was nice, but now I need a real chocolate bar'.
I wanted this to be a chocolate bar that tasted great, satisfied my chocolate craving, and was also a little bit healthier.  Using up some very ripe bananas was also a bonus.
By 'a little bit healther' I'm talking about the addition of fresh fruit.  It's also a bit lower on the calories too - approx 226 cals per bar compared to a 274 cal Bounty (although you get two bars in a bounty, my version is thicker and heavier than a regular 2-bar bounty).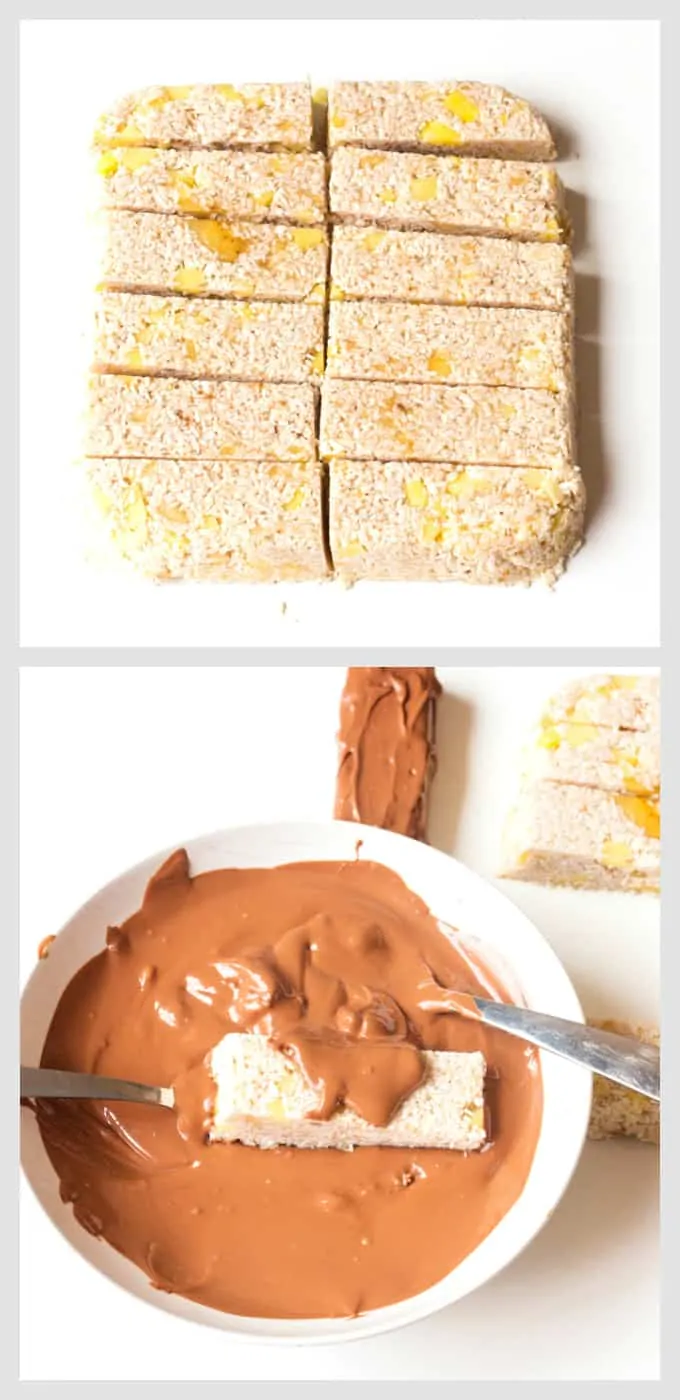 This Tropical Chocolate bars is a really simple treat to make - and a great one to do with kids - so long as you don't mind getting a bit messy.
The banana acts at the binder to stick the coconut and pineapple together.  I put a squeeze of lemon juice in there to stop the banana from browning, and then the mixture gets packed down in a small baking tin and frozen until solid.
Once frozen, the coconut mixture is cut into bars and coated in chocolate.
Sounds easy enough, and it is!
However it's worth noting that whilst you're covering the coconut mixture in chocolate, put the rest of the coconut bars (the ones that haven't been covered in chocolate) back in the freezer.  They defrost pretty quickly, and once that starts happening, you're going to end up with a chocolatey-coconutty mess.  Kind of like I did for the last couple of bars.......
You see I got impatient, and thought I could whizz through the chocolate coating stage quickly.  But I'd forgotten that the un-chocolated coconut bars had been sitting out for 10 minutes whilst I took some photos.  So I managed to get the first 8 or 9 covered, but the last few had defrosted and started falling apart in the chocolate.  Arrgh!
Now, I refuse to throw away anything chocolate related, so I'm going to fess up and show you what I did.
I just mixed it all up - melted chocolate and defrosted coconut bars.  Then rolled the mix into little balls before coating with a little cocoa powder.
And it turned out to be one of my most favourite mistakes ever  😀
So my advice to you would be to follow the recipe, but leave a couple of coconut bars out of the freezer to mix up at the end.
5 ingredients = 2 chocolate creations = 1 happy dilemma (which one to have with my coffee.  Of course you know the answer's both..)
If you liked these then why not try my Raspberry Ruffle Bars, Lemon Curd and Coconut Marshmallow , white chocolate cherry bites or my apple pie truffles.
The Tropical Chocolate bars Recipe: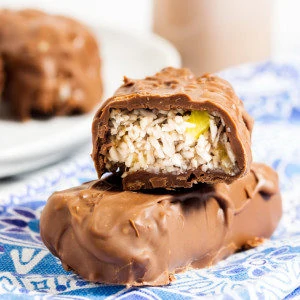 Tropical Bounty bars
A healthier version of the favourite coconut chocolate bar.
Ingredients
4

medium very ripe bananas

-

peeled

½

tsp

lemon juice

150

g

desiccated coconut

-

unsweetened

80

g

finely chopped pineapple

250

g

good quality milk chocolate

-

broken into chunks (check it's gluten free if required)
INSTRUCTIONS
Line a 20cmx20cm baking tray with baking parchment.

Place the bananas in a large bowl with the lemon juice, and mash with a fork until the banana turns to puree. Stir in the dessicated coconut and pineapple chunks. Spoon the mixture into the baking tray and squash down firmly - right to the edges. Use the back of a spoon to ensure the mixture is completely flat. Cover with clingfilm and freezer for 3 hours (or your can freeze overnight if you wish)

Melt the chocolate in a medium sized bowl. You can do this either in 30 second bursts in the microwave - stirring well between each burst - or over a pan of simmering water on the cooker (make sure the bowl isn't touching the water though).

Once the chocolate has melted, take the coconut mixture out of the freezer. Place on a chopping board and remove the tin and the baking parchment. Slice into 12 bars using a sharp knife.

Take one of the bars (put the rest back in the freezer whilst you're working to keep them solid) and rest it on a fork, then dip the bottom of the bar in the melted chocolate. Use a spoon to spoon melted chocolate all over the top and sides. Use the spoon to scoop any dripping chocolate from the bottom of the bar (whilst it's resting on the fork) and place the bar on some baking parchment to set.

Repeat with the remaining bars and serve once the chocolate has set.
✎ Notes
Nutritional information is per serving.
Nutrition
Calories:
226
kcal
Carbohydrates:
25
g
Protein:
2
g
Fat:
15
g
Saturated Fat:
11
g
Sodium:
8
mg
Potassium:
276
mg
Fiber:
4
g
Sugar:
17
g
Vitamin A:
25
IU
Vitamin C:
6.8
mg
Calcium:
11
mg
Iron:
1.1
mg