These Raspberry Ruffle Bars are a vibrant coconut raspberry snack bar - covered in rich, dark chocolate.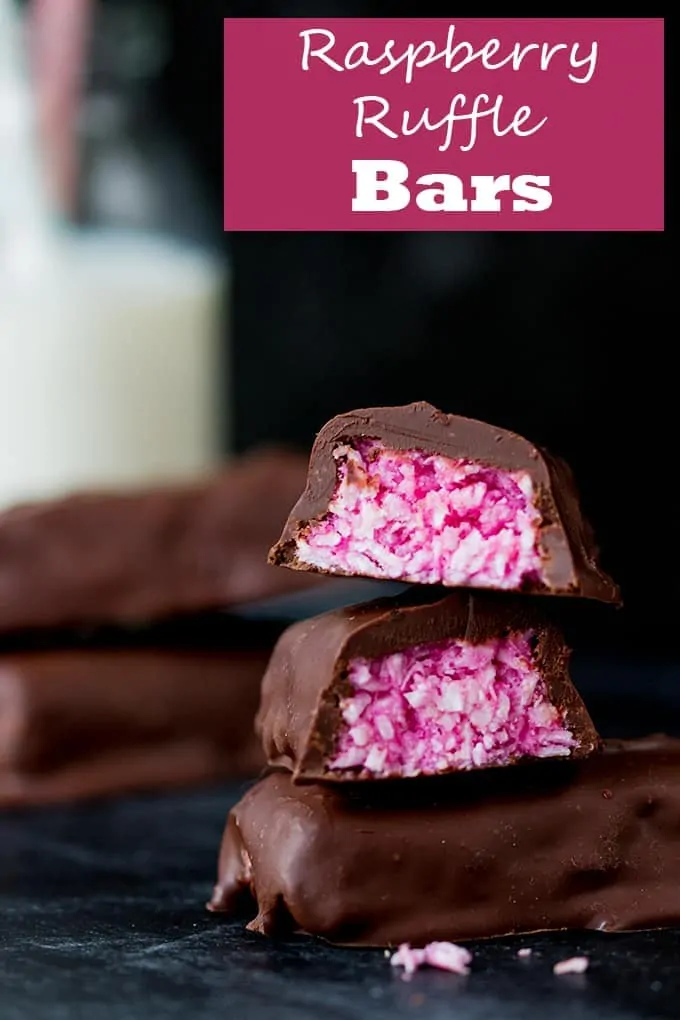 I LOVE how pretty these ruffle bars are! Look at that vibrant pink colour!
Totally artificial. You ain't getting this colour from pureed raspberries. No, these ruffle bars get that pinkish loveliness from raspberry jelly crystals.
I got the inspiration for these from Baking Bar - although I changed things up a little by using more coconut, replacing evaporated milk with condensed milk (for that coconut ice flavour/texture) and adding a little milk chocolate to the dark chocolate simply because I needed to use up some of the leftover Easter egg chocolate we've still got in the house!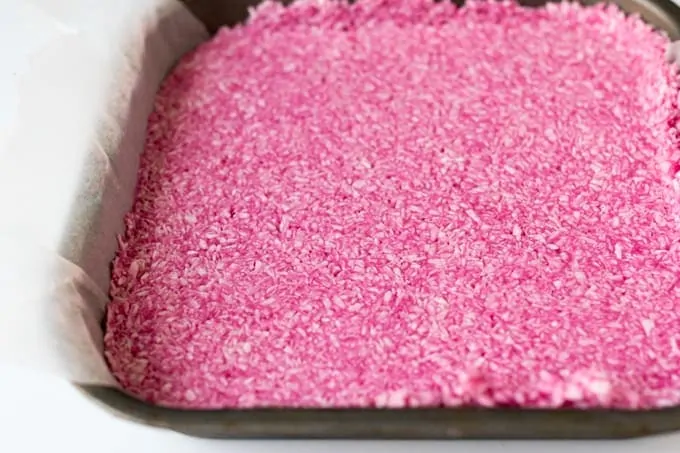 I used to love Raspberry Ruffle bars from the shop, but I haven't seen them in years!
I seem to remember the filling being very sweet with that not-made-from-actual-raspberries flavour that you associate with Slush Puppies and Starburst.
I was on the brink of going down the natural raspberry route (like I do for my raspberry macaroon granola), and then I stumbled across Baking Bar's recipe.
Raspberry jelly crystals were the perfect answer to get that kind of sweetie-inspired flavour (all you real-food foodies please look away now!).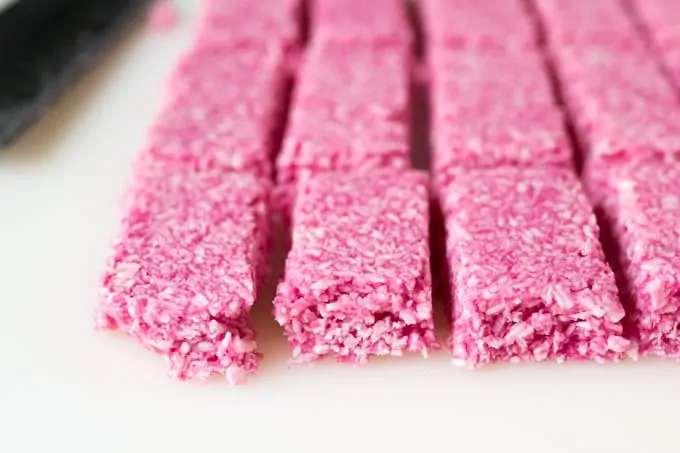 The bars by themselves are pretty sweet. Covering them in a mixture of milk and dark chocolate adds just that hint of bitterness that works so well with the sticky coconut.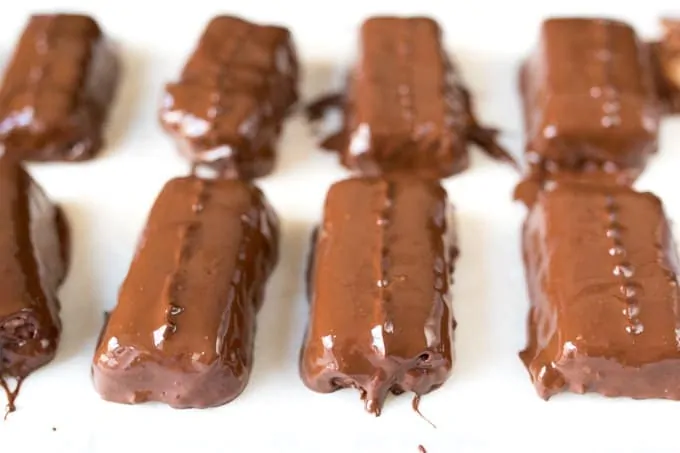 A few tips for you:
Freeze the tray of flattened coconut mixture for an hour to stop the bars falling apart when you coat them in chocolate.
Make sure you have plenty of melted chocolate and use a bowl that's not too wide, but quite tall for the melted chocolate. This will help to keep the melted chocolate warm, and also make it easier to dunk the coconut bars right in there.
Get the little nobbly ripples down the centre of the bars by using a fork. Press the fork gently into the melted chocolate, then lift up to get pointy bits that droop over when you remove the fork. Do this down the length of the bar.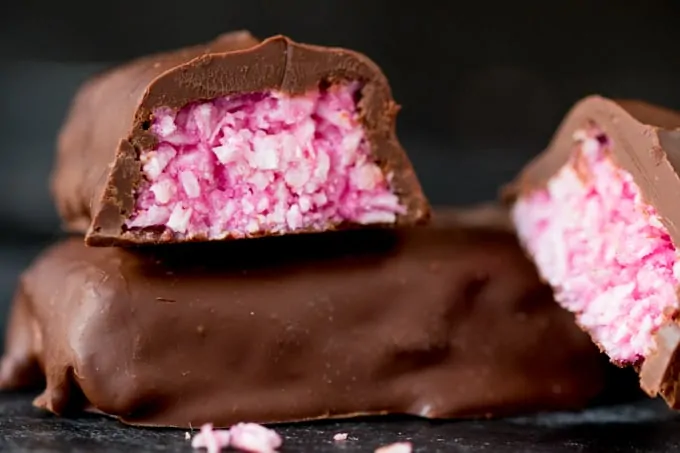 If you liked these then why not try my Tropical Chocolate Bars or my chocolate raspberry bites.
Raspberry Ruffle Bars Recipe: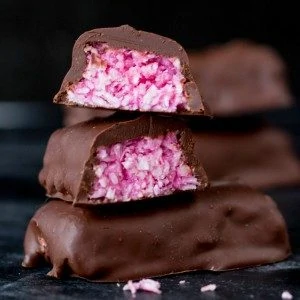 Raspberry Ruffle Bars
Raspberry Ruffle Bars - A vibrant coconut raspberry snack bar, covered in rich, dark chocolate.
Ingredients
200

g

unsweetened desiccated coconut

1

x double sachet 23g of raspberry jelly crystals (I used Hartleys)

75

g

confectioners' Sugar

200

ml

condensed milk

300

g

good quality dark chocolate, melted

100

g

milk chocolate, melted
INSTRUCTIONS
Place the dessicateed coconut in a large bow and stir in the jelly crystals and confectioners' sugar. Add the condensed milk and stir. I like to stir at first, then use my hands to mix it together properly.

Spoon into a 18cmx18cm baking tray lined with baking parchment. Flatten with your hands, then top with another piece of parchment and really squash the coconut down. Ideally use another 18cmx18cm tray placed on top (if you have one). If not use your hands or the base of a measuring cup and put your weight on it.

Place in the freezer for one hour, then take out and cut into 18 slices.

Line a tray with baking parchment.

Mix together the dark and milk melted chocolate in a narrow dish. Use two forks to dip one of the coconut bars in the chocolate. Spoon chocolate over then allow any excess to drip off.

Place on the line tray and repeat with the rest of the bars.

Use a fork to get the little ripples on the top of the bars (see my description of how to do this above).

Leave to set before serving. You can place in the fridge to speed up this process (takes about 30 minutes in the fridge).

Any leftover bars can be wrapped and stored at room temperature or in the fridge for up to a week.
✎ Notes
Nutritional Information is per bar.
Nutrition
Calories:
239
kcal
Carbohydrates:
23
g
Protein:
2
g
Fat:
15
g
Saturated Fat:
11
g
Cholesterol:
4
mg
Sodium:
22
mg
Potassium:
222
mg
Fiber:
3
g
Sugar:
17
g
Vitamin A:
35
IU
Vitamin C:
0.4
mg
Calcium:
47
mg
Iron:
2.4
mg