Lasagne Potato Skins - yep, this carb-fest is a winning dinner or a fantastic appetizer!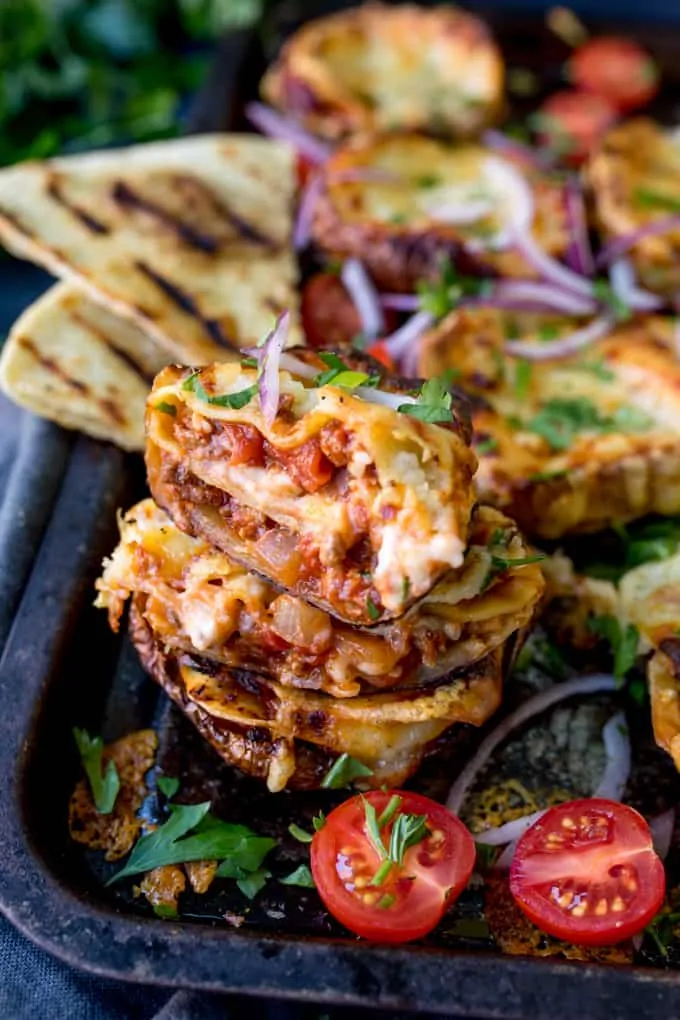 I'm not great at serving dinner without carbs. A side-salad or a pile of green vegetables don't quite satisfy me, and I end up hunting the back of cupboards for crisps later.
Give me double carbs........ and I'm one happy girl!
And if you look closely at the pics, you'll see I've got some flatbreads on the side too. Woo hoo triple carbs for the win!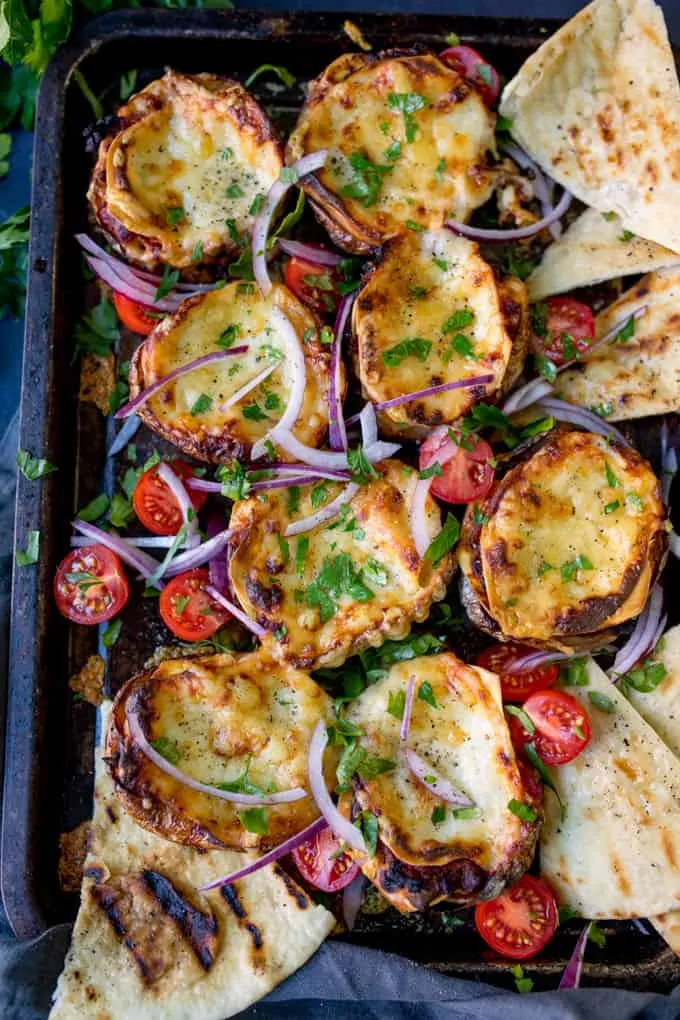 Just call me anti-Atkins (although that is one diet where the weight falls off me. But I HATE it!).
I don't know about you, but whenever I make a lasagne (ok, lasagna if you're in the US), I always end up with a few spoonfuls of meat sauce and white sauce leftover. Not enough to make up another layer of lasagne or to freeze for a future meal, but a shame to throw it away. This sad, sad food-wasting dilemma is how these potato skins came about.
After making this a couple of times, I've found it works better to make the potato skins first, then make up a four-person lasagne with the leftovers. That goes in the freezer for another night, and I've still got enough food with the potato skins to feed four people.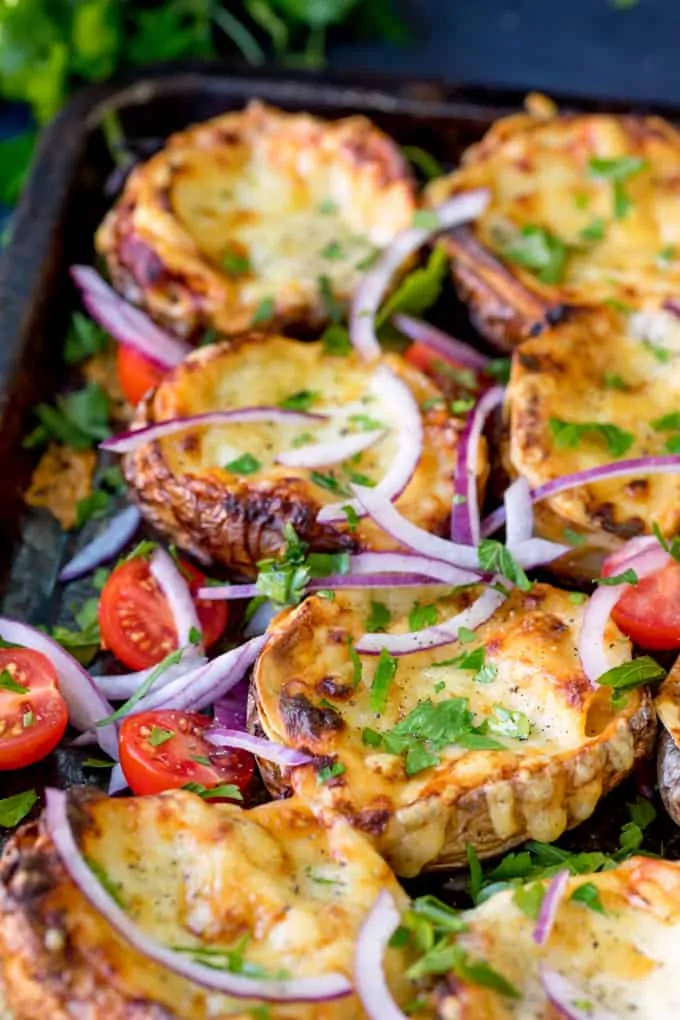 No need to reach for the crisps later. Although a few chunks of Dairy Milk might still be in order...
If you like this different take on lasagne, maybe you'll like my one-pan lasagne soup too!
The Lasagne Potato Skins Recipe:
Lasagne Potato Skins
Lasagne Potato Skins - yep, this carb-fest is a winning dinner! This recipe makes a 8 potato skins PLUS a four-person lasagne to save for later.
Ingredients
Meat sauce:
1

tbsp

olive oil

500

g

minced beef (ground mince)

1

large onion

-

peeled and diced

2

fat cloves of garlic

-

peeled and minced

120

ml

red wine

2

tbsp

tomato puree/paste

1-2

tsp

light brown sugar

½

tsp

salt

½

tsp

black pepper

2

tsp

dried oregano

1

tsp

dried thyme

3

x 400g/14oz tins chopped tomatoes
White Sauce:
4

tbsp

unsalted butter

6

tbsp

plain/all purpose flour

720

ml

milk

pinch

of salt and pepper

50

g

grated mature cheddar cheese
Also:
250

g

pack of fresh lasagne sheets

150

g

grated mature cheddar cheese

100

g

grated mozzarella cheese
To Serve:
Freshly chopped parsley

Black pepper

½

red onion

-

peeled and thinly sliced

10

cherry tomatoes

-

chopped in half

Toasted flatbreads

-

if you want 3 carbs!!
INSTRUCTIONS
Preheat the oven to 200C/400F. Prick the baking potatoes with a fork, and bake in the oven for one hour. Once cooked through, remove from the oven and leave to cool for a few minutes.

Meanwhile, start making the meat sauce. Heat the oil in a large frying pan over a medium-high heat. Add the minced beef and brown all over, then add the onions and garlic, and cook, stirring regularly for about 5 minutes, until the onion softens.

Pour in the red wine and turn up the heat to high. Let it bubble and reduce for 5 minutes.

Add in the tomato puree, 1 tsp of the sugar, the salt, pepper, oregano and thyme. Stir together and then pour in the tinned tomatoes. Bring to the boil, then turn down the heat and simmer for 20 minutes. Have a taste and add the other teaspoon of sugar if the tomatoes are too acidic. Once cooked, turn off the heat.

Whilst the meat sauce is simmering, make the white sauce.

Melt the butter in a large saucepan over a medium-high heat. Add in the flour, and stir with a whisk for one minute until you get a thick paste. Add in the milk, a splash at a time, stirring with the whisk after each addition, until combined. The mixture will be lumpy after each addition, but will smooth out and thicken as you stir with the whisk. Once the mixture is a smooth liquid, add in the rest of the milk and continue to stir until the sauce thickens and is almost at boiling point. Turn off the heat and stir in the salt, pepper and cheddar cheese. Stir until the cheese melts.

Once your potatoes have cooked and cooled slightly, slice them in half and scoop out the potato with a spoon (save this potato for another recipe - such as

croquettes

).

Take a couple of lasagne sheets, and cut out 16 circles that are the same circumference as the potato skins.

Place the potato skins on a baking tray and add 1 tbsp of the meat sauce to each. Top with a lasagne sheet circle and spoon on a tbsp of the white sauce. Repeat the layers again, then top with quarter of the cheddar cheese and quarter of the mozzarella. Place the tray in the oven (still at 200C/400F) and cook for 20 minutes until the cheese is golden brown.

Whilst the potato skins are cooking, make up a lasagne using the remaining ingredients. Take a four-person lasagna dish and spoon a layer of meat in the bottom. Top with a layer of lasagne sheets, followed by a layer of white sauce. Repeat, so you have two layers. Top with the remaining cheese, then cool, cover and refrigerate or freeze* for a future dinner**.

Once the potato skins are ready, remove from the oven. Sprinkle over the parsley, black pepper, red onion and cherry tomatoes, then serve (with flatbreads if you like!!)
✎ Notes
*Defrost thoroughly before reheating.
**Reheat in a 200C/400F oven for 30-35 minutes until hot throughout and golden brown on top.