This Vegetarian Summer Tomato Pizza with Basil Garlic Butter and creamy cashew drizzle is a meal even the meat-eaters will love. The homemade no-knead, no-prove flatbread base is super quick to make!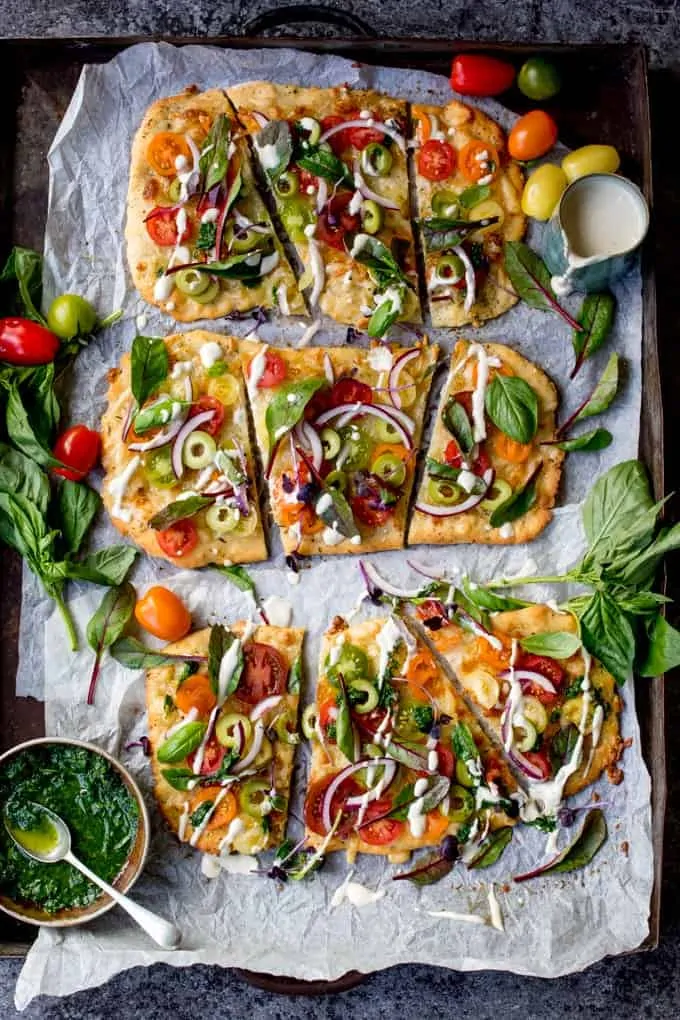 This recipe was commissioned by the Vegetarian Society as part of #nationalvegetarianweek
I often talk about my struggles to get my meat-loving husband to eat more veggie-based meals. I celebrate for days if I manage to make a meal where he doesn't even question the lack of meat.
This pizza was one of those occasions!
Now between you and I, it's unlikely that as a family, we'd manage to go fully vegetarian. However, I don't think that should stop us trying to reduce the amount of meat we do eat. There are so many amazing recipes out there that don't involve endless amounts of tofu and quorn and other scary ingredients that definitely don't make me drool.
It's even better when a recipe isn't trying to be a meat-replacement - like vegetarian bacon and dried quorn mince (not my cup of tea).
Vegetarian meals can be fantastic, satisfying and full of flavour (incidentally, Becca from Amuse Your Bouche creates marvellous veggie dishes. Her cheesy carrot nut roast went down particularly well at a recent family dinner).
When I saw that National Vegetarian Week, this year, was focused on getting meat-eaters to increase the amount of vegetarian food they eat, it really struck chord with me.
I've got to admit, when I initially read up on it, I thought it might be about spreading the word that we should all try to be vegetarian.
A more gentle approach of increasing the amount of vegetarian food in ones diet completely resonated with me.
-->If you're interested in increasing your vegetarian meals, check out the National Vegetarian Week website and sign up to the newsletter to receive info on tips, giveaways and other goodies.<--
So with that in mind, I set to work creating something that would be satisfying and truly tasty. Something the kids would love too.
Pizza is going to work every time!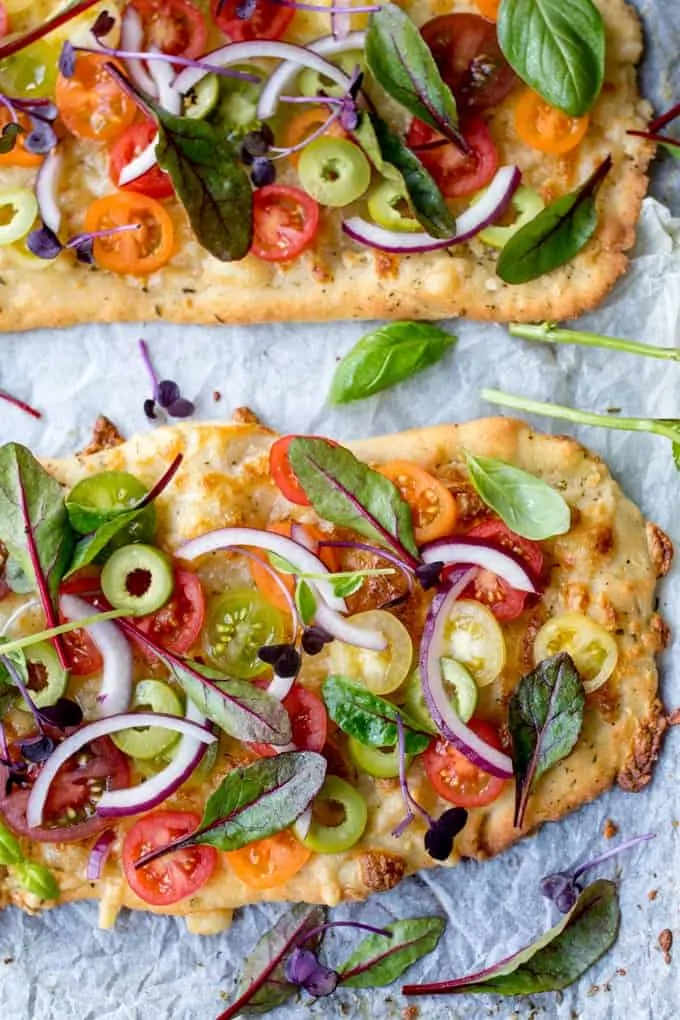 I made the base from a simple mixture of flour, greek yogurt, baking soda and salt. I've been using this recipe for a couple of years now. I think I saw it in a Jamie Oliver recipe first, but I'm not sure whether he invented it. Anyway, it makes a wonderful dough, with the right amount of chewiness, whilst being crisp at the edges. The dough is no-knead, and it doesn't need to prove. Just mix up the ingredients in a bowl, then roll it out and use it right away.
I brushed the base with some garlic butter, before topping with mozzarella and vegetarian cheddar, then cooking in the oven. Now, you can stop right there if you're looking for a quick, yummy, cheesy pizza, but as you might know, I'm a toppings girl....
So I loaded that thing up with tomatoes (I found some gorgeous multi-coloured tomatoes at the shop) and sliced olives (Nocerella olives in case you're wondering. They're olives for people who want to appear grown up and like olives, but just can't do it. I call them learner-olives). I continued to pile it high with baby salad leaves, red onion slices, melted basil garlic butter (best butter ever!) and a drizzle of creamy cashew sauce.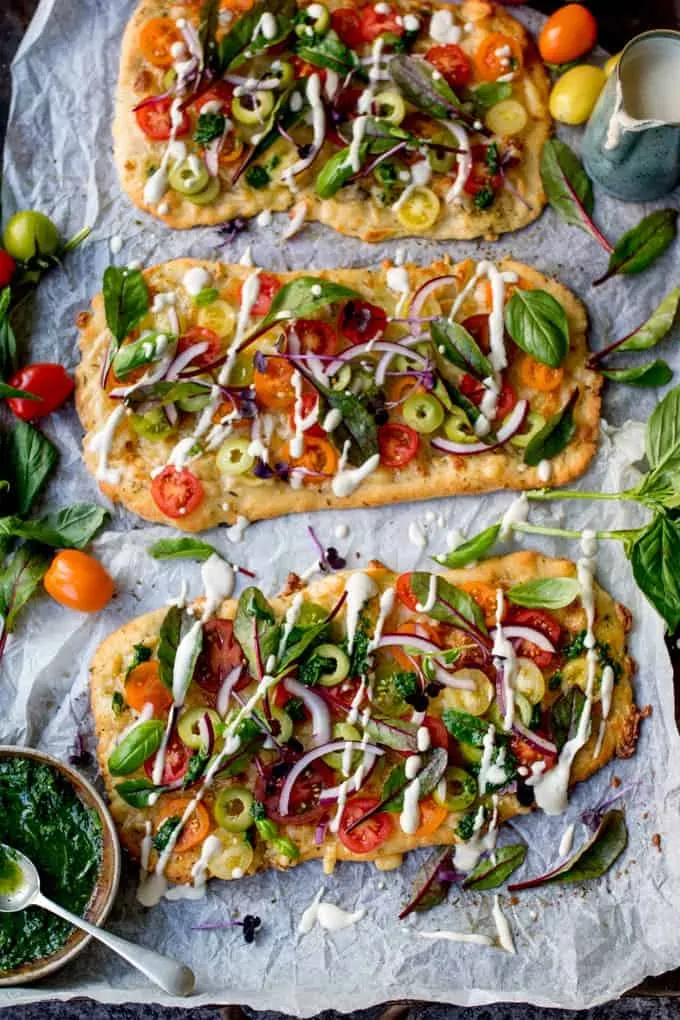 It was sooooo gooood! Serve it with extra basil garlic butter, and those meat-eaters will be licking their lips and demanding seconds!
If you like this, here are some other vegetarian meal ideas I've managed to successfully get past Chris:
Cheesy Veggie Chickpea Burgers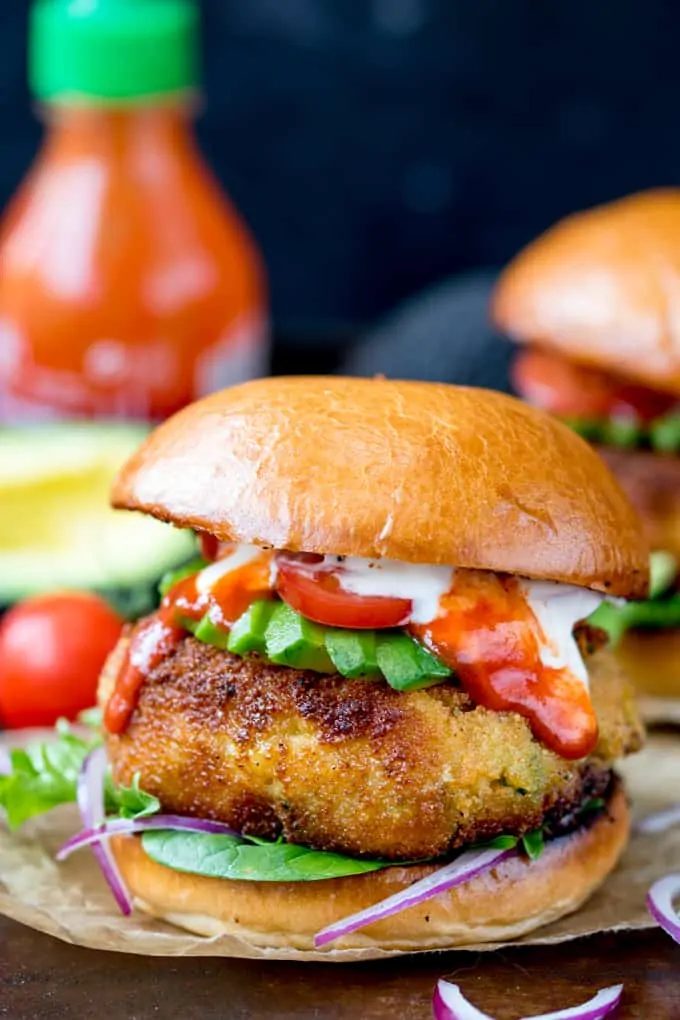 Griddled Halloumi and Peach Salad with Lemon Pesto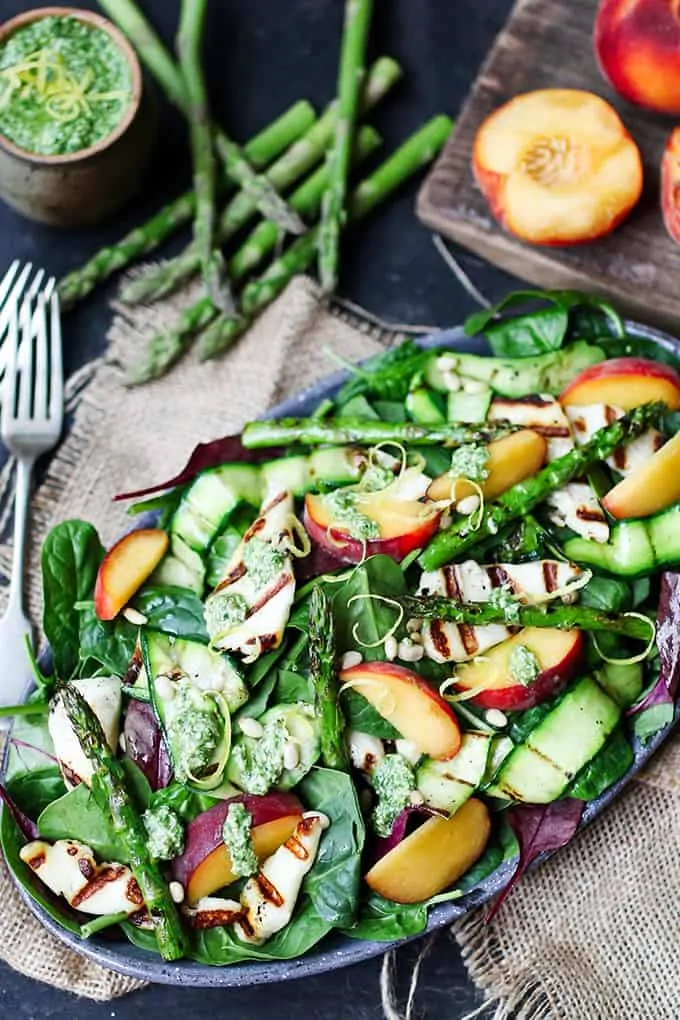 20-minute garlic bread spaghetti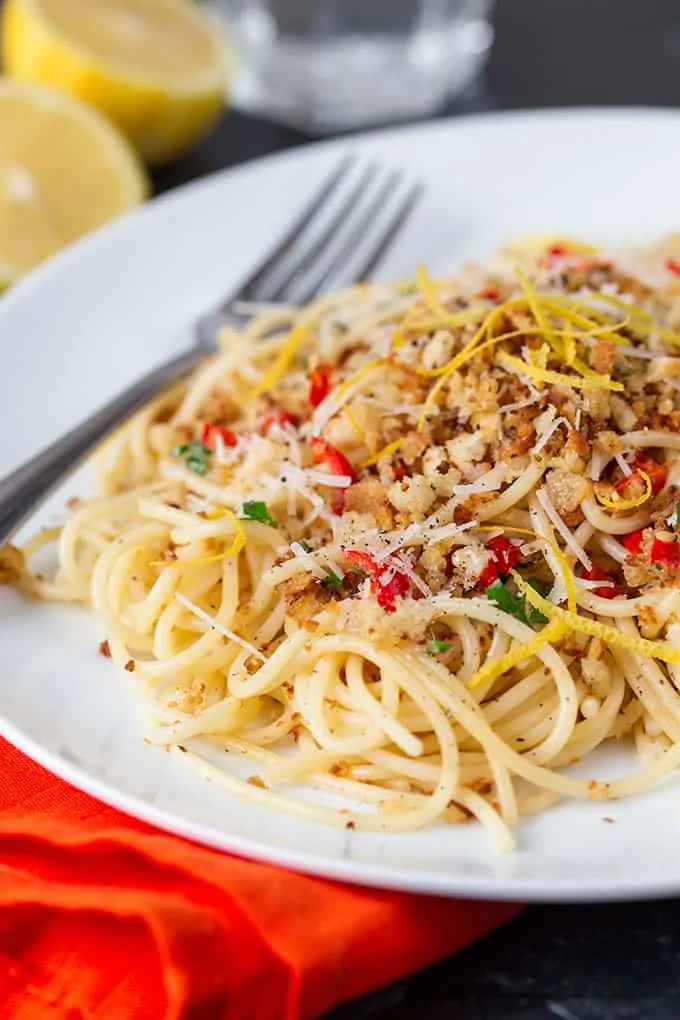 Cheese and tomato tart (not quiche!)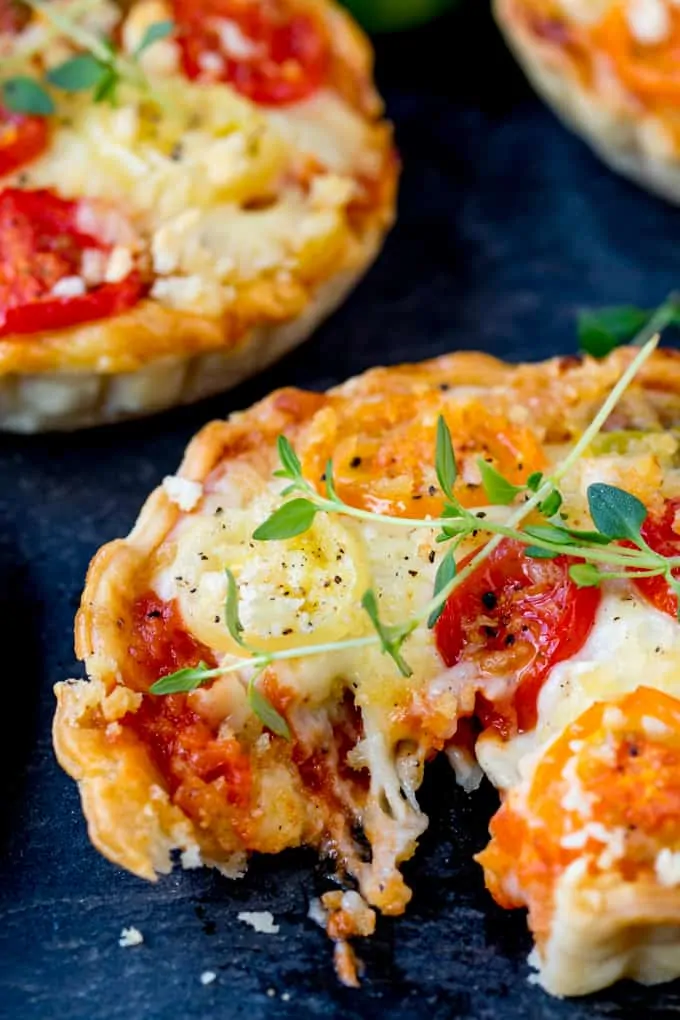 Halloumi Burgers with sticky chilli drizzle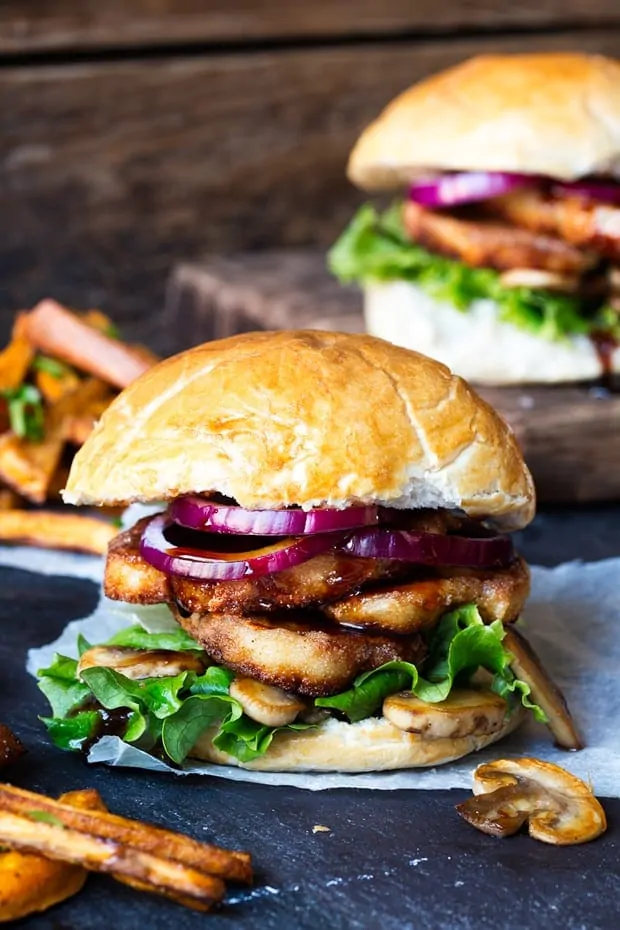 Get stuck in!!
Don't forget to sign up to the National Vegetarian Week newsletter to receive more recipes and tips!
The Vegetarian Summer Tomato Pizza with Basil Garlic Butter Recipe: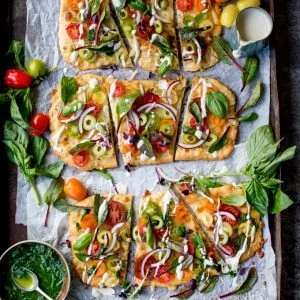 Vegetarian Summer Tomato Pizza with Basil Garlic Butter
This Vegetarian Summer Tomato Pizza with Basil Garlic Butter and creamy cashew drizzle is a meal even the meat-eaters will love.
Ingredients
Flatbreads:
125

ml

Greek yogurt (full fat is best)

125

g

plain (all purpose) flour, plus extra for rolling

½

tsp

baking powder

½

tsp

salt
Pizza toppings:
1

tsp

dried oregano

100

g

vegetarian mozzarella, grated

100

g

vegetarian cheddar cheese, grated

400

g

mixed-colour cherry tomatoes, sliced

10

green olives

-

de-stoned and sliced (I used nocellara olives)

1

small red onion

-

peeled and thinly sliced

60

g

mixed baby salad leaves
Basil garlic butter:
2

gloves of garlic

-

peeled and minced

120

g

unsalted butter, roughly chopped

1

tsp

salt

Small bunch of basil

-

finely chopped

Small bunch parsley

-

finely chopped
Cashew Sauce:
120

g

cashews, soaked for 15 mins in hot water

¼

tsp

onion salt

¼

tsp

celery salt

¼

tsp

black pepper

1

clove

garlic

-

peeled

150

ml

cold vegetable stock
INSTRUCTIONS
Preheat the oven to 200c/400f.

First make the flatbread pizza bases. Place the Greek yogurt, flour, baking powder and salt into a bowl. Mix together using your hands until all of the ingredients are combined. It should only take a minute or two. You want a thick, slightly sticky dough. Add a little more Greek yogurt if it's too dry.

Place the dough on a lightly-floured surface. Cut into 3 equal pieces. Roll each piece into a ball, then roll flat into rectangular shapes approx. 3-4mm thick.

Place the three pizza on a large baking tray that has been lined with baking parchment.

Next make the basil garlic butter by placing the garlic and butter into a small pan and heating together on a low heat until all of the butter has just melted. Stir in the salt, but don't add the basil yet. Turn off the heat.

Brush approx 1 tbsp of the garlic butter onto each flatbread, then sprinkle the oregano onto the flatbreads.

Divide the mozzarella and cheddar between the three flatbreads, sprinkling all over, and place in the oven for 15 minutes until golden brown.

Meanwhile, mix the basil and parsley into the garlic butter and put to one side.

Make the cashew sauce by adding all of the cashew sauce ingredients to a food processor and blending together until smooth. Add a a little water or extra stock if it's too thick.

Remove the flatbreads from the oven and top with the slice tomatoes, sliced olives, baby salad leaves and red onion slices. Drizzle with the garlic basil butter (you can reheat in the microwaves or a pan for a few seconds if the butter has started to solidify) and the cashew sauce, then serve.
✎ Notes
Nutritional Information is per serving.
Nutrition
Calories:
580
kcal
Carbohydrates:
43
g
Protein:
12
g
Fat:
40
g
Saturated Fat:
17
g
Cholesterol:
52
mg
Sodium:
1787
mg
Potassium:
498
mg
Fiber:
4
g
Sugar:
5
g
Vitamin A:
1160
IU
Vitamin C:
22.9
mg
Calcium:
117
mg
Iron:
4.1
mg