This Salted Caramel Millionaires shortbread is a real treat – perfect for picnics!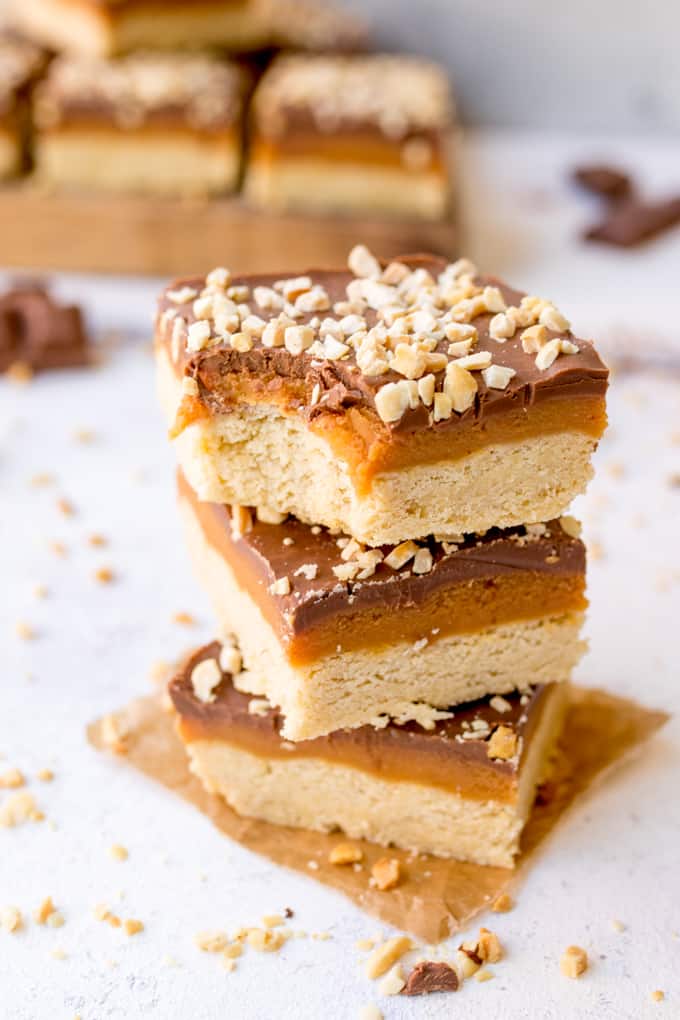 Friday night in comfy PJs, watching Big Bang Theory on TV whilst scoffing these tempting treats. It's bad, but it's also really really good.
After photographing these squares, I decided it would be safer to cut them up smaller – meaning I got 36 bitesize pieces, instead of 9 humungous pieces.
I put two on my little plate and ate them in the fashion described above.
Then I went back again…
and again..
..to fill up my plate.
Portion control just isn't my thing.
I was so happy with how these treats turned out that I'm considering melting down the remaining easter eggs to make some more.
Probably not the best idea to turn the easter eggs into something even more calorific – whilst also upsetting the kids that I've melted their stash. It's very tempting though!
Speaking of Friday night, I can't believe it's Friday tomorrow, and I haven't posted on the blog since Sunday!
I'm so sorry that my blog posting schedule has been a little erratic recently. I'm actually writing this one in a taxi and my way back from Heathrow airport after a trip to Germany with Neff.
Why was I in Germany?
Neff have been celebrating their 140 year anniversary and the production of their 1-millionth Slide&Hide oven at their manufacturing site in Bretten. I got to go along with some of the Neff team, plus my lovely blogger buddy Lucy from Super Golden Bakes.
So far, I've been a little star-struck by Olia Hercules, who joined us at the event and created the 14-course menu for the amazing meal we had last night - each dish celebrating a different decade of the last 140 years.
I'll tell you all about it in a future post, but right now, lets have a look at this Millionaire's shortbread recipe!
The Salted Caramel Millionaires shortbread Recipe:
Salted Caramel Millionaires shortbread
This Salted Caramel Millionaires Shortbread topped with roasted hazelnuts is a real treat – perfect for picnics!
Ingredients
For the shortbread:
225

g

plain (all-purpose) flour

175

g

unsalted butter, cold, cut into cubes

90

g

golden caster sugar

Pinch

of salt
For the topping:
150

g

unsalted butter

379

g

can condensed milk

100

g

golden syrup

½

tsp

salt

350

g

milk chocolate (or semi-sweet chocolate), chopped into small pieces

4

tbsp

chopped toasted hazelnuts
INSTRUCTIONS
Preheat the oven to 150C/300f. Line a 23cm (9 inch), square cake tin with baking parchment.

Add the flour and butter to a food processor and pulse until the mixture resembles fine breadcrumbs.

Add in the caster sugar and salt, then pulse again until combined.

Spoon the mixture into the lined cake tin. Spread it out and push it flat with the back of a spoon, so it reaches the edges. Try to make sure the shortbread is as flat and even as possible (you can use a tin of beans as a rolling pin to help with this).

Bake the shortbread in the oven for 30 minutes, then remove from the oven and leave to cool (still in the tin).

Now make the topping. Add the butter, condensed milk, golden syrup and salt to a small pan, and heat on a low heat, stirring occasionally, until the butter is melted. Turn the heat up to medium-high and allow to simmer, stirring often, for 6-8 minutes, until the mixture thickens and turns to a darker caramel colour. Turn off the heat and allow to cool for 5 minutes. If any of the butter has separated from the mixture after 5 minutes, you can discard, then stir the caramel again and pour over the shortbread. Allow to cool completely.

Melt the chocolate in the microwave in 30-second bursts (stirring in between each burst) or use a bain marie if you prefer. Pour the melted chocolate over the caramel. Sprinkle with the toasted hazelnuts and allow to cool completely – at room temperature.

Cut into 9 large squares, or 36 bite-size squares and serve.
✎ Notes
Nutritional Information is per square (based on getting 9 squares).
Nutrition
Calories:
771
kcal
Carbohydrates:
83
g
Protein:
8
g
Fat:
48
g
Saturated Fat:
28
g
Cholesterol:
91
mg
Sodium:
330
mg
Potassium:
325
mg
Fiber:
3
g
Sugar:
61
g
Vitamin A:
1015
IU
Vitamin C:
1.3
mg
Calcium:
145
mg
Iron:
2.4
mg