Taking me back to my childhood - this Chocolate Coconut Crunch is so addictive!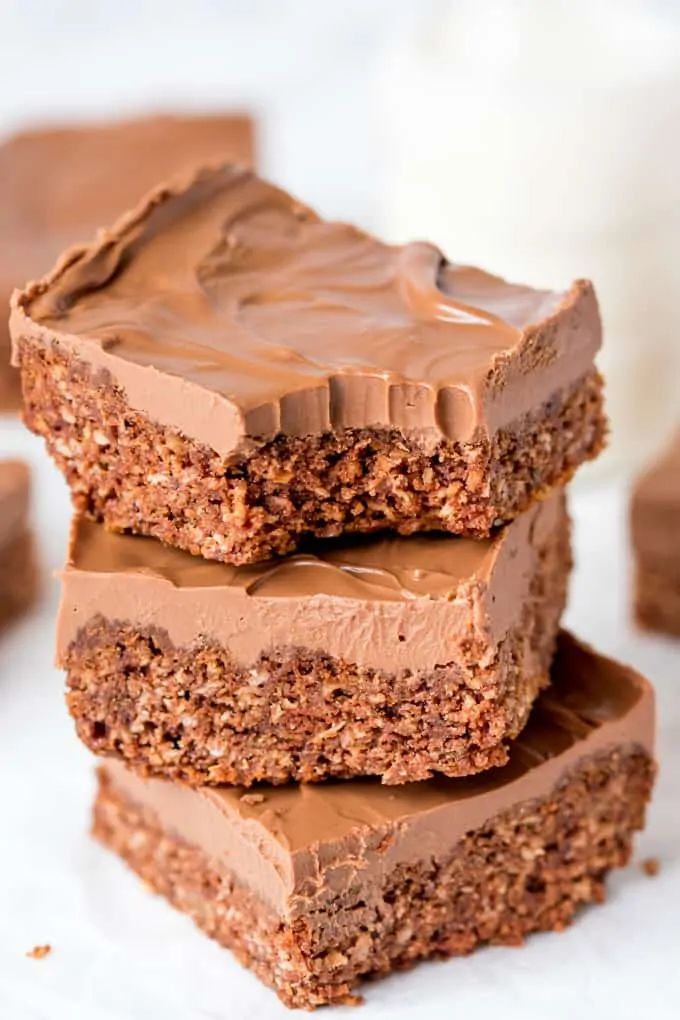 Did I ever tell you I'm a bit of a daydreamer? Well I am.
It's probably one of the reasons I love immersing myself in sci-fi fantasy books (yes I'm a science fantasy nerd) or imagining the exact specifications of the house I'd build if I won the lottery (my favourite being the one where I have a long corridor leading to a room that has a doorway at the top of the wall - so you have to jump into the room. I haven't decided whether to fill it with cushions or water yet.).
I was daydreaming back to my school days recently, and I remembered a chocolate coconut bar that I used to absolutely love. I hadn't eaten it in 20 years, but could still remember the crunchy, chocolatey texture that was so good that I'd save my dinner money and just buy two of them instead of a proper meal.
I guess I've always had that sweet tooth!!
Anyway, I did a bit of internet research, and the only thing I could find that came close was something called an 'Aussie crunch'. Which is a well-renowned school treat for those who live in the Bolton area of the UK. I didn't live in Bolton when I grew up, but I was only about 35 miles away, so it's possible the treat I remember was a version of this.
I started off with a recipe I saw on Dolly Bakes - although I made some changes to accommodate my memories of the taste and texture.
The result was a resounding success. Almost exactly how I remembered them. I cut them into big slabs - the size we used to get at school, but they looked scarily calorific, so I ended up chopping each slab into four (and then I ate 5 of those chunks in one evening doh!!).
Anyway, I hope you like them. They're crunchy, chewy, verrry chocolatey and very bad for anyone on a diet. Definitely one to save for treat day 🙂
The Chocolate Coconut Crunch Recipe: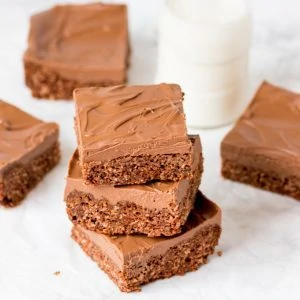 Chocolate Coconut Crunch
Chocolate Coconut Crunch - my take on the Aussie Crunch we used to get at school. They're crunchy, chewy, very chocolatey and so addictive!
Ingredients
200

g

unsalted butter, melted

100

g

golden caster or superfine sugar

2

tbsp

golden syrup

85

g

unsweetened desiccated coconut

2

crushed weetabix

3

tbsp

cocoa powder

135

g

plain flour

1

tsp

baking powder

1

tsp

vanilla extract
Topping:
250

g

Cadbury dairy milk chocolate (or your favourite eating chocolate)

2

tbsp

unsalted butter

-

melted
INSTRUCTIONS
Line a 20cmx20cm (7.8"x7.8") baking tin with baking parchment. Preheat the oven to 180c/350f.

Mix together all of the ingredients except the topping ingredients in a large bowl.

Spoon into the prepared tin and level it out - make sure it goes right to the edges.

Place in the oven to cook for 30 minutes.

Take out of the oven and leave to cool completely in the tray.

Melt the chocolate over a bain marie or in the microwave in 30 seconds bursts (stir in between each burst). Stir in the melted butter and pour/spoon over the top of the cooked coconut mixture (still in the tray).

Place in the refrigerator to set for at least 45 minutes, then take out of the refrigerator. Remove from the tray and place on a chopping board. Slice into 9 large squares, or 36 bite-size cubes.
✎ Notes
These treat should keep for up to a week in a sealed container at room temperature or in the refrigerator.
.
Nutritional Information is per serving, cutting the cake into 9 portions. Divide by 4 if cutting into 36 bitesize pieces.
Nutrition
Calories:
519
kcal
Carbohydrates:
50
g
Protein:
4
g
Fat:
36
g
Saturated Fat:
24
g
Cholesterol:
54
mg
Sodium:
59
mg
Potassium:
252
mg
Fiber:
4
g
Sugar:
30
g
Vitamin A:
680
IU
Vitamin C:
0.7
mg
Calcium:
53
mg
Iron:
3.4
mg