This is a nostalgic recipe for me. My Nan's sherry trifle.
We're talking jam swiss roll and fresh raspberries in jelly, topped with more swiss roll (soaked in sherry this time) and good old Bird's custard. All finished with a pillowy layer of sweetened whipped cream and rainbow sprinkles!
Jump to:
Nope - I don't use ladies finger sponges in my trifle
Nope - I don't make the custard from scratch
Nope - I don't top with posh cherries or gourmet chocolate curls - it's sprinkles all the way. Although a crushed up Cadbury flake is also allowed.
To be fair, I do love a posh trifle made with all of those goodies above. There are so many variations and adaptions out there, and I'm willing to give them ALL a go.
Except maybe that one Rachel from Friends made with minced beef and bananas? That's a hard no.
But today I was feeling nostalgic for my Nan's sherry trifle. The way she used to make it when we went round for a big buffet family dinner.
My grandad was always the cook in the family, but trifle was 100% my nan's domain.
I think she may have gone a little heavier on the sherry then I do (i.e probably double) but this recipe took my right back there.
📋 What do we need for this classic trifle?
Jam Swiss rolls - the ones that ONLY have jam in, not the ones with cream in too.
Raspberries - fresh or frozen.
Jelly cubes - you could use the powdered jelly sachets, I think the non-sugar-free jelly cubes taste better though.
Sherry - you can leave this out if you don't want to use alcohol.
Custard powder, along with milk and sugar to make up the custard. Yes, you can use ready-made custard (or even make your own from scratch), but Bird's custard powder was the way my nan made it. I use a little less milk than the Bird's recipe suggests, so it's a little more firm, to hold the trifle together better (no, i'm not affiliated with Bird's custard, by the way).
Whipping cream, along with confectioners's sugar and vanilla extract to add extra sweetness to the cream.
Sprinkles - mandatory for all 80's throw-back trifles.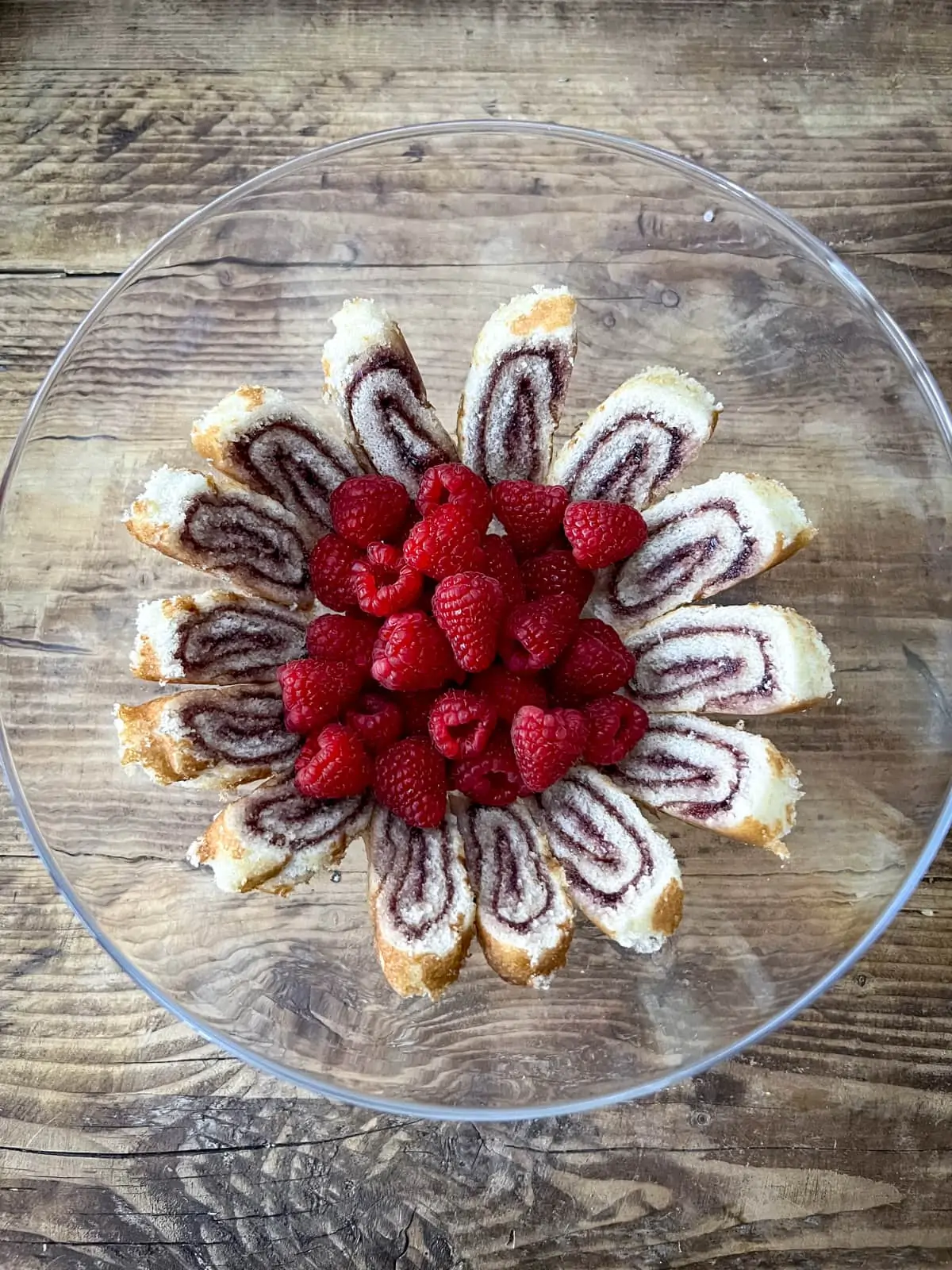 I love the layering of a good trifle. I think the swiss rolls lined around the trifle dish look so pretty when they're suspended in that lovely jelly!
👩‍🍳PRO TIP Be sure to give yourself enough time for the jelly to set. It will take at least 4 hours. I prefer to let the jelly set overnight, then carry on with the rest of the trifle the next day.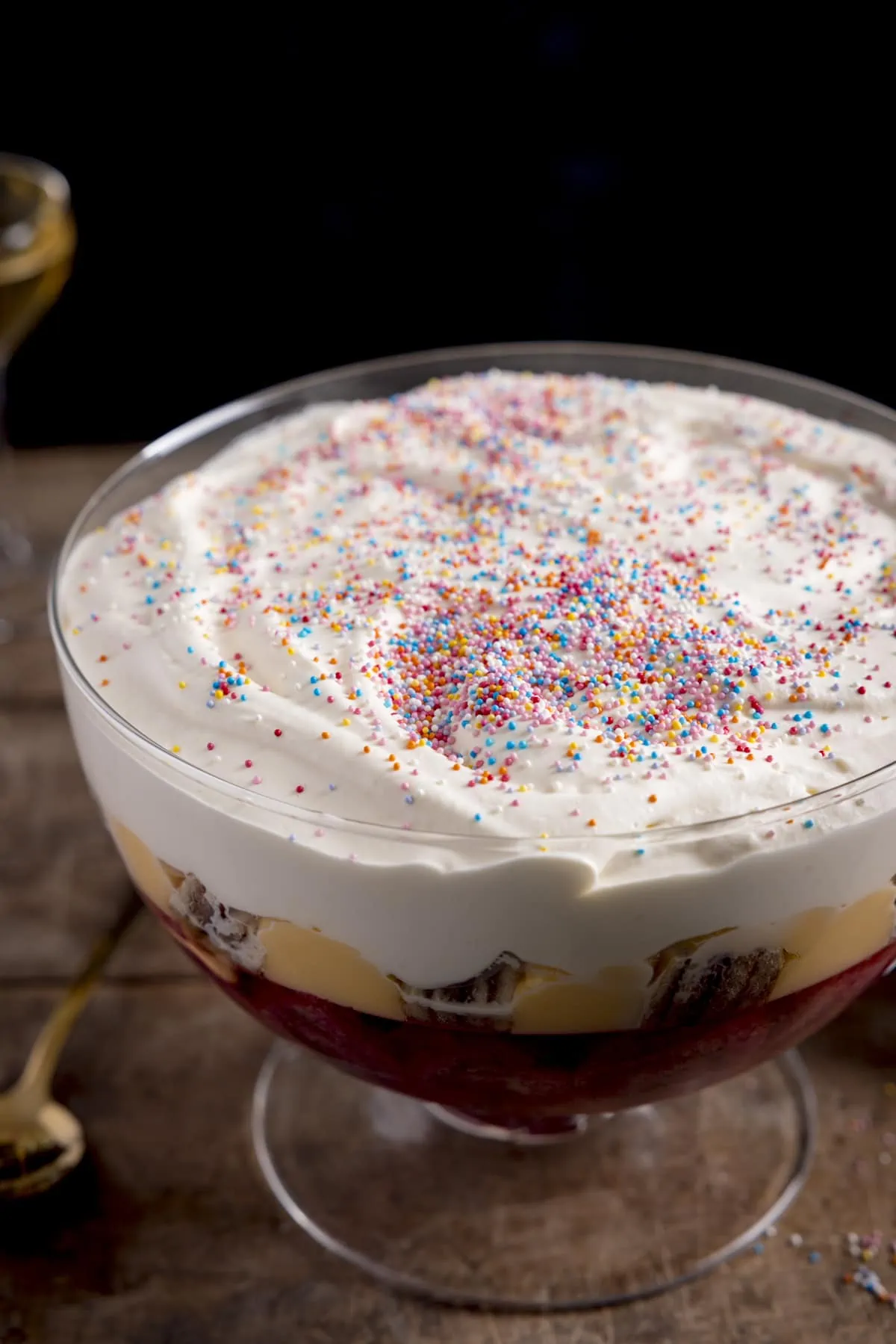 🍽️ What to serve it with
For me, trifles are either a dessert served at the end of a big Sunday roast, or a brilliant addition to any buffet - especially a Christmas trifle! Here are some other recipes that appear on my buffet table.
---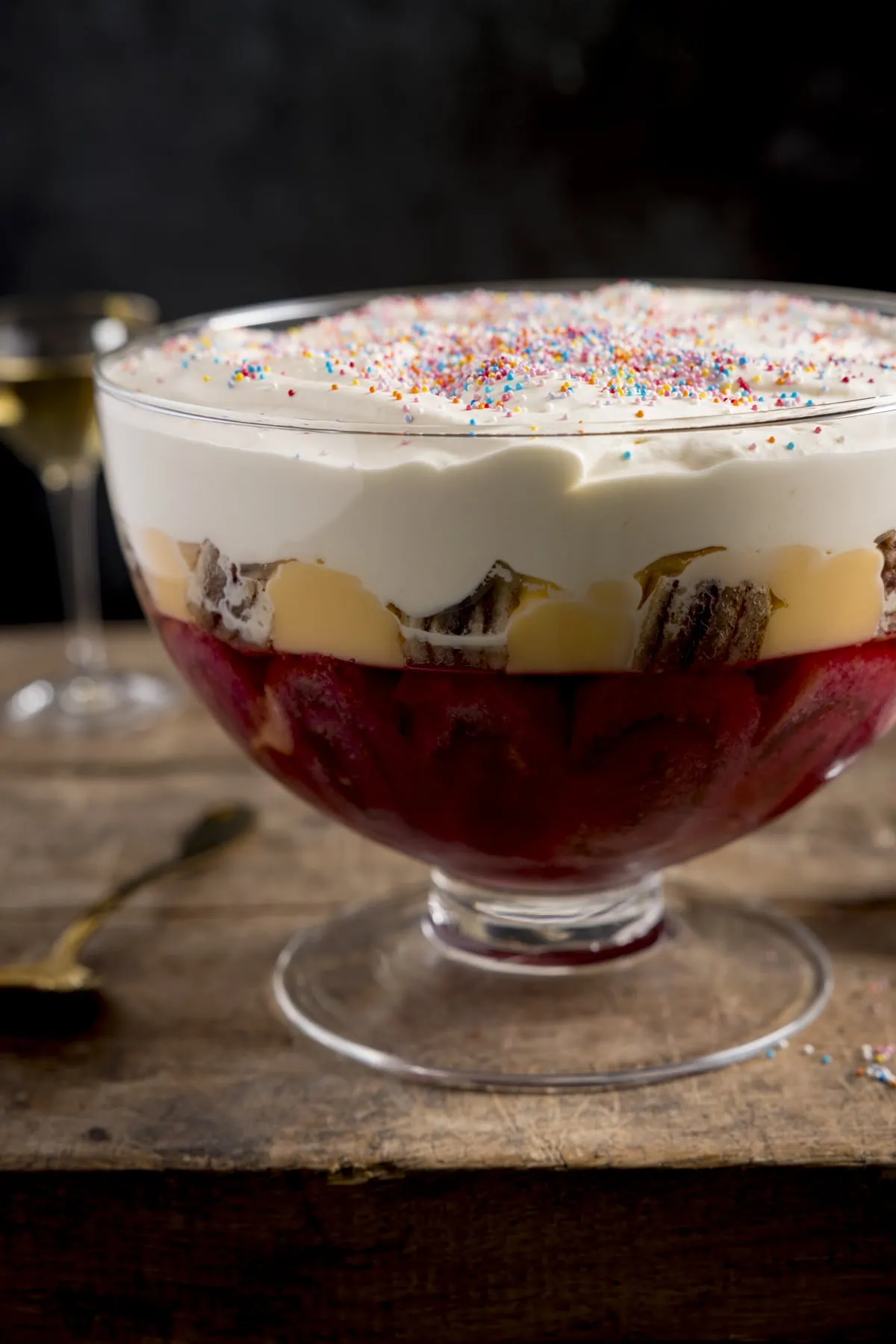 Do you have any favourite nostalgic desserts?
Now I've had this trifle again, I'm dreaming of blancmange, syrup sponge and rice pudding. Not forgetting those shop-bought classics - viennetta, arctic roll and Angel Delight (butterscotch flavour was the best!).
---
🍲 More fantastic Desserts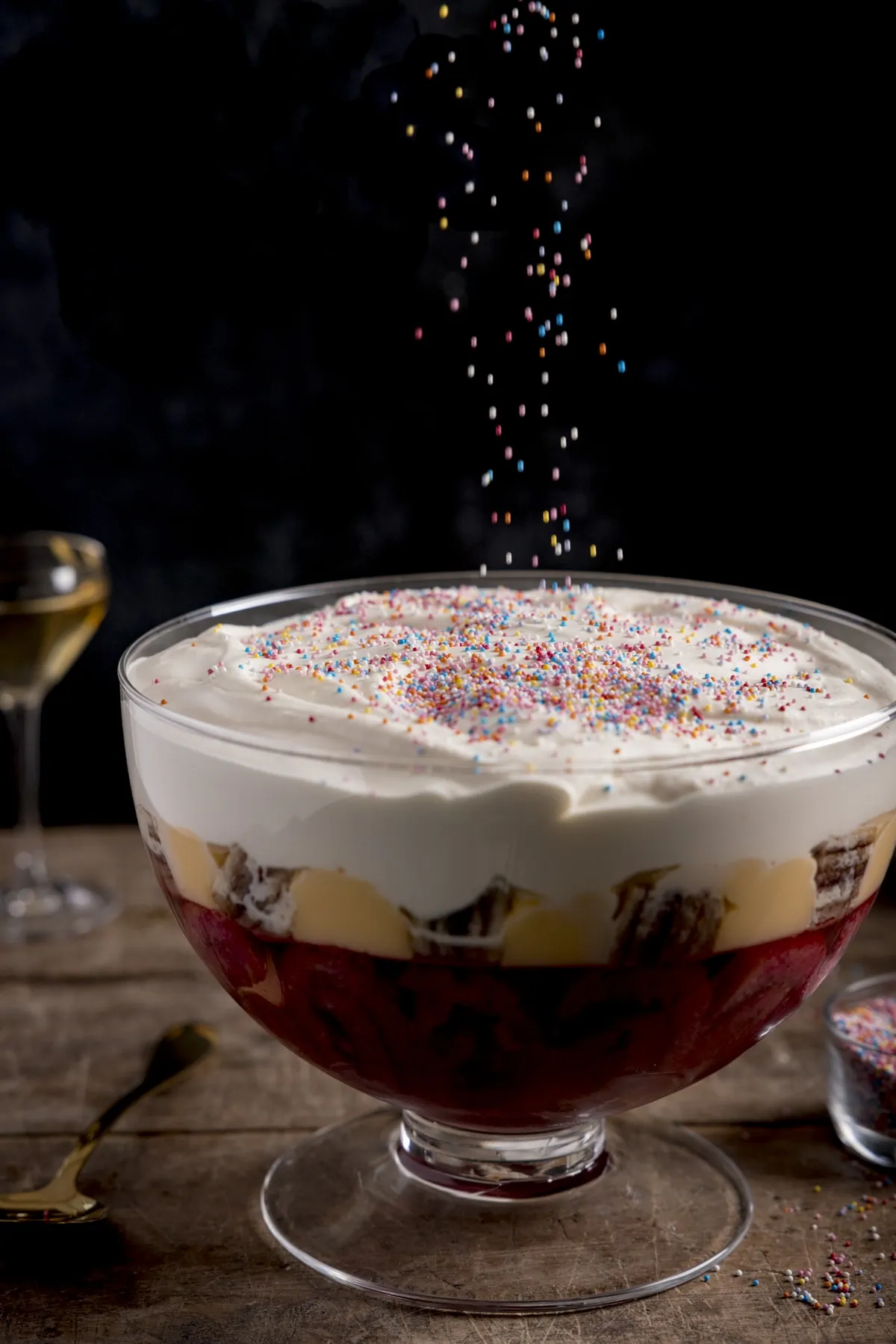 Stay updated with new recipes!
Subscribe to the newsletter to hear when I post a new recipe. I'm also on YouTube (new videos every week) and Instagram (behind-the-scenes stories & beautiful food photos).
Nan's proper sherry trifle
Layers of jam swiss roll and raspberries in jelly, sherry-soaked swiss roll, custard, whipped cream and rainbow sprinkles!
Ingredients
3

x 190g (3 x 6.7oz) jam swiss rolls

-

the ones with jam only - not the ones with cream in

200

g

(7 oz) fresh raspberries

-

you can use frozen, but don't defrost first

2

x 135g (2 x 4.8oz) packs of raspberry jelly cubes

3

tbsp

sherry

70

g

(7 level tbsp) custard powder

70

g

(5.5 level tbsp) caster sugar

1

litre

(1.75 pints) full-fat milk

600

ml

(2.5 cups) whipping cream

1

tsp

vanilla extract

30

g

(4.5 level tbsp) icing sugar

-

(confectioners' sugar/powdered sugar)

1

tbsp

rainbow sprinkles
INSTRUCTIONS
Slice up 2 of the swiss rolls into 1cm thick slices. Use it to line the side of a 3.5 litre trifle dish – just one layer. If you have any left over, put to one side and cover for now. We'll use it later.

3 x 190g (3 x 6.7oz) jam swiss rolls

Add the raspberries to the centre of the trifle dish.

200 g (7 oz) fresh raspberries

Slice up the jelly cubes and place in a bowl or jug. Add 400ml of boiling water and stir together until the jelly cubes have dissolved.

2 x 135g (2 x 4.8oz) packs of raspberry jelly cubes

Add 500ml of cold water and stir together.

Pour this jelly mixture into the trifle dish, over the raspberries and swiss roll.

Place the refrigerator to set for at least 4 hours (up to 2 days)

Once the jelly has set, take it out of the refrigerator.

Chop the remaining swiss rolls into chunky pieces – approx. 1-1.5cm cubed. Place in a bowl and drizzle over the sherry – try to ensure a little bit of sherry gets onto each piece.

Arrange the sponge pieces over the top of the jelly and place back in the fridge while you make the custard.

Place the custard powder, sugar and 4 tbsp of the milk into a saucepan. Stir together to form a paste.

70 g (7 level tbsp) custard powder,

70 g (5.5 level tbsp) caster sugar,

1 litre (1.75 pints) full-fat milk

Now slowly pour in the remaining milk, while stirring, until fully mixed together.

Put the heat on under the pan and heat over a medium heat, stirring constantly with a whisk or wooden spoon, until the custard thickens (be sure to keep stirring, otherwise the custard can catch and burn at the bottom of the pan). It will thicken quite quickly just as it's starting to approach boiling point.

As soon as it thickens, turn off the heat.

Leave to cool to room temperature – about 20-30 minutes. If you want to prevent any skin forming, place a piece of clingfilm on top (touching all exposed parts of the custard) when cooling.

Remove the clingfilm and give the custard a stir. Take the trifle out of the fridge and pour/spoon the custard over the top, to completely cover the sponge pieces in custard.

Place back in the fridge for 1 hour to chill the custard (again, cover with clingfilm if you wish to prevent a skin forming. This is optional).

Add the whipping cream to a large bowl or stand mixer. Whisk using a hand whisk or the whisk attachment on your stand mixer until you get to the soft peaks stage (the creamy should look soft, thick and pillowy, and will just stay on a spoon if you turn a spoonful of it upside-down.

600 ml (2.5 cups) whipping cream

Add the vanilla extract and then sift over the icing sugar. Whisk again for a few seconds to combine the vanilla and icing sugar into the cream.

1 tsp vanilla extract,

30 g (4.5 level tbsp) icing sugar

Spoon the cream over the top of the trifle in big dollops.

Sprinkle over the rainbow sprinkles, then serve.

Alternatively, cover with clingfilm and refrigerate until ready to eat (it should keep for 2 days). If you're refrigerating it for more than a couple of hours, I would leave the sprinkles off until you're just about to serve – as the colour from the sprinkles will 'bleed' into the cream if left for too long.
✎ Notes
US terms
There are quite a lot of British-isms in this recipe, so I'll try to decipher for those of you in the US. If you think i've got something wrong, please let me know in the comments.
Jam Swiss Rolls - same as jelly roll cake - it should just be a thin sponge rolled up with jelly (we call is jam in the UK), no cream or anything additional in there.
Jelly - same as your Jell-O. I'm using cubes in this recipe.
Caster Sugar - same as your superfine sugar
Icing/Confectioners' sugar - same as your powdered sugar
Trifle dish
I use this 3.5 litre trifle dish (<-- affiliate link).
If you're in the US, this link should take you to a similar one to the one I use, it's a little smaller, at 3 liters, but will still work fine.
My trifle dish is height 18cm, top diameter 23cm.
Ingredient swaps
Swap raspberries for strawberries (you can also swap the raspberry flavoured jam swiss roll and jelly for strawberry flavoured)
Swap the swiss roll for your favourite sponge. A plain or jam sponge works best (as opposed to chocolate/cream fillings)
Swap the sprinkles for a topping of your choice - kirsch cherries, fresh berries, flaked almonds, grated chocolate - all make great toppings
Swap the sherry for another spirit/liqueur - cherry brandy, amaretto, spiced rum and calvados are great options
Sizing down this recipe
You can halve or even quarter this recipe to serve 4-6 people - sticking to the same ingredient ratios.
You will need a smaller dish (1 litre for 4 people, 1.5-2 litre for 6 people).
Alternatively, you can make in small individual dishes. If you're doing this, you won't be able to line the edge of the dish all the way around with jam sponge - as it will take up too much space. You can simple add chunks of jam sponge in with the raspberries and cover with jelly.
Storage:
This trifle should keep well, covered, in the refrigerator for up to 3 days.
Nutritional information is approximate, per serving, based on this recipe serving 12 people.
Nutrition
Calories:
496
kcal
Carbohydrates:
66
g
Protein:
9
g
Fat:
23
g
Saturated Fat:
14
g
Polyunsaturated Fat:
1
g
Monounsaturated Fat:
6
g
Cholesterol:
131
mg
Sodium:
437
mg
Potassium:
285
mg
Fiber:
1
g
Sugar:
47
g
Vitamin A:
970
IU
Vitamin C:
5
mg
Calcium:
191
mg
Iron:
2
mg
Some of the links in this post may be affiliate links – which means if you buy the product I get a small commission (at no extra cost to you). If you do buy, then thank you! That's what helps us to keep Kitchen Sanctuary running. The nutritional information provided is approximate and can vary depending on several factors. For more information please see our Terms & Conditions.