I spent a lot of time in the test kitchen making many versions to bring you the best apple pie recipe! I tested; different apples, different spices, different pastry toppings, with and without butter in the sauce, even different pie dishes! I persevered (and ate a lot of pie).
This deep-dish apple pie is filled with lots of layers of apple and warming winter spices. The mixture of apples ensures a sweet and tangy apple pie and just enough sauce to make it saucy, without that dreaded soggy bottom.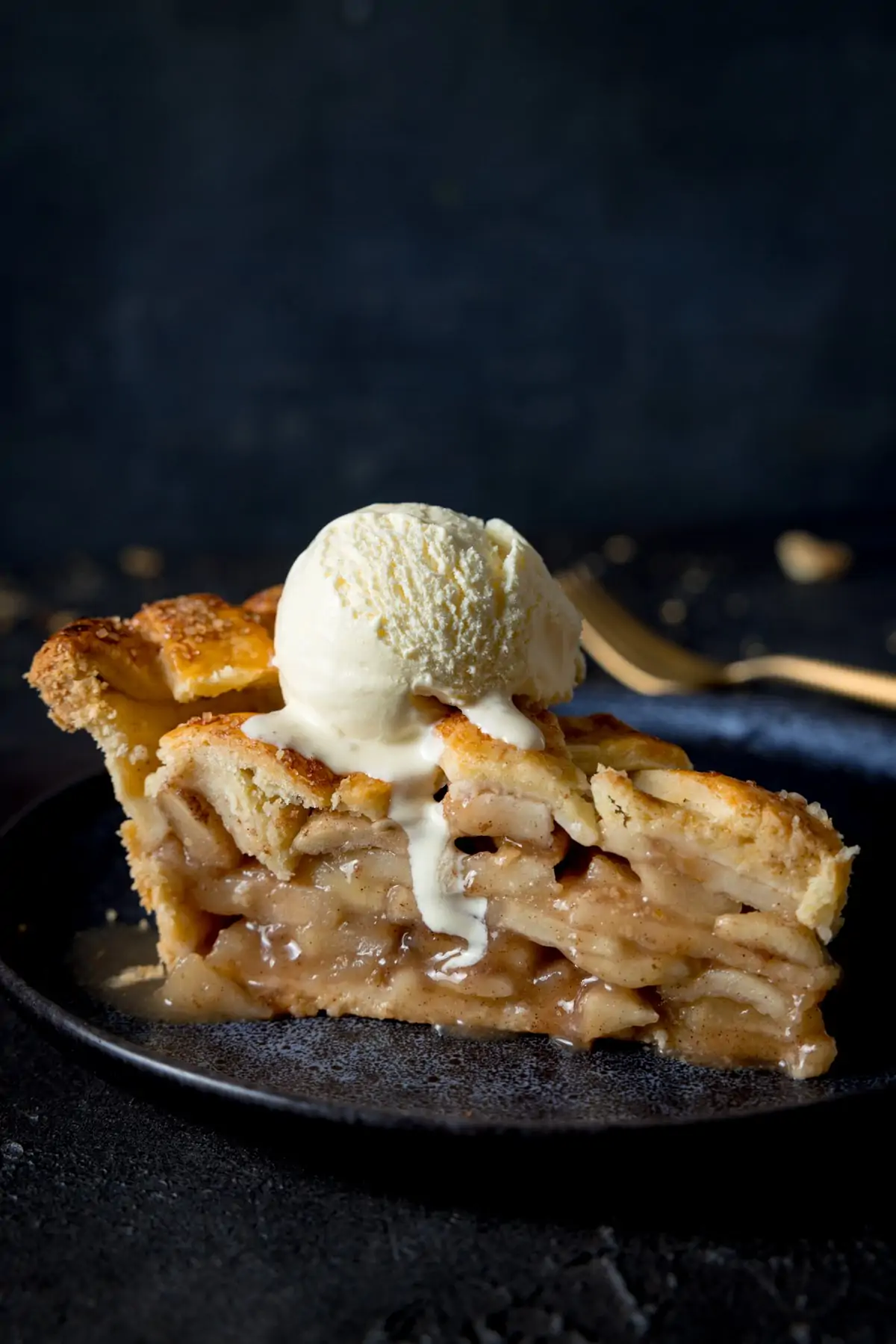 Jump to:
Apple pie and custard or Apple pie and ice cream, or with simple good old double cream (heavy cream) or maybe you like it on its own.
My family and I are divided, I love it with custard, Chris loves it with ice cream and the kids love it with both! and why not?
This is a beautiful classic dessert and just the best thing to serve after a big Sunday roast, you will love the oohs and aahs of delight when you bring this to the table, it just puts a smile on everyone's face, and a little smug one for you too.
It's easier than it looks and I have tested this recipe thoroughly for you and can guarantee a crisp, delicious, buttery pastry top with sweet and tangy apple pie filling and just the right amount of warming winter spices to make you feel like a domestic goddess in your very own kitchen, this is definitely one of our favourites and hopefully will be yours too.
🍏 What do we need?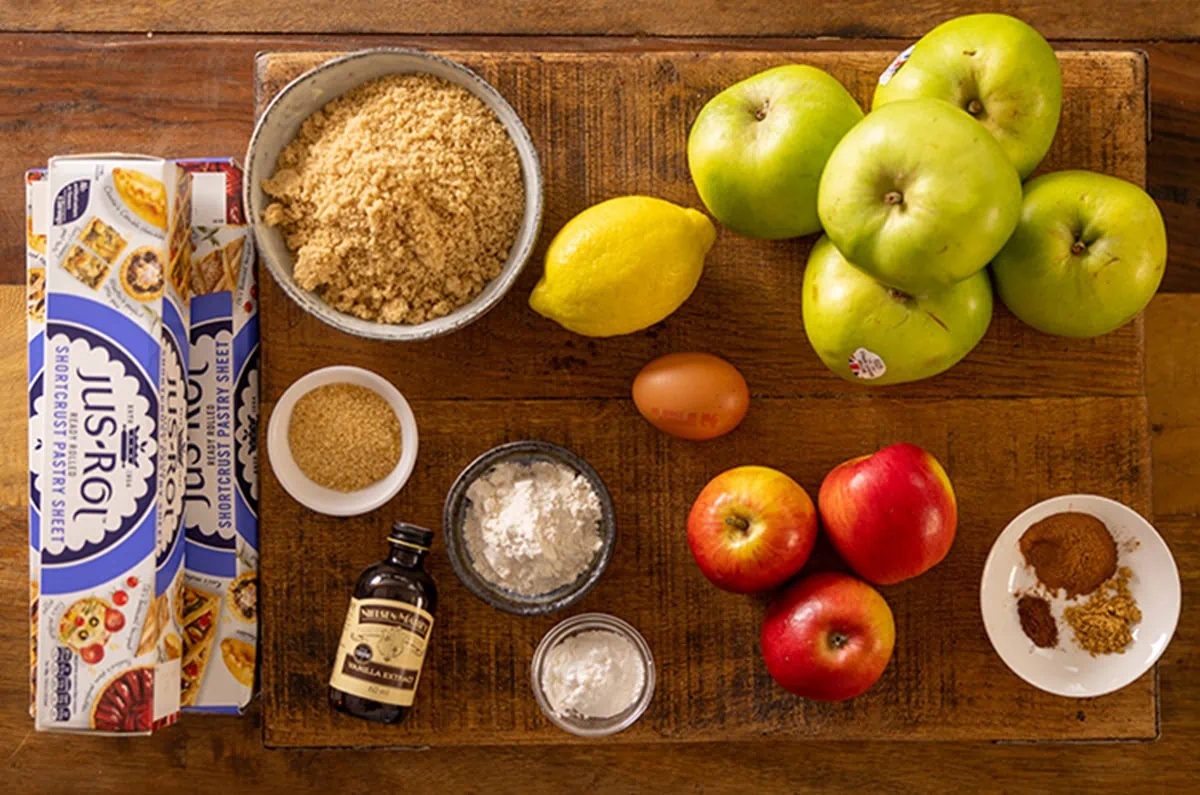 Apples*
Pastry - I use ready rolled shortcrust pastry sheets but you can make your own if you prefer.
Sugar - Soft brown for the sweetness of the interior and coarse sugar for the topping.
Cornflour (cornstarch) to help thicken the sauce
Full list of ingredients and quantities in the recipe card at the end of this post.
*Note on the apples:
Choose apples that have the same cooking time and give a good balance of sweetness and sharpness.
I recommend using Bramley and Jazz apples, you can use Granny Smith and Jazz or Pink Lady, or you can just use Bramley apples if you prefer.
---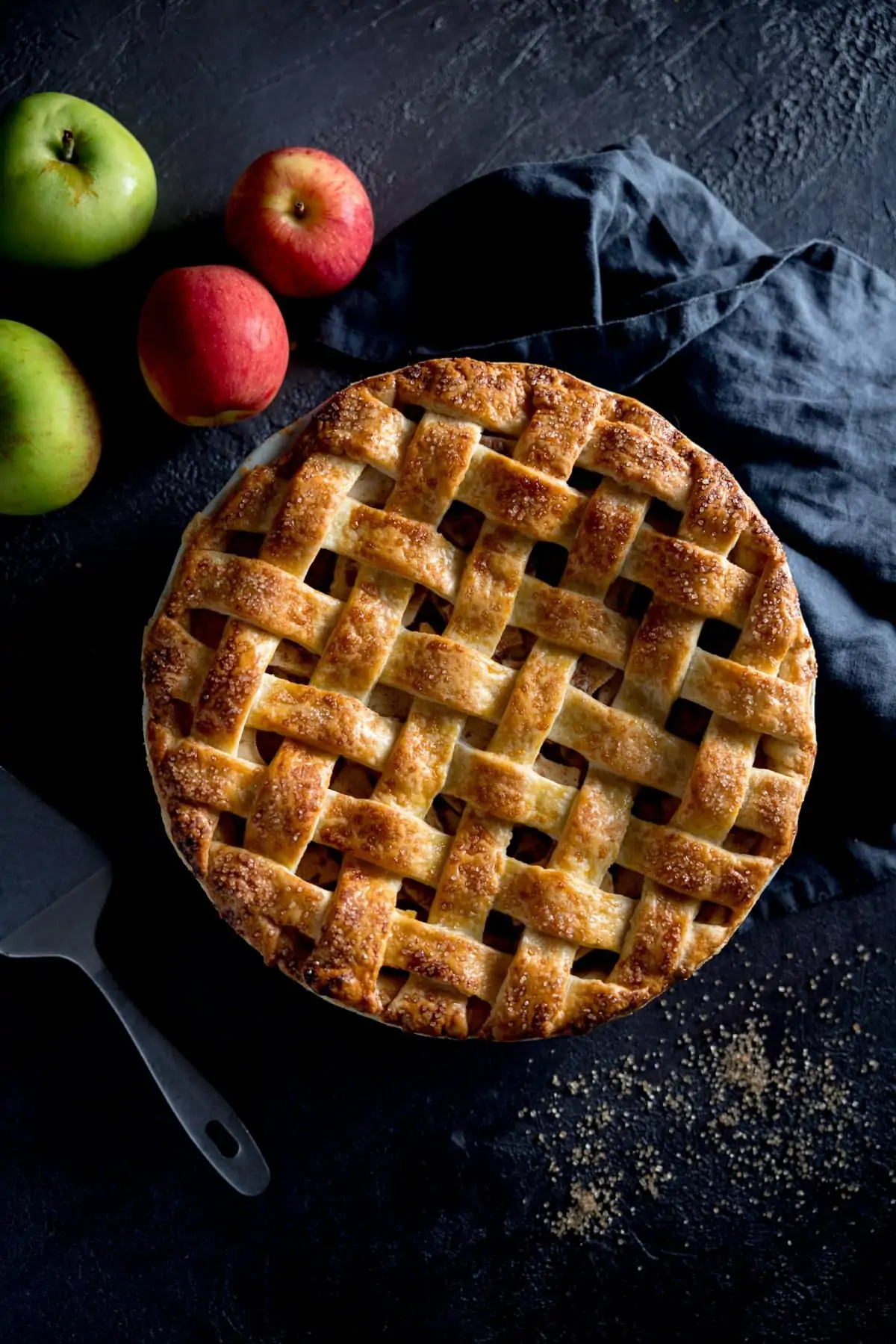 🥧 How to make it
Full recipe with detailed steps in the recipe card at the end of this post.
Line your dish with rolled out pastry and keep in the fridge until ready to use.
Toss the sliced apples in lemon juice, then the flour, cornflour, cinnamon, mixed spice and cloves.
Stir in the sugar and vanilla extract, then carefully arrange and pack the apples into the waiting pastry lined tin, trim the edge of the pie dish and brush with egg wash
Lay pastry strips over the apple filling, weaving them into a lattice effect, then brush with egg wash and sprinkle with sugar and bake for 55 - 60 mins until golden brown.
👩‍🍳PRO TIP Don't forget to add the lemon juice, as this will stop your apples from going brown. Try to keep your apple slices the same size, and remember to pack them in and pile them high!
This is Autumn on a plate for me, it's so beautiful I almost didn't want to cut into it.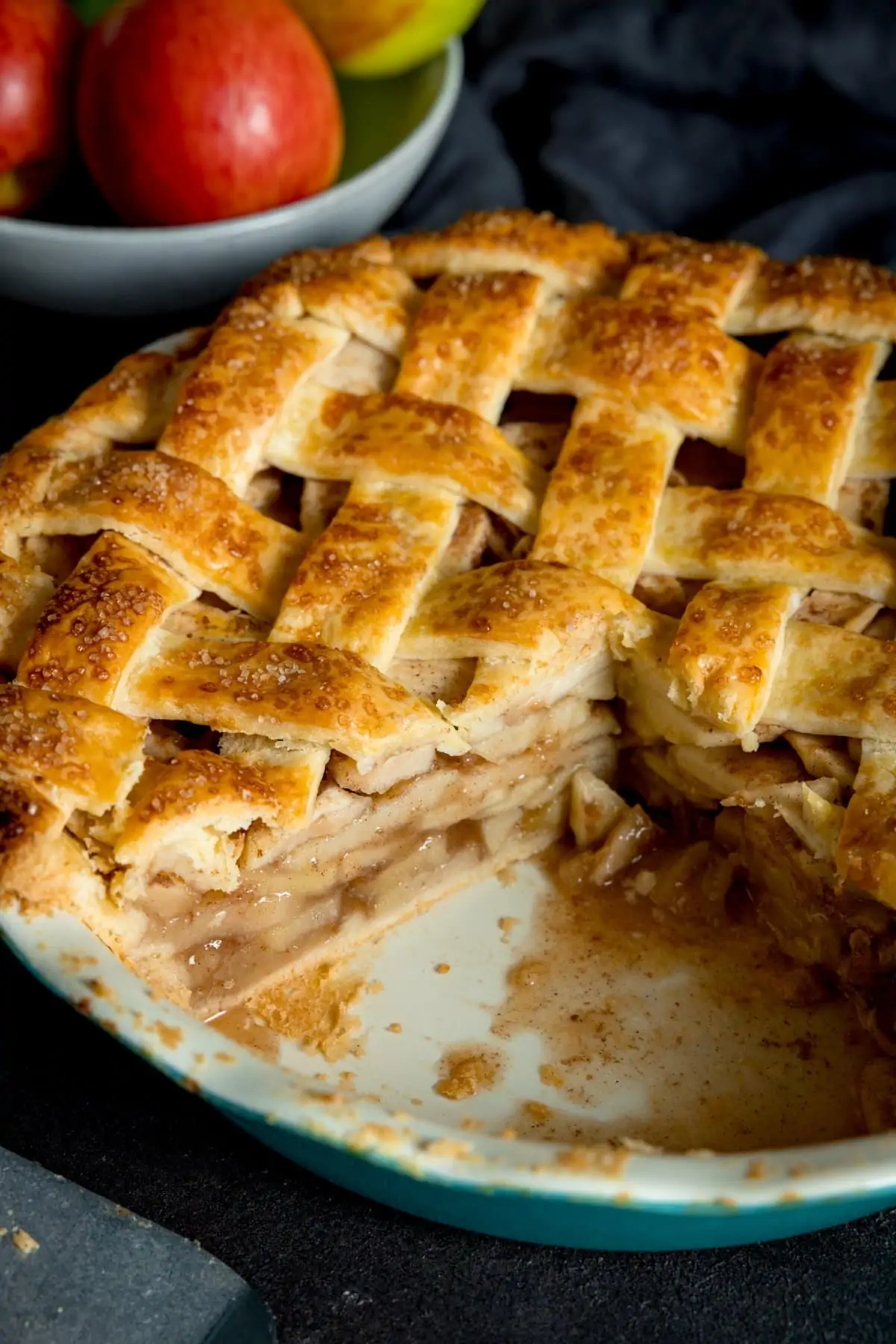 Bringing this to the table on a cold and windy Sunday afternoon will bring smiles all round, as well as a lovely warm glow to your cheeks, (and a happy tummy) especially with lashings of warm custard.
What will you serve with yours? Custard, Ice Cream or be a devil and serve both.
---
🙋 FAQ's
Best Apples to use for the apple pie?
I use a mixture of Bramley cooking apples for tanginess and Jazz apples for sweetness. They cook in the same amount of time, so will both soften equally, without going squishy.
Can I make it ahead?
Yes, this reheats well in the oven. Don't microwave though as it will make the crust soggy.
Serving cooled or just warm pie is also great (cooling the pie allows the sauce to thicken further, so the apple pie keeps its shape really well when slicing).
Why does my apple pie have gaps between the apples?
Apples should be carefully placed in the pie, and apple varieties should have approx the same cooking time. Apples should be piled up very high as they will shrink down a little on cooking and you want to keep the filling full and compact!
How do I get a crispy crust underneath?
Avoiding a soggy bottom without blind baking: we are using cornflour to thicken the sauce as it escapes from the apples that are cooking. Also using a simple lattice pattern on top which allows more steam to escape.
What do I do if the crust browns quickly?
Loosely place some foil over the pie in the oven during cooking if you see it's going brown too quickly.
---
Stay updated with new recipes!
Subscribe to the newsletter to hear when I post a new recipe. I'm also on YouTube (new videos every week) and Instagram (behind-the-scenes stories & beautiful food photos).
📋 Deep Dish Apple Pie Recipe
This deep dish apple pie is filled with layers of apple and winter spices. A sweet, tangy apple pie, without that dreaded soggy bottom.
Ingredients
3

x 320g

(3x 11.2oz) rolls shortcrust pastry

5

large cooking apples

3

sweet eating apples

-

such as Jazz or pink lady

2

tbsp

lemon juice

3

tbsp

plain (all purpose) flour

1

tbsp

cornflour (cornstarch)

1

tsp

ground cinnamon

¼

tsp

ground ginger

Pinch

of ground cloves

150

g

(¾ cup) light brown sugar

1

tsp

vanilla extract

1

small egg

-

lightly whisked
Topping:
1

tbsp

coarse brown sugar
INSTRUCTIONS
Preheat the oven to 190C/375F

Unroll two of the rolls of pastry. Line a deep pie dish (mine is 24cm diameter by 5.5cm deep) with the pastry. Don't worry about there being a line where the two pieces of pastry meet – just squish them together. You should have some pastry left over. Save this for the top of pie.

Place the pastry-lined dish in the refrigerator to chill while you prepare the filling.

Peel and core the apples, then slice into ½cm thick slices.

Place the apples in a large bowl and toss with the lemon juice to prevent browning.

Add the flour, cornflour, cinnamon, mixed spice and cloves and toss together to coat the apples. The flour will help you get a thick sauce in the apple pie.

Stir in the sugar and vanilla extract.

Arrange the apple mixture into the waiting pie dish. Try to arrange carefully, rather than just emptying them in the pie dish – you want to pack the apple slices, rather than have gaps.

Use a sharp knife to trim any pastry that may hanging over the edge of the pastry dish.

Brush the edge of the pastry with the egg wash.

Unroll the 3rd roll of pastry and slice into long strips, about 1.5-2cm wide. Slice the leftover pastry from the second roll too (these can be shorter strips, for the edges of the pie lattice).

To make the lattice, arrange strips vertically over the pie, leaving a ½cm gap in between each strip.

Fold back every other strip that you've just laid and place a horizontal strip of pastry across the top of the pie. Layer the strips of pastry you folded back into place, so it looks like you've weaved it together.

Repeat, folding back the strips of pastry that that weren't folded back previously. Layer another horizontal strip of pastry on top, leaving a ½cm gap between that strip and the previous strip. Place the folded back pastry back into place.

Continue this way, weaving the pastry, until the whole pie is covered.

Use a knife to trim off any pastry overhang.

Brush all exposed pastry with egg wash.

Sprinkle the coarse sugar over the top of the pie.

Place in the oven to bake for 55-60 minutes, until the pastry turns deep golden brown. If the pie starts to look too brown after the first 30 minutes, gently cover in foil. If covering in foil, cook for the full 60 minutes.

Remove from oven, cool for 15 minutes before slicing.
✎ Notes
Nutritional information is approximate, per serving (this recipe serves 12).
Nutrition
Calories:
370
kcal
Carbohydrates:
75
g
Protein:
7
g
Fat:
5
g
Saturated Fat:
1
g
Polyunsaturated Fat:
1
g
Monounsaturated Fat:
3
g
Trans Fat:
1
g
Cholesterol:
14
mg
Sodium:
397
mg
Potassium:
217
mg
Fiber:
5
g
Sugar:
26
g
Vitamin A:
86
IU
Vitamin C:
7
mg
Calcium:
31
mg
Iron:
3
mg
Some of the links in this post may be affiliate links – which means if you buy the product I get a small commission (at no extra cost to you). If you do buy, then thank you! That's what helps us to keep Kitchen Sanctuary running. The nutritional information provided is approximate and can vary depending on several factors. For more information please see our Terms & Conditions.