Portable Apple Crumble Jars - with a custard core!! Eat them hot or cold for a fab picnic treat!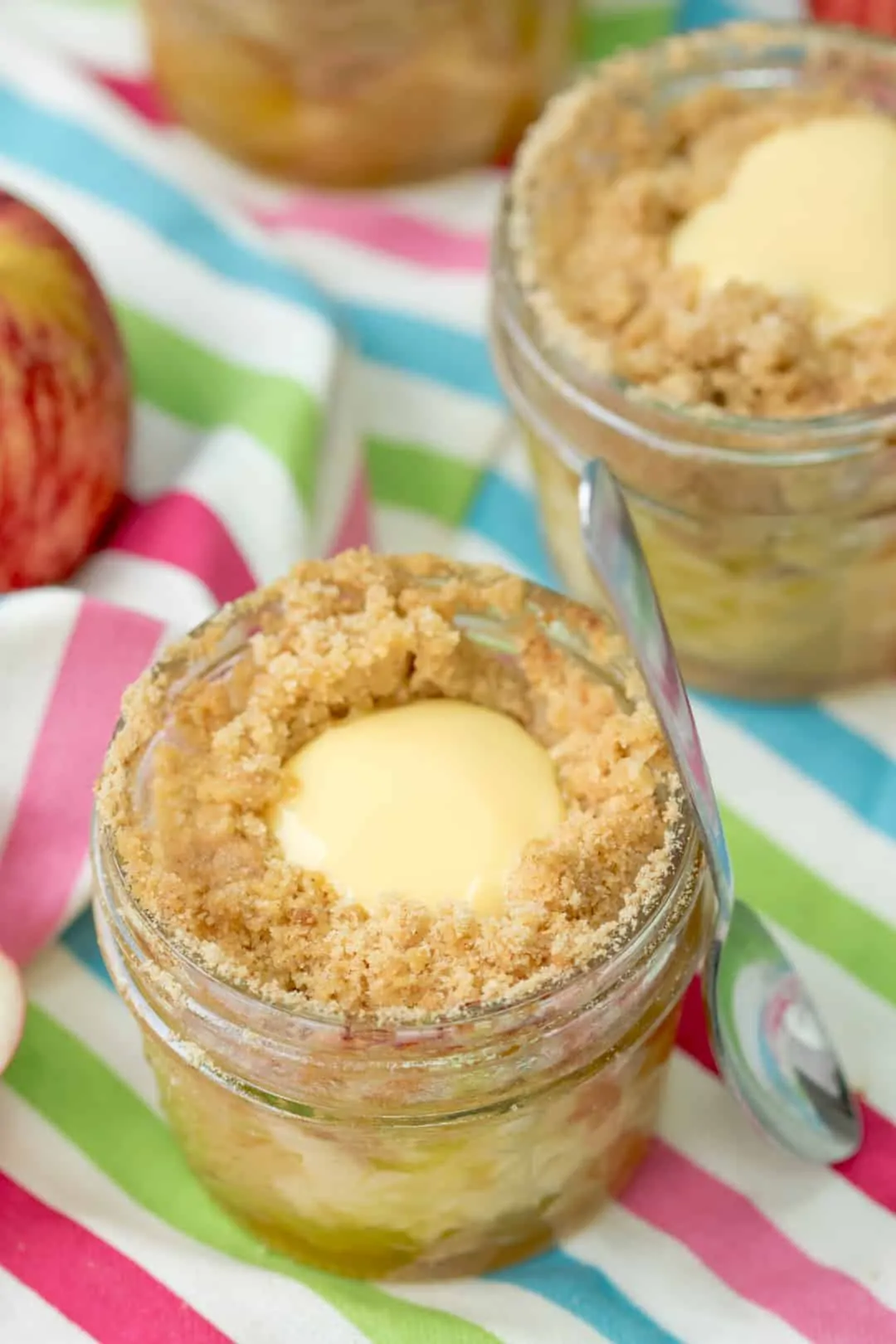 I LOVE apple crumble and custard (so much so, that you can nearly always find a bag of crumble mixture in my freezer - for crumble related emergencies!).
I was making crumble in preparation for some apple crumble ice lollies I was planning to share with you.
The ice lollies kind of worked. They were really tasty, but they just don't look that great. So I haven't posted them so far. I might have to give it one more go, you know for the sake of everyone in the world who loves ice lollies. Not just because I want to eat more of them. Ahem.
Since I was cooking up big batches of apples anyway, I decided to experiment with the regular hot pudding dish, and came up with these little cuties.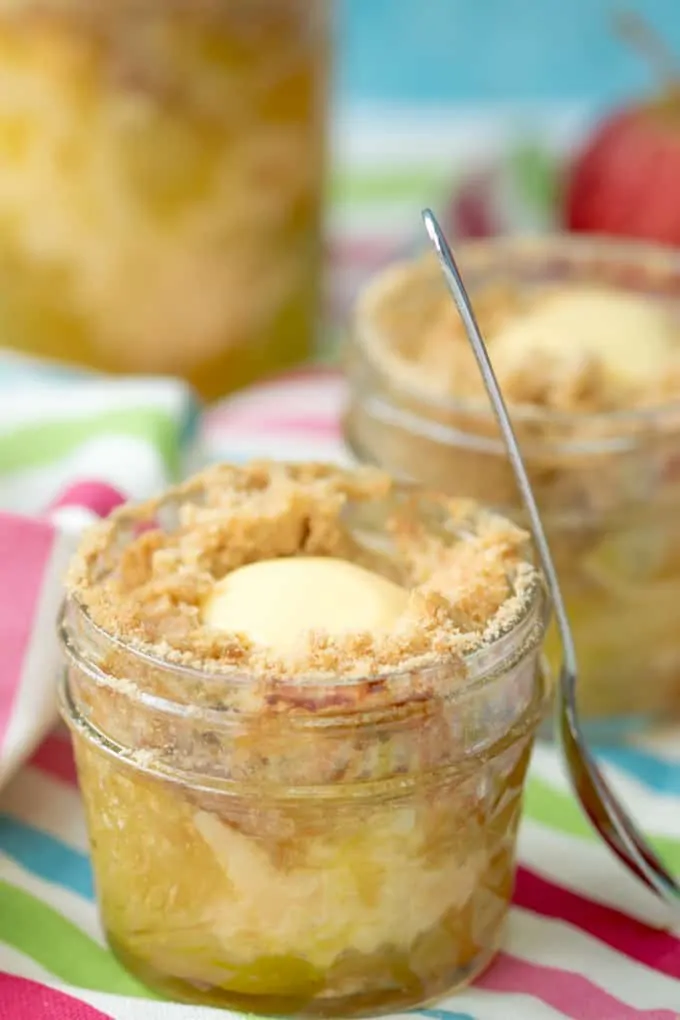 Before I go into the Portable Apple Crumble Jars recipe, I wanted to let you guys know that the Neff Next Cookaholic Competition is open (btw, Neff aren't paying me to write this)!
In case you haven't heard me going on (and on) about it, I won the competition last year (read my post here), which resulted in me coming away with a prize of £10k worth of kitchen equipment.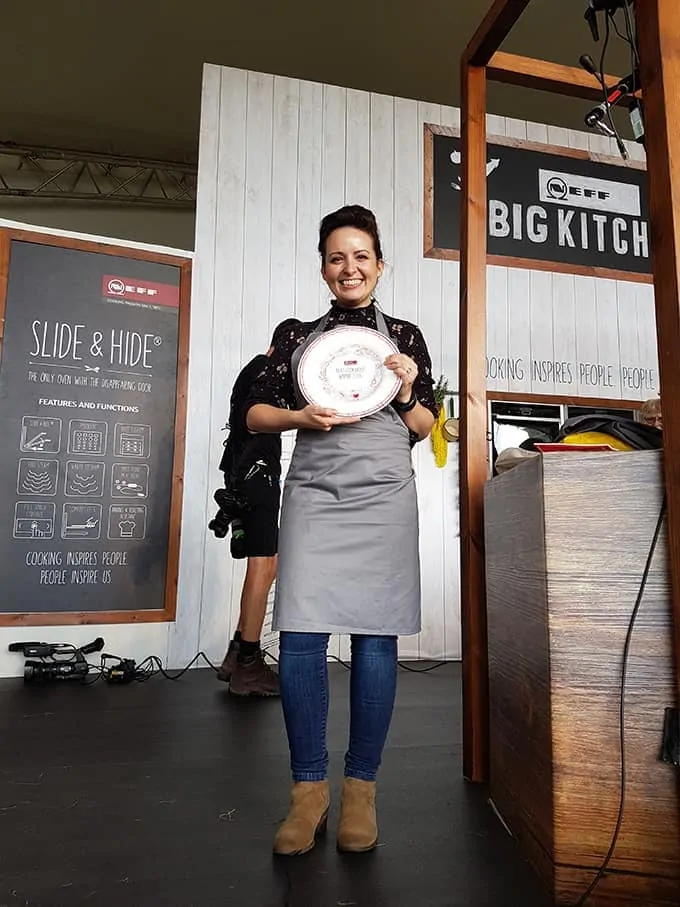 For me, it was perfect timing, as we were remodelling the kitchen anyway, so we saved a fortune on new appliances. My kitchen reveal with all the new goodies in is here.
The competition (<-- enter here) is open again now until the 3rd of July ! It's only open to the UK unfortunately (sorry if you're outside the UK!). So you've got less than two weeks to get your entry in! You don't have to be a blogger or a photographer to enter - just someone who loves cooking and experimenting in the kitchen.
No fancy camera equipment needed (a grainy, wonky picture of that special dish does not automatically equal rejection.) - take a pic on your phone and send it in. There's space to include some information about the recipe, so let your passion for cooking shine through.
Since I've been through the competition before, I thought I'd share my experience with you, so you can get an idea of what the comp involved, and what it's done for me since.
The competition is split into three stages. The first stage (with the 3rd July deadline) requires you to enter one of your own recipes with a twist - and a photo of your creation too.
Once the competition closes, the judging panel will go through the entries and make a shortlist of 8. I'm on the judging panel this year, which I'm very excited about! In my head, we're all going to be sitting behind a desk with buzzer - like something out of Britain's Got Talent. But I'm pretty sure it'll actually be a quiet meeting or teleconference.
The 8 entrants will then be asked to make a very short video on what inspires them to cook and why they want to be the Next Cookaholic. No fancy equipment needed, just a camera phone and plenty of enthusiasm needed.
From there, 2 contestants will be picked, who will then perform in a live cook-off at the Big Feastival in Chipping Norton on Saturday 26th August 2017.
Now don't immediately switch off. I know a cook-off sounds absolutely terrifying. And in fact, if I'd have read the terms of the competition properly before entering last year (whoops - wrist slap), that bit would probably have scared me off.
Just let me say - that day at the Big Feastival was SO MUCH FUN!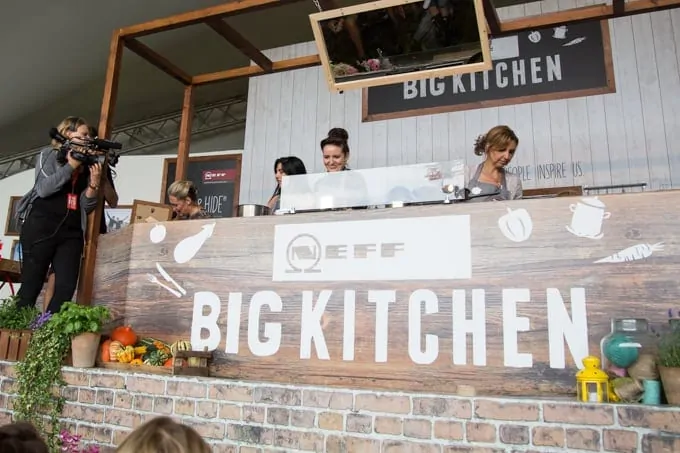 Myself and my competitor - Janey - were treated brilliantly. We got to wander around the Feastival, meet the teams, eat lovely food, play with the Neff equipment, and go backstage to use the same kitchen that the famous chefs and their teams were using.
Last year, I knew what I was cooking in advance and we had time to do some prep work too, so I felt very well prepared.
We had the compère on stage - to keep the audience entertained, as well as Stacey Stewart - who was the judge. The whole cook-off was about fun and food - not about sweaty-palmed nervousness.
So, what happened after the competition?
Well immediately after, there were lots of photos to be taken, and my family came up on stage too. We were free to go and enjoy the rest of the Feastival after that.
Once home, and after everything had started to settle in, I had a few meetings with Neff, and I chose the equipment I wanted.
Since I'm a blogger, I naturally pitched some ideas to them about some recipes, photos and videos I could do for them. We came up with a plan, and I started off with creating some Christmas recipes for them (like this and this).
At the same time, all the building work was going on at home, with the extension we were building. Once that was all up and the new kitchen was in, I went and visited Neff again, and then they came to visit me in my new kitchen!
We did a photoshoot and a videoshoot with The Telegraph, and I even got my make-up done for me (woo hoo - I felt very spoilt!). I also did some recipes for Neff and The Telegraph (check them out here).
I'm having loads of fun working with them -(I recently got to visit the Neff factory in Germany, where we were treated to the most amazing 14-course meal), and my confidence has soared when it comes to building and growing Kitchen Sanctuary.
Don't forget to check out my Picnic post for more picnic ideas!
Ok, back to the recipe - here it is!
The Portable Apple Crumble Jars Recipe:
Portable Apple Crumble Jars
Portable Apple Crumble Jars - with a custard core!! Eat them hot or cold for a fab picnic treat!
Ingredients
575

g

approx 3 large Bramley apples, peeled, cored and chopped in 1 cm cubes

2

tbsp

golden caster sugar

185

g

plain (all-purpose) flour

120

g

cold butter, cut into 1cm cubes

110

g

granulated sugar or golden caster sugar

1

tsp

cinnamon

500

ml

custard - ready-made is fine
INSTRUCTIONS
Preheat the oven to 190C/375F

Place the apple pieces in a saucepan with the 2 tbsp of caster sugar and 1 tbsp cold water. Heat on a medium heat for 5-6 minutes, stirring occasionally, until the apples starts to soften. Turn off the heat.

Place the plain flour in a bowl and add the butter. Pinch/rub the butter into the flour until combined and mixture looks like breadcrumbs, with some large lumps still left in it (it adds more texture and crunch if you have some larger lumps still in there). Stir in the cinnamon.

Take 6 small glass jars (mine were 135ml or 4+¾ oz) and place on a baking tray.

Now take 6 pieces of kitchen foil - about the size of A4 paper, and fold/roll each one into a cylindrical shape, about the size of a white-board marker (approx 10-12cm long with 1+½ cm diameter).

Hold one of the foil cyclinders stood up in the middle of your glass jar, and spoon the apple mixture into the jar, around the foil - so that the apple mixture comes up about ⅚ of the way up the jar.

Spoon the crumble mixture on top, so that it's a little higher than the top of the jar. The foil should now stay in place. Repeat with the remaining jars.

Place the crumbles in the oven and cook for 20-25 minutes until the crumble is golden. The mixture will shrink down a little in the jar as the apples soften further.

Take the tray out of the oven and carefully remove the foil pieces using a gentle twisting motion.

If you're serving the crumbles hot, you can either heat the custard and pour in the holes before serving, or you can pour into the holes cold and place back in the oven for another few minutes (this will give you a skin on the custard).

If serving cold, wait for the crumbles to cool, then pour in cold custard. Place a lid on the jars and refrigerate until ready to serve.
✎ Notes
Nutritional Information is per serving, based on 7 small jars.
Nutrition
Calories:
396
kcal
Carbohydrates:
58
g
Protein:
5
g
Fat:
16
g
Saturated Fat:
10
g
Cholesterol:
66
mg
Sodium:
171
mg
Potassium:
213
mg
Fiber:
2
g
Sugar:
28
g
Vitamin A:
565
IU
Vitamin C:
2.9
mg
Calcium:
95
mg
Iron:
1.5
mg