This Brisket Sandwich with garlic sauté potatoes and homemade coleslaw is proper man-food - perfect for Father's day!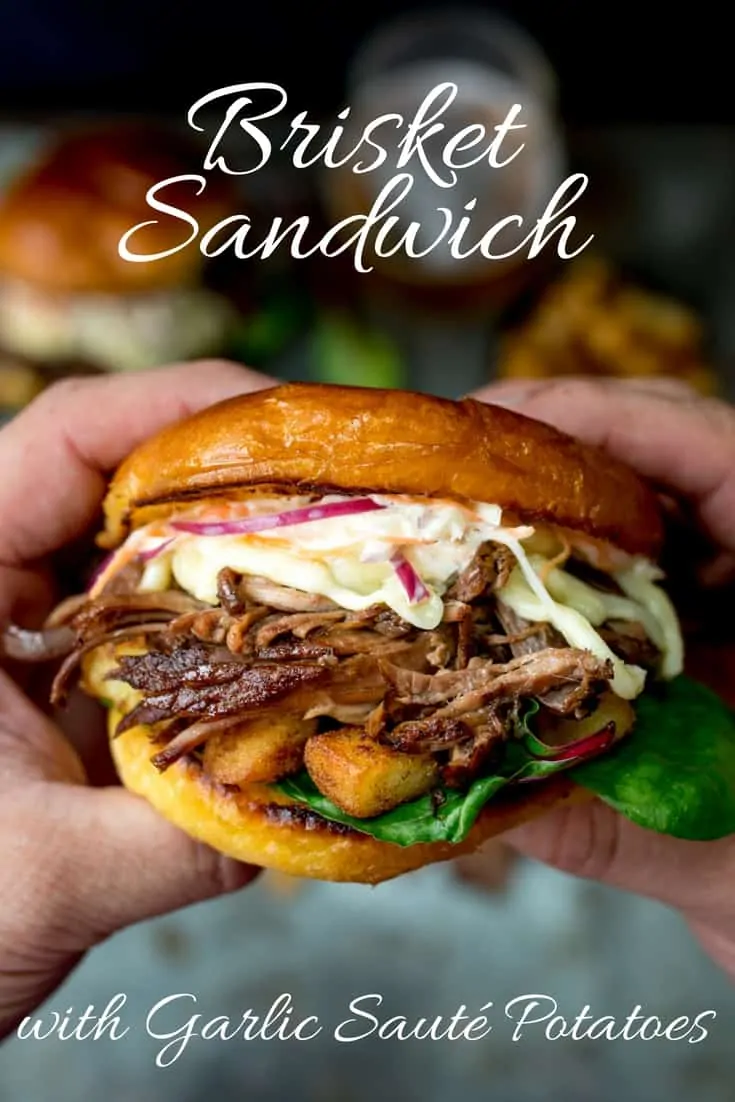 The day has finally arrived! Chris has finished his IT job after 17 years, and is officially coming on board with Kitchen Sanctuary!
We're both a little terrified, but extremely excited!
I'm mostly looking forward to:
Having someone to share the workload - I've worked until close to midnight every night this week - despite this only being my second post of the week (freelance work, cookery class review, and the dreaded tax return taking up most of my time). Working all day and then again in the evening seems to be more like the norm in recent months.
Having the capacity to actually follow through on ideas for expanding and updating the blog.
Taking total advantage of Chris's brilliant management, organisation skills and commitment - this is the guy who rang up security on his last day of work for an emergency pass, because they'd removed his access a few hours early (expecting him to leave early on his last day). Not Chris - he still had work he needed to get done, and wasn't leaving till he'd finished!
Being able to do recipe video work during the day - instead of waiting for evenings and weekends.
Sharing the washing up (yay! possibly the best bit!) and transporting the kids everywhere (the 9:00am and 3:30pm school runs seem to shorten my working hours by far more than the actual amount of time they take up!).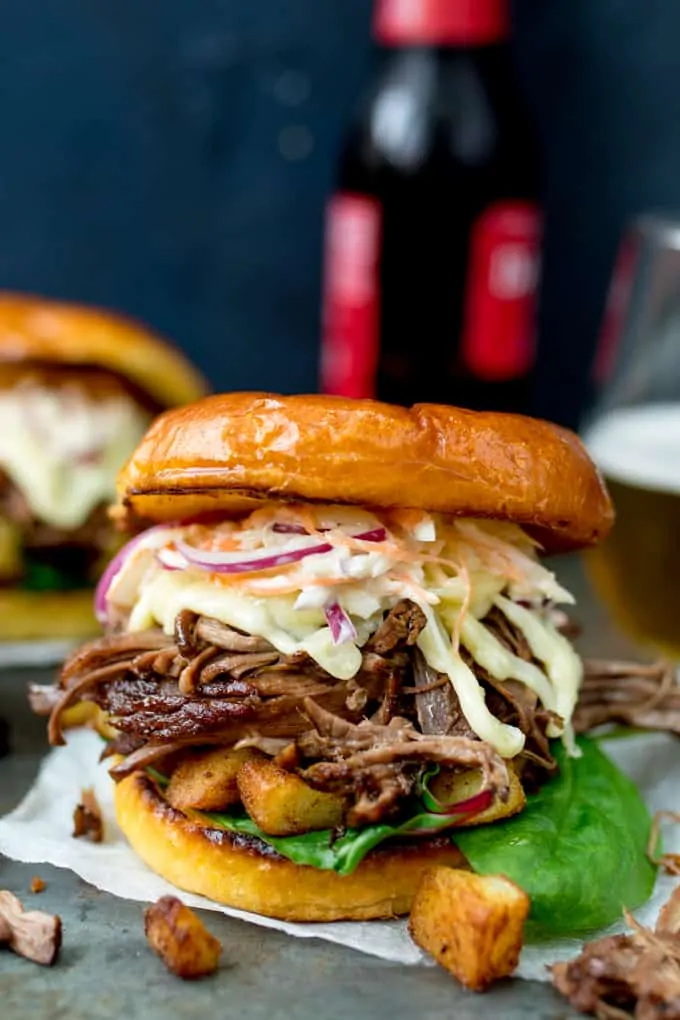 Things I'm not looking forward to:
The downside of Chris's organisation skills and commitment - I have no doubt that Chris will be dragging me out of bed to start work at 6am so we can get the most out of our day, without having to work late into the evenings. I'm a night owl. Mornings are not my friend. I get it, and I agree with this approach, but it'll be a different story when that alarm goes off.
My difficulties in relinquishing control on anything. I like things done my way. By me. I think the only way I might learn to share, is if I get a chocolate treat each time I do well. Yes, I am a puppy at heart.
Not being able to spend an hour (ok two) browsing Facebook because something I'm working on is too hard and I like being distracted by social media. He'll probably think that's all I do...
I'll be sure to keep you updated on things and will introduce Chris properly later in the month, once he's buried neck deep in bloggy stuff 🙂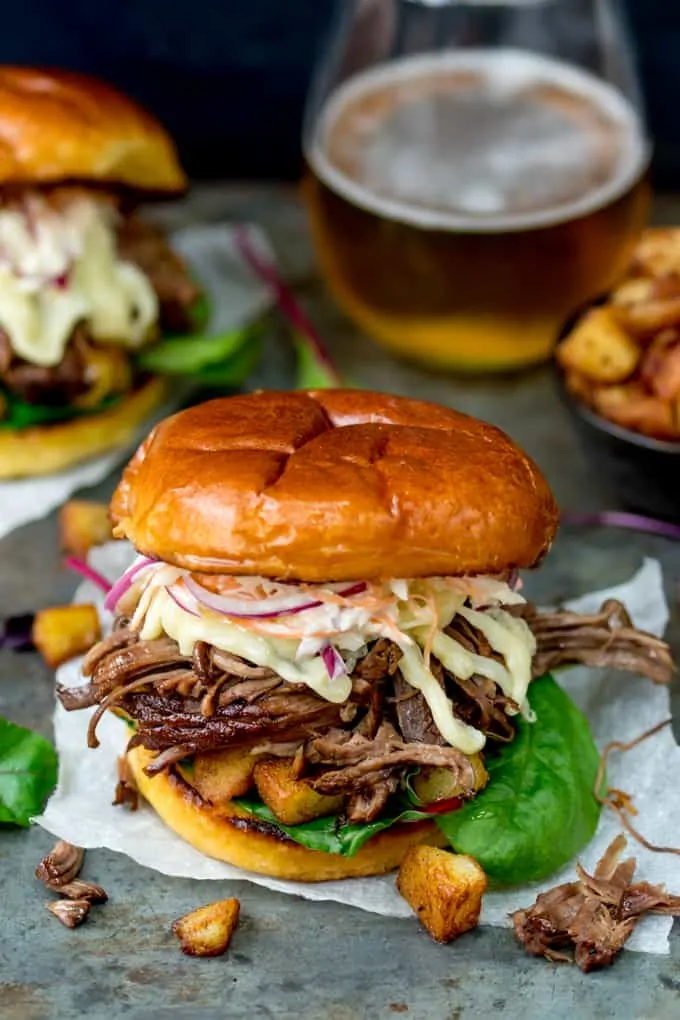 So getting back to the brisket sandwich - I decided to post this today because it's one of Chris's favourite sandwiches. He loves anything meaty (which is going to be interesting when I start testing some of the vegan recipes I picked up at a vegan cookery class I was on yesterday!).
Piles of slow cooked shredded beef brisket served with crispy, garlic-infusted sauté potatoes and creamy/crunchy coleslaw. Not forgetting the pile of melted Gruyere and the scattering of baby leaves - you know, just to make it feel a bit healthier!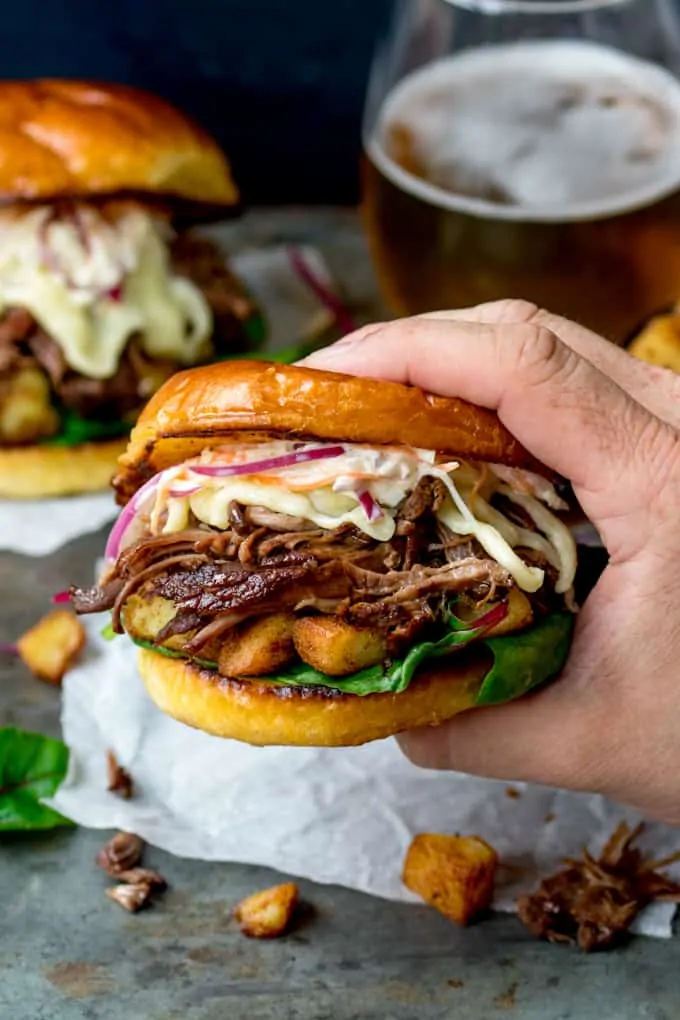 The Brisket Sandwich with Garlic Sauté Potatoes and Coleslaw Recipe:
Brisket Sandwich with Garlic sauté Potatoes and Coleslaw
This Slow cooked brisket sandwich with garlic sauté potatoes and homemade coleslaw is proper man-food - perfect for Father's day!
Ingredients
Brisket:
2

tbsp

vegetable oil

750

g

pounds beef brisket joint

½

tsp

salt

½

tsp

ground black pepper

1

tbsp

tomato puree/paste

1

tsp

dried thyme

1

tbsp

brown sugar

720

ml

beef stock

2

cloves

garlic

-

sliced in half (no need to peel)
sauté potatoes:
120

ml

vegetable oil

3

medium floury potatoes - such as Maris Piper

-

peeled and chopped into 1 inch chunks

½

tsp

salt

½

tsp

ground black pepper

2

cloves

garlic

-

peeled and minced
Homemade Coleslaw:
2

carrots

-

peeled and sliced into fine strips (use a mandoline if you have one)

½

a white cabbage

-

sliced into fine strips (use a mandoline if you have one)

1

small red onion

-

peeled and finely sliced

3

tbsp

good quality mayonnaise

1

tbsp

salad cream

¼

tsp

white pepper
Also:
100

g

gruyere cheese, grated//shredded

4

brioche burger rolls

-

sliced in half

2

tbsp

olive oil

large handful of baby leaf lettuce leaves
INSTRUCTIONS
Preheat the oven to 150C/300F.

Start with the brisket. Heat the oil in a large oven-proof pan, over a high heat. Pat the salt and pepper all over the brisket. Place the brisket in the pan and seal on all sides (should take about 6-8 minutes).

Turn down the heat and add in the tomato puree, thyme, brown sugar, stock and the garlic. Stir and bring to the boil. Turn off the heat, place a lid on the pan and place in the oven to cook for 3 hours, until tender. Check once or twice in the last hour of cooking an top up with a little hot water from the kettle if needed.

Make the coleslaw by mixing all of the coleslaw ingredients together. Cover and refrigerate until it's time to serve.

Place the potatoes in a pan of cold water. Bring to the boil and simmer for 5 minutes. Turn off the heat and drain off the water. Carefully give the pan a shake to 'fluff-up' the potatoes slightly.

When the beef is about 15 minutes away from being finished, make the sauté potatoes.

Heat the oil on a high heat in a medium frying pan. Place the potatoes in the pan and cook on high, turning often until golden brown.

Turn off the heat, allow the pan to cool for 30 seconds, then add the garlic to the pan (adding the garlic earlier will cause it to burn, giving it a nasty acidic taste). Give it a stir, to infuse the garlic flavour in the potatoes, then remove the potatoes from the pan with a slotted spoon. Place on kitchen paper to remove excess oil. Sprinkle on the salt and pepper.

Remove the beef from the oven. Place the beef on a chopping board (don't throw away the stock - it makes delicious gravy), and shred using two forks.

Make up four mounds of shredded meat and place them on a grill/baking tray. Top the meat with the grated gruyere.

Brush the insides on the brioche rolls with the olive oil. Place on the grill tray with the meat. Grill until the cheese is melted and the buns are lightly toasted on the inside.

Now it's time to assemble.

Place the bottoms of the buns on plates. Top with lettuce leaves and divide the potatoes between the four buns. Top each with once of the mounds of brisket and spoon a heaped tablespoon of coleslaw onto each. Place the tops on the buns and serve immediately!
✎ Notes
Nutritional Information is per serving.
Nutrition
Calories:
1173
kcal
Carbohydrates:
52
g
Protein:
57
g
Fat:
83
g
Saturated Fat:
47
g
Cholesterol:
220
mg
Sodium:
1400
mg
Potassium:
1513
mg
Fiber:
7
g
Sugar:
10
g
Vitamin A:
5825
IU
Vitamin C:
61.3
mg
Calcium:
396
mg
Iron:
9.2
mg