Crispy Chicken Tenders with Garlic Chilli Dip! My technique for chicken that's juicy on the inside, crunchy on the outside and packed with flavour!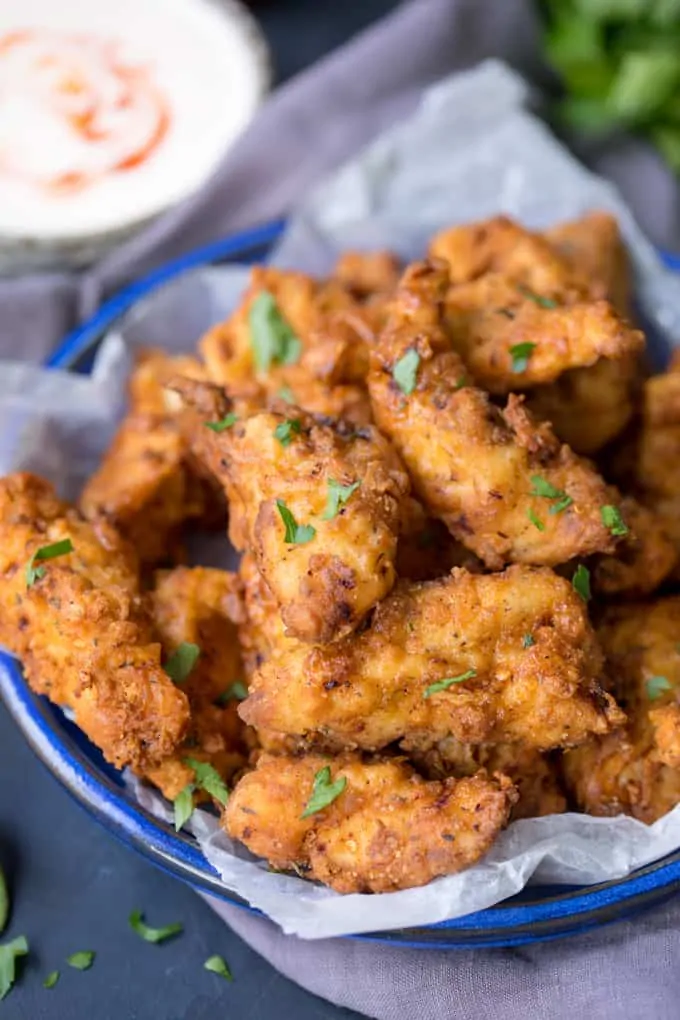 I worked in a fried chicken shop for 5 years when I was at high school and college, so I know my crispy chicken tenders!
Back then, most of the chicken was chopped in store on a bandsaw, but sometimes, when the cut stuff was running low, we had to get the cleaver out.
Yep, a 15-year old, with a cleaver, trying not to cut any fingers off.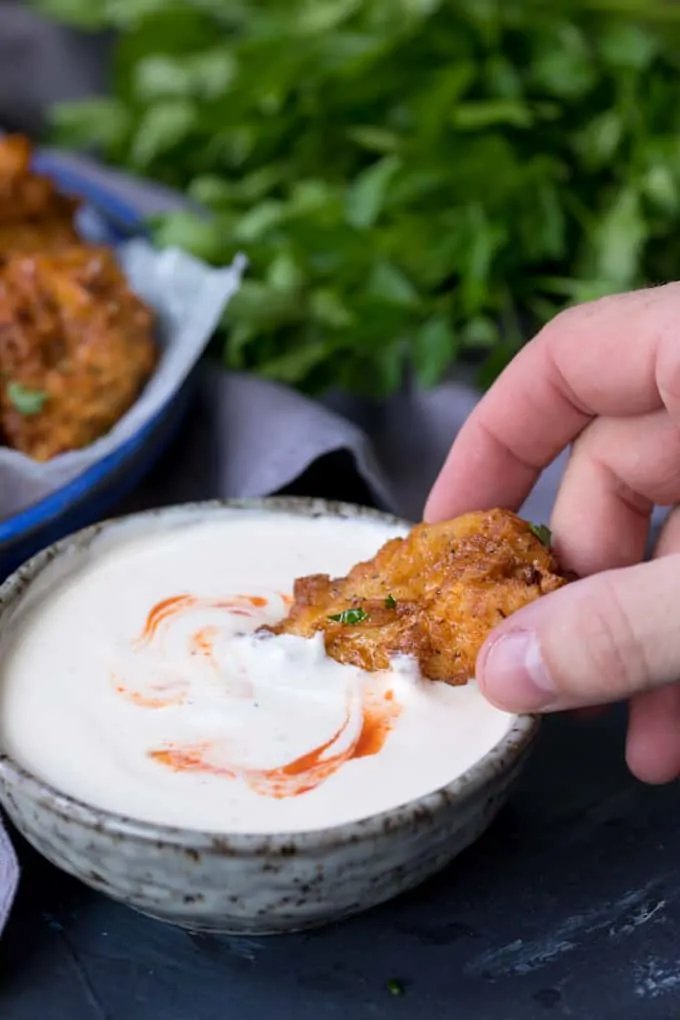 We also had a massive old pressure cooker, a burger grill that literally spat out flames (those burgers tasted amazing though) and more than a few interesting/scary customers. Especially when I was:
A: Working on my own - which was quite often during my year before university!
and
B: Serving the worse-for-wear customers in the early hours of the morning - when the nightclubs had chucked out.
It's safe to say that job was a confidence builder! And whilst I vowed at the time that I wouldn't work in a fast food shop again, I managed to fall into a job at Wimpy during the first couple of my Uni years!
No fried chicken there though!
So, coming back to the chicken....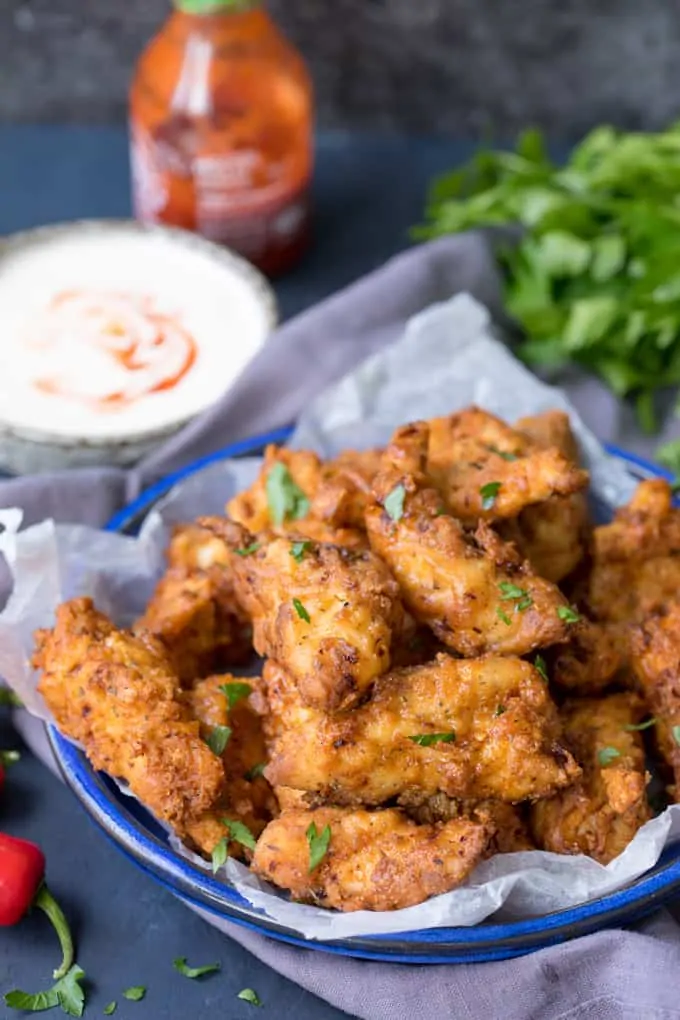 In those days, the chicken was simply coated in a special blend of spices and flour (I don't have the secret recipe - it came ready-mixed in great big sacks), and then fried. Simple and delicious!
I use my own special blend of spices with these crispy chicken tenders, and after a fair bit of tasting and experimentation, I think I've got it spot on, or even better. I also use this coating recipe in my crispy chicken burger and Chinese crispy chicken!
Lewis tell me it's the best chicken he's ever tasted. Whilst Gracey is too busy stuffing her face with second and third helpings to actually say anything.
Because I'm using chicken breast pieces - rather than chicken on the bone (which is naturally more juicy and tender) - I marinate the chicken in a simple mixture of buttermilk, salt, pepper and garlic salt for at least an hour first. Trust me, this makes ALL the difference!
Go heavy on the coating, then fry until beautifully golden. I use our deep fryer for this, but I am experimenting with an oven-baked version, so I'll update you when I've perfected that recipe.
Perfect crispy chicken, with a hint of chilli spice (leave it out if you don't like it spicy, it still tastes amazing!).
The Crispy Chicken Tenders with Garlic Chilli Dip Recipe:
Crispy Chicken Tenders with Garlic Chilli Dip
Crispy Chicken Tenders with Garlic Chilli Dip! My technique for chicken that's juicy on the inside, crunchy on the outside and packed with flavour!
Ingredients
4

chicken breasts

-

sliced into long, thick strips

240

ml

1 cup buttermilk

½

tsp

salt

¼

tsp

white pepper

¼

tsp

garlic salt
Crispy Coating:
180

g

1 ½ cups plain (all-purpose) flour

1

tsp

salt

1

tsp

ground black pepper

½

tsp

garlic salt

½

tsp

celery salt

1

tsp

dried thyme

1

tsp

paprika

1

tsp

baking powder

1

tsp

chilli flakes

vegetable oil for frying
Dip:
3

tbsp

buttermilk

2

tbsp

sour cream

2

tbsp

mayonnaise

2

tbsp

chopped coriander

Juice of half a lime

¼

tsp

salt

¼

tsp

black pepper

1

small garlic clove peeled and crushed

1

tsp

sriracha
INSTRUCTIONS
Place the chicken in a bowl. Add the buttermilk, salt, pepper and garlic salt. Mix together, cover and place in the fridge to marinade for at least 1 hour (up to over night)

Preheat the oven to a low heat (to keep cooked chicken warm). Heat a large pan of vegetable oil (or preheat your deep fat fryer) until hot (you can test by dropping a small cube of bread in there, if it rises immediately to the top and starts to bubble rapidly, it's hot enough). You'll need at least 1 litre (4 cups) of oil.

Mix together the crispy coating ingredients in a small bowl. Take the chicken out of the fridge. Lift a piece from the buttermilk and allow the excess to drip off. Dredge the chicken in the crispy coating mixture – ensuring it's fully covered. Place on a tray and repeat until all of the chicken is coated.

Once the oil is hot enough, add in 5 or 6 of the chicken tenders. You can add more or less depending on the size of your pan, just be sure not to overcrowd the chicken. Cook for 3-5 minutes until golden brown and cooked in the middle. You can check this by cutting open a piece of chicken, if it's no longer pink in the middle, it's cooked.

Place on a tray in the oven to keep warm whilst you cook the rest of the chicken.

Mix together the dip ingredients and serve with the crispy chicken.
✎ Notes
Nutritional Information is per serving. This info is approximate, as all of the flour may not be used up in coating the chicken (I've counted all of the flour as part of the nutritional info though). Also, I've included 1 tbsp of oil per serving to account for the oil that is absorbed during deep drying (this is an *approximate* amount, the chicken may absorb more or less).
Nutrition
Calories:
471
kcal
Carbohydrates:
26
g
Protein:
36
g
Fat:
23
g
Saturated Fat:
13
g
Cholesterol:
105
mg
Sodium:
1448
mg
Potassium:
753
mg
Fiber:
1
g
Sugar:
2
g
Vitamin A:
445
IU
Vitamin C:
2.6
mg
Calcium:
110
mg
Iron:
2.4
mg
Some of the links in this post may be affiliate links – which means if you buy the product I get a small commission (at no extra cost to you). If you do buy, then thank you! That's what helps us to keep Kitchen Sanctuary running. The nutritional information provided is approximate and can vary depending on several factors. For more information please see our Terms & Conditions.