I always make sure my husband Chris makes extra chilli-con-carne so I can make this mouth-watering chilli lasagne with the leftovers.
One of the things I love about cooking is taking some leftovers and turning them into something fabulous.
Roast chicken is usually my favourite - using the meat for something like Chicken al King, or the bones to make creamy chicken, mushroom and chilli soup.
Arancini from leftover risotto is a great one too.
And of course, not forgetting dessert!
Amaretti is the perfect way to use up leftover egg whites. Just freeze the leftover whites when you've been using the yolks to make custard or to glaze a pie, then defrost them when you need them.
This Chilli lasagne (or chili lasagna for you guys in the US) is another example of using the leftovers from a great meal and presenting it in a delicious and different way.
My husband is the chilli con carne chef in our house, so I get him to cook at least a double batch.  Then I'll freeze the other half and save it to make an easy lasagne later.
I've included the full recipe for Chris's chilli below, so you may be alarmed at how many ingredients there are, and how long the cooking time is.  But the recipe is really for two meals.
Ideally you'll just be grabbing the defrosted leftover chilli, which cuts the time down to about 40 minutes.
You'll probably have most of the ingredients for the chilli in your store cupboard, but if you're missing an ingredient or two (like the chipotle or the chocolate) don't worry too much, it's quite a forgiving recipe.
You may notice the recipe only calls for 500g/17.5oz minced/ground beef - to make 4 portions of chilli-con-carne and 4 little lasagnes. Believe me, it's not often my husband is light-handed when it comes to meat, but the sauce is rich enough, and there are plenty of other goodies in there like beans and peppers that you really don't need more meat.

I love serving these little pots with a giant salad and lots of toppings like fresh coriander, red chillies, sour cream and sliced red onions.
Do you have a favourite dish you make from leftovers? I'd love some more ideas!
More Mexican Inspired Recipes:
If, like me, you love cooking Mexican food then why not check out these other Mexican inspired recipes:
Stay updated with new recipes!
Subscribe to the newsletter to hear when I post a new recipe. I'm also on YouTube (new videos every week) and Instagram (behind-the-scenes stories & beautiful food photos).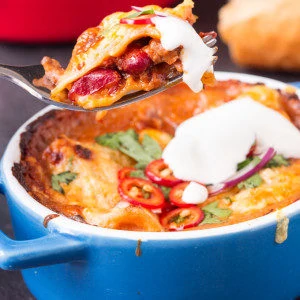 Chilli Lasagne
Chili Lasagna - Make a double batch of chili con carne so you can use the leftovers for this yummy meal.
Ingredients
For the Chilli Con Carne (note - you only need half of this for the recipe, so you can freeze the other half for later:)
2

tbsp

olive oil

2

large onions

-

peeled and chopped

6

cloves

garlic

-

peeled and chopped/crushed

500

g

(17.5 oz) lean minced beef

2

red bell peppers

-

chopped

375

ml

(1 ½ cups + 1 tbsp) full-bodied red wine

2

beef stock cubes

-

crumbled

3

tbsp

honey

100

ml

(½ cup minus 2 tsp) boiling water

2

tsp

ground coriander

2

tsp

mixed herbs

1

tsp

smoked paprika

4

tsp

cumin

3

tsp

ground ginger

2

tsp

hot chilli powder

1

tsp

chipotle paste

1

chopped fresh chilli

-

more if you like it hotter

3

tbsp

tomato puree/paste

4

tbsp.

Worcestershire sauce

1

tbsp.

tomato ketchup/paste

4

x 400ml

(4 x 14 oz)tins chopped tomatoes

20

g

(about 4 chunks) dark chocolate

2

x 400g

(2 x 14 oz) cans kidney beans, drained and rinsed

1

x 420g

(15 oz) can mixed beans, drained and rinsed
Remaining ingredients:
50

g

(¼ cup) butter

-

salted or unsalted

2

tbsp

plain (all-purpose) flour

250

ml

(1 cup + 2 tsp) whole full-fat milk

pinch

of salt and pepper

pinch

of nutmeg

-

optional

150

g

(1 cup + 4 tbsp) strong cheddar cheese, grated

5-6

dried lasagne sheets
To Serve:
Fresh coriander

-

chopped

Soured cream

Fresh chillies

-

sliced thinly

Thinly sliced red onion
INSTRUCTIONS
Make the Chili Con Carne first. Heat up the oil in a large, high-sided pan.

Add the onions and cook on medium/high for about 10 minutes until they're soft and translucent.

Add in the garlic and cook for a further minute.

Add in the mince and cook until just brown. Break any large pieces up with a wooden spoon.

500 g (17.5 oz) lean minced beef

Add in the red peppers and cook for another minute.

Add in the red wine, bring it to the bubble and simmer for 3 minutes.

375 ml (1 ½ cups + 1 tbsp) full-bodied red wine

In a cup, mix the stock cubes and honey with the boiling water. Pour it into the pan and give it a stir.

2 beef stock cubes,

3 tbsp honey,

100 ml (½ cup minus 2 tsp) boiling water

Add in the ground coriander, mixed herbs, smoked paprika, cumin, ginger, chilli powder, chipotle paste, fresh chilli, tomato puree, Worcestershire sauce and tomato ketchup. Give it all a mix and cook for a 2 or 3 minutes.

2 tsp ground coriander,

2 tsp mixed herbs,

1 tsp smoked paprika,

4 tsp cumin,

3 tsp ground ginger,

2 tsp hot chilli powder,

1 tsp chipotle paste,

1 chopped fresh chilli,

3 tbsp tomato puree/paste,

4 tbsp. Worcestershire sauce,

1 tbsp. tomato ketchup/paste

Add in the tinned tomatoes and bring to a simmer, stirring a couple of times. Add the chocolate and stir in until the chocolate has melted.

4 x 400ml (4 x 14 oz)tins chopped tomatoes,

20 g (about 4 chunks) dark chocolate

Leave to simmer gently, half covered for 1 hour. Give it a stir every so often.

After an hour, add in your kidney beans and mixed beans. Give them a stir and allow the chilli to simmer for another 20 minutes.

2 x 400g (2 x 14 oz) cans kidney beans, drained and rinsed,

1 x 420g (15 oz) can mixed beans, drained and rinsed

Your Chilli-con-carne will be ready at this point. So you can take out half, cool and cover it. Then refrigerate or freeze it for another day. The portion that you put away should serve 4 people.

Now you can start to make your lasagne. Preheat the oven to 200C/400F (fan).

Start by making the béchamel sauce - In a medium sized sauce pan, add the butter and melt over a medium heat. Once melted and bubbling slightly, add in the flour and whisk it into the butter. This is called a roux. It's important to use a whisk to help prevent lumps in your sauce. Keep gently whisking the roux over the heat for 1 or two minutes. Add in a good splash of milk, turn up the heat and whisk to incorporate. Then keep adding in the milk a good splash at a time, and whisking until all the milk is used up (this normally takes me about 3 or 4 minutes and I add the milk in about 5 splashes). Don't worry if you get a few lumps, keep whisking and they will disappear as the sauce thickens. Keep stirring the sauce with the whisk over the heat until your sauce thickens. Once thickened, add in the salt & pepper, the nutmeg and the half of the cheddar cheese. Stir together and then turn off the heat.

50 g (¼ cup) butter,

2 tbsp plain (all-purpose) flour,

250 ml (1 cup + 2 tsp) whole full-fat milk,

pinch of salt and pepper,

pinch of nutmeg,

150 g (1 cup + 4 tbsp) strong cheddar cheese, grated

Now it's time to construct your lasagne. I use 4 individual lasagne dishes, but you can use one larger family sized one (approx. 23cmx18cm) instead. Divide a third of your chilli between the lasagne dishes and flatten it so it covers the base. Then add a layer of lasagne sheet(s). I break my sheets up to make them fit the dish. Next spread a third of your béchamel onto top. Now add another third of the chilli, and place a layer of lasagne sheets on top. Spread on another third of the béchamel , then the remaining chilli, followed by the remaining béchamel. So you have two layers of lasagne and three layers of chilli/béchamel altogether. The lasagne should just reach the top of the dish (you may have a little of the sauce leftover - depending on the size of your dishes.

Sprinkle on the remaining cheddar and place in the oven. bake for 30 minutes until the cheese is golden and the lasagne is bubbling slightly at the edges. Take out of the oven and leave to rest for 5 minutes before serving.

150 g (1 cup + 4 tbsp) strong cheddar cheese, grated

Serve with coriander, soured cream, chopped fresh chillies and thinly sliced red onion.

Fresh coriander,

Soured cream,

Fresh chillies,

Thinly sliced red onion
Some of the links in this post may be affiliate links – which means if you buy the product I get a small commission (at no extra cost to you). If you do buy, then thank you! That's what helps us to keep Kitchen Sanctuary running. The nutritional information provided is approximate and can vary depending on several factors. For more information please see our Terms & Conditions.