This is my quick and easy Bubble and Squeak- a delicious and traditional way to use up leftover mashed potato and cabbage from your roast dinner.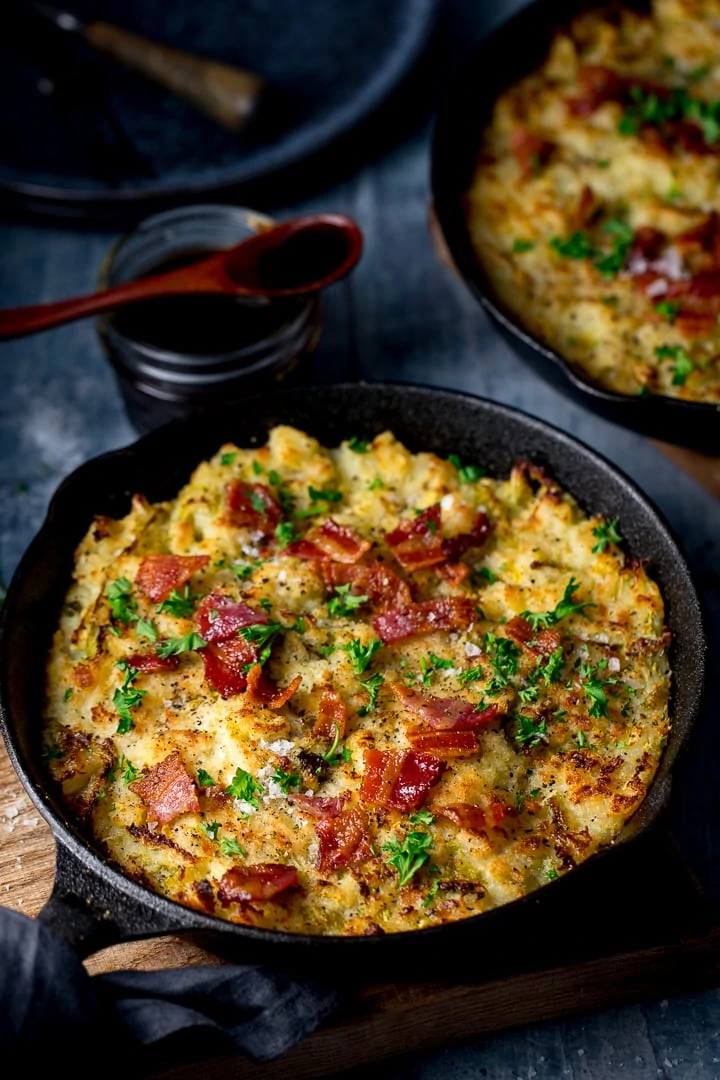 This is my ULTIMATE Monday night speedy dinner. It's also one of the best ways to get the kids to eat their green veg, well one of mine anyway -  the other one managed to pick most of it out, but a few bits definitely got past the green veg defences.
You can add in more veg - such as carrots or peas if you like. Or you can serve it with something other than eggs and bacon (cheese-topped beans, or even just a good glug of leftover gravy!).
The whole point of this dish is to use up those leftovers in a comforting, hearty dinner.
What is bubble and squeak?
Most sources would define it as a breakfast dish made up of a mixture of leftover mashed potatoes and cabbage that've been fried up until browned. Sometimes with the addition of more vegetables.
It can be fried as small burger-sized patties, as one big pan in a larger patty if you like it to look neat and even. Or if you prefer, you can fry it all up and keep moving it around the pan, mixing often. This results in a messier looking bubble and squeak, but with more browned bits, as they're mixed throughout.
Is it the same as colcannon?
The base ingredients of mashed potato and cabbage are the same, but the Irish dish of Colcannon often uses kale or white cabbage instead of savoy cabbage. The mash would usually be freshly made hot mash, made with milk, cream, butter, salt and pepper. It also wouldn't be fried. Sometimes colcannon also includes spring onions/scallions too, although I see this more in American versions of colcannon.
Rumbledethumps - a Scottish dish - also uses the same base of mashed potato (with cream, butter, salt and pepper) and cabbage with the addition of sautéed onions. Sometimes the mixture is transferred to a tin and baked until browned. If it's baked, sometimes cheese is sprinkled on top too.
Bubble and squeak takes me right back to my childhood.  The name supposedly comes from the sound the cabbage makes whilst cooking in the pan.  I've listened hard, and I may have heard the slightest squeak occasionally!
What do we need to make it?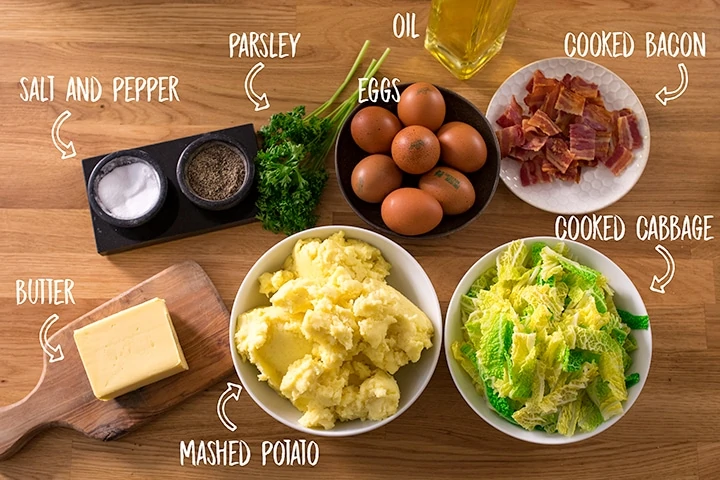 Steps for making it:
(see full instructions and quantities in the recipe card below):
Mix leftover mashed potato in a bowl with leftover cooked cabbage, salt and pepper.
Melt butter in a pan with a little oil and add in the bubble and squeak. Fry for 5-7 minutes, then ruffle the top of the bubble and squeak with a fork. Brush with a little melted butter and oil and place under a hot grill until golden brown.
Top with crispy bacon, poached egg and parsley before serving.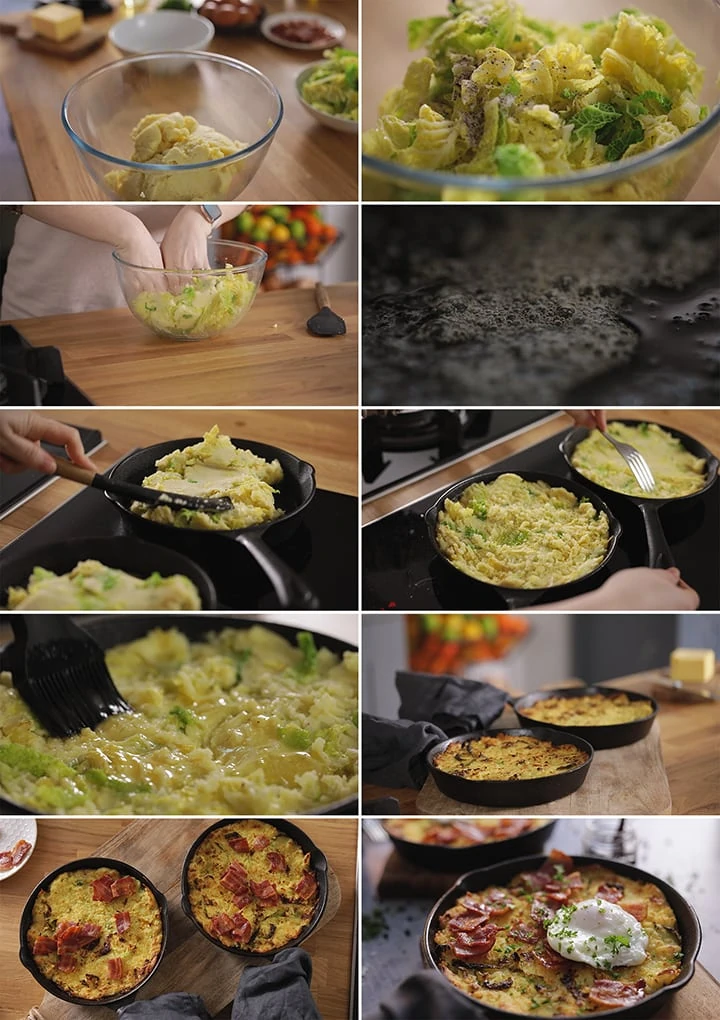 Top tips:
Add more veg from your roast dinner - chopped sprouts, broccoli, carrots and peas make great additions.
Kale is a fine substitute instead of savoy cabbage.
Be sure to brush with butter and a little oil before grilling to get a lovely browned crispy top
Sprinkle with Maldon salt before serving. Maldon salt and potatoes are a match made in heaven
Can you make it into patties instead?
Yes, you can make into 6-8 individual patties. Dust them with flour and sprinkle with a pinch of salt and pepper (this will give a nice crispy crust on the patties), then fry in the pan with a tablespoon of butter and a tablespoon of vegetable oil, turning once, until golden brown on both sides and hot throughout (about 5-6 minutes). You'll probably have to work in two batches to prevent overcrowding the pan.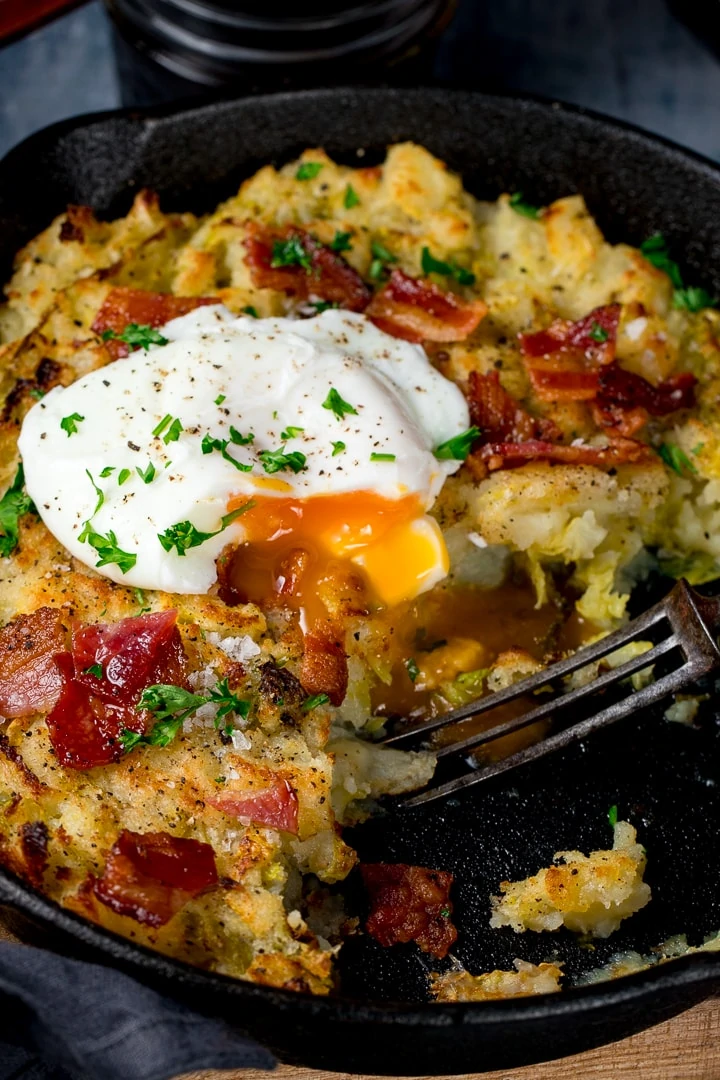 What can I serve it with?
Go with the bacon and eggs like me, plus a good glug of brown sauce (or ketchup if you prefer). Or how about:
Baked beans - served smoky with the addition of a little chipotle or smoked paprika. Some fried chorizo in there would be great too!
With cold slices of leftover meat from your roast dinner, perhaps with a some pickles and cheese
Drizzled with leftover gravy from your roast dinner
More things to make with leftover mashed potato:
Craving a roast dinner now so you can have all of those lovely leftovers?
Here's my roast beef dinner post (plus free printable guide if you sign up to my mailing list).
The video:
Watch me show you exactly how to make this delicious Bubble and Squeak on YouTube:
Don't forget to
subscribe to our channel
so you don't miss another recipe video
Bubble and Squeak
Quick and easy Bubble and Squeak- a delicious and traditional way to use up leftover mashed potato and cabbage from your roast dinner.

Ingredients
Bubble and Squeak:
3

cups

(700g) leftover mashed potato

-

this doesn't have to be exact

3

cups

(200g) leftover chopped cooked cabbage

-

again this doesn't have to be exact - I like to use savoy cabbage

2

tbsp

butter

-

salted or unsalted is fine

2

tbsp

veg oil

¼

tsp

salt

¼

tsp

pepper
Serve with:
Grilled crispy bacon, chopped

-

(I used 6 rashers/strips)

salt and pepper

poached eggs

fresh parsley, chopped

Brown sauce
INSTRUCTIONS
Preheat the grill (broiler). Then in a bowl, mix the cabbage with the mashed potato, salt and pepper.

Add half a tablespoon of butter and half a tablespoon of oil to each of two medium (20cm diameter) frying pans *Note 1

Heat the pans over a medium-high heat until the butter is melted and bubbling.

Add half of the bubble and squeak mixture to each pan and squash down using a spatula to completely cover the base of the pan.

Fry for 5-7 minutes until the edges start to brown then ruffle the top of the bubble and squeak using a fork (the more ruffled, the more crispy bits).

Melt the remaining 1 tbsp butter and mix with the remaining 1 tbsp oil, then brush the top of the bubble and squeak with the mixture.

Place under the grill and grill for 4-5 minutes until golden brown.

Remove from the oven and sprinkle with the chopped bacon, salt and pepper. Top each with a poached egg or two and a sprinkling of fresh parsley.

Serve the bubble and squeak with brown sauce if you like.
✎ Notes
Note 1:
Make sure the pans are grill/oven proof.
If you prefer, you could use 1 large (30cm diameter) pan with 1 tbsp each of oil and butter).
Can you freeze it?
I find it's better not to freeze if you can help it.
As mashed potato defrosts, it can go watery and a little grainy, so the texture isn't quite as good. The water will evaporate upon reheating, but you don't get quite the same texture.
If you did want to freeze it, then make the bubble and squeak into individual patties (without cooking/frying them) cover and freeze. Then defrost overnight in the refrigerator. Drain off any liquid that may be present after defrosting, then sprinkle the patties with a light dusting of flour and a sprinkle of salt and pepper. Fry over a medium heat in a frying pan in melted butter and oil, turning once, until browned on both sides and hot throughout (about 5-6 minutes). You may find the patties won't stay together quite as well as if you were cooking them without freezing them, but they'll still taste great.
Also, I wouldn't recommend making the bubble and squeak and saving the leftovers. After all, this is a dish made from leftovers, so reheating those ingredients more than once isn't a good idea.
Can I make bubble and squeak in the oven?
This would be more like Scottish Rumbledethumps if baked in the oven, and whilst it would be browned on top, you wouldn't get the browned base. However, it will still taste delicious.
To do this, mix together the mash, cabbage, salt and pepper, transfer to a small baking dish, then brush with the melted butter and oil (or you could sprinkle with cheddar cheese instead) and bake in the oven at 200C/400F for 15-20 minutes until hot throughout and browned on top.
Nutritional Information is per serving (there are four servings in this recipe), excluding serving suggestion of bacon, eggs and brown sauce.
Nutrition
Calories:
311
kcal
Carbohydrates:
46
g
Protein:
6
g
Fat:
13
g
Saturated Fat:
9
g
Cholesterol:
15
mg
Sodium:
265
mg
Potassium:
697
mg
Fiber:
5
g
Sugar:
3
g
Vitamin A:
700
IU
Vitamin C:
59
mg
Calcium:
33
mg
Iron:
1
mg
This post was first published in February 2014. Updated in February 2020 with new photos, video, tips and recipe improvements.
Some of the links in this post are affiliate links – which means if you buy the product I get a small commission (at no extra cost to you). If you do buy, then thank you! That's what helps us to keep Kitchen Sanctuary running. The nutritional information provided is approximate and can vary depending on several factors. For more information please see our Terms & Conditions.