Nothing beats a creamy fish pie for some hearty comfort food. My award-winning recipe is always on our recipe rotation at home.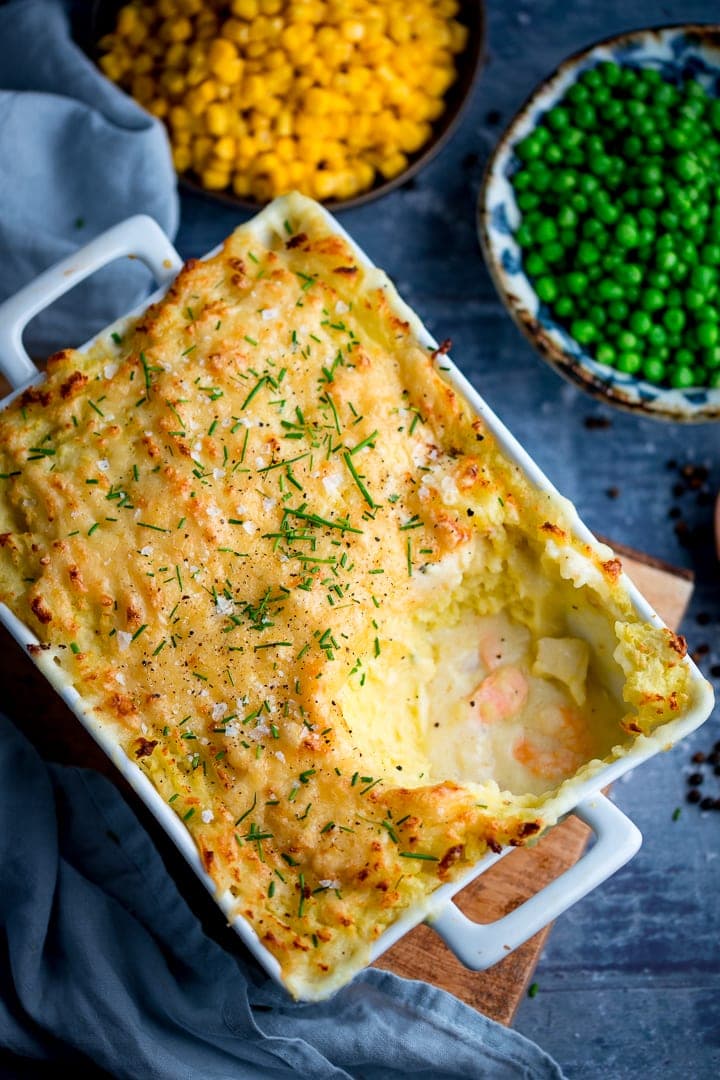 Fish Pie with Cheesy Mash is one of my all time favourite comfort foods.
Although it's usually difficult to get my carnivorous family to skip the meat for a day, I know that my fish pie will always ensure everyone's plates are clear.
Usually I make a large fish pie and plonk it in the middle of the table.  My intention is to let everyone help themselves, and then for me to save leftovers for lunch the next day.
After everyone's gone back for second (and usually third) helpings though, my leftovers tend to consist of one solitary pea - that probably got dropped on the floor by one of the kids.
So we all leave the table, undoing our top buttons with that mashed-potato-overload-comatose feeling.
One of these days I will learn how to portion control!
This recipe was the one I cooked up on stage in a live-cookoff at the Big Feastival a few years ago (I added some crumbled up Piper's cheese and onion crisps on top for a little twist on that one).
As part of the cook-off, we had to make a giant version so the audience could taste-test the recipe and vote for their favourite. And that audience was scarily huge (see below)!
My recipe won - and that was the beginning of a wonderful working relationship with Neff (who put up the prize of £10k of Neff kitchen equipment), and who I'm still working with!
So now you know my award-winning recipe! I hope you love it as much as I do.
What do you serve with fish pie?
I usually serve my fish pie with peas and sweetcorn. The kids love this combo
Sugarsnap peas/snow peas/mange tout also work really well.
These simple butter pepper carrots are also a delicious side dish.
More Fish or seafood recipes:
 The Fish Pie Video:
The Fish Pie with Cheesy Mash Recipe: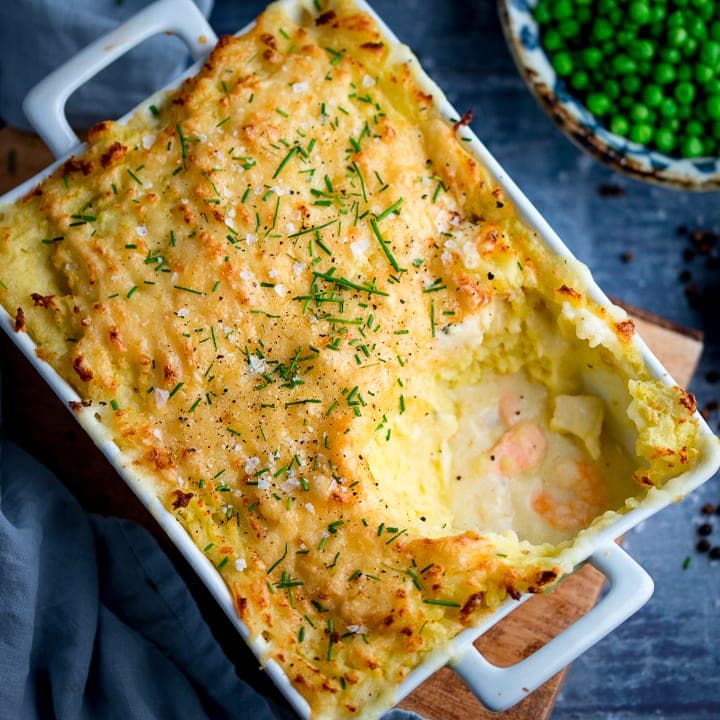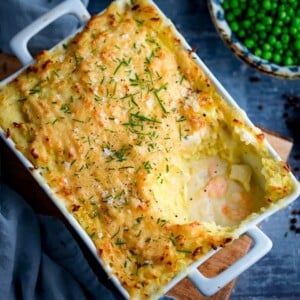 Fish Pie with Cheesy Mash
Nothing beats a creamy fish pie for some hearty comfort food. My award-winning fish pie is always on our recipe rotation at home.
Ingredients
2 1/2

lbs

(1 kg) floury potatoes - such as maris piper, peeled and chopped into large chunks

3

tbsp

butter

3

tbsp

double

-

heavy cream)

large pinch of salt and pepper

2 1/2

cups

(600ml) full fat milk

2

boneless salmon fillets

1-2

boneless cod or haddock fillet

15

king prawns

-

shrimp these can be cooked or raw (make sure they're de-veined)

2

tbsp

plain/all-purpose flour

-

OR 2 tbsp cornflour mixed with 2 tbsp cold water for gluten free

1 1/2

cups

(150g) packed grated mature cheddar cheese
To serve:
1

tbsp

chopped chives

Peas

Sweetcorn
INSTRUCTIONS
Preheat the oven to 200C/400F

Place the potatoes into a pan and cover with cold water. Bring to the boil and then simmer for 15 minutes. Drain the potatoes and then mash with a potato masher or ricer. Stir in half of the butter, the cream and a pinch of salt and pepper. Put to one side.

Place the milk in a large saucepan with the salmon fillets and the cod/haddock. Bring to the boil and simmer for 2-3 minutes (if you're using raw prawns, add them in for the last minute of cooking). By this time your fish should be cooked and starting to flake apart.

Place a sieve over a large bowl and pour out the fish/milk mixture. Put the milk to one side. Place the fish onto a plate and flake apart, remove and discard the skin if the fish wasn't skinless.

Place the flaked fish and prawns (add the cold, cooked prawns at this point if using) in a large baking dish.

Give your milk pan a wash and a dry.
Regular Version of the sauce:
Melt the remaining butter in the milk pan, then stir in the flour. Heat through on a medium heat whilst mixing with a wooden spoon.

Slowly add in the reserved milk that you cooked the fish in whilst stirring with a balloon whisk (don't whisk it hard though, or you'll end up with a frothy sauce). The sauce will begin to thicken after a few minutes. Turn off the heat and stir through half the cheese and a pinch of black pepper.
Gluten Free version of the sauce:
Pour the reserved milk back into the milk pan and heat until barely simmering - don't let it boil. A bit at a time, stir through the cornflour/water mixture using a balloon whisk. Keep adding the cornflour mix until the milk thickens. Turn off the heat and stir through half the cheese and a pinch of black pepper.
Assembly:
Now it's time to assemble fish pie. Pour the sauce over the fish/prawn mixture. Spoon the mashed potato over the top and then use a fork to spread it out and give it a lined pattern (this give the mash more surface area to crisp up).

Sprinkle over the remaining cheese and place in the oven for 15-20 minutes until the cheese is melted and golden.

Top with chopped chives and serve with peas and sweetcorn.
Video
✎ Notes
Can you reheat fish pie?
Yes, quickly cool, cover and refrigerate any leftovers. It should be fine in the fridge for up to a day.
Place the leftovers (still in the oven dish) in the oven, covered in foil for 20-25 minutes at 200C/400F until piping hot throughout. You can remove the foil for the last 5 minutes of cooking to crisp up the top again.
Can you freeze fish pie?
Yes!
I find the mashed potato can be a little watery after freezing, but so long as the pie is fully defrosted before reheating, it should be fine after cooking and crisping up in the oven.
Make the fish pie right up to the point before you put it in the oven. Then quickly cool, cover and freeze.
Defrost in the refrigerator overnight (ensure it's fully defrosted throughout before reheating), then place in the oven  for 20-25 minutes at 200C/400F until the potato is golden brown and the sauce is starting to bubble up at the sides.
Other topping ideas:
If you want to go with the exact recipe I cooked on stage, then take the cooked fish pie out of the oven, sprinkle over a couple of handfuls of crushed Piper's Cheddar and Onions crisps and place back in the oven for 2-3 minutes, just to heat the topping through. Lovely and crunchy!
Try adding add a spoonful of mustard to the mashed potato for a bit of a kick (I would use dijon mustard).
Use half regular potatoes and half sweet potatoes for the topping for a sweeter taste and a vibrant topping!
Stir cooked and chopped little florets of broccoli into the mashed potato before you spoon it over the fish mixture.
What type of fish to use for fish pie:
I use a mixture of salmon, king prawns and white fish such as cod or haddock. You can replace some of the fish if you prefer.
You can replace the cod/haddock with pollock, halibut or hake.
Replace the salmon with trout (this has a slightly milder flavour than salmon).
I sometimes replace half of the cod/haddock with smoked haddock - this adds a lovely smoky-salty flavour to the dish. Just using 1 smoked haddock fillet means the smokiness won't be overpowering.
I'll sometimes leave the prawns out entirely, and add an extra salmon/cod fillet.
Nutritional Information is per serving.
Nutrition
Calories:
570
kcal
Carbohydrates:
33
g
Protein:
46
g
Fat:
27
g
Saturated Fat:
15
g
Cholesterol:
184
mg
Sodium:
533
mg
Potassium:
1637
mg
Fiber:
5
g
Sugar:
6
g
Vitamin A:
920
IU
Vitamin C:
24.9
mg
Calcium:
467
mg
Iron:
7.9
mg
This recipe was first published in July 2015. Updated in October 2019 with new photos, recipe video, step-by-step photos and recipe tips.
Some of the links in this post may be affiliate links – which means if you buy the product I get a small commission (at no extra cost to you). If you do buy, then thank you! That's what helps us to keep Kitchen Sanctuary running. The nutritional information provided is approximate and can vary depending on several factors. For more information please see our Terms & Conditions.