What a week it's been!
My posting schedule has gone totally out the window lately – partly because of the school holidays but also partly because my mind has been on a big competition I've been part of. And I can't believe that I won!!!!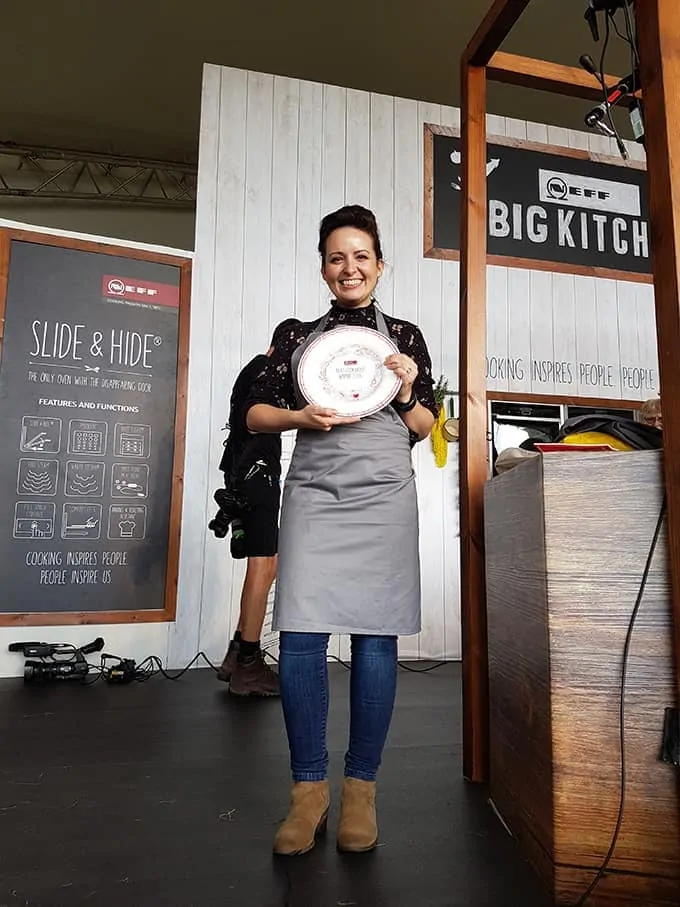 A bit of background:
If you've read some of my previous posts, you might have heard that we've just started a house extension, which will involve a full kitchen remodel. As part of my new kitchen I've been looking longingly at a couple of Neff slide and hide ovens (you know - those ones that are often featured on The Great British Bake off). My current kitchen has an old oven that's been there longer than we have (10 years), plus a grill on top that I'm too short to see into!
A couple of months ago I saw that Neff were running a competition to look for their next cookaholic, and the prize was a kitchen full of their gorgeous appliances.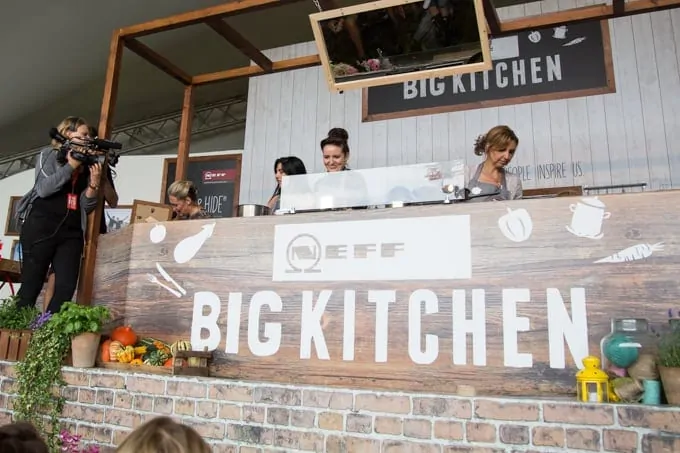 They were looking for a recipes with a twist, so I entered my Summer Beef Casserole – the twist being that I make it with crunchy veg, parmesan and couscous to give it a summer feel instead of the usual wintery casseroles.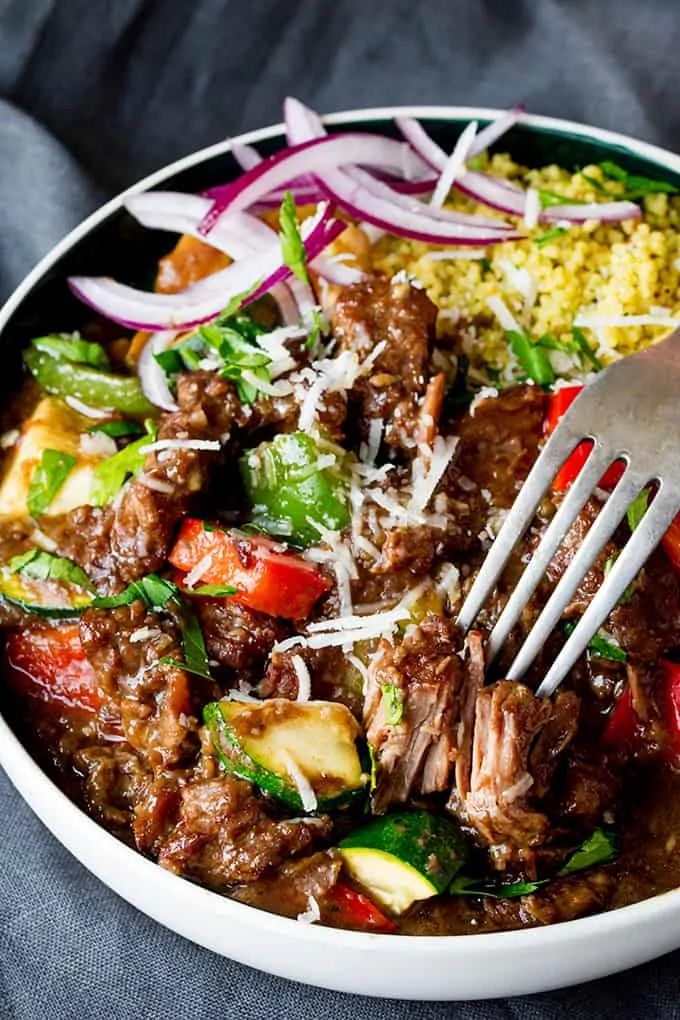 Somehow that got me into the semi-finals along with seven other contenders. I then had to record a video answering some questions. Based on that I got into the final two!!
I've got to admit, I didn't realise when I entered the competition that the finals would involve a live-cook off in front of a rather large audience. Probably a good thing, because that would have scared me off!
So the cook-off took place on Saturday at Jamie Olivers Big Feastival in Kingham.
Have you ever been? Totally amazing – loads of local producers, street markets, kids activities, celebrity chefs and a live music stage with brilliant artists. You can camp or glamp their too.
I was so nervous on the drive there in the morning. The day had been planned out down to the last minute, and I'd practised my fish pie 'with a twist' that we'd been asked to create for the cook off. Chris and the kids came along and wandered around the festival whilst I was getting prepped.
I met my contender – Janey – almost straight away and she was absolutely lovely. I couldn't have asked for a nicer person to be competing against: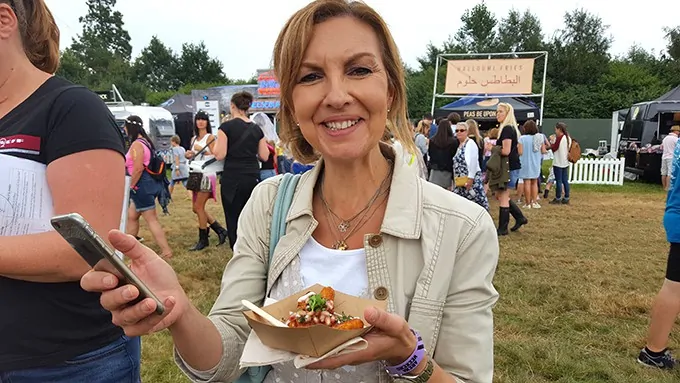 We got to check out all of the Neff equipment, and then we had to go on the hunt for our secret ingredient – whilst being filmed and photographed as we wandered around. I'd decided that my fish pie was going to be a classic creamy-cheesy luxurious version with buttery mashed potato. My twist was the addition of a crunch topping made with cheddar, panko breadcrumbs and crushed up Piper's Crisps (my secret ingredient - Piper's were one of the producers at The Big Feastival).
After munching on lots of goodies like salted caramel fudge, dairy-free maple and pecan ice cream, jalapeno mac n' cheese and halloumi fries (I've GOT to recreate them!)..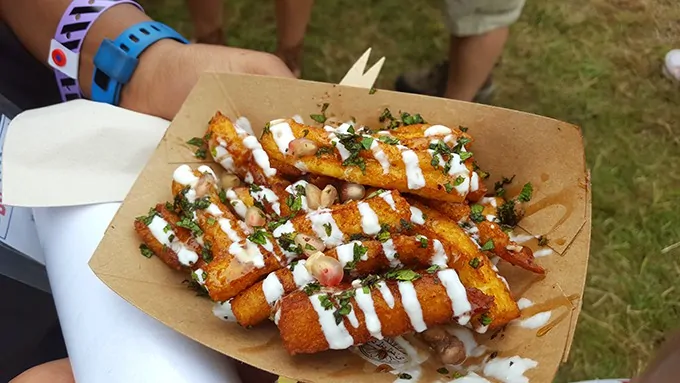 ..and meeting the gorgeous Stacie Stewart (Masterchef finalist) who was going to be interviewing us on stage, we got to work in the prep kitchen. We had some wonderful home economists helping us and we had to prep one fish pie that we could finish up on stage, plus a great big version that could be handed out to the audience for taste testing.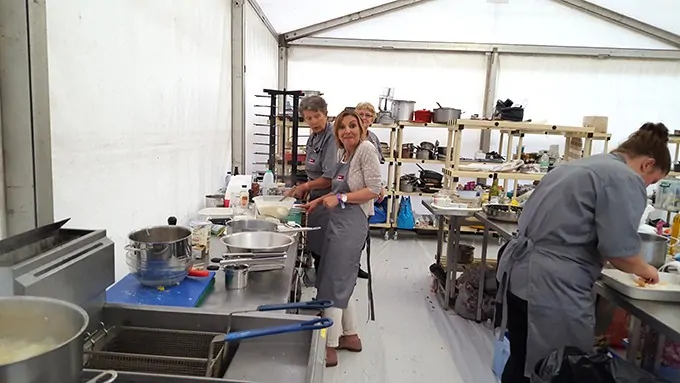 The kitchen was totally manic, made even more so with the odd celebrity chef like Gizzi Erskine and Gennaro Contaldo popping in (totally star struck) and then….
The heavens opened.
A massive downpour with the loudest thunder I've ever heard and lightening flashing every couple of minutes. We managed to ignore most of it whilst we were busy prepping, but when it came time to go on stage, we were told we had to wait as it was too dangerous. I'm convinced that lightning struck the tent at one point, and I had visions of everyone going home and the competition taking place in front of like 5 people.
Eventually the rain eased off and we were mic'd-up Brittany-style and then the call came for us to go on stage. Arrrrrrgggghhh! So scary!
Up on stage we could see the place was packed – at least a couple of hundred people, plus various cameras on us linked up to giant screens. Chris and the kids were in the audience cheering, and Janey and I just had the biggest grins on our faces.
Here's a view from the stage: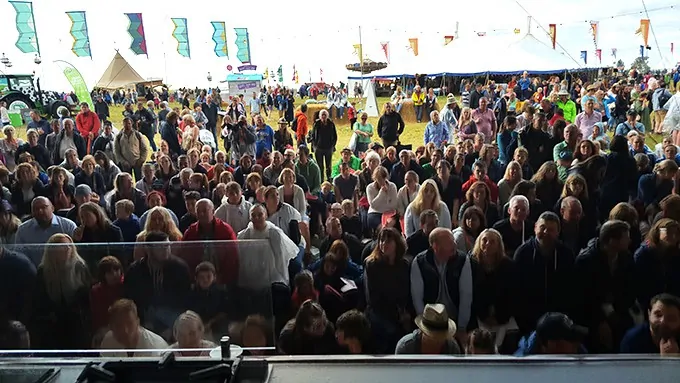 and a couple of the cameras on us: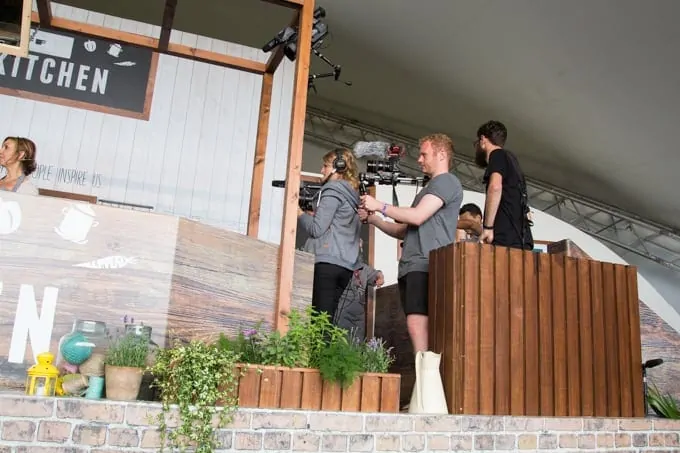 We were interviewed as we cooked, and Janey described her amazing fish pie made with leeks and mustard, topped with healthy celeriac mash and finished of with a welsh rarebit topping (Janey runs the blog 'Slice of Slim', where she focuses on healthy recipes after losing 4.5 stone a few years ago).
I then went polar opposite as I described my rich, creamy and stick-to-your ribs recipe that was anything but healthy!
The taster trays went out and our compère and Stacie tested the pies. I felt that they preferred Janey's recipe. They praised both, but loved the fact that Janey's recipe was healthy and still creamy tasting. Next the compère spoke to a member of the audience who said she liked Janey's recipe best, by which point I knew I'd lost.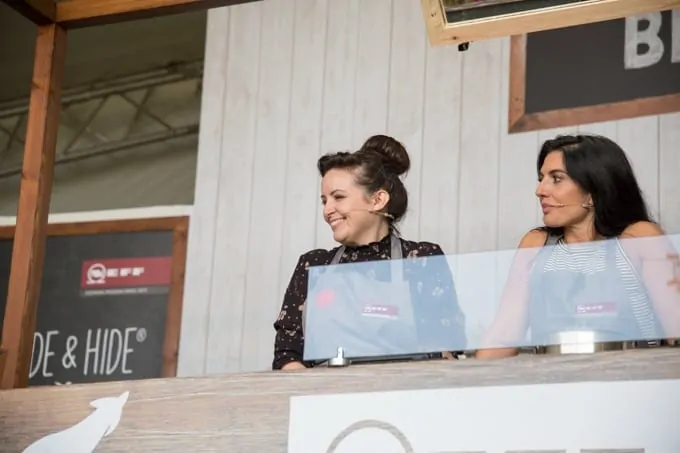 The next audience member said they liked mine best Hooooraaaahh! At least I'd have one vote 🙂
Finally it was time for the audience to vote – they had big foam hands – red on one side, white on the other.  I was red, Janey was white.
I was dreading seeing a sea of white and having to skulk off stage, berating myself for my too-simple recipe.
But then…
I saw red.
Lots of red. A good amount of white too, but I was sure there was more red than white eeeek!
Stacie had the final say, so I knew she could overturn the audience decision, but she went with the audience vote and I was declared the winner.
I could have fainted!!!
The next hour was a bit of a whirl of cameras and questions. The kids thought I was famous hee hee hee.
I'm still on a high two days later, and I've already been busily planning out my new kitchen. I can't wait to show it off to you guys in a future post!!