My go-to for a rich and satisfying weeknight Spaghetti Bolognese. It only takes 30 minutes from start to finish. Simple ingredients, without skimping on taste.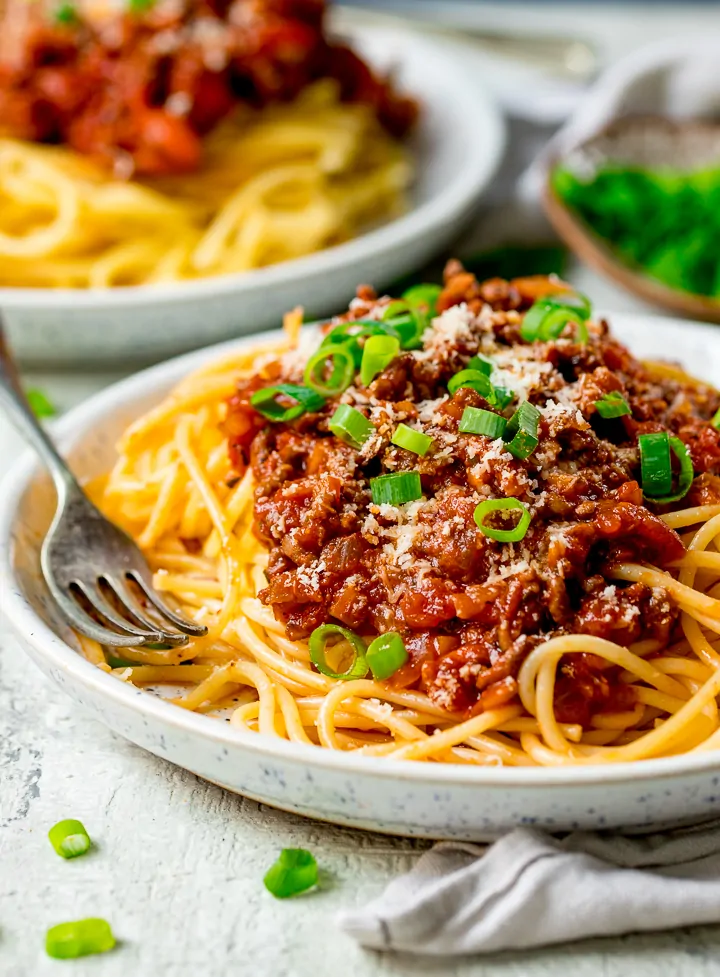 It's funny, I experiment with lots of recipes for Kitchen Sanctuary, but sometimes it's takes me ages to publish a recipe for something we eat all the time!
Five years I've been at this blogging thing - and I've never posted a recipe for spag bol? Shame on me!
We eat it so much, I can make this one with my eyes shut. Gracey makes it too (love it when she announces that she's going to cook dinner ❤️️❤️️).
So let's start off by saying this isn't a 100% authentic Italian spaghetti bolognese. I don't use two different kinds of minced meat, or pancetta or milk, and I don't cook it for 3 hours. This is a quick dinner that totally hits the spot taste-wise and is ready quickly.
You can either make the bolognese and then spoon it on top of the pasta (like the image at the top of the page), or add the pasta to the pan with bolognese and mix it together like this: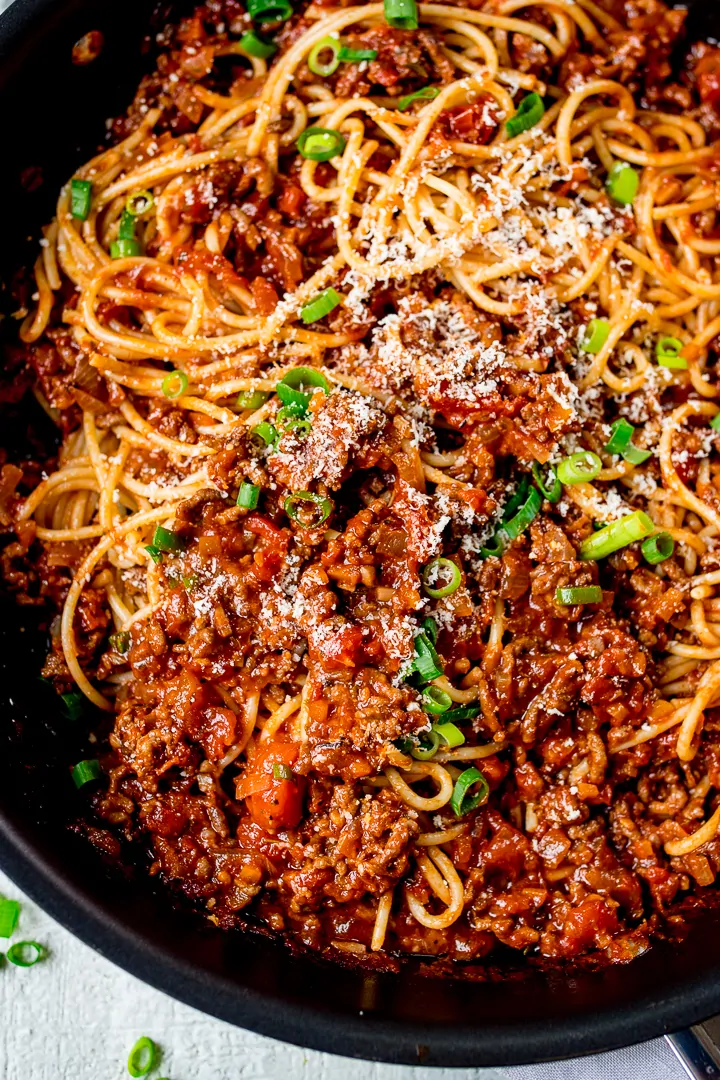 How do you prefer to serve yours? Personally I like mine with the bolognese on top of the pasta.
To make the bolognese
(full instructions and quantities in the recipe card below)
First off we fry the onions until softened, then add in the garlic and fry for a minute.
Add finely chopped carrots and mushrooms and fry again.
Add the minced beef and fry, breaking up any lumps with a wooden spoon, until browned.
Pour in half a glass of red wine, and allow it to bubble away until it's reduced by three-quarters, then add tomato puree, oregano, thyme, Worcestershire sauce, a crumbled stock cube, a couple of tins of chopped tomatoes, a pinch of sugar and a little salt and pepper.
Bring to the boil, then simmer for 15 minutes, while you cook your spaghetti. You could also swap out the dried spaghetti for my homemade pasta, which goes PERFECTLY with bolognese.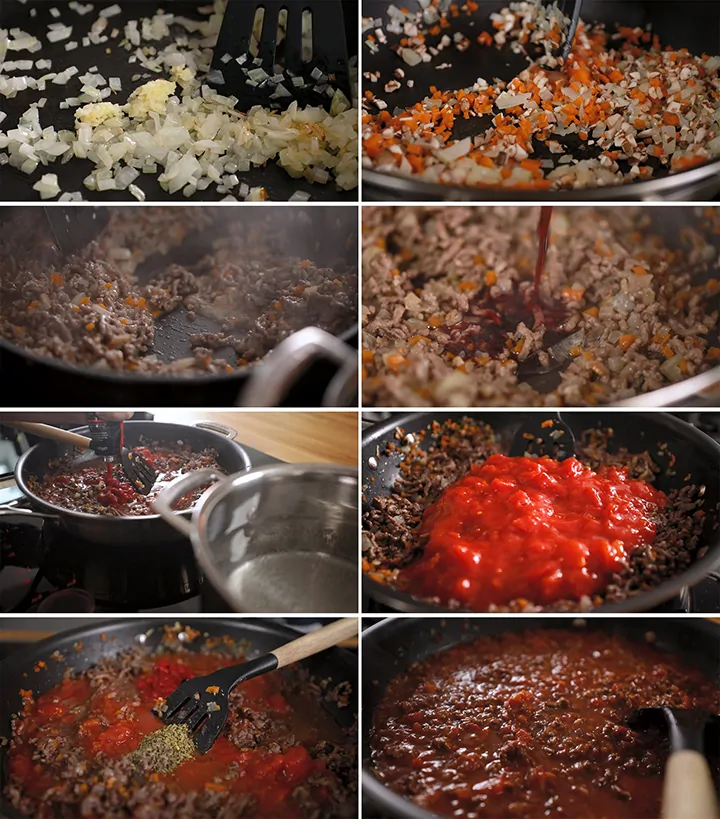 Once the spaghetti has cooked, drain it and divided it between your bowls, then top with bolognese and a sprinkling of spring onions and grated Parmesan cheese.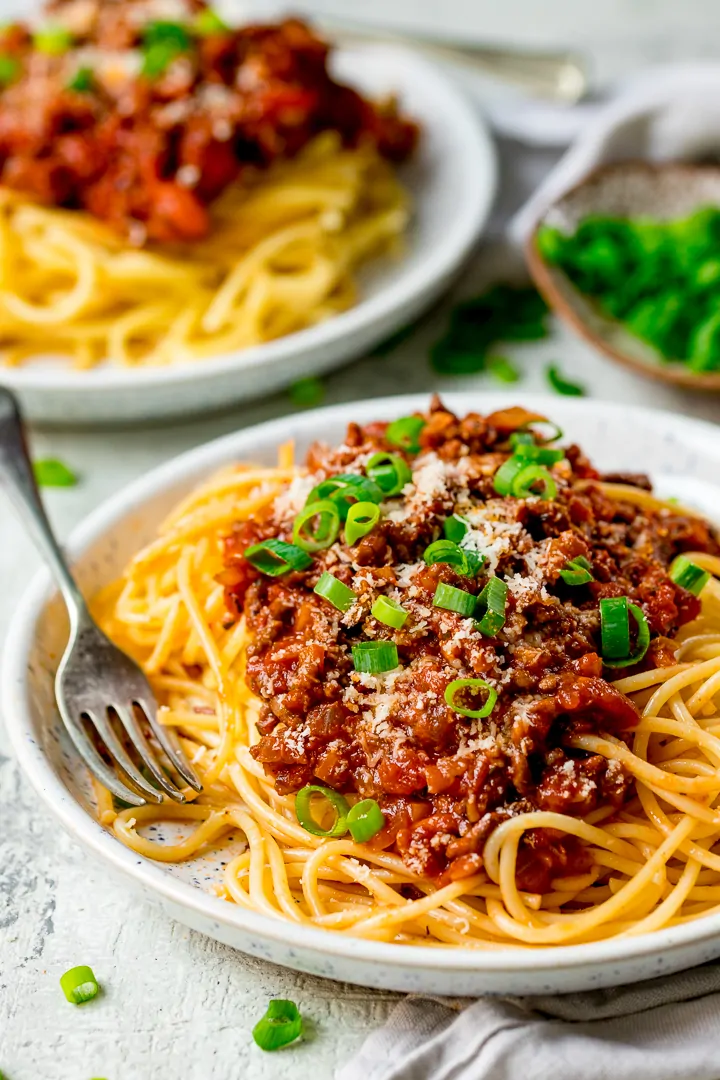 How does it compare to a traditional Italian Spaghetti Bolognese?
Traditional spaghetti bolognese often uses beef and pork mince and pancetta. You might also find it with finely chopped celery (that go in with the carrots) and milk in it too. A traditional version is often also cooked for a lot longer (2-3 hours). These are all great additions, and cooking for a long time will always ensure a rich and tasty sauce. I do it this way occasionally, but I do my fast, easy version most of the time.
My version:
......also has some additional ingredients that you may not see in a truly authentic version. I add Worcestershire sauce, tomato puree and a crumbled stock cube for extra flavour and richness (remember, we're only simmering for 15 minutes or so, so these additions make up for the reduced cooking time), and I also add a little sugar to balance the acidity of the tomatoes. I also add mushrooms, because I love them.
The Spaghetti Bolognese Video
The Recipe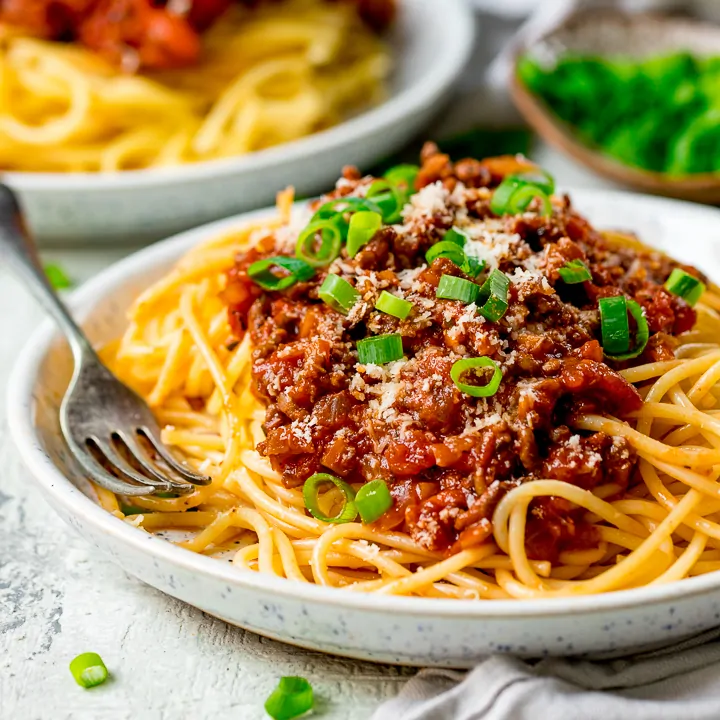 Spaghetti Bolognese
My go-to rich and satisfying weeknight bolognese. Ready in 30 minutes! Simple ingredients, without skimping on taste.
Ingredients
1

tbsp

olive oil

1

onion

-

peeled and finely diced

2

cloves

garlic

-

peeled and minced

1

carrot

-

peeled and finely diced

3

chestnut mushrooms

-

finely diced

450

g

(1 lb) minced beef

-

I often use 400g instead of 450g, as shops seem to sell them in 400g packs these days. So if you can only get a 400g pack, that's fine.

120

ml

(½ cup) red wine

3

tbsp

tomato puree

1

tsp

dried oregano

½

tsp

dried thyme

1

tbsp

Worcestershire sauce

1

beef stock cube

-

crumbled

2 x

400 g

(2 x 14 oz) canned chopped tomatoes

½

tbsp

light brown sugar

½

tsp

salt

½

tsp

black pepper

300

g

(10.5 oz) dried spaghetti or fresh pasta
To serve:
small bunch spring onions (scallions)

-

chopped

grated parmesan
INSTRUCTIONS
Heat the oil in a frying pan over a medium-high heat. Add the onion and cook for 5 minutes, stirring often, until the onion softens.

1 tbsp olive oil,

1 onion

Add the garlic and cook for a further minute.

Add the carrot and mushrooms and cook for a further 2-3 minutes.

1 carrot,

3 chestnut mushrooms

Add the minced beef and cook for 5-6 minutes, until browned. Stir often, breaking up any large chunks of meat with a spatula.

Add the wine. Bring to the boil and let it bubble for 2-3 minutes until reduced by three-quarters.

Add the tomato puree, oregano, thyme, Worcestershire sauce, beef stock cube, tinned tomatoes, brown sugar, salt, and pepper. Stir and bring to the boil. Turn down the heat and simmer for 15 -20 minutes until thickened.

3 tbsp tomato puree,

1 tsp dried oregano,

½ tsp dried thyme,

1 tbsp Worcestershire sauce,

1 beef stock cube,

2 x 400 g (2 x 14 oz) canned chopped tomatoes,

½ tbsp light brown sugar,

½ tsp salt,

½ tsp black pepper

Meanwhile, boiled a large pan of salted water. Add the spaghetti and cook for 10-12 minutes until al dente.

300 g (10.5 oz) dried spaghetti or fresh pasta

Drain the spaghetti and divide between 6 bowls.

Spoon the bolognese on top of the spaghetti and sprinkle on the spring onions and parmesan before serving.

grated parmesan,

small bunch spring onions (scallions)
Video
✎ Notes
Can I make it gluten free?
Yes - ensure you use a gluten-free stock cube, gluten-free Worcestershire sauce and of course gluten-free spaghetti and you're all set.
Can I leave out the wine?
The wine adds a little extra richness to the dish. You can leave it out if you prefer, or you could replace with ½ cup (120ml) beef stock and an extra splash of Worcestershire sauce.
Can I add in extra veg?
Yes, bolognese is a great way to get extra veg into your meal, and it can also bulk it out more if you want to reduce the amount of meat in it. I prefer to keep the veg fairly finely chopped - as great big lumps of vegetable just don't work with a ragu like this.
Try adding finely chopped celery, peppers (bell peppers), courgette (zucchini) or aubergine (eggplant).
Best beef mince:
Go for a good quality beef mince that's higher in fat. Remember fat equals flavour! I use Angus steak mince with 12%-15% fat. You can get away with the really lean mince (5% fat or lower), but it won't be as rich and juicy.
Nutritional Information is per serving including spaghetti, but not including parmesan (I've no idea how much you're going to add :-D)
Nutrition
Calories:
561
kcal
Carbohydrates:
73
g
Protein:
37
g
Fat:
11
g
Saturated Fat:
3
g
Cholesterol:
70
mg
Sodium:
953
mg
Potassium:
1212
mg
Fiber:
6
g
Sugar:
12
g
Vitamin A:
2841
IU
Vitamin C:
24
mg
Calcium:
113
mg
Iron:
7
mg
Some of the links in this post may be affiliate links – which means if you buy the product I get a small commission (at no extra cost to you). If you do buy, then thank you! That's what helps us to keep Kitchen Sanctuary running. The nutritional information provided is approximate and can vary depending on several factors. For more information please see our Terms & Conditions.