No one wants to be stuck in the kitchen all day on Christmas day, but we still want a Christmas dinner with all of the trimmings!
So how do we manage to get an impressive Christmas dinner on the table in minimum time on that special day?
Here are my make-ahead tips!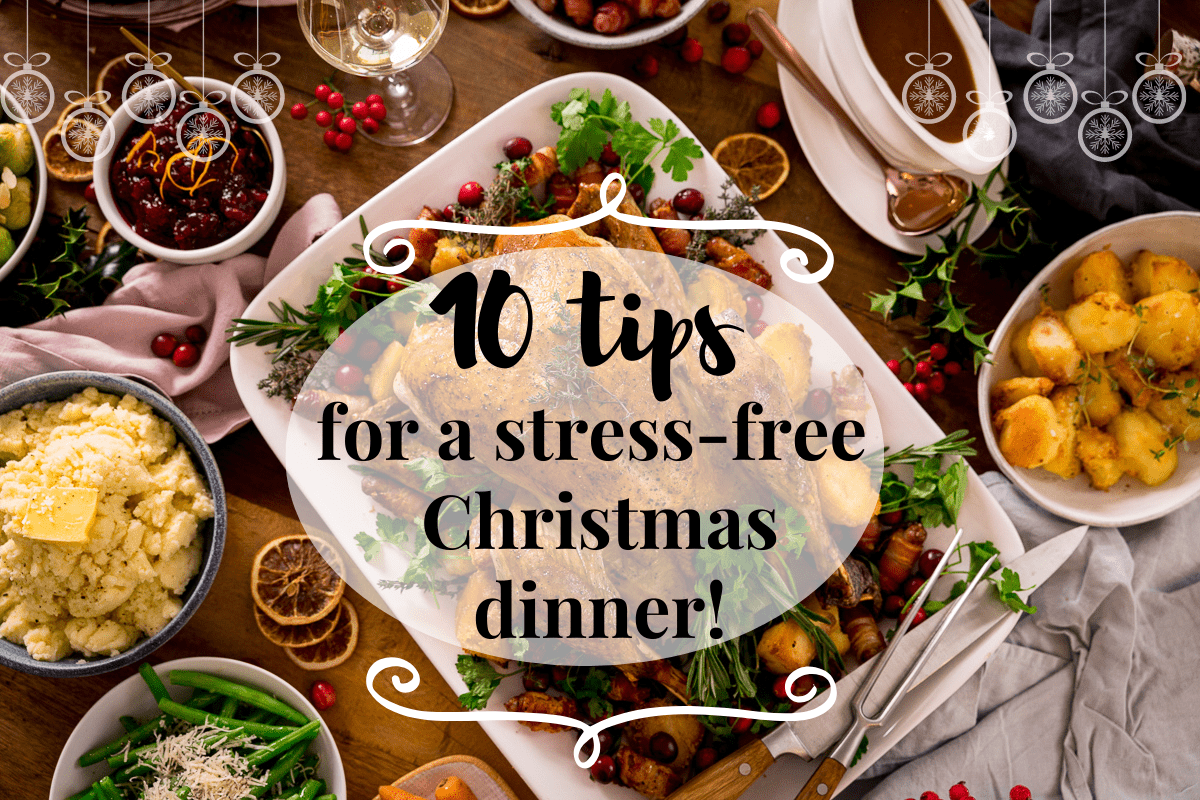 Jump to:
Tip 1. Make Canapes instead of Starters
Not only does this save having to wash up knives and forks if you've only got enough cutlery for one course, but it also takes the pressure off, as people can be having a chat and a nibble in the kitchen or living room – rather than waiting expectantly at the table!
I love to serve these festive Cranberry Brie Bites. You can bake the puff pastry part ahead, then before serving, add the brie and bake for a few minutes (this will heat through the pastry). Then top with cranberry sauce and thyme and serve.
Alternatively, go for my festive Sausage Roll Wreath - you can make it the night before!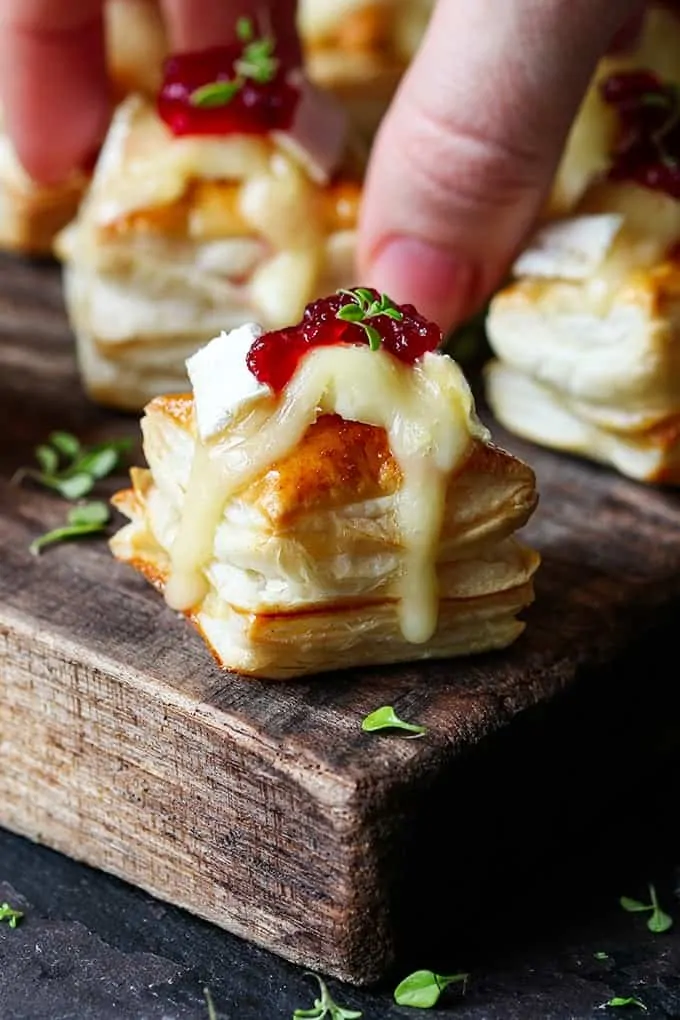 Gravy – often the dish that causes the most stress as it usually needs to be done last minute, when the turkey is already out of the oven. That worry of lumpy or tasteless gravy, or even worse – you find there are hardly any meat drippings at the bottom of the roasting tin to work with (which often happens when you're cooking a turkey crown instead of a whole turkey).
Try my make-ahead gravy – you'll just need to roast a couple of chickens at some point before Christmas so you can use the carcasses to make delicious stock (you could even freeze some of the sliced roasted chicken so you've got backup meat on xmas day if you need it!).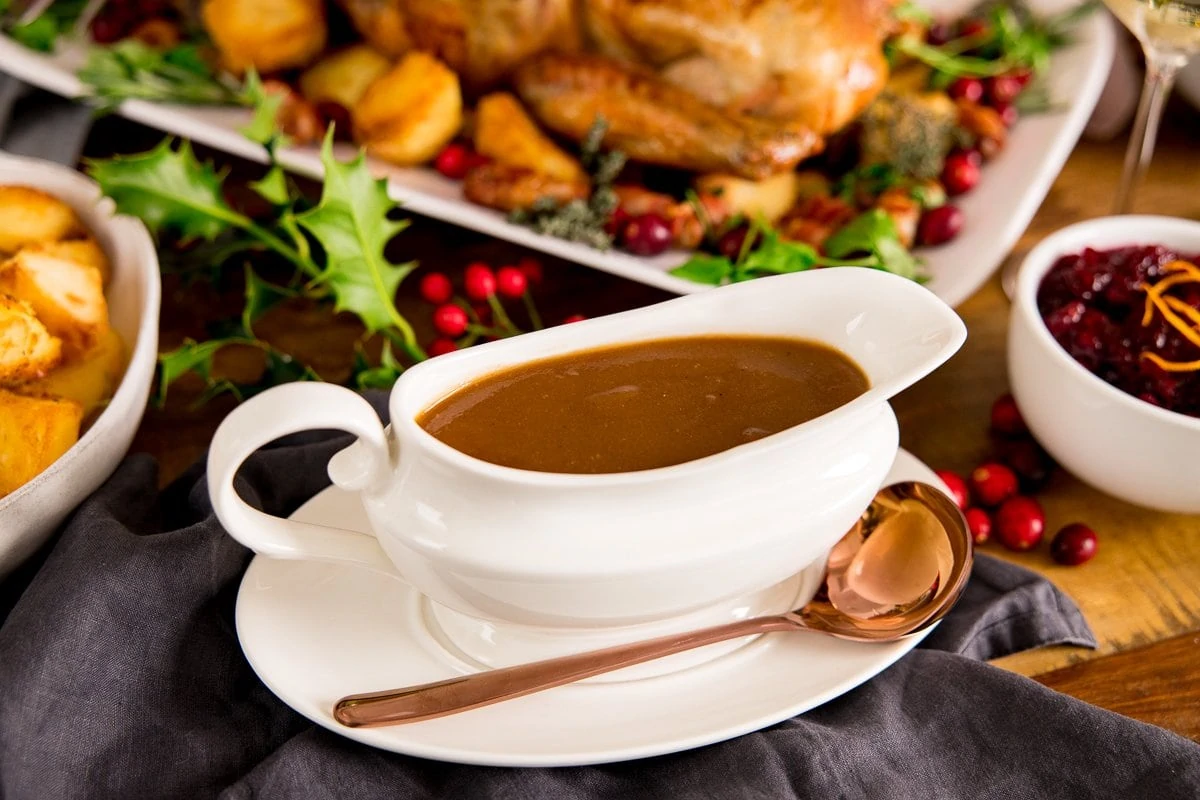 Tip 3. Make those Roast Potatoes ahead too!
The day before, roast the potatoes as you normally, would, but take out of the oven when they're light golden brown (rather than darker golden brown). Place in a dish, cool, cover and refrigerate.
Cover the roasting tray that has the fat or oil in it too. You can leave that at room temperature.
Then on the day, preheat the oven for 10 minutes at 200C/400F with the roasting tray in the oven (remove the cover). Then transfer the potatoes to the roasting tray and roast for around 20 minutes, until beautifully golden and crisp.
Twice-roasted potatoes sound kinda posh in my opinion anyway 😊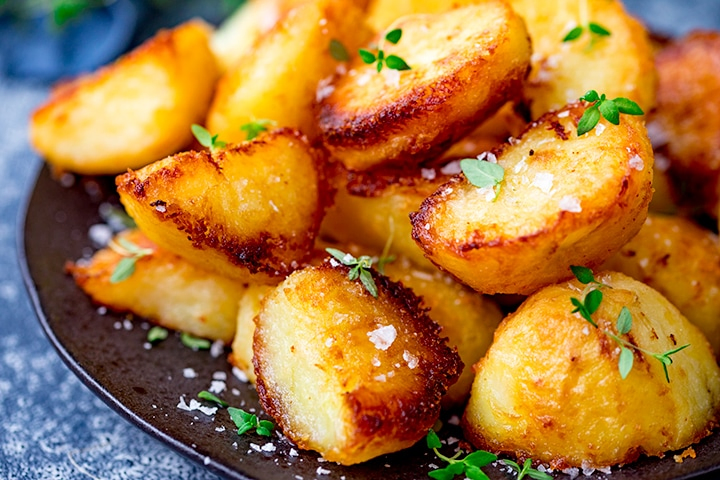 Make your mashed spuds a day or two ahead. Cool, cover and refrigerate. Your microwave is your friend on xmas day – reheat the mashed potatoes, stirring a couple of times until piping hot, then serve topped with a knob of butter.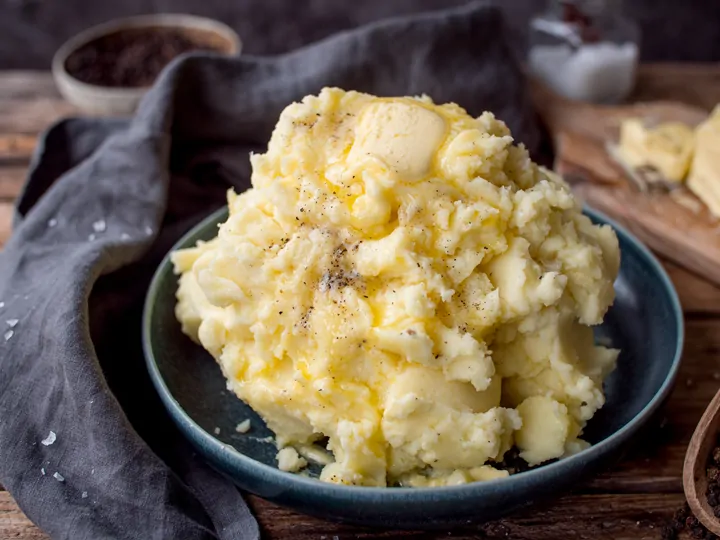 Go simple on the turkey – no basting, no stuffing – let the flavour of the meat shine without all the fuss.
I drizzle over oil, season it well and add a cup of stock to the roasting tin. Then cook, covered in foil, so it's nice and juicy. The foil just comes off for the last hour to brown the skin. Don't forget, the roast turkey will need a good 30-60 minutes to rest too, so you have plenty of time to finish off all of the other bits once the turkey is out of the oven.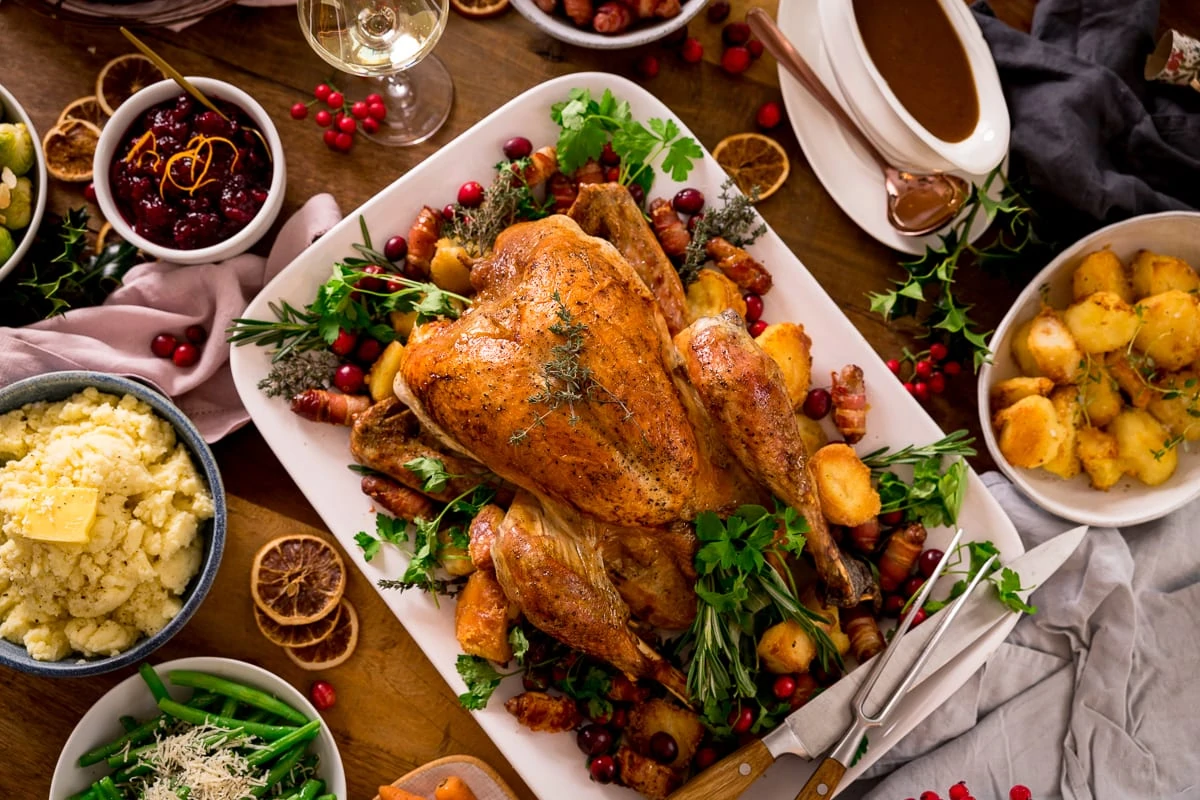 Yep, get those pigs in blankets wrapped, then place on a baking tray, cover and refrigerate. On the day remove the cover and place in the oven for 25-30 minutes (add a drizzle of honey for the last 5 minutes for a lovely sticky finish). You can even cook them ahead if you like and reheat on the day – check out the make ahead section in the recipe card of my pigs in blankets recipe.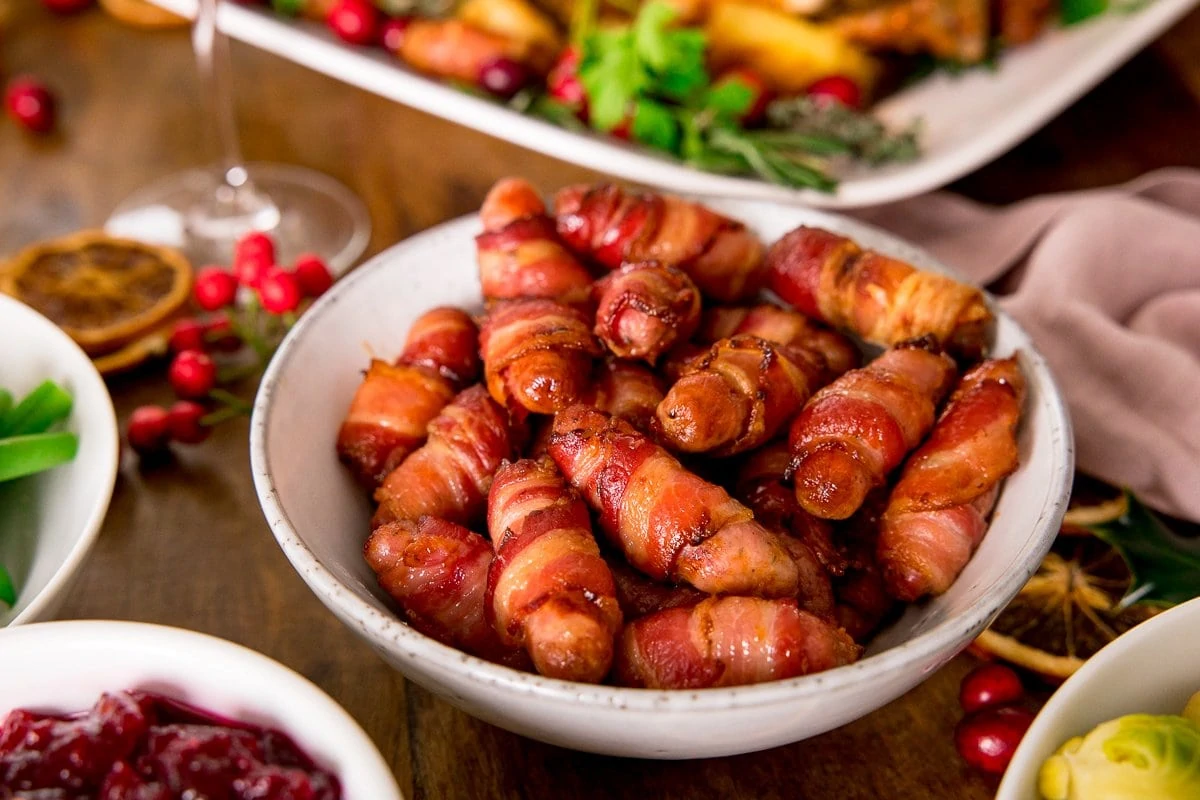 Tip 7. Buy Ready-Prepped Veg
Ready peeled sprouts, chanteney carrots and ready-trimmed green beans are great choices as they don't need prepping.
I like to steam them to cook them – so I can place in the steamer the night before. If steamed veg sounds a bit boring, you can prep a few toppings that can be sprinkled or drizzled on at the last minute:
Honey Balsamic Sprouts – mix honey and balsamic together the day before (just leave covered at room temp), then drizzle onto steamed sprouts and finish with a sprinkling of flaked almonds.
Butter Pepper Carrots – Mix a couple of tablespoons of good-quality salted butter with a good pinch of white pepper. Cover at leave at room temperature. Spoon onto the steamed carrots. Add a sprig of fresh thyme or a sprinkling of parsley if you like.
Garlic Parmesan Green Beans - – Mix a couple of tablespoons of good-quality salted butter with half a clove of minced garlic. Cover at leave at room temperature. Spoon onto the steamed green beans. Sprinkle on a tablespoon of ready-grated parmesan right before serving.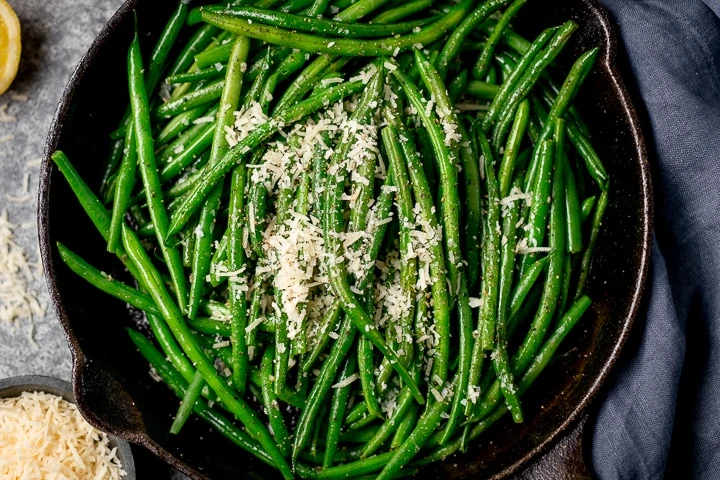 Tip 8. Make a Punch Bowl!
This saves you from running around filling up glasses. The kids love filling up everyone's punch glasses (just be sure to leave a couple of kitchen towels close by for mopping up spills!).
I've got a great festive punch recipe here. You can make an alcohol-free version by leaving out the vodka and prosecco and replacing with lemonade or something like shloer.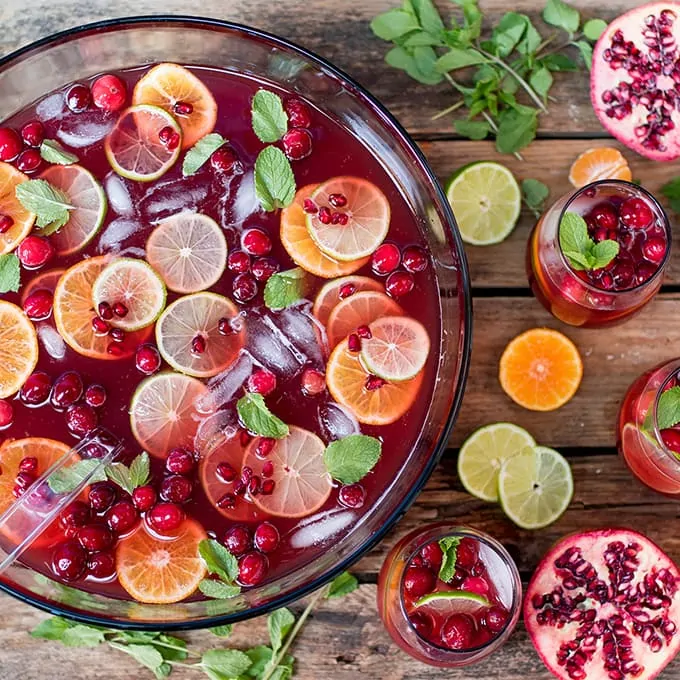 Tip 9. Set the Table ahead
Or even the week before! Eating dinner on your knees for a couple of days before Christmas whilst watching a Christmas movie is fun!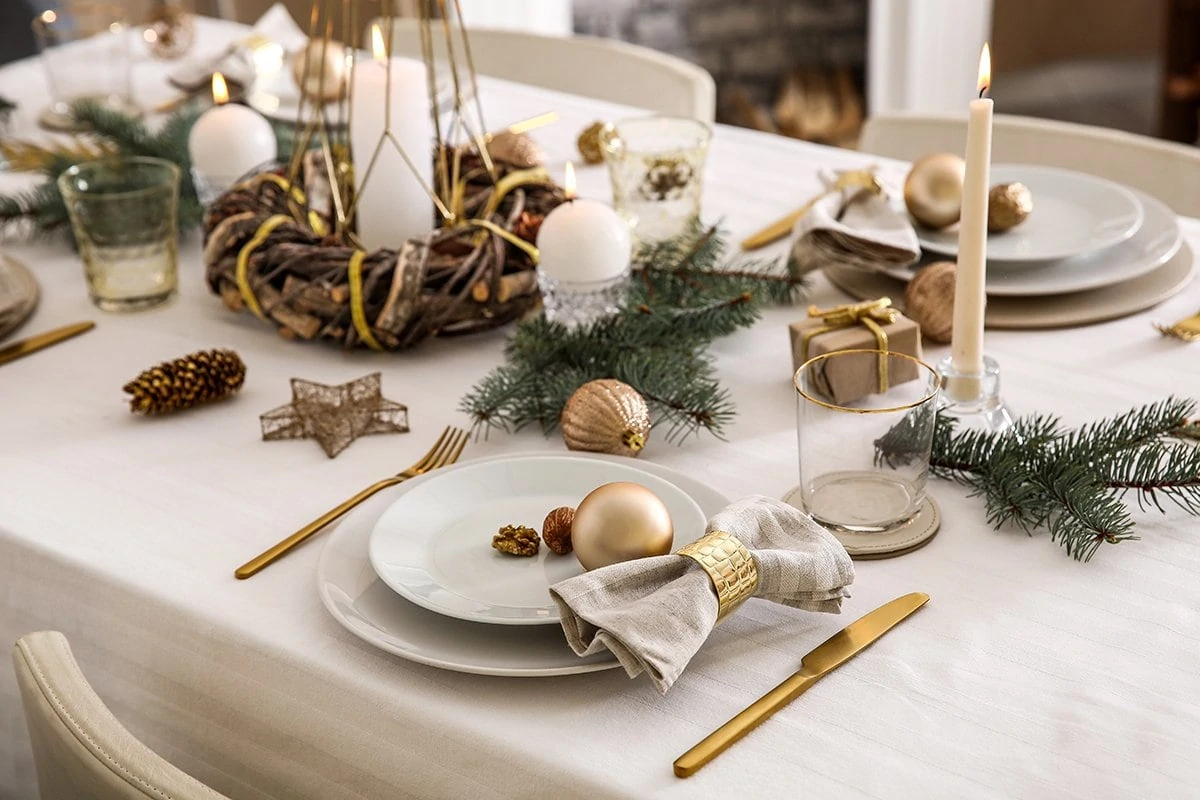 Tip 10. Make-ahead Dessert (without taking up fridge space)
I like to do this so the dessert isn't taking up valuable fridge space (I'm talking to you giant trifle!) – My chocolate cherry cake is a fantastic make ahead dessert, that you can serve cold, or you can microwave slices for a couple of seconds to warm up. Serve with a drizzle of thick cream or some ice cream.
Alternatively, go for mince pies (like my frangipane mince pies), lemon or orange drizzle cake or some posh brownies (like my Turkish delight or Ferrero rocher brownies).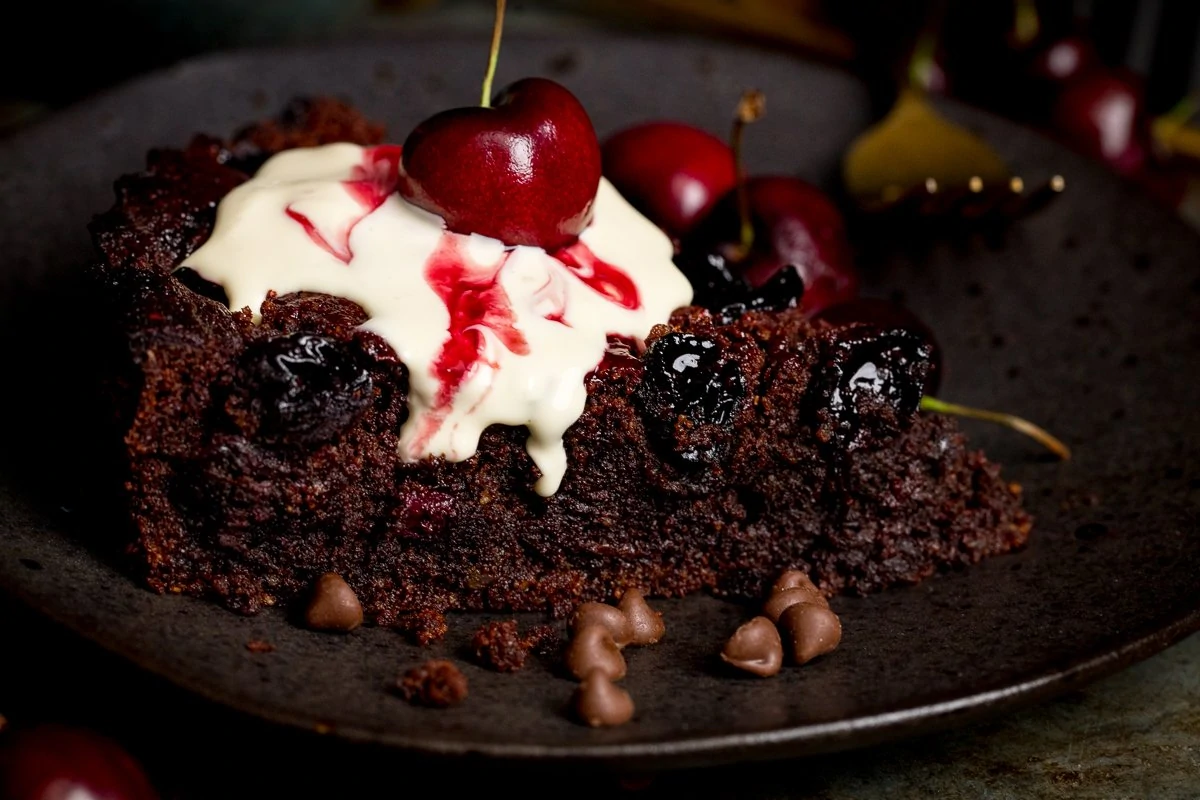 Bonus tips!
If you want to make things even easier, roast the turkey the day before!

Roast the turkey, then slice it and place it in a dish with a drizzle of gravy on top and cover in foil, then refrigerate. Reheat in the oven on the day and it will be beautifully moist.

If you want that tradition of placing the turkey on the table, you could always roast a small turkey on the day – as a show-turkey. Serve up the pre-sliced turkey on plates, and add a slice from the show-turkey. This works particularly well if you're feeding a large number of people, as you know you'll have enough meat, and you won't have to roast a giant turkey for 5 hours (and risk it being dry).

Heat your plates – so if something got a little bit cold in the rush to serve everything it won't matter.
You've got a few options here (without taking up oven/microwave space):


Fill a washing up bowl with hot water and place the plates in there. Then assign someone in the family to dry them off an place on the table at serving time.
Place them in the dishwasher (my favourite option). Time it so the dishwasher is finished 30-60 minutes before you're serving. The plates will stay hot if the dishwasher is kept closed.
Place in the airing cupboard. They won't be piping hot, but it will take the chill off the plates.


Write a time plan and tick it off as you go! Work backwards from the time the turkey will have finished resting.

Place a box of family quiz questions on the table. If everyone's sat down waiting to eat and you're not quite ready to serve, they can entertain themselves while you're finishing off.
I really hope my Make Ahead Christmas Dinner tips and the bonus tips help! If you have more tips, please leave in the comments below so we can all help each other to have a stress-free Christmas!
📺 Watch the video
https://www.youtube.com/watch?v=izX__-zrD8M
Stay updated with new recipes!
Subscribe to the newsletter to hear when I post a new recipe. I'm also on YouTube (new videos every week) and Instagram (behind-the-scenes stories & beautiful food photos).
Some of the links in this post may be affiliate links – which means if you buy the product I get a small commission (at no extra cost to you). If you do buy, then thank you! That's what helps us to keep Kitchen Sanctuary running. The nutritional information provided is approximate and can vary depending on several factors. For more information please see our Terms & Conditions.