Ham and Cheese Croissant with Honey Mustard Glaze – a simple but delicious Mother's day, Father's Day or any other day Breakfast. Scroll down for our video of the Ham and Cheese Croissant making process!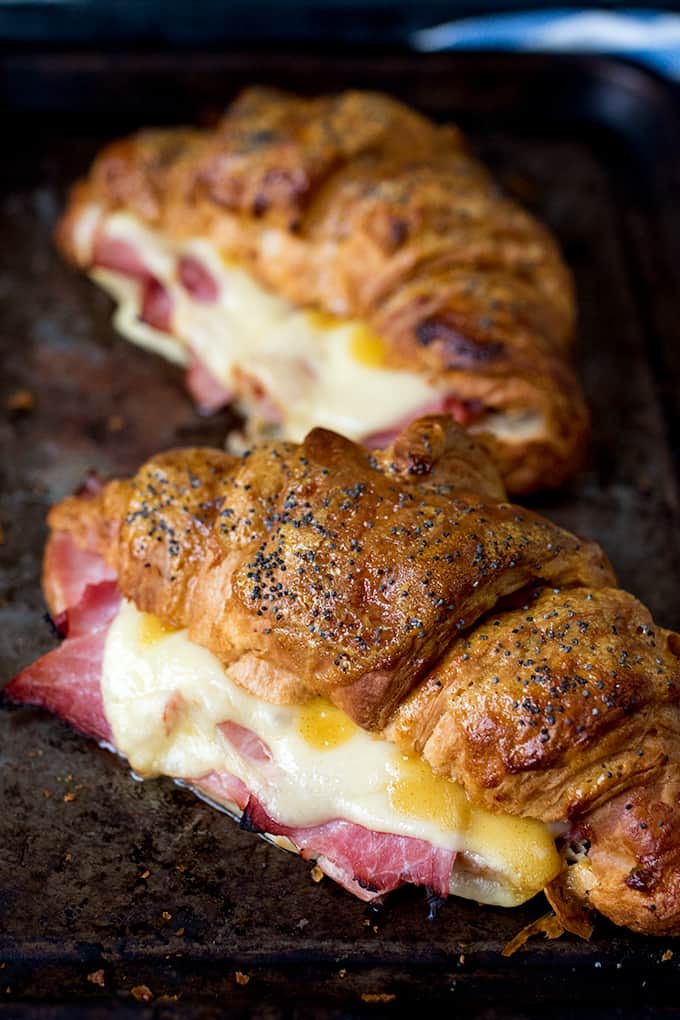 I don't really do breakfast in bed.
It normally takes me a couple of hours in the morning before I'm ready to eat, and then there's the matter of the crumbs.
Nothing worse than climbing into bed after a long day, only to find one of the kids has snuggled in your blankets to eat a packet of crisps or a biscuit without your knowledge.
So whilst I'm completely up for lazing in bed till at least 10am on Sunday, I'll have my breakfast downstairs please Gracey and Lewis. You're welcome to bring me a cup of coffee up though!
Gracey came up with the brilliant idea of covering my cup of coffee in clingfilm to prevent spills/burns on the journey upstairs. Brains put to good use there!!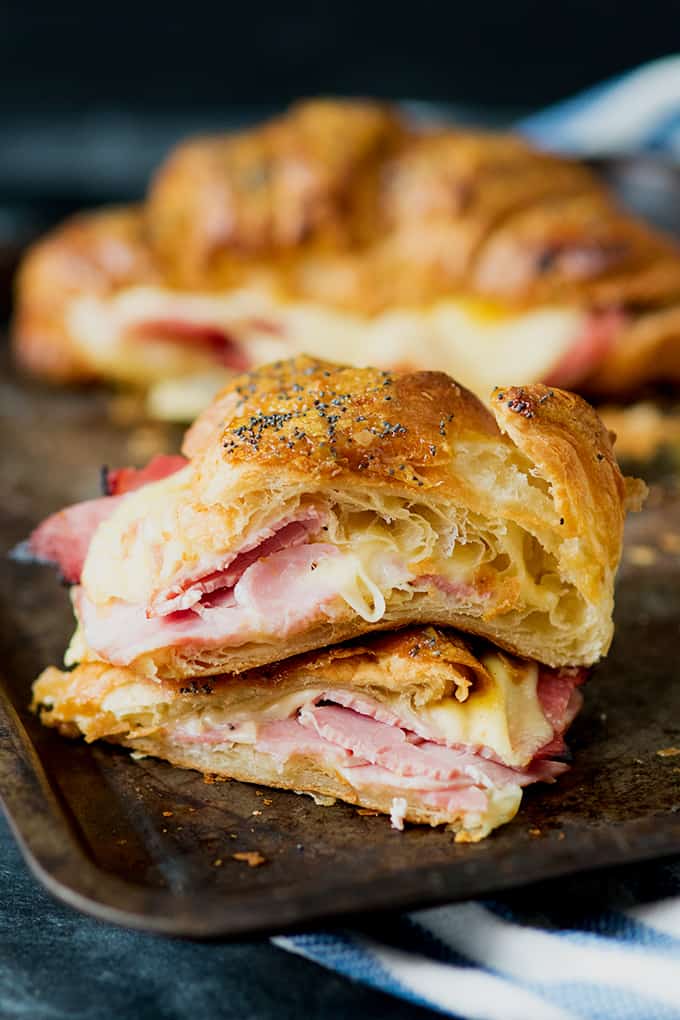 Before I talk a little more about the recipe, I've just got to whoop and squeak a little bit whilst I tell you about the flying visit Chris and I made to London yesterday.
We were invited down by LKK to watch an early private screening of Kung Fu Panda 3! So like the mean parents we are, we left the kids behind (they got looked after by Grandma and Grandad, so they had a fab time really) and hopped on the train down to London. We got treated to a lovely drinks and nibbles reception, then sat back and enjoyed the film.
We also went out for Chinese afterwards, and had the most amazing fried ribs with salt, pepper, chili and onion crumbs . One of those moments where you bite into it and your eyes kind of roll back into your head.
I HAVE to recreate them! Update!! I eventually recreated them here!
There also may have been a couple of drinks involved back at the hotel…..
Don't tell Chris I posted this pic of him making us a drink at the honesty bar 🙂
Anyway, back to the Ham and Cheese Croissants with Honey Mustard Glaze recipe, they are ready in less than 10 minutes, they make a great breakfast or lunch. The honey mustard glaze is sticky and delicious, and it goes so well with the melty cheese and salty ham.
Definitely my Mother's day breakfast of choice (hint).  If you wanted to try a sweeter version then you could try our quick and easy raspberry almond croissants.
The Ham and Cheese Croissants with Honey Mustard Glaze Recipe: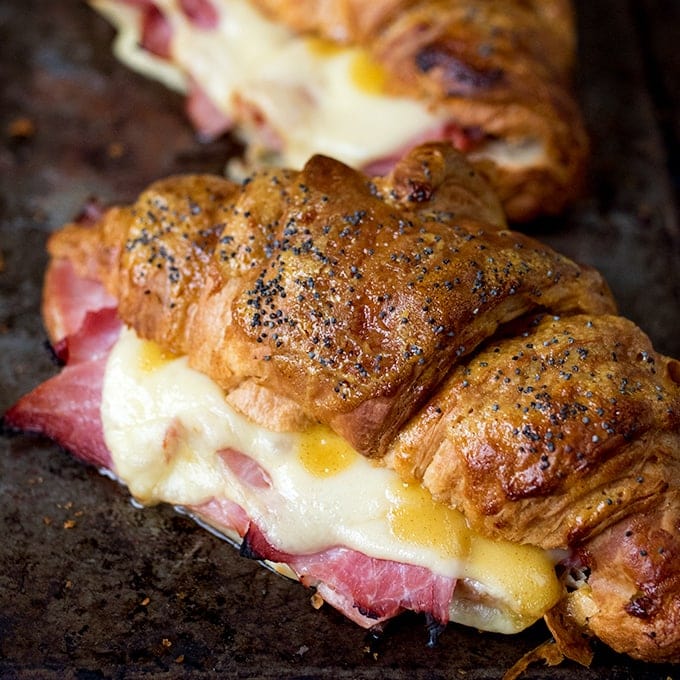 Ham and Cheese Croissant with Honey Mustard Glaze
Ham and Cheese Croissant with Honey Mustard Glaze - a simple but delicious Mother's Day Breakfast
Print
Rate
Pin The Recipe For Later
Ingredients
4

croissants

8

slices

good-quality ham

8

slices

Leerdammer cheese

1/2

tbsp

Dijon Mustard

1

tbsp

honey

1/2

tbsp

brown sugar

1

tsp

Poppy seeds
Instructions
Preheat the oven to 190C/375F. Slice the croissants in half lengthways. Place a slice of cheese on the base of the croissants, followed by two slices of ham and another slice of cheese.

Place the croissants on a baking tray.

Mix the mustard, honey and brown sugar together and brush on top of the croissants. Sprinkle with poppy seeds and place in the oven for 6-7 minutes to heat through.

Serve immediately.
Recipe Notes
Make Ahead:
Yes, slice and fill the croissants, then place in an airtight container (or on a well-covered tray). Make the honey mustard glaze up and then cover and refrigerate that too.
Take the glaze out of the fridge about 1 hour before you want to cook the croissants - so it can come up to room temperature.
Transfer the croissants to a tray, then brush with the glaze and sprinkle on the poppy seeds. Cook for 6-7 minutes at 190C/375F.
You can also make the whole croissants ahead and cook them. Then cool, cover and refrigerate. They're a little dryer this way, and the glaze won't be as sticky, but they're still delicious.
Reheat by placing in the oven for 5 minutes at 190C/375F - until piping hot throughout.
Or you can reheat in the microwave for 1-2 minutes until piping hot throughout. However, microwaving them means the croissants won't be as crisp on the outside.
Nutritional information is based on one serving.
Nutritional Information
Nutrition Facts
Ham and Cheese Croissant with Honey Mustard Glaze
Amount Per Serving
Calories 620
Calories from Fat 360
% Daily Value*
Fat 40g62%
Cholesterol 132mg44%
Sodium 1301mg54%
Potassium 282mg8%
Carbohydrates 33g11%
Protein 31g62%
Vitamin A 985IU20%
Calcium 440mg44%
Iron 2mg11%
* Percent Daily Values are based on a 2000 calorie diet.
Equipment:
In order to make these Ham and Cheese Croissants you will need:
Some of the links in this post may be affiliate links – which means if you buy the product I get a small commission (at no extra cost to you). If you do buy, then thank you! That's what helps us to keep Kitchen Sanctuary running. The nutritional information provided is approximate and can vary depending on several factors. For more information please see our Terms & Conditions.