These Rose and Chocolate Valentines Palmiers are simple and delicious - only five ingredients!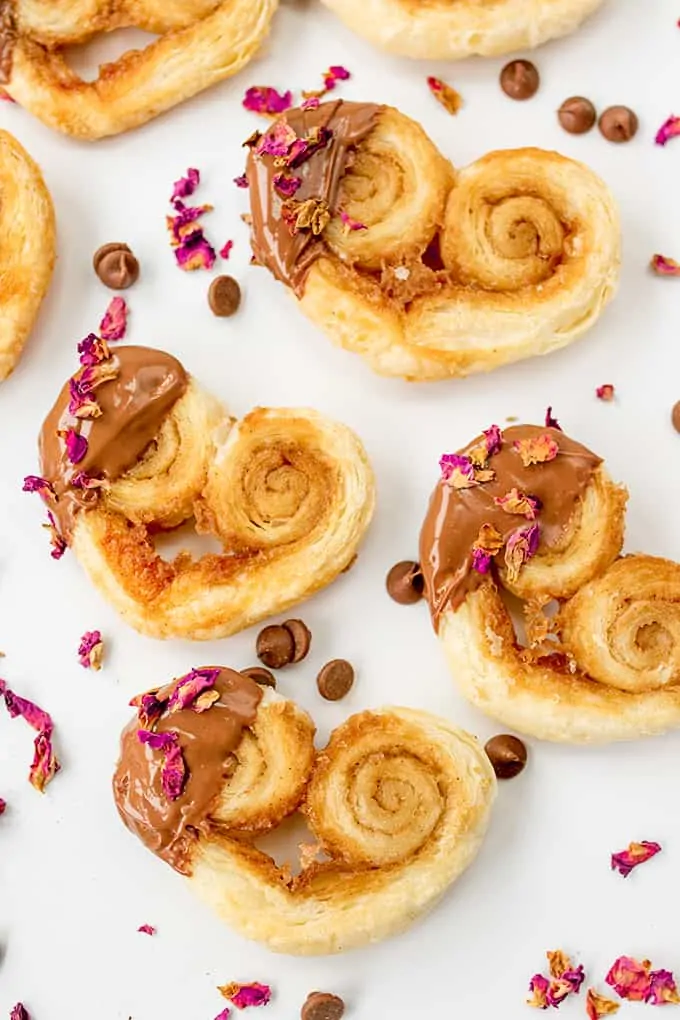 A cute little pastry treat to feed your loved one on Valentines day!
I've got to say (and I've probably mentioned it before on the blog), that Chris and I don't really do anything for Valentines day. Is that bad? Married nearly 10 years and sounds like we've lost the romance, but it's not true!!
We also don't buy each other Easter gifts or anniversary gifts, and I think we're on the verge of not bothering with Christmas cards for each other too (we just about managed to get each other a card on Christmas eve this last Christmas).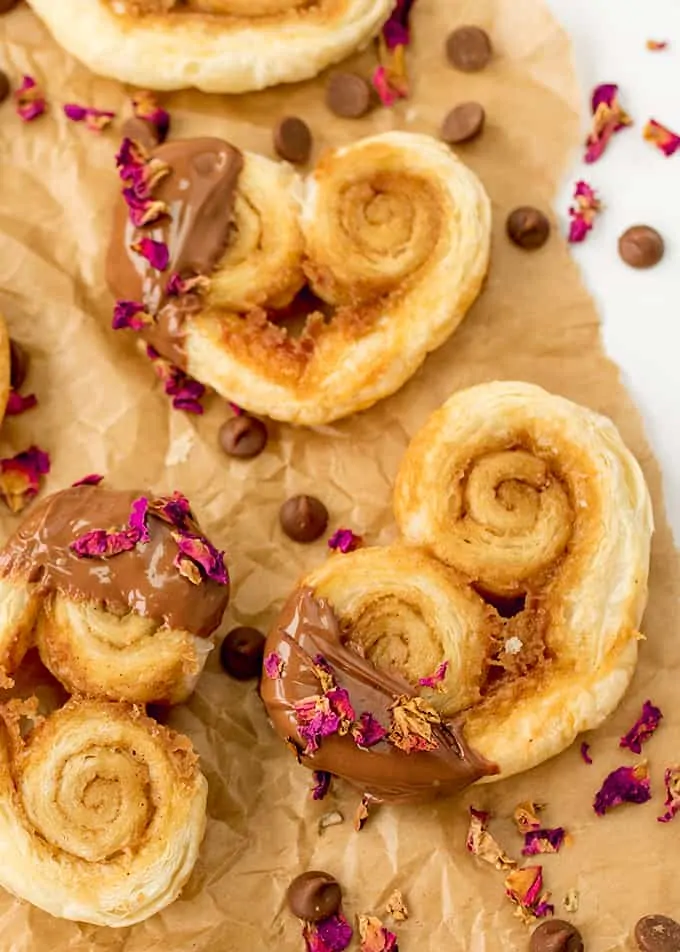 We much prefer to arrange date-night on a night that works for us, and buy gifts just because we see something we think the other would like.
We like to go away for a night or two for our anniversary each year.
And Easter? Well there's always so much chocolate in our house with the kids (and with my mum spoiling us rotten!) that we don't really need any more.
It's probably a good thing that we both feel exactly the same way, otherwise there might be a few arguments!
We do spoil each other at Christmas and on our birthdays (although both of us know never to throw the other a surprise party – at least I hope so……it's my birthday next month….).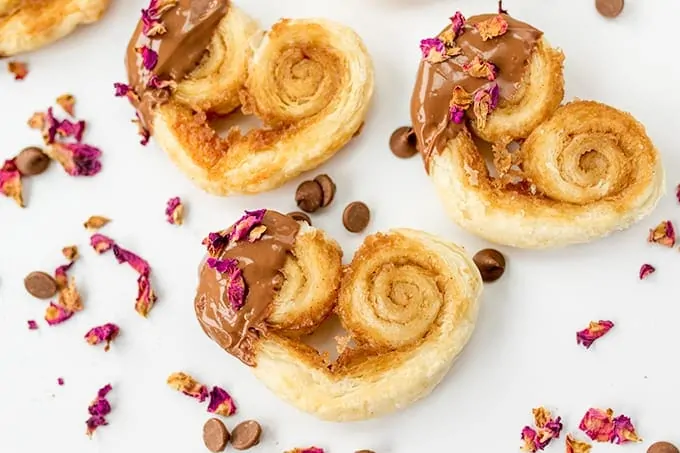 So I won't be looking for a babysitter and whisking Chris out for a valentines meal next week, but I may make some more of these palmier hearts. Only because they're so yummy though – I've eaten three already today.
I saved Chris three of these Rose and Chocolate Valentines Palmiers too. Who says romance is dead 😀
The Rose and Chocolate Valentines Palmiers Recipe: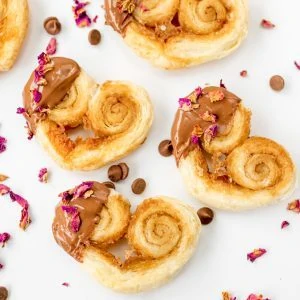 Rose and Chocolate Valentines Palmiers
These Rose and Chocolate Valentines Palmiers are simple and delicious - only five ingredients!
Ingredients
320

g

pack ready-rolled puff pastry

10

tbsp

soft brown sugar

1

tsp

ground cinnamon

85

g

chocolate chips

2

tbsp

edible rose petals
INSTRUCTIONS
Unroll the pastry. Mix together the soft brown sugar and cinnamon and sprinkle it all over the pastry. Use a rolling pin to roll the sugar into the pasty.

Starting from the short ends of the pastry, roll up both ends tightly, until they meet in the middle. Wrap the roll in clingfilm and refrigerate for 30-60 minutes.

Preheat the oven to 200c/400f and line two large baking sheets with baking parchment or a silicone mat.

Take the pastry roll out of the fridge and slice into thin slices - approx 3mm (⅛ inch) thick. Arrange the slices on the two baking sheets - give them room to expand. Shape each one into the shape of a heart. You'll need to unroll the pastry rolls very slightly to make the tops of the hearts, then pinch the bottom of the hearts to make the pointy bit (see photo above).

Place the tray in the oven for 9-11 minutes until the hearts are golden.

Remove from the oven and leave to cool before removing from the trays.

Melt the chocolate in a bain marie (or in a bowl in the microwave in 30-second bursts - stirring in between each burst). Dip one corner of a pastry heart in the melted chocolate, then sprinkle with a few dried rose petals. Place on a tray and leave the chocolate to set before serving.
✎ Notes
Nutritional Information is per serving, based on getting 16 palmiers.
Nutrition
Calories:
131
kcal
Carbohydrates:
17
g
Protein:
1
g
Fat:
6
g
Saturated Fat:
2
g
Sodium:
39
mg
Potassium:
18
mg
Sugar:
10
g
Vitamin A:
10
IU
Calcium:
15
mg
Iron:
0.5
mg