Coq au Riesling with Pappardelle and Greens - Tender chicken cooked in a white wine sauce with mushrooms , pancetta and cream.

What could be better than beautifully browned chicken cooked with two-thirds of a bottle of wine?
Oh I suppose there's some other good stuff in there - like garlic, cream, mushrooms and pancetta.  But it's the huge glug-after-glug of wine that makes this Coq au Riesling with Pappardelle and Greens meal what it is.
And that's flippin' fantastic by the way.
You can serve it with rice, mashed potatoes, roasties, pasta, or even just a nice wedge of bread. Today I went with pappardelle and a large helping of my favourite green veg - kale (I even use it in smoothies and have it for breakfast now!).
My kids thoroughly enjoyed it too, and afterwards it occurred to me that the sheer amount of wine I put in may not have cooked off.
Should I worry, and google it? or just be prepared with a couple of pints of water and the possibility of a full nights sleep........
I googled it!
Tsk. You though I was going to enjoy the peace and quiet didn't you.
It seems that most of the alcohol evaporates pretty quickly, so no danger of over-giddy kids, bouncing off walls before sleeping like a log - a lot like the time my dad accidently gave them a what looked like a regular bottle of orange juice that was actually orange juice with added caffeine!  Who wants caffeine in their juice? Blurgh!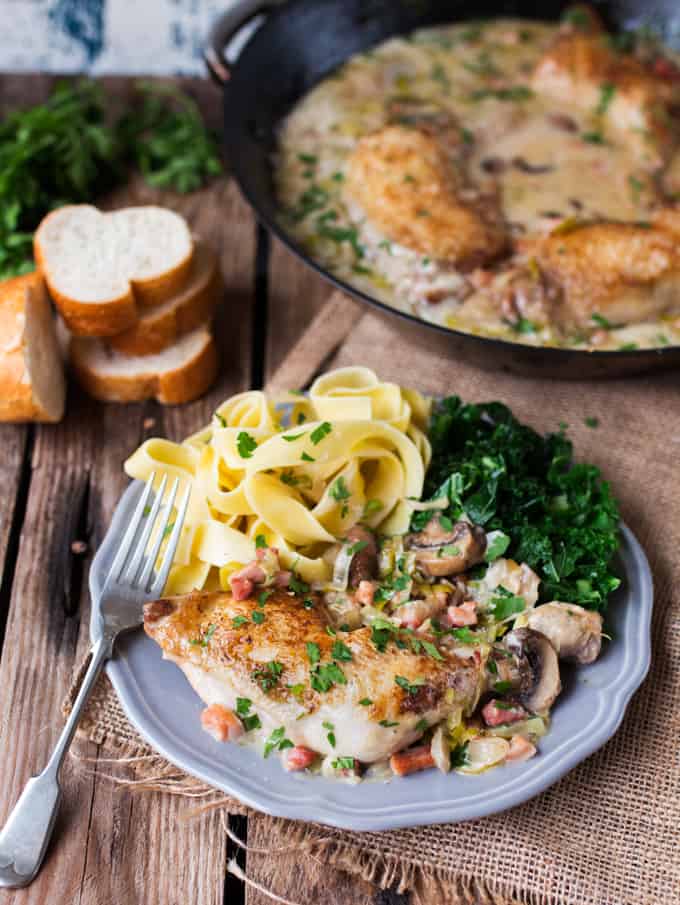 Anyway, enough talk about my poor children being subjected to evaporated alcohol and caffeine.  Let's get on with the recipe!
The Coq au Riesling with Pappardelle and Greens Recipe:
Coq au Riesling with Pappardelle and Greens
Coq au Riesling - Tender chicken cooked in a white wine sauce with mushrooms and cream.
Ingredients
2

tbsp

butter

½

tbsp

olive oil

4

chicken legs

-

thighs and drumsticks attached - or you could do separate thighs and drumsticks and reduce the cooking time by 10 minutes

2

tbsp

plain/all purpose flour

-

gluten free flour blend is fine

Pinch

of salt and pepper

170

g

bacon/pancetta

-

sliced into thin strips

1

onion

-

peeled and finely chopped

1

leek

-

chopped

6

medium brown mushrooms

-

sliced

2

garlic cloves

-

peeled and minced

500

ml

Riesling wine

240

ml

chicken stock -

use vegetable bouillon for gluten free

a

Pinch

of dried thyme

120

ml

double/heavy cream

handful chopped parsley
INSTRUCTIONS
Melt the butter and oil together in a large frying pan/skillet. Coat the chicken in 1 tbsp. flour mixed with a pinch of salt and pepper. Add the chicken to the pan and brown all over (about 4-5 minutes per side), remove from the pan.

Add the pancetta to the pan and cook for a few minutes until the pancetta just starts to look golden at the edges. Add the onions and cook for a further 2-3 minutes. Add the leeks and mushrooms and cook for 2-3 minutes, then add in the garlic. Sprinkle on the remaining 1 tbsp. of flour and stir through.

Add the wine, stock and thyme, stir, then add the browned chicken. Bring to a boil, then then turn down the heat, cover and simmer gently, 35-45 minutes. Check the chicken is cooked by inserting a skewer into the thickest part of the chicken right to the bone. If the juices run clear, it's cooked. If not, put the lid back on a cook for a little longer.

Whilst the coq au Reisling is bubbling (about 15 minutes before it's done), cook your pappardelle in boiling water for 8-10 minutes (or according to pack instructions). Drain the pasta in a colander, leaving a couple of tbsp. of water in the pan.

Put the pasta pan back on the heat and add the kale. Place the lid on and allow the kale to wilt for 2-3 minutes, then drain.

Place the pappardelle and kale in four wide-rimmed bowls.

Add the cream to the coq au Riesling, stir and then serve with the pasta and kale. Top with the chopped parsley.
✎ Notes
Nutritional Information is per serving, without serving suggestion of pappardelle and greens.
Nutrition
Calories:
706
kcal
Carbohydrates:
15
g
Protein:
24
g
Fat:
51
g
Saturated Fat:
20
g
Cholesterol:
174
mg
Sodium:
677
mg
Potassium:
567
mg
Fiber:
1
g
Sugar:
4
g
Vitamin A:
1095
IU
Vitamin C:
5.8
mg
Calcium:
62
mg
Iron:
2
mg