My favourite fish recipe for Summer, these crispy fish tacos are coated in buttermilk and a delicious crispy batter, before being piled into toasted tortillas and topped with fresh pico de gallo.  Find out my recipe for the perfect flavourful batter below!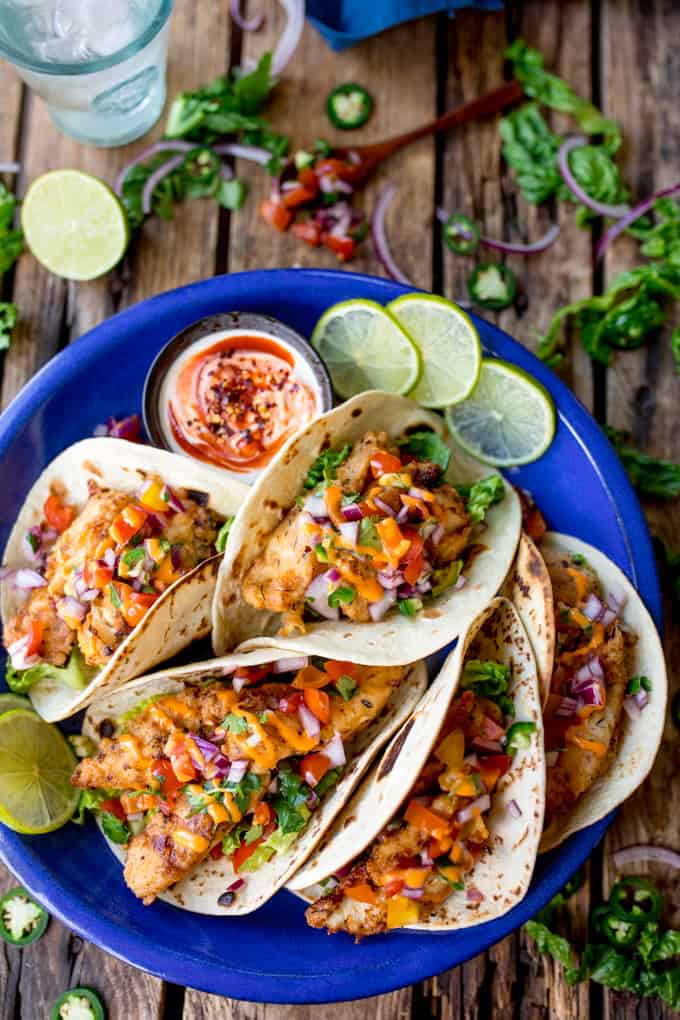 It's one of those meals that has everyone at the table silent, except for the sounds of chomping and lip-licking. I've learned that I need to portion these out onto plates, rather than putting a platter in the middle of the table, otherwise arguments occur.
Yes, there might be the right amount of tacos on the serving platter for the number of people eating, but if ONE piece of fish drops out of a taco, things can get physical!
Just between the kids of course. Chris and I would never make a shove and a grab, then stuff it in our mouths before anyone else could blink...
I was thinking of the type of batter to use on the fish, and I realised that the coating I use on my crispy chicken is my absolute favourite. So I pretty much went with it. And boy does it work!
First slice the fish into chunky strips and marinate in a mixture of buttermilk, salt, white pepper and garlic salt.
Whilst that's marinading, make the pico de gallo by mixing together chopped tomatoes, red onion, jalepenos, coriander (cilantro), salt, lime juice and a tiny pinch of sugar.
Next drain the fish, dredge through the spicy coatings and fry until crispy.
I like to serve on tortillas that have been toasted in a dry pan until lightly browned and charred.
Before I take you to the recipe, I wanted to let you know that Chris and I were on a podcast!!! Elaine from Dishing with Delishes interviewed us recently, and it's just gone out. It's very exciting, even if Chris and I both hate our voices, and sound rather dorky. But hey, that's not going to change any time soon.
Also, we've just got back from a little trip to France! I only managed to post one recipe last week, and that was because I was busy putting on 5.5lbs in FOUR days, testing all the delights that Bordeaux had to offer, along with visiting with friends, and eating and drinking far too much there too (no regrets).
We recorded as much as we could on all the food we stuffed our faces with in Bordeaux, so hopefully we'll get that out soon and I can bore you with our holiday photos yay!
The Crispy Fish Tacos with Pico De Gallo Recipe: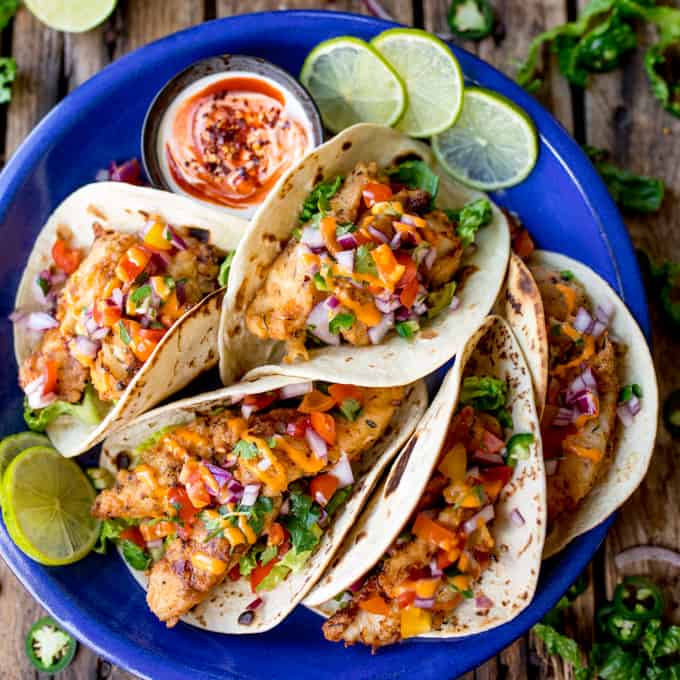 Crispy Fish Tacos with Pico De Gallo
My favourite fish recipe for Summer, these crispy fish tacos are coated in buttermilk and a delicious crispy batter, before being piled into toasted tortillas and topped with fresh pico de gallo.
Ingredients
4

cod or haddock fillets

-

sliced into thick strips

240

ml

buttermilk

1/2

tsp

salt

1/4

tsp

white pepper

1/4

tsp

garlic salt
Fish Coating:
180

g

plain (all purpose) flour

1

tsp

baking powder

1

tsp

salt

1

tsp

black pepper

1/2

tsp

celery salt

1

tsp

dried thyme

1

tsp

paprika

1

tsp

chilli flakes

Vegetable oil for frying
Pico De Gallo:
12

cherry (grape) tomatoes

-

chopped (I used different coloured tomatoes)

1/2

red onion

-

finely diced

small bunch coriander

-

finely chopped

1-2

jalapenos

-

finely chopped

juice of half a lime

1

tsp

salt flakes

pinch

of sugar
Also:
6

white tortillas

4

tbsp

mayonnaise

1

tbsp

sriracha
INSTRUCTIONS
Place the sliced fish fillets in a bowl with the buttermilk, salt, white pepper and garlic salt. Mix together, place in the fridge to marinate for 20-30 minutes (it doesn't need to marinate for too long as the fish is already tender).

Heat around 1 inch of oil in a large frying pan on a medium-high heat until hot. Preheat the oven to a low heat to keep the fish warm once cooked.

Mix together the fish coating ingredients (except the oil) in a bowl. Take the fish out of the fridge. Lift a piece from the buttermilk and allow the excess to drip off. Dredge the fish in the crispy coating mixture – ensuring it's fully covered. Place on a tray and repeat until all of the fish is coated.

Place the fish pieces carefully in the oil, 4-5 pieces at a time and fry, turning once until golden and crispy (about 3-4 minutes per batch). Once cooked, removed from the oil with a slotted spoon, place on a baking tray and place in the oven to keep warm. Repeat with the rest of the fish.

Meanwhile, mix together all of the pico de gallo ingredients in a bowl.

Heat a second large frying pan on a high heat and add a tortilla to the dry pan. Cook until lightly browned, then turn over and cook the other side until lightly browned (should take around 30-60 seconds each side). Place on a plate and repeat with the rest of the tortillas.

Mix together the mayonnaise and sriracha and put to one side.

Now it's time to assemble. Place a taco on a plate and top with 2-3 pieces of the cooked fish. Spoon on a tbsp of the pico de gallo and drizzle on a little of the sriracha mayo.

Repeat until you have filled all 6 tacos, then serve immediately.
✎ Notes
Tip:
The fish coating is crispiest right after frying, so try to cook in only a couple of batches if you have a large enough pan. 
.
Make Ahead:
You can make the fish ahead, with the crispy batter and reheat later. Simply cook, cool, cover and refrigerate for up to a day. Then reheat in a hot (180C/360F) oven for about 10 minutes. They fish won't be quite as crispy, but it's still delicious.
.
Gluten Free Crispy Fish Tacos:
I haven't tried it with gluten free flour yet, but I believe this will still work well if you replace the flour with gluten free flour blend and gluten free baking powder.
You'll also need to use gluten free tortillas.
.
Nutritional Information is per taco.
This info is approximate, as all of the flour may not be used up in coating the fish (I've counted all of the flour as part of the nutritional info though). Also, I've included 1/2 tbsp of oil per taco to account for the oil that is absorbed during deep drying (this is an *approximate* amount, the fish may absorb more or less).
Nutrition
Calories:
396
kcal
Carbohydrates:
40
g
Protein:
21
g
Fat:
16
g
Saturated Fat:
7
g
Cholesterol:
44
mg
Sodium:
1485
mg
Potassium:
665
mg
Fiber:
3
g
Sugar:
4
g
Vitamin A:
585
IU
Vitamin C:
14.4
mg
Calcium:
130
mg
Iron:
2.7
mg
Some of the links in this post may be affiliate links – which means if you buy the product I get a small commission (at no extra cost to you). If you do buy, then thank you! That's what helps us to keep Kitchen Sanctuary running. The nutritional information provided is approximate and can vary depending on several factors. For more information please see our Terms & Conditions.