Upgrade that store-bought ravioli to something you'd get at a restaurant with this rich and creamy tomato ravioli sauce with spinach and parmesan.
You can get it on the table in 15 minutes, and best of all, you can make it all in one pan.
This is perfect comfort food for busy weeknights!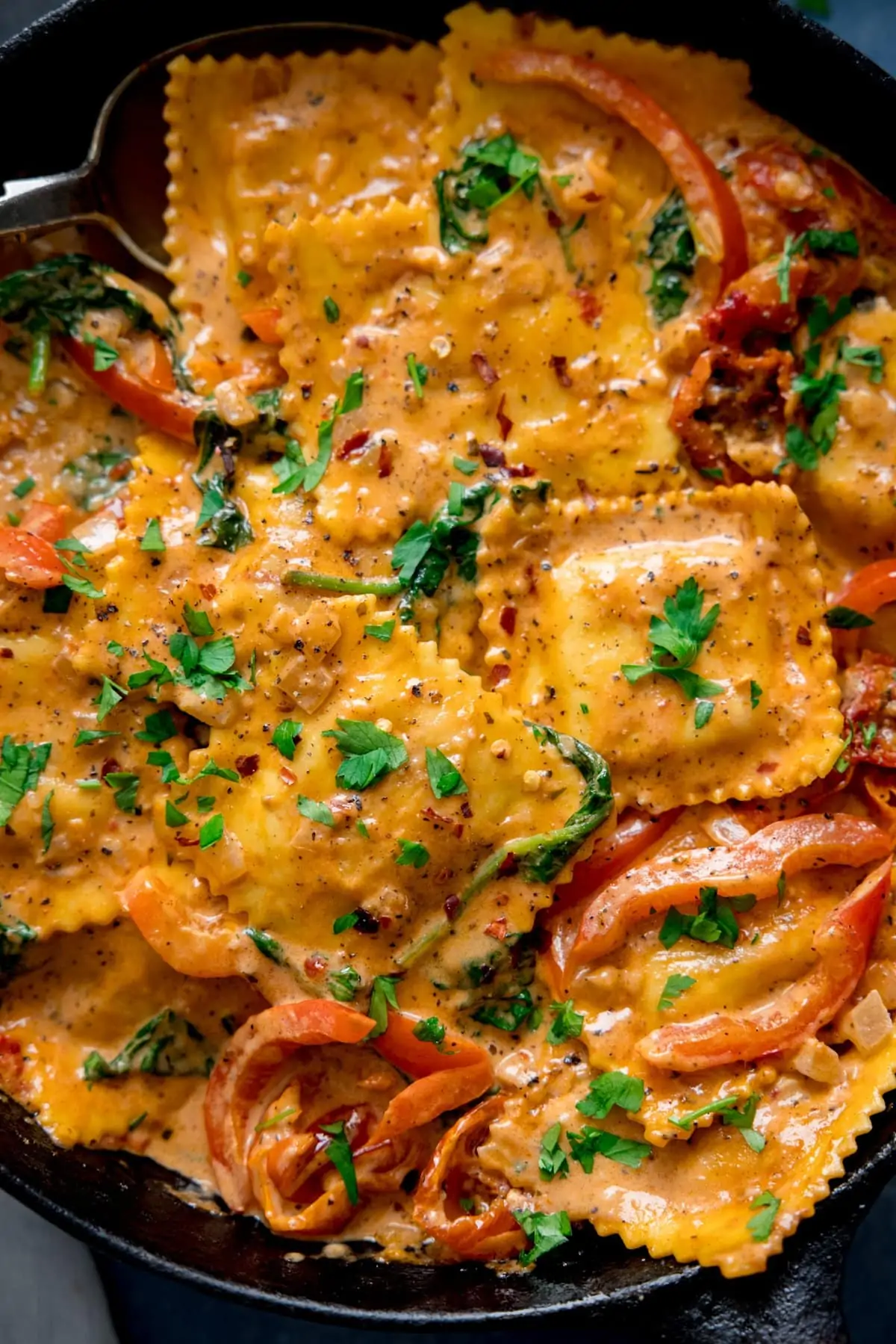 Jump to:
I've yet to find a store-bought pasta/ravioli sauce that tastes great. This means fresh ravioli often gets overlooked, because it's not going to match that restaurant experience.
And yet I really like the ravioli itself. So that set me on a course to make a really quick and easy, but REALLY tasty sauce for ravioli. Best of all, you cook the ravioli in the sauce you're making - no need to boil it in a seperate pan.
One pan recipes are my favourite!!
📋 What do we need?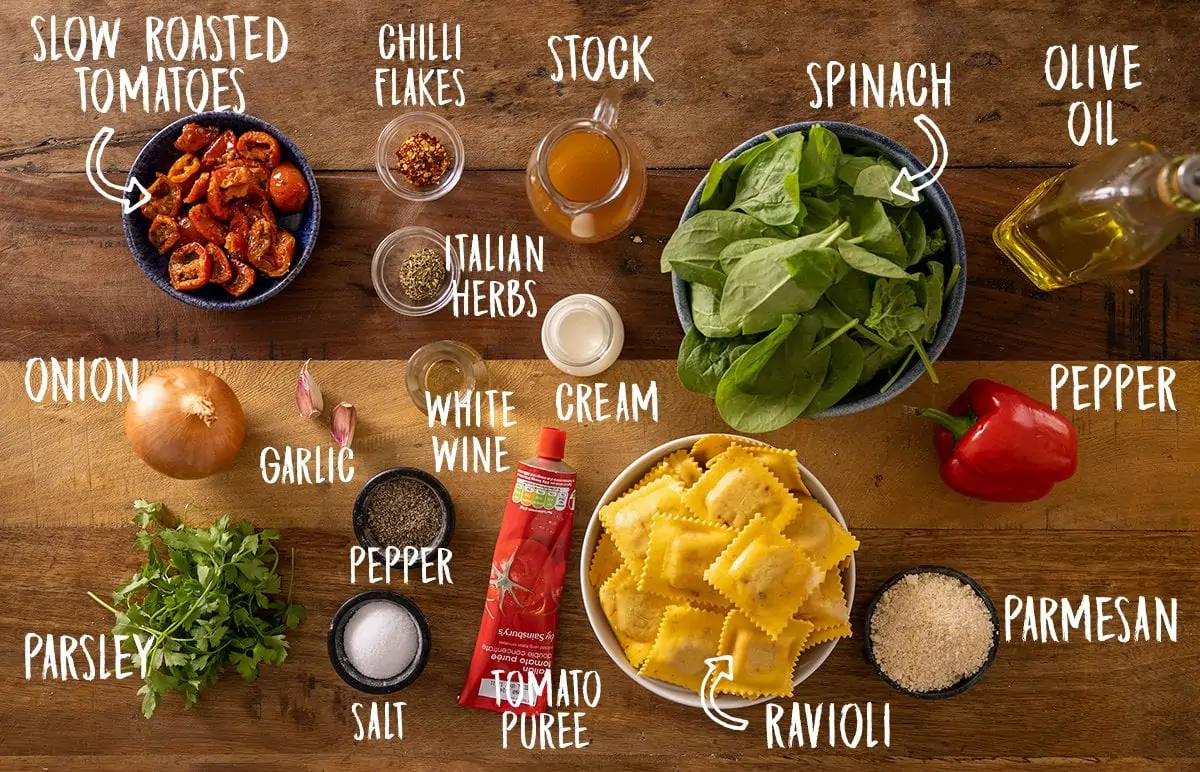 Tomato puree: In the UK we call the thick tomato tomato concentrate tomato puree. In the US, it's known as tomato paste.
Italian herb mix: This is a ready-made mixture, usually consisting of oregano, basil, marjoram, thyme, rosemary, sage and parsley. If you can't get hold of it, then a mixture of oregano and thyme works well as a replacement.
Roasted tomatoes: I buy the ones at the deli counter (sometimes called 'sun-soaked' or 'semi-dried' tomatoes) that are bright red or orangey colour and are marinated in oil (rather than jarred sun-dried tomatoes, which are often a bit more brownish in colour). You can replace with the jar version if you like them more.
🔪 How to make this Ravioli Sauce
***Full recipe with detailed steps in the recipe card at the end of this post.***
We start by softening onions and garlic in a pan with a little oil

. Then we add in the ravioli - so it can start to cook through right away. This means we don't need to boil the ravioli in a separate pan.
Next in goes red pepper, herbs and seasoning, a little tomato puree and white wine.
Allow the wine to bubble for a minute, then add in roasted tomatoes, chicken stock and cream. Now we bubble it all up for 5-6 minutes to cook that ravioli through.
Finally we add in baby spinach and grated parmesan. Cook that for about a minute further, until the spinach wilts. Then serve it up with a sprinkling of parsely.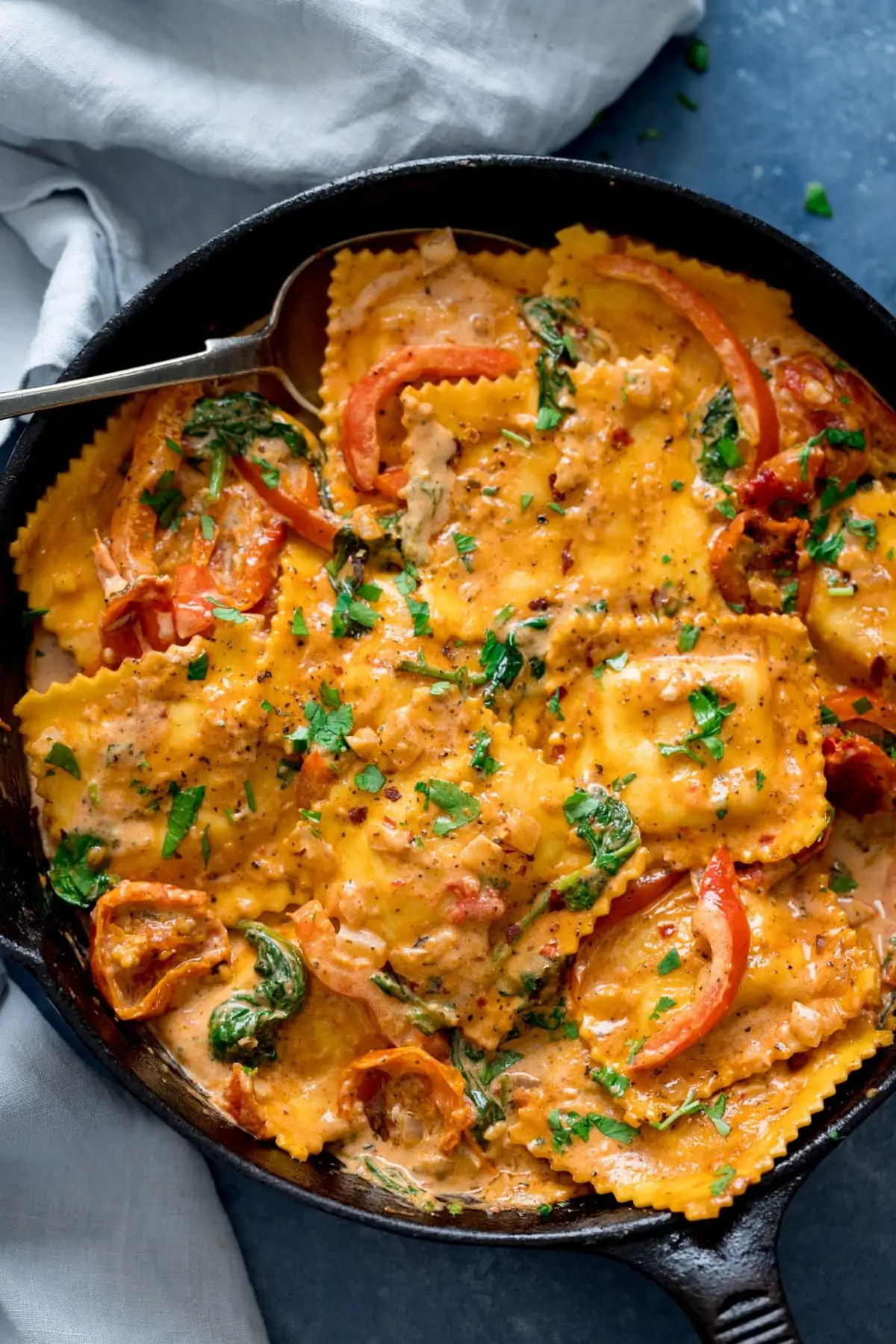 👩‍🍳PRO TIP You could serve this creamy tomato pasta sauce with regular store-bough pasta or this easy homemade pasta.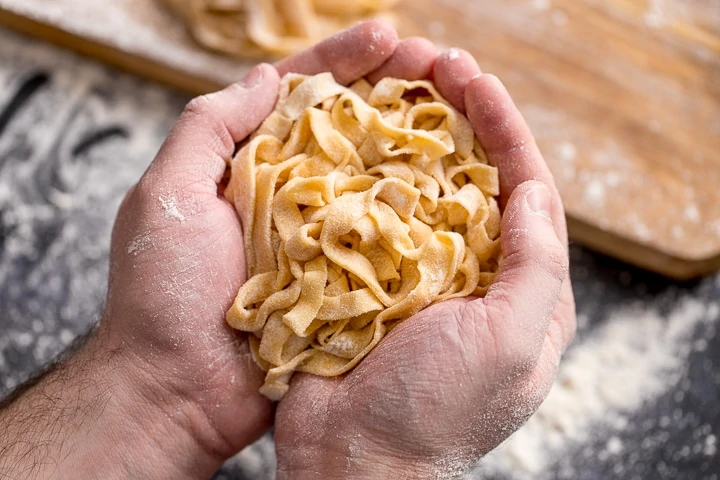 This recipe gives you enough sauce to coat the ravioli, with a little bit of sauce left at the bottom of the pan. If you like plenty of sauce, you can add in an extra splash of stock and cream.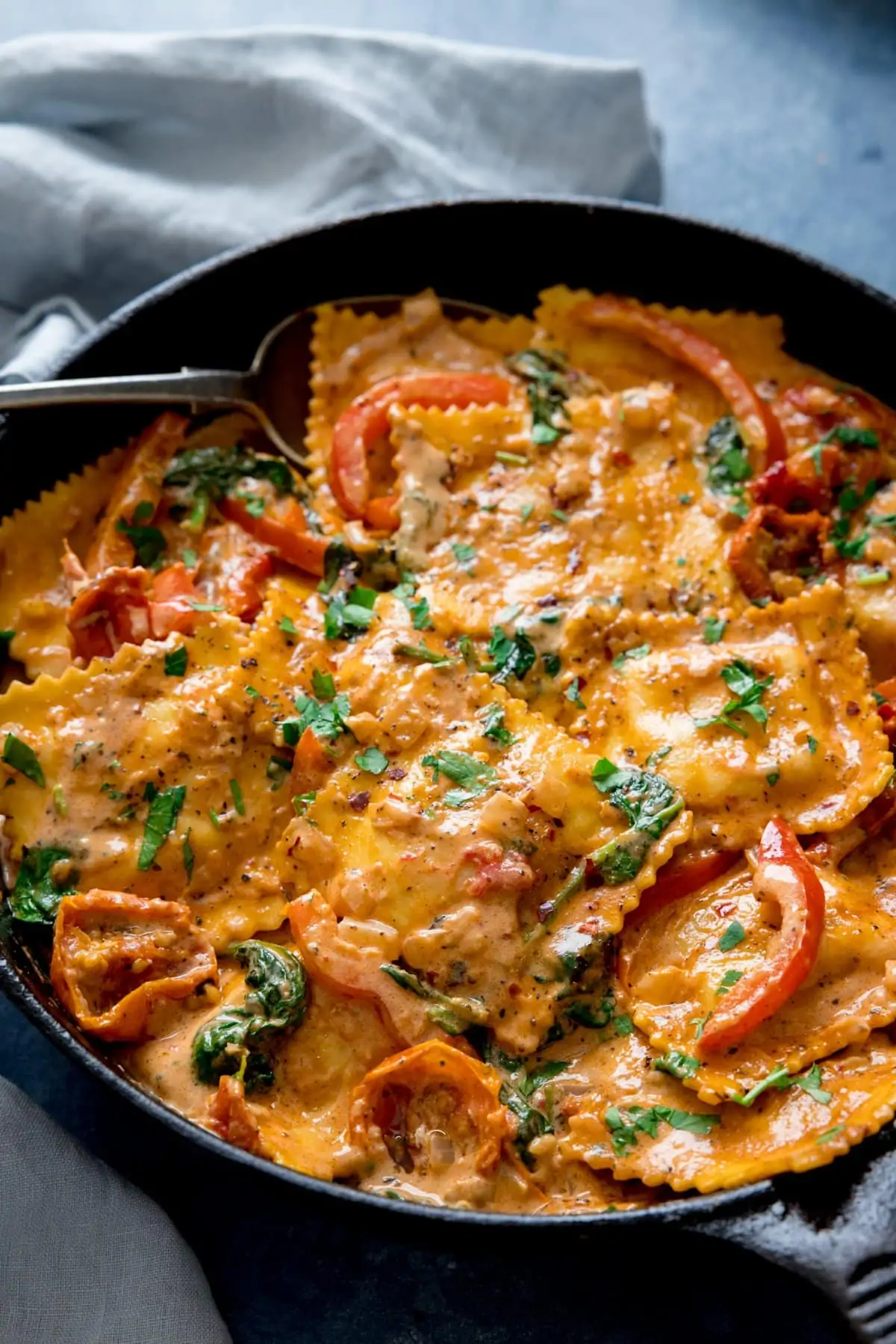 ---
Now the question is 'What's your favourite ravioli filling?' Mine's chicken and chorizo 😋
Also, should I post a recipe for homemade ravioli?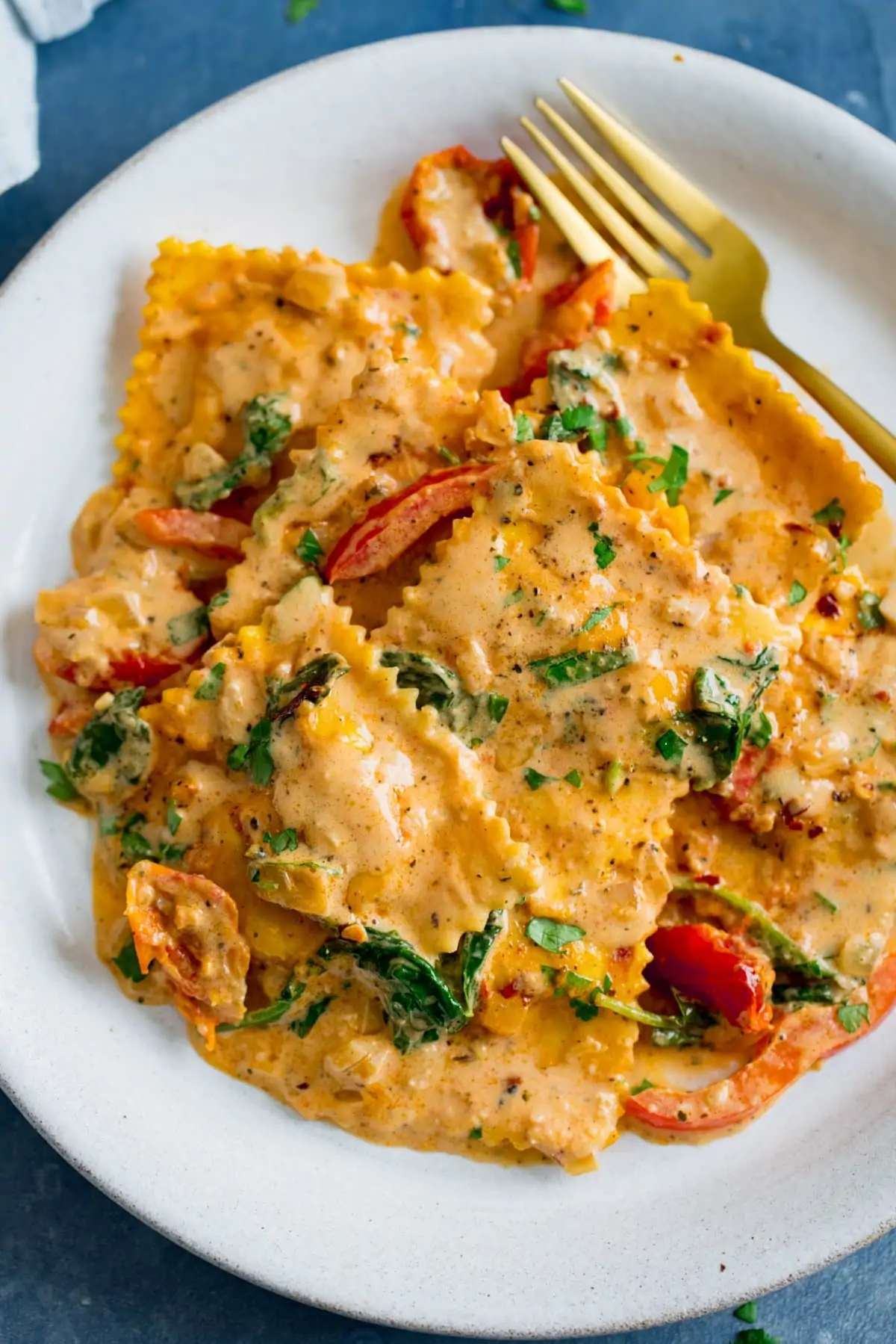 ---
Stay updated with new recipes!
Subscribe to the newsletter to hear when I post a new recipe. I'm also on YouTube (new videos every week) and Instagram (behind-the-scenes stories & beautiful food photos).
Ravioli with Creamy Tomato Sauce
Upgrade that store-bought ravioli to a restaurant-quality dish with this rich and creamy tomato ravioli sauce. A 15 minute, one-pan recipe.
Ingredients
1

tbsp

olive oil

1

onion

-

finely diced

2

cloves

garlic

-

peeled and minced

500

g

(1.1 lbs) fresh ravioli

-

(use your favourite flavour)

1

red bell pepper

-

sliced

½

tsp

Italian herbs

½

tsp

chilli flakes (red pepper flakes)

½

tsp

black pepper

pinch

salt

1

tbsp

tomato puree

-

paste for US

90

ml

(⅓ cup) white wine

100

g

(3.5 oz) roasted cherry tomato halves

-

you can buy these from the deli counter

120

ml

(½ cup) chicken stock

90

ml

(⅓ cup) double (heavy) cream

90

g

(3 packed cups) baby spinach

50

g

(½ cup) parmesan

-

grated

1

tbsp

fresh parsley

-

finely chopped
INSTRUCTIONS
Add the olive oil to a large frying pan (or skillet) and heat over a medium heat, then add in the finely diced onion and cook for 4-5 minutes until the onion starts to soften.

1 tbsp olive oil,

1 onion

Add in the minced garlic and cook for another 30 seconds stirring continuously.

Now add in the ravioli and the sliced red bell pepper and cook for another minute, stirring a few times.

500 g (1.1 lbs) fresh ravioli,

1 red bell pepper

Add in the Italian herbs, chilli flakes, black pepper, and salt, give it a stir then add in the tomato puree and wine, stir again, and cook for another minute to reduce the wine down slightly.

½ tsp Italian herbs,

½ tsp chilli flakes (red pepper flakes),

½ tsp black pepper,

pinch salt,

1 tbsp tomato puree,

90 ml (⅓ cup) white wine

Add in the roasted tomatoes, chicken stock, and cream. Stir everything together and bring up to a simmer. Allow to simmer for 5-6 minutes, until the centre of the ravioli is piping hot (you can open one up to check this).

100 g (3.5 oz) roasted cherry tomato halves,

120 ml (½ cup) chicken stock,

90 ml (⅓ cup) double (heavy) cream

Add in the spinach and parmesan and cook for a minute to allow the cheese to melt and the spinach to wilt.

90 g (3 packed cups) baby spinach,

50 g (½ cup) parmesan

Sprinkle with fresh parsley and serve.
✎ Notes
Can I make it ahead?
The filling inside store-bough ravioli is usually cooked. So when making this recipe, you're cooking the pasta and reheating the filling. If you were to make it ahead and reheat again, that would mean the filling would be reheated too many times. So I don't recommend making this ahead and reheating later.
However, you can make the recipe without the ravioli ahead of time (make it, cool quickly and store, covered in the refrigerator for up to two days).
Then when you want to reheat it, add the ravioli in at that point and heat it all together for 5-6 minutes, until the centre of the ravaioli is piping hot. You will probably need to add a good splash of water when reheating to loosen up the sauce.
Ingredient swaps/additions
Finish with a sprinkle of crispy bacon for an extra special touch.
Don't want to use wine? Replace the wine with more chicken stock plus a teaspoon of lemon juice.
Use vegetarian ravioli, swap the parmesan for vegetarian Italian-style hard cheese and swap the chicken stock for vegetable stock for a vegetarian version.
Add in more vegetables - such as peas, fine asparagus or sliced courgette (zucchini). Add them in at the same time you would add the red bell pepper.
How to scale up and scale down this recipe
You can double or halve the recipe sticking to the same ratios. If you're double the recipe, it will take an extra 5-10 minutes to ensure everything is cooked through the ravioli centre is piping hot.
Nutritional information is per serving (this recipe serves 4)
Nutrition
Calories:
685
kcal
Carbohydrates:
66
g
Protein:
27
g
Fat:
34
g
Saturated Fat:
13
g
Polyunsaturated Fat:
1
g
Monounsaturated Fat:
8
g
Cholesterol:
109
mg
Sodium:
1304
mg
Potassium:
712
mg
Fiber:
7
g
Sugar:
6
g
Vitamin A:
3987
IU
Vitamin C:
74
mg
Calcium:
235
mg
Iron:
15
mg
Some of the links in this post may be affiliate links – which means if you buy the product I get a small commission (at no extra cost to you). If you do buy, then thank you! That's what helps us to keep Kitchen Sanctuary running. The nutritional information provided is approximate and can vary depending on several factors. For more information please see our Terms & Conditions.