Creamy Tomato Salmon with Spaghetti - Salmon in a creamy red pepper and tomato sauce with a mix of regular and courgette spaghetti - Ready in 20 mins.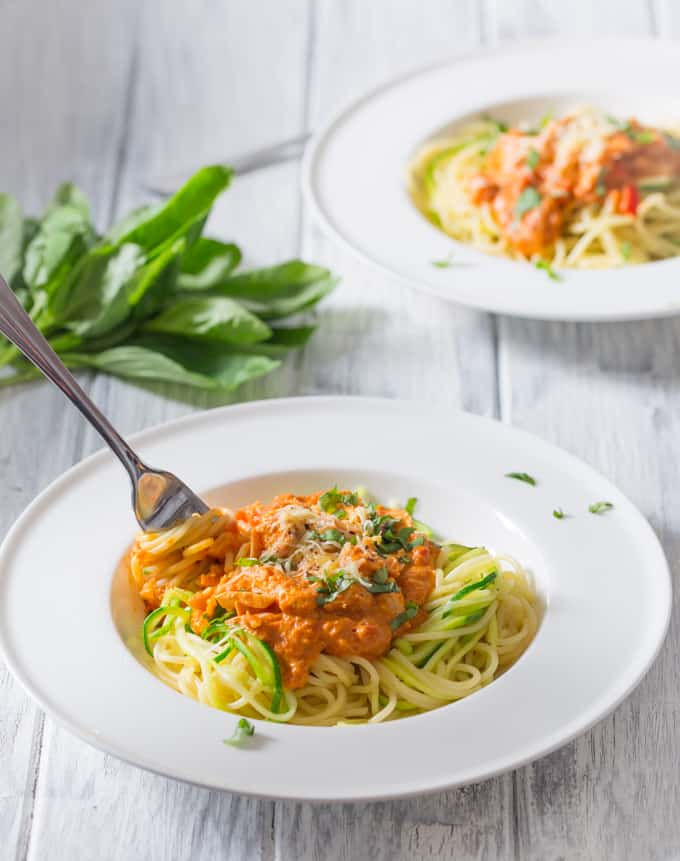 I made courgette spaghetti!
I read an article at the weekend on 'Why a spiralizer will leave you feeling peckish and miserable' and sadly looked over at my new spiralizer sitting on the countertop in it's box. I am a bit of a sucker for these gadgets, and do admit to having a juicer, a fondue set and a meat grinder being ignored at the back of the cupboard.
Determined to prove the article wrong however, I got on with making some courgette spaghetti that very evening, and it was fun!
Now, I love spaghetti and I don't think any vegetable is going to replace the satisfaction I get from a bowl of steaming hot pasta.  However, that doesn't mean you should forget this gadget as a fad that will leave you hungry.  It's all about balance! For me, the best way to serve this stuff is lightly boiled (i.e 1 minute) and mixed with regular spaghetti.
I can honestly say I enjoyed this Creamy Tomato Salmon with Spaghetti meal all the more for having both the spaghetti and the courgette in there.  Plus my kids ate it all too!
I am going through a bit of a stage of looking for things to spiralize now though (sweet potatoes and carrots? yes!  Tomatoes and mushrooms? no....).
I served the spaghetti with salmon cooked in a tomato and red pepper sauce - which is one of the regulars on my dinner menu at home.  It's creamy and tangy and delicious, but also healthy and quick.
Towards the end of cooking, I like to push the salmon to the side of the pan and blend up half of the sauce using a hand blender (ooh another GREAT gadget) - this thickens the sauce, but also leaves some texture in there.
Top it all off with a sprinkle of grated cheese and chopped basil and you have a 20 minute meal that ticks all the boxes.
Now, where can I buy one of those automatic winding spaghetti forks.....
The Creamy Tomato Salmon with Spaghetti Recipe: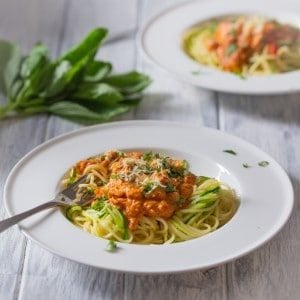 Creamy Tomato Salmon with Spaghetti
Salmon in a creamy red pepper and tomato sauce with a mix of regular and courgette spaghetti - Ready in 20 mins.
Ingredients
Salmon and Sauce:
1

tbsp

olive oil

1

brown onion

-

peeled and chopped

2

cloves

garlic

-

peeled and minced

1

large red pepper

-

chopped

3

pieces

of boneless salmon

-

doesn't matter if the skin is on, as it can easily be removed during cooking

1

x 400g

tin chopped tomatoes

1

tbsp.

tomato puree/paste

-

check for gluten free if required

½

tsp

dried thyme

1

tsp

sugar

3

tbsp

double/heavy cream
To serve:
Grated parmesan or mature cheddar cheese

Fresh basil

-

roughly chopped
INSTRUCTIONS
Put a large pan of water on to boil for your pasta.

Heat the oil in a large frying pan and add the onions. Cook on a medium heat for 3-4 minutes, stirring occasionally. Next add the garlic and red pepper and cook for 2 minutes. At this point your water should be boiling. Add the pasta and cook on a gentle simmer for 12-13 minutes.

Add the salmon to the pan (skin side down if it has skin) and turn the heat up to high. Pour in the tin of chopped tomatoes. Add the tomato puree, thyme and sugar. Give everything a gentle stir and when it starts to bubble, turn the heat down to medium - allowing the salmon to cook in the simmering sauce.

Whilst the sauce is simmering, use your spiralizer to spiralize the courgette/zucchini.

Check on your salmon. After about 5-6 minutes of simmering, turn the salmon over. At this point, if the salmon has skin, you can remove it using a pair of tongs and a fork. Break the salmon up a little bit to help it cook faster.

After another 5 minutes of simmering, move the salmon to one side of the pan, take the pan off the heat and very carefully (so you don't get splashed) use a hand blender to blend half of the sauce. Add the cream, mix and put back on the heat.

Add the courgette noodles to the pasta pan for the last minute of cooking, then drain and divide between four bowls.

Spoon the salmon and sauce on top of the spaghetti and serve with a sprinkle of grated cheese and chopped basil.
✎ Notes
Any leftover salmon sauce can be cooled quickly, placed in a covering container and frozen.
To reheat - defrost thoroughly at room temperature and re-heat until piping hot throughout either in a pan or in the microwave.
.
Nutritional Information is per serving.
Nutrition
Calories:
565
kcal
Carbohydrates:
64
g
Protein:
36
g
Fat:
17
g
Saturated Fat:
4
g
Cholesterol:
85
mg
Sodium:
72
mg
Potassium:
1039
mg
Fiber:
4
g
Sugar:
6
g
Vitamin A:
1265
IU
Vitamin C:
49.7
mg
Calcium:
55
mg
Iron:
2.6
mg