Spanish chicken one-pot with chorizo and peppers - let the oven do the hard work!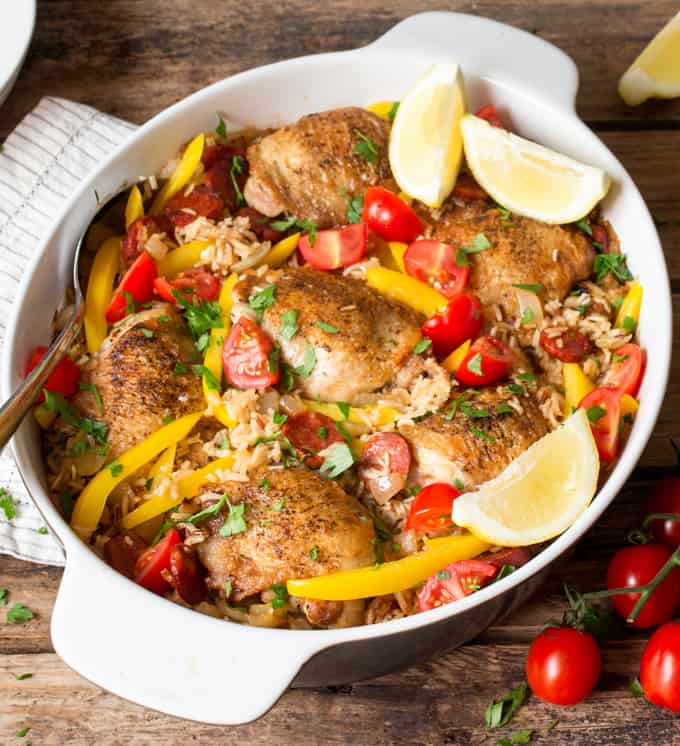 Juicy, golden skinned chicken and spicy chorizo, served on a bed of tender basmati and red rice.  Yes, this is some hearty comfort food!
However, I've lightened it up with the addition of yellow bell peppers, lightly-cooked cherry tomatoes and plenty of lemon wedges.  This makes it the perfect dinner, whatever the weather.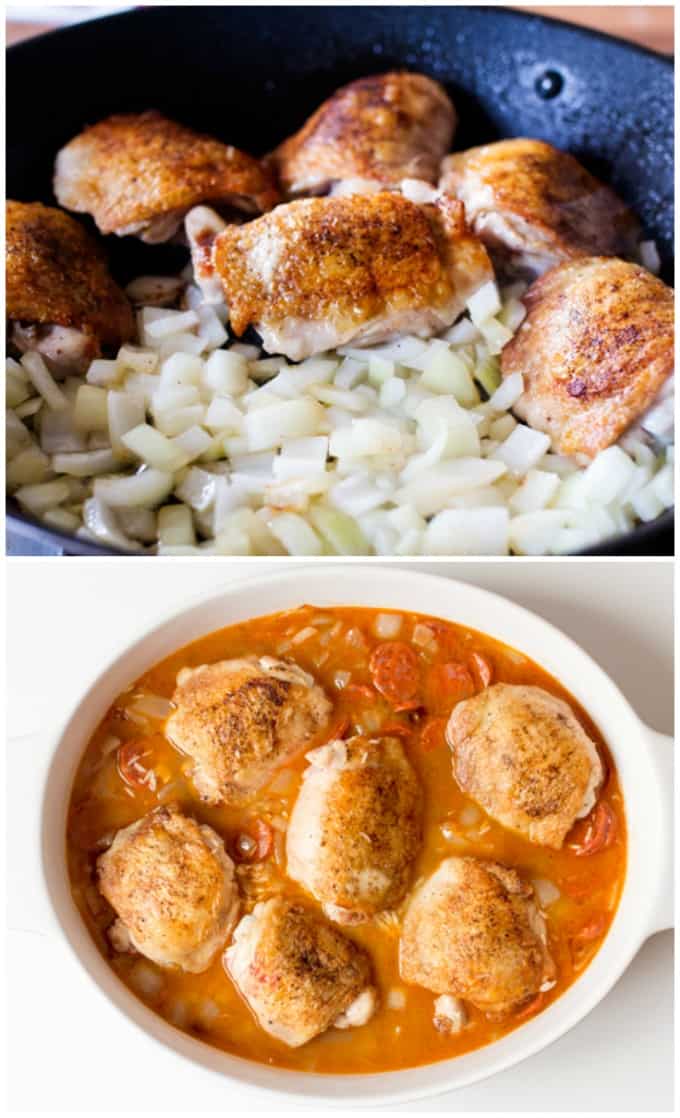 There's a little bit of upfront work in the browning of the chicken and giving the onions and chorizo a quick fry - but once you've got that rice and stock mixed in, you can stick it in the oven and relax until dinner time.
This is the kind of dinner I need tonight to make me feel better after my embarrassing experience at the gym today.
I called the gym last week to book myself in for a spin class for today. Upon arriving at the gym, the assistant took my name, ticked off her list and gave me the required wristband to hand in to the spin class teacher.
So I handed it in, grabbed a bike and tried to psych myself up for some Monday morning torture.
Just before the class was about to start, the assistant came up claiming they had one too-many people in the class, and someone was in the class whose name wasn't on the list.
You know where this is going don't you....
Yep, after taking a register, classroom style, it turns out it was my name that wasn't on the list.  So not only had someone not put my name down when I rang up last week to book, but the assistant had also ticked off the wrong name when I arrived.
I had to slope out of the class with my tail between my legs - so that the woman who'd been on the reserve list could come in (apparently being on the reserve list outranked my situation).
Did I swear under my breath as I left the class?
Yes
Did I go and do some cardio and weights to make up for not going to class?
No.
I went home and had a piece of toast instead - whilst still swearing under my breath.
Getting myself through those doors at the gym requires monumental effort enough.  Give me an excuse to leave immediately and I'm all over it.  In fact, it's a pretty good way to make me run 🙂
How do you motivate yourself to get to the gym?
Would you have stayed??
Ok, rant over now.
Spanish Chicken One-Pot Recipe: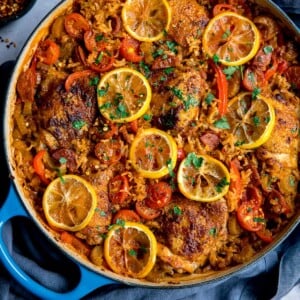 Spanish Chicken One-Pot
Spanish chicken one-pot with chorizo and peppers - let the oven do the hard work!
Ingredients
1

tbsp

olive oil

large pinch of salt and pepper

6

chicken thighs

1

medium brown onion

-

peeled and chopped

100

g

chorizo

-

chopped (usually gluten free, but check if required)

1/4

tsp

paprika

1

fat clove of garlic

-

peeled and minced

220

g

basmati rice

45

g

red rice or wild rice (if you can't find red or wild rice on it's own, you may be more likely to find basmati and wild rice mix - just use that to replace both of the rices instead)

2

tbsp

white wine

1

yellow bell pepper

-

sliced into lengths

6

baby tomatoes

-

roughly chopped
To serve:
Chopped parsley

Lemon wedges
INSTRUCTIONS
Preheat the oven to 170c/325f

Heat the oil in a shallow, wide oven-proof dish or pan (the pan should be big enough to hold the chicken in one layer with room to spare). Sprinkle the salt and pepper on the skin of the chicken thighs, and place in the hot pan, skin-side down. Cook for 4-6 minutes until the skin is golden brown. Turn oven and cook for another couple of minutes.

Push the chicken to one side of the pan (or place on a plate if you need more room) and add in the onions. Cook for two minutes, until the onions are just starting to soften.

Add in the chorizo and cook for a further two minutes. Add in the paprika and garlic. Stir, then add in the basmati and red rice. Stir again to coat the rice in any oil that was in the pan.

Add in the white wine and let it cook through for a minute, then add in the stock. Give the rice a stir, then nestle the chicken evenly amongst the rice. Place a lid on the pan (or a double layer of foil) and place in the oven to cook for 30 minutes.

After 30 minutes, check the rice for 'doneness'. It will probably need a little longer. Add a splash of hot water if it's started to look dry, then nestle the yellow pepper and tomatoes into the rice. Cover and cook for a further 10 minutes until the rice is done (if you prefer your tomatoes a little firmer - like I do - just stick them in for the last 5 minutes)

Take out of the oven and sprinkle with parsley before serving with lots of lemon wedges.
✎ Notes
Nutritional Information is per serving.
Nutrition
Calories:
831
kcal
Carbohydrates:
78
g
Protein:
60
g
Fat:
27
g
Saturated Fat:
8
g
Cholesterol:
244
mg
Sodium:
1259
mg
Potassium:
1052
mg
Fiber:
3
g
Sugar:
3
g
Vitamin A:
510
IU
Vitamin C:
80.4
mg
Calcium:
62
mg
Iron:
3.6
mg