How to 'velvet' beef - this is a method of tenderising tougher/cheaper cuts of beef to use for stir fry recipes. I use bicarbonate of soda for this quick method. The beef is tender and ready to use in 30 minutes.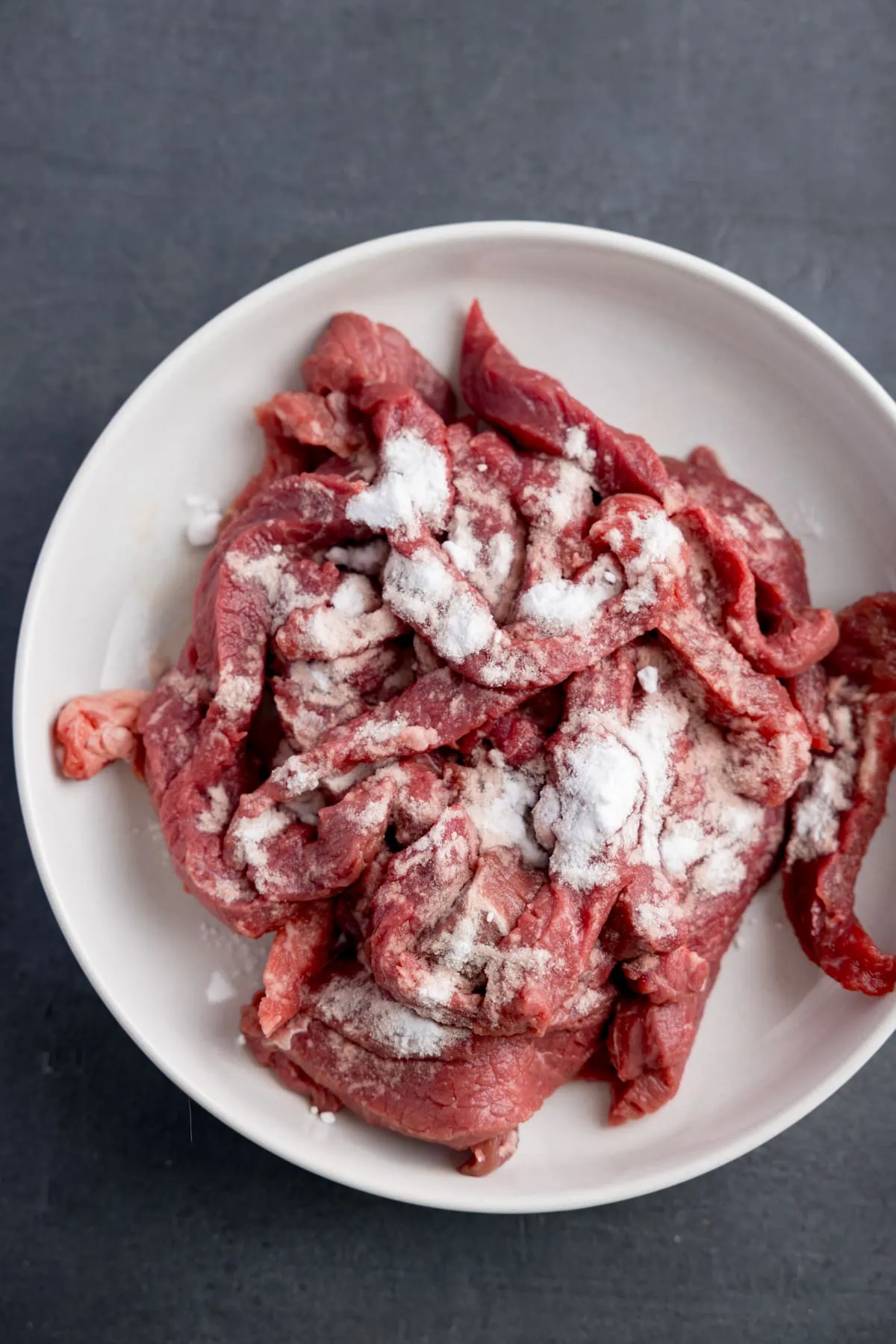 Jump to:
Steak is so expensive these days!
Whilst I love using a nice tender, marbled piece of ribeye for a stir fry, it's not always practical, or cost effective (especially when you have a couple of hungry teenagers to feed too).
This is how to use a cheaper cut of beef/steak, such as rump, for your stir-fry, whilst still ensuring it's soft and tender.
After all, no-one wants a chewy stir fry!
The method is known as velveting or tenderising. There are a few different ways to velvetise steak - which is a common practice in Chinese restaurants. This is the simplest and most effective method I've found.
📋 Ingredients?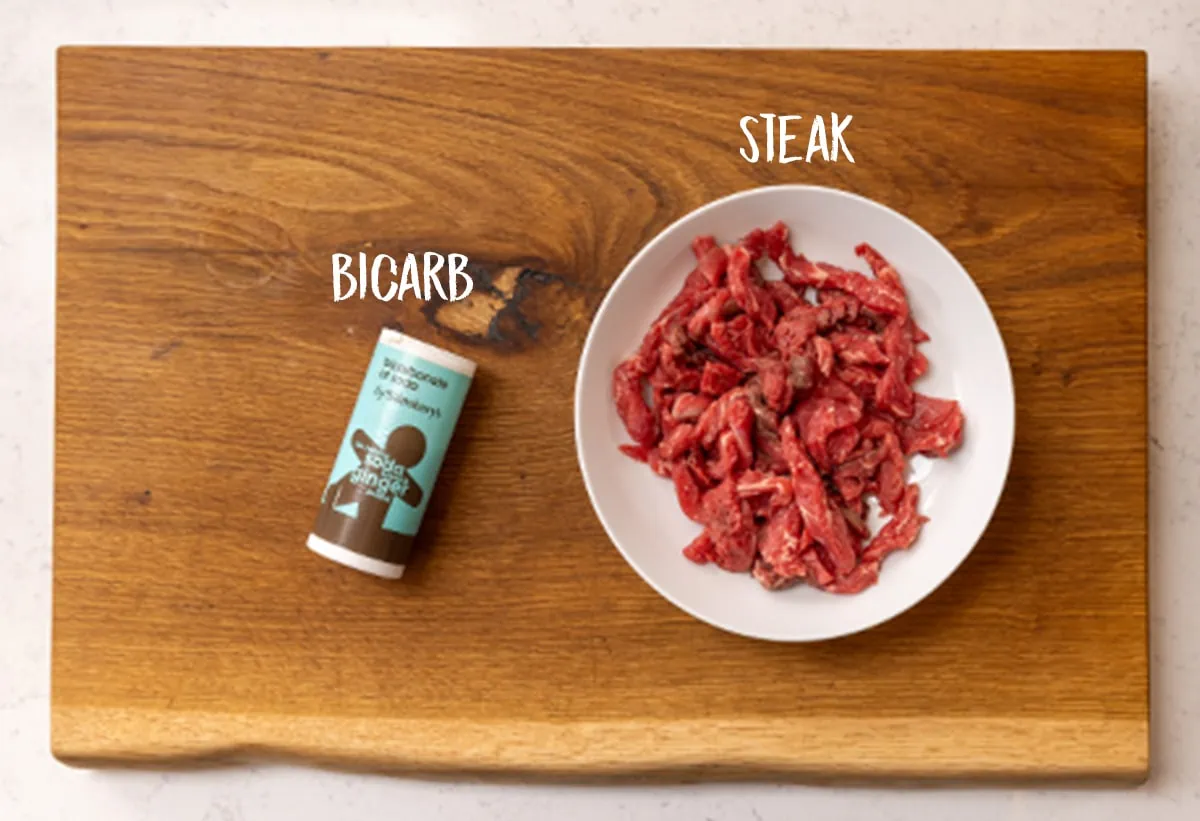 Beef steak - I use rump steak, sliced into strips, against the grain. You can also use sizzler steak, stewing steak or ready-sliced stir-fry steak. Other cuts of beef to use that are more well known outside of the UK include: top round, bottom round, flank, hanger, skirt, chuck, blade or denver.
Bicarbonate of soda
📺 Watch how to make it
Full recipe with detailed steps in the recipe card at the end of this post.
Place the steak strips in a bowl
Sprinkle over 1 teaspoon of bicarbonate of soda and rub it into the meat with your hands.
Cover and refrigerate for 30 minutes.
Rinse the beef in cold water to remove the bicarb.
Pat dry with paper towels and use as per your recipe.
👩‍🍳PRO TIP Once you've dried the beef, you can use a per your normal recipe - even if that calls for marinading or coating the beef.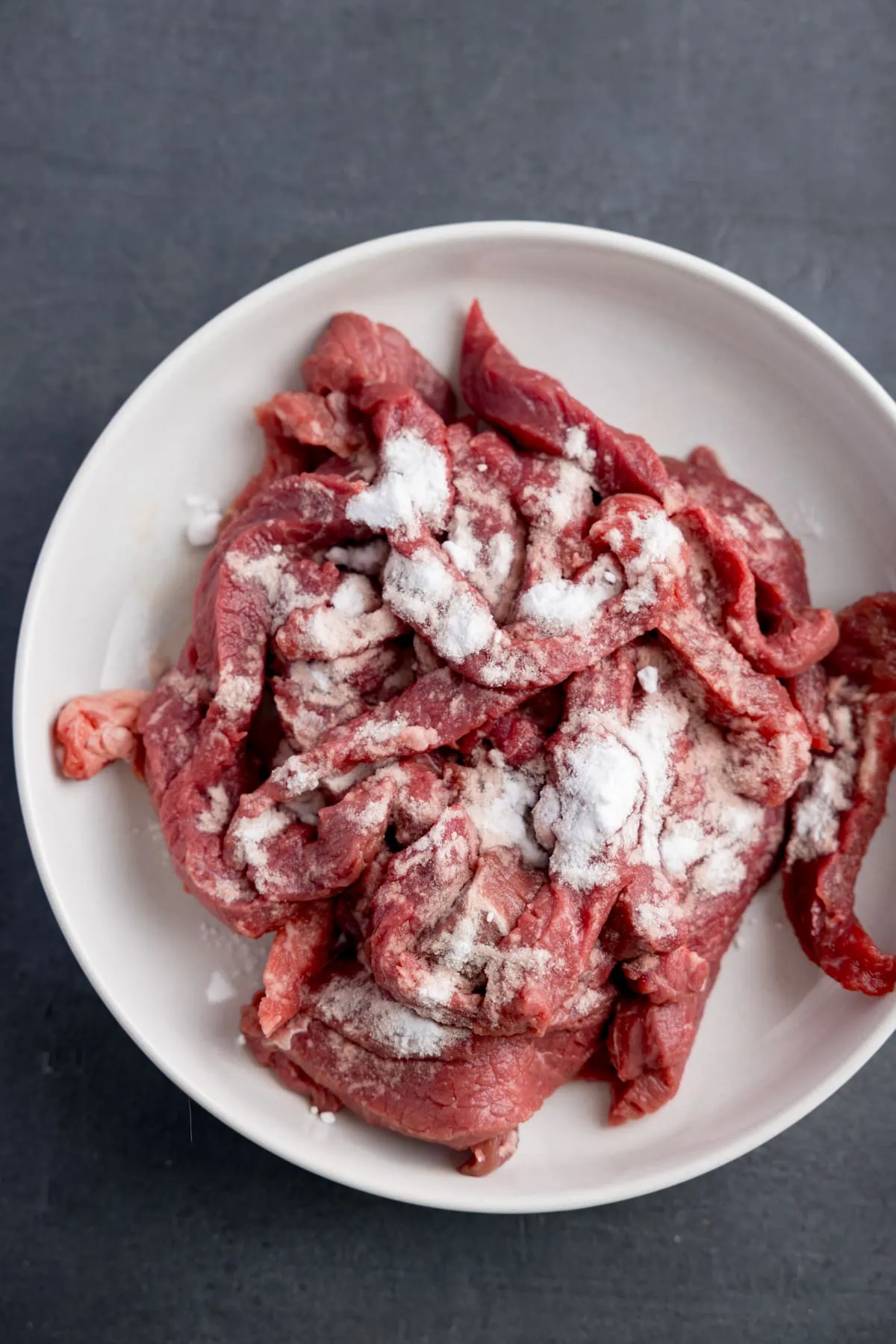 How does bicarbonate of soda tenderise meat?
The bicarb acts as an alkaline, which raises the pH level on the surface of the meat. This changes the way the proteins in the meat react when being heated over a high heat, and stops the meat seizing up and losing moisture .
---
The result is soft, juicy, tender meat. Here's a close up of some rump steak I velvetised, then fried as part of my beef in black bean sauce recipe: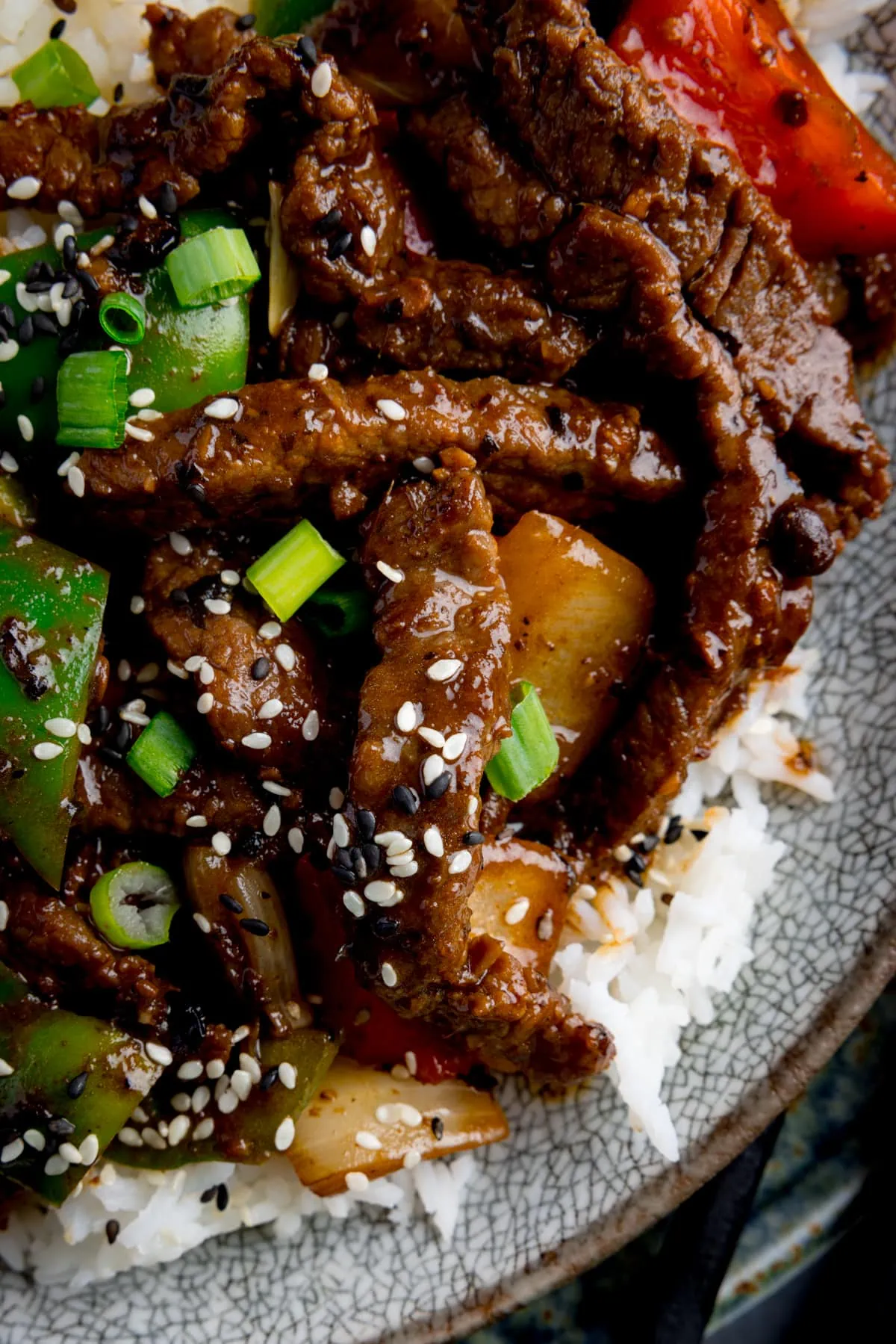 ---
🍲 Recipes to make with tenderised beef
Stay updated with new recipes!
Subscribe to the newsletter to hear when I post a new recipe. I'm also on YouTube (new videos every week) and Instagram (behind-the-scenes stories & beautiful food photos).
Velveting beef
How to 'velvet' beef - this is a method of tenderising tougher/cheaper cuts of beef to use for stir fry recipes.
Ingredients
400

g

(14oz) rump steak

-

sliced into thin strips, against the grain (or use stir fry beef strips)

1

tsp

bicarbonate of soda

-

baking soda
INSTRUCTIONS
Place the beef in a bowl and sprinkle over the bicarbonate of soda.

Rub the bicarbonate of soda into the beef so it's thoroughly coated.

Cover and place in the refrigerator for 30 minutes.

Thoroughly rinse the beef in cold water, drain, then pat dry with kitchen towels.
✎ Notes
How to use tenderised steak
Use as per any quick-cook beef strip recipe, where you're looking for the beef to be tender (not-chewy). You can marinate and/or coat the beef after tenderising, if required, for the recipe.
Nutritional information is approximate, per portion (this recipe is for four people).
Nutrition
Calories:
208
kcal
Protein:
20
g
Fat:
14
g
Saturated Fat:
6
g
Polyunsaturated Fat:
1
g
Monounsaturated Fat:
7
g
Cholesterol:
61
mg
Sodium:
326
mg
Potassium:
268
mg
Vitamin A:
15
IU
Calcium:
7
mg
Iron:
2
mg
Some of the links in this post may be affiliate links – which means if you buy the product I get a small commission (at no extra cost to you). If you do buy, then thank you! That's what helps us to keep Kitchen Sanctuary running. The nutritional information provided is approximate and can vary depending on several factors. For more information please see our Terms & Conditions.