Cadbury Creme Egg and Cinnamon Toast Soldiers is the ultimate Easter breakfast - start that chocolate sugar rush early with cinnamon French toast soldiers dipped in a Creme Egg!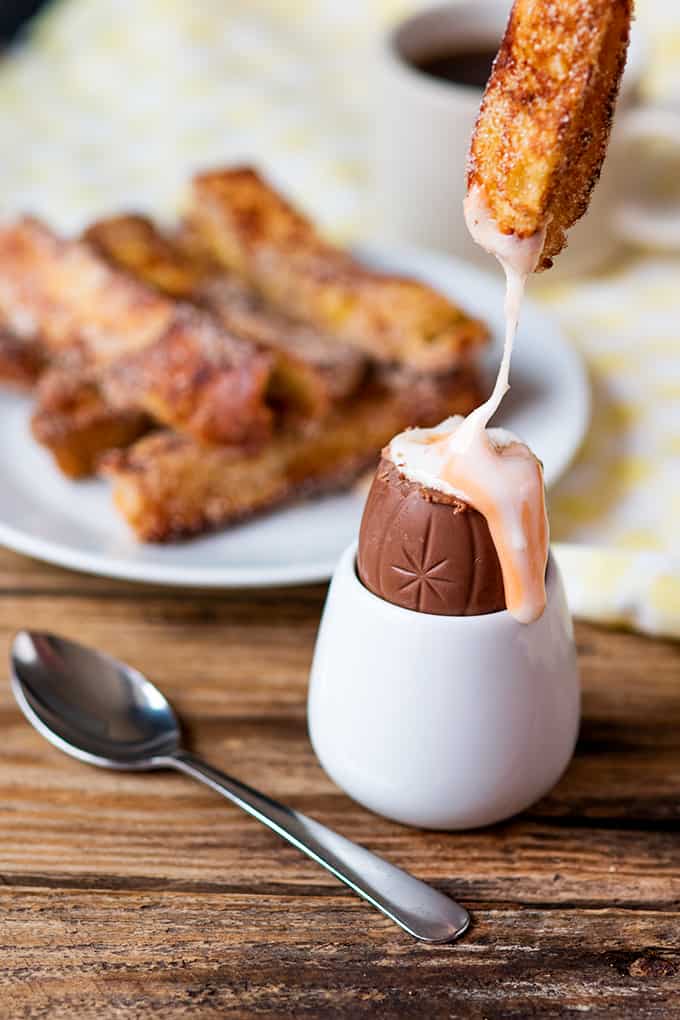 Oops - hope no-one's going to tell me off for encouraging that sugar rush! As a self-confessed chocoholic trying to encourage my kids not to be sweetie-obsessed I know it's hard.
I've read that sugar doesn't actually cause hyperactivity, but I'm not at all convinced. The resulting behaviour of my kids after a packet of haribo versus my kids after a bowl of strawberries is very different. So generally we try to keep chocolate and sweets until the weekend - when they've got plenty of time and space to run it off!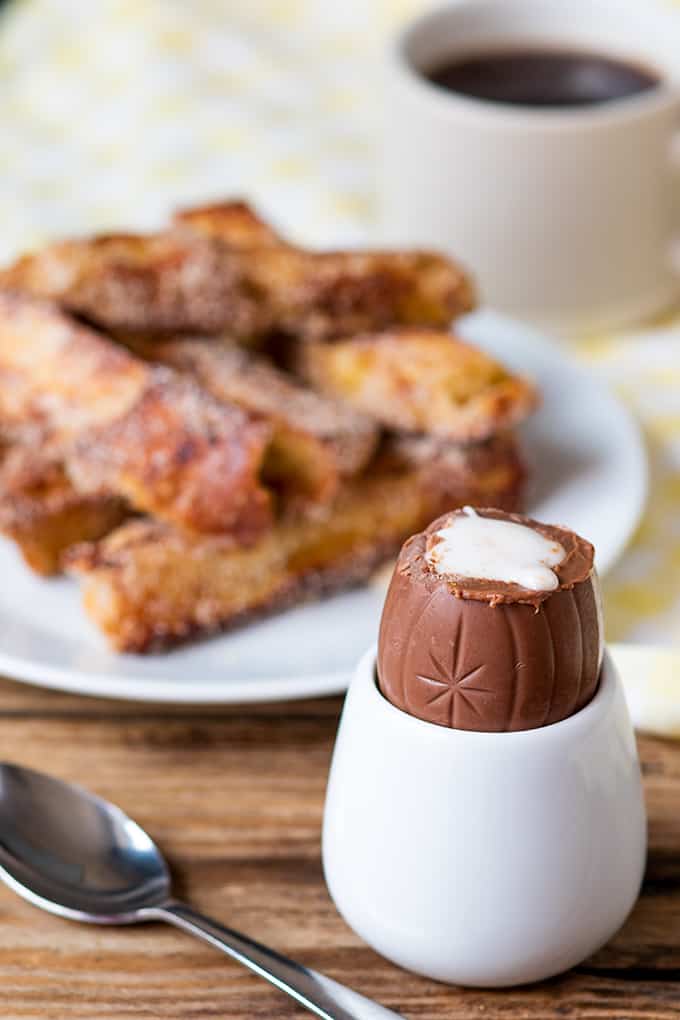 Now this breakfast is most definitely on the sweet indulgent side. Slices of soft brioche dipped in eggs and vanilla, then browned in butter and rolled in cinnamon sugar. That's heaven just by itself, but then dipping it into a Cadbury Creme Egg? That's crazy indulgent. But it is Easter, so I'm going with it (however I certainly won't be looking at the calorie content in Yummly!).
A couple of tips for the creme egg - they are actually smaller than a regular egg, so they won't fit in your egg cup. You may need to put some tissue in the bottom of your egg cup to hold it up. I found I had some mini sauce cups - they were the perfect size.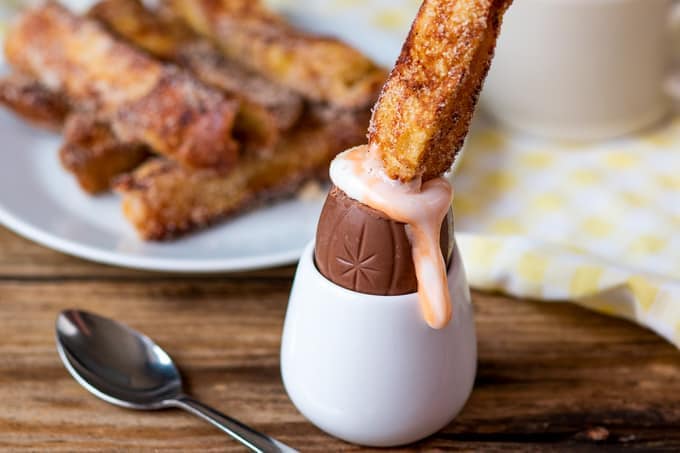 When you slice the creme egg, it's a good idea to heat your knife in some hot water first. Just trying to saw your way through it is likely to result in a crumbled gooey mess that you'll need to eat off your hands (been there, done that).
I made this recipe and photographed it, I think those brioche fingers disappeared within 5 seconds of the camera being put down!!
Do you have any ultra indulgent recipes that make your fillings hurt just thinking about them? Tell me tell me!! 🙂
Check out my Giant Creme Egg dip and my other Easter recipes, any excuse for more delicious sweet treats! Happy Easter!!
The Cadbury Creme Egg and Cinnamon Toast Soldiers Recipe: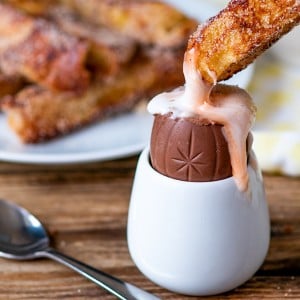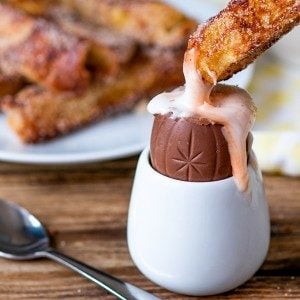 Easter Egg and Cinnamon Toast Soldiers
The ultimate Easter breakfast - start that chocolate sugar rush early with cinnamon French toast soldiers dipped in a Creme Egg!
Ingredients
2

Cadbury crème eggs

4

slices

brioche bread

2

large eggs

60

ml

milk

¼

tsp

vanilla extract

2

tbsp

unsalted butter

100

g

granulated sugar

2

tsp

ground cinnamon
INSTRUCTIONS
Slice the brioche bread into fingers. Whisk together the eggs, milk and vanilla extract.

On a separate plate, mix together the sugar and cinnamon.

Heat the butter in a large frying pan. Briefly dip the bread sticks in the egg mixture, turning to coat and place in the frying pan. Fry on all sides until golden brown, then immediately transfer to the cinnamon sugar. Roll the fried bread sticks in the cinnamon sugar.

Serve with Cadbury's crème eggs.
✎ Notes
Nutritional Information is per serving
Nutrition
Calories:
929
kcal
Carbohydrates:
135
g
Protein:
15
g
Fat:
36
g
Saturated Fat:
21
g
Cholesterol:
197
mg
Sodium:
442
mg
Potassium:
100
mg
Fiber:
1
g
Sugar:
90
g
Vitamin A:
640
IU
Calcium:
85
mg
Iron:
1
mg